Overview:
What's new in Umbraco Forms 11.1 and 10.3?
This release adds improvements in a number of different areas and help make Umbraco Forms more flexible and expands the toolbox for both developers and editors.
The features are available for solutions based on both CMS versions 11 and 10 and are functionally equivalent. As such if you are using Umbraco Forms for an Umbraco 11 project, you can update to Forms 11.1. If your project is running Umbraco 10, version 10.3 of Forms is available.
All new Umbraco Cloud projects will be running the latest versions of Umbraco Forms, and one-click upgrades are available for existing projects.
Customized Entries View
Entries from form submissions can be viewed in the Forms section in the backoffice. The entries are displayed in a list that by default shows the first three fields of the form, plus some system information such as the state of the entry and the date it was created and a link to see the full detail.
In some cases, the default fields are not the most helpful in the overview and with this release, it is now possible to customize which fields are displayed in the list.
You are now able to select from the full set of form and system fields and can add/remove them from the entries list as needed.

You can even reorder selected fields to provide the best possible (re)viewing experiences for editors and administrators - and you can customize the list for each form.
Rich Text Options for Submit Messages…
When defining the post-submission behavior for a form, you can select whether to redirect to another page or to display a message to the user. By default, that message remains in plain text, but the editor will now have the option to provide formatted text instead.

… and Emails
We've also added a rich text header and footer field to the "Send Email With Razor Template" workflow.  In the default template that ships with Forms, we render these fields, if populated above and below the form entry details.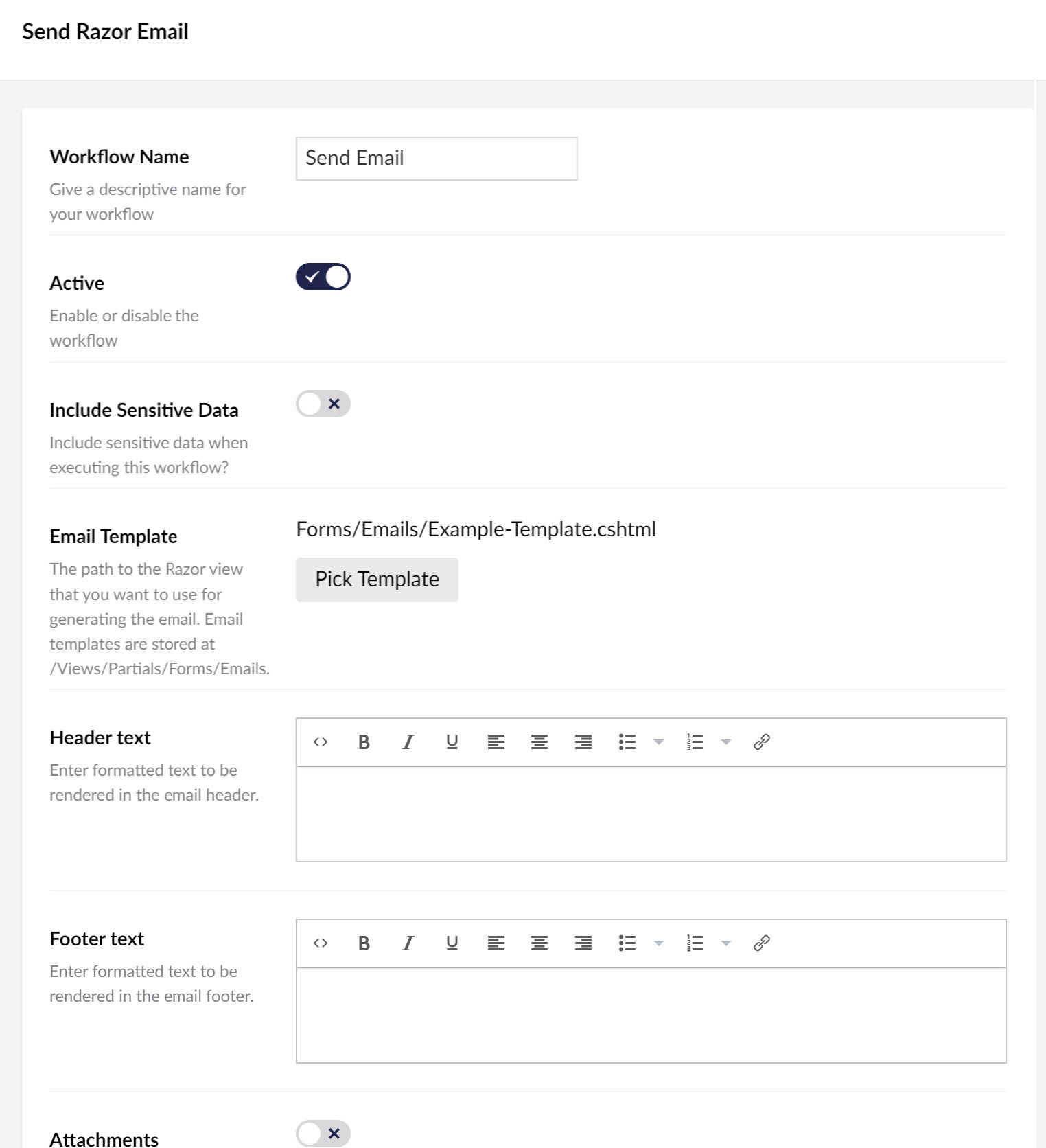 Custom Validation Patterns
With this release, we've added the ability for developers to customize the validation options available when setting up a form. So for example, if you needed validation on UK postcodes, a developer can now provide that for the editor to select.

It is also possible to reorder or remove not only custom validation patterns but also existing ones provided with Umbraco Forms. This makes it possible to only provide options for editors that have been specifically approved for the site. 
Creating new validation patterns follows the familiar provider and collection models available with Forms, and is fully documented here.
Additional updates
There are more features and fixes included in the release such as the configurable default labels for buttons (submit, next, previous ) and the ability to show labels for more Field Types such as the Date Picker, Checkbox, File Upload, and Password fields.

Note that there we've added a couple of additional changes since the release candidate:
The full list of features, improvements, and fixes can be found in the Umbraco Forms release notes.

How to get your hands on the new Umbraco Forms release
Umbraco Forms comes preinstalled on all Umbraco Cloud projects and as of today all new projects will be running the latest version of Forms. For all existing Umbraco Cloud projects, all the new features and fixes are just 2 minutes away with the upgrade minor version feature. 
We've wrapped it all up for you, so all you have to do now is follow these steps:
Add a Development Environment to your project if you do not already have one (Add a Development environment by clicking "Manage Environments" in the project view)
Make sure you also restore the content to the Development Environment from your Live.
When the Development Environment is all setup and you've made sure you don't have any pending changes on the Development Environment - you are now ready to upgrade to the latest version of Umbraco Forms!
It's as easy as clicking a button, literally. The "Upgrade Available" button on the Development Environment will start the automatic upgrade and we'll take care of everything from here! 🚀
Once it's done, check the Development Environment to make sure everything is looking right.
When that's confirmed, you are ready to deploy the upgrade to the next environment - Live or Staging - and take full advantage of all the new features.
And remember, you can always spin up a new project on Umbraco Cloud to try the latest versions of Umbraco CMS, Forms, and Deploy, either from your existing Umbraco Cloud account or by taking a free Umbraco Cloud trial.
Installation and release notes:
For self-hosted projects installation options can be found on the Umbraco Forms package page on Our.umbraco.com and more details are available in the documentation.
Thanks to everyone testing out the release candidates 🙏 All issues reported have been addressed and listed in the release notes. For general feedback, you're always welcome to contact us at product@umbraco.com and specific issues on the Umbraco Forms GitHub issue tracker.