Overview: 
New release: Umbraco Forms 8.10 and 9.2
The last release in 2021 is with new features and improvements for Umbraco Forms. The Forms section in backoffice is now translated to multiple languages and supports custom translation. You also get support for Content Apps on your forms, enhanced security, new field options, and a whole lot more. 
The release is available for new and existing projects on Umbraco Cloud and for download/upgrade in on-premise installations. You can find all the details in the Umbraco Forms 8.10/9.2 release blog post.
Released on December 21, 2021
New release: Umbraco Deploy 4.4.2
Forms wasn't the only release yesterday. A patch for Umbraco Deploy was also rolled out on Umbraco Cloud and made available for Umbraco Deploy On-premises. The release includes fixes for a couple of minor regression issues. You can find release notes on the Umbraco Deploy download page. Pssst... remember that this is your absolute last chance to take advantage of the 2021 50% offer on Deploy On-premises.
Released on December 21, 2021
Security  Advisory: Umbraco CMS and Cloud NOT affected by CVE-2021-44228 - Log4j RCE 0-day mitigation
We've released a security advisory blog post underlining that Umbraco products and services ARE NOT AFFECTED by the recently discovered vulnerability discovered in the Log4j library.
We do not usually make security advisories on issues that do not affect Umbraco products or services but due to overwhelming interest, it was deemed best to have a public statement. The advisory has been published on the blog and subscribers to the Umbraco Security Mailing List and partners have been notified by mail.
Please refer to the Security Advisory from December 15, 2021, for more details or enjoy the short TL:DR version: Umbraco is not affected by this security issue. You don't need to take any action. 
Upcoming release: 9.2 (release candidate is out 🎉)
Umbraco 9.2 is just a few weeks away and there are some great features and improvements to look forward to such as Package Telemetry and Markdown support for Property Descriptions as well as a long list of fixes. You can learn more about 9.2 and try it all out today in the release candidate: Umbraco 9.2 Release Candidate blog post.
Targeted for release on January 6th, 2022
Updates to the Roadmap
There are a few updates to the Product Roadmap both as a consequence of recent releases and some items added as we move towards 2022.

New(s) in "Now"
Backoffice Localization for Umbraco Forms ✔️
The item for Backoffice Localization for Umbraco Forms has been moved to the Roadmap History page with the release of Umbraco Forms 9.2.
Define Extension API for Umbraco CMS 💡
After a long and fruitful discussion, we've added a final comment period to the Define the Backoffice Extension API request for comments (RFC). We're aiming to accept it on December 28th, 2021, and the roadmap item will subsequently be moved to the Roadmap History page. 
There's still time to catch up and join the discussion if you head over to the RFC on GithHub.
Block List Editor with GraphQL support in Umbraco Heartcore 💡
The target release date for enabling the feature for existing Heartcore customers has been updated from December 2021 to January 2022. Some projects have already been upgraded but there are still some pending and they will be finalized at the beginning of the new year.
New in "Later"
Cross-platform embedded database for Umbraco CMS ✨
While it is possible to use SQL CE as your development database for Umbraco 9, it is no longer supported and does not support cross-platform installation/development. To address both these issues, we'll be introducing a new embedded, and cross-platform compatible database to Umbraco - SQLite. We aim to have this available with the release of Umbraco 10 in Q2, 2022. 
Catch up on 2022 product news at the Umbraco New Year's Reception
Every year we kick off the new year with a live stream called the Umbraco New Year's Reception. And as always, you're invited!
This is the stream to join if you're curious about what we've got planned in 2022 for Umbraco - both product, community, and business-wise. 
The New Year's Reception will take place on January 10th at 2 PM UTC (check your timezone) - sign up and get this in your 2022 calendar now 🥂 
That's all for this year, folks 🙂
And what a year it has been! While there have been difficulties due to the continuing pandemic situation, I think Umbraco, both as a company and community, has had a great year. At Umbraco HQ we started the year and ended the year in lockdown. We've gotten quite good at it, learning to work remote first, and it has even contributed to work from anywhere policy. 
From a product standpoint alone, I think we can safely say it has been our most productive year yet. I've written 22(!) Product Updates this year and not once has it been an issue finding something to write about.
First and foremost, we've completed 2 big projects this year that both have a massive impact on the products and services we offer today and provide a great foundation for our work in the future.

One of these is the new Umbraco Cloud infrastructure. This is now in place and it's truly better than ever. Not only do we have a new platform for Umbraco Cloud but the Cloud teams have managed to deliver a long list of additional features and improvements as well. Take a look at the recently published Umbraco Cloud Update to see some of all the things that have happened in the cloud this year.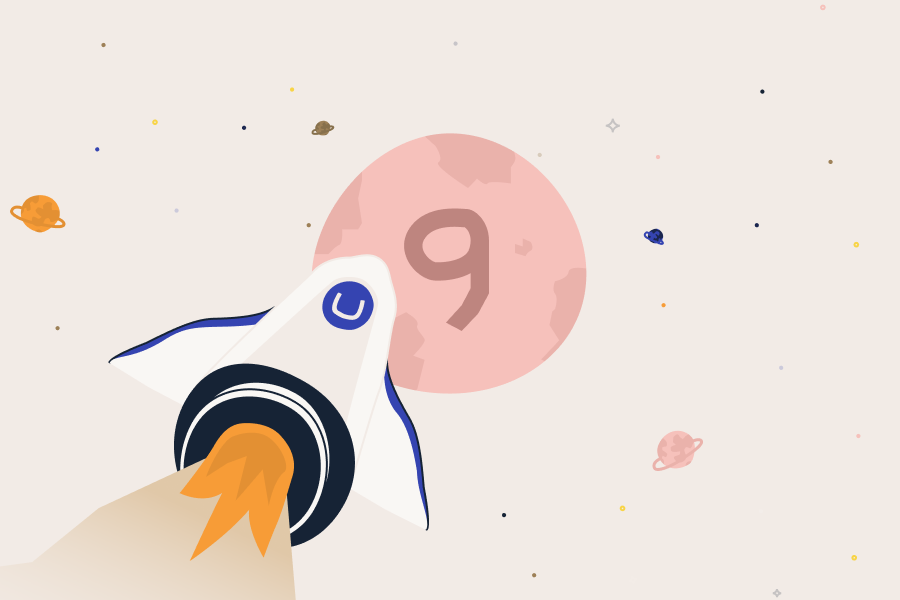 We also released Umbraco version 9 in September this year. Umbraco CMS is now running fully on ASP.NET Core and .NET 5. We've been working on this, together with the community, for the past few years and it was fantastic to finally see it come to fruition. The public release has been well-received due to the stability, speed, and performance enhancements, and the fact that Umbraco is on new and improved technology. That doesn't mean we're resting on our laurels though - as mentioned above, Umbraco 9.2 is coming in just a few short weeks. Dive into the Umbraco 9 release blog post for all the details and the Umbraco 9 on Cloud blog post to see the fantastic improvements you get with the latest major version on Umbraco Cloud.
It's not been all Umbraco 9 though. We've continued to support Umbraco 8 throughout the year and still have Umbraco 8.18 in the works which will be the final minor release of version 8 and thus, an LTS version. 
All in all, more than 60 new releases and patches across Umbraco CMS, Forms, and Deploy in 2021. In no small part thanks to the advent of the new HQ Commercial Packages team that has provided some truly great releases for Umbraco Forms and Deploy. 
… Until next year
2022 is shaping up to be really exciting as well!
We've got Umbraco version 10 with full support for ASP.NET Core 6 to look forward to, more features including new CDN capabilities and regional support for Umbraco Cloud, a new dedicated Umbraco Heartcore HQ team, implementation of a new extension API, and continued work with the Umbraco UI Library, Codegarden (🎉) and that is just some of the things coming up. So much to look forward to and I am looking forward to keeping you updated on it all right here on the blog (psst… And make sure you register for the Umbraco New Year's Reception). 
A large part of the work we do is inspired by the feedback we get from you. For issues and specific feature requests, you can find the issue trackers for our products on the Umbraco Github account. If you have product feedback, you're welcome to reach out to us at product@umbraco.com.
Enjoy the holidays and have a happy New Year,
Rune