It was a little over a year ago that I remember having a conversation with some Umbracians at Codegarden 2017 about doing a fully virtual meetup. It would be a meetup that could break the restrictions of location. Then, as it tends to happen, life got in the way. Other projects came up and the idea faded into the ether.
Leap forward to Codegarden 2018, and once again the conversation arose. With HQ working better than ever in aiding the community, from creating a team dedicated to helping PR's, to the community getting the attention they deserve, to finding ways to help meetups around the world, I thought I'd have another shot at it.
So, after coming back from Codegarden 2018, I sent out a tweet with a time and a date, and that was that. No turning back. Now, I just had to figure out what the heck I was doing.

Jumping time-zones, borders and other hurdles
I'm a big fan of the Umbraco community, for me it's the thing that makes Umbraco stand out from other CMS's.
Yes, it's an amazing CMS and you don't need me to tell you why it's so great, but without the people, It wouldn't be the same. There are so many local meetups around the world now and the community is constantly growing, but that doesn't mean it's easy for everyone to get involved. Not everyone can spare a weekday evening, some people have children to raise, others aren't keen with the idea of meeting a bunch of new people face to face and if you're not lucky enough to have a local meetup near you, you're a bit stuck. These are issues many people in the community face, and as I said previously it's something I've been hearing a lot about, especially at events like Codegarden and the UK Festival.
So what better way to get more people involved with the community than to remove some of those hurdles. With a virtual meetup you can attend from almost anywhere in the world, you can jump timezones, get involved whilst looking after the kids, sit back and watch or bring your voice to the conversation.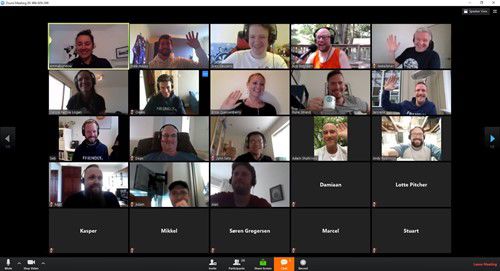 So, what happened?
I'll be completely honest, I didn't do a whole lot of planning for the actual meetup. Partly because it was experimental, and also because I liked the idea of a free and easy approach. I had some great help from Sebastiaan who allowed us to use the HQ zoom account, then managed to find a few volunteers to share some ideas or demos. The rest was pretty much ad-libbed. The aim was to recreate the friendly environment that the Umbraco community has when meeting in person with talks and Demos limited to 10 - 15 minutes.
As it was the first time I've done anything like it I figured it would just be an experiment, and however it went, good or bad, at least it was something.
Luckily for me, the community is awesome and really stepped up to help contribute. I even managed to pinch some slides off Emma Burstow so I could do a last minute recap of the Codegarden retreat. Throughout the session, anyone had the ability to bring forwards a demo or lightning talk if they wanted to. The rough agenda ended up as:
Introductions and explaining the plan for the next hour or so. Everyone had a chance to introduce themselves if they wanted to.


The Retreat recap and brief Codegarden talk by myself


Dependency Injection in V8 by Lars-Eric Aabech


Umbraco Headless with Alexa - Carole Logan


What's coming in Umbraco v7.11 - Sebastiaan Janssen (including 38 bug fixes, 36 of which were from the community!) https://our.umbraco.org/download/releases/7110


3 new property editors coming from the amazing people at UMCO - https://www.patreon.com/umco


A property editor for social media - Sven Geusens


The beginnings of a candy crush mimic with an Umbraco backend - Kevin Giszewski

Did you miss this first virtual meetup? We got it recorded, so you can go and see exactly what happened:


2 hours and 30 Umbracians later…
All in all it appears to have been a success. Throughout the nearly 2 hour stream we had about 30 people dropping in from all over Europe and a few more from America. I personally got to see an awesome headless demo, have my mind melted by Lars talking about dependency injection (in a good way), saw some of the great work the community has been doing with PR's and also got a sneak peak at some upcoming brilliance from UMCO.
Finally, and for me the best part, I got to hang out with some of my friends, and hopefully made a few more.
Will there be another virtual meetup?
As this experiment seems to have been a success, the plan is to definitely do more. There is no set date yet and we're currently figuring out how often to run them.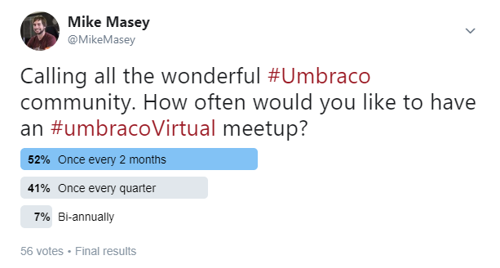 At the moment it seems like it will be either once every 2 months or once a quarter, and if possible we'll get some of our friends in Australia involved with the next one. I also have a potential plan to try something with VR, although no promises on that one.
Either way, I look forward to seeing your wonderful faces at the next Umbraco Virtual.
Where to find information about the next meetup? You can follow the Umbraco Virtual twitter account or me, Mike Masey. You can also subscribe to the youTube channel where previous meetups will be shown. Future meetups will also either be on meetup.com or attending.io.

See you next time!