Overview:
What's new in Umbraco Workflow 11.2 and 10.2?

Approval thresholds
Disable Mandatory Comments
Delayed content locking
Other improvements

How to get your hands on the latest release 
We're continuously working on improving the feature set of Umbraco Workflow and fixing reported issues and bugs. To ensure the best experience all updates for Workflow 11 are also made available in Workflow 10 so your LTS Umbraco installations don't miss out.
Enough with the housekeeping, let's have a look at what you get with Umbraco Workflow 11.2 and 10.2.
What's new in Umbraco Workflow 11.2 and 10.2?
Approval Thresholds
The big feature added in this release is the addition of configurable Approval Thresholds. Approval thresholds can be viewed as a workflow within a workflow - at each stage of a workflow, it is now possible to define the number of approvals required before advancing to the next stage.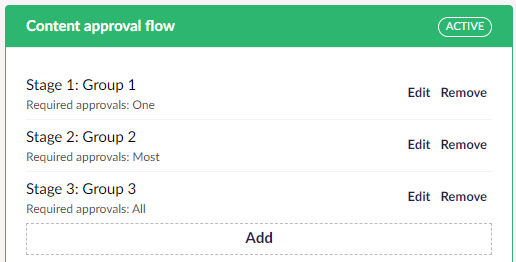 The threshold options are:
One: pending task requires approval from any member of the assigned approval group. This is the default behavior and the way Umbraco Workflow has always worked. 
Most: pending task requires an absolute majority of group members. For example, a group with three members requires two approvals, a group with four members requires three approvals, and a group with six members requires four approvals.
All: pending task requires approval from all group members.
By default, nothing changes - each stage requires a single approval.
Approval thresholds can be enabled from the Workflow section in the Backoffice, or from app-settings.json. Node-specific configuration is set on the Workflow content app, in the configuration tab. Refer to the documentation for more details.
Why approval thresholds can be useful
Approval Thresholds enable you to utilize groups of reviewers. Sometimes partial or absolute consensus is required and this feature allows you to configure Workflow to fit the size of the organization, and the complexity of policy requirements while making it flexible enough not to be a hindrance. 
What happens when a workflow is not approved?
When changes are rejected, and the approval threshold is Most or All, approvals can optionally be reset or retained. 
For example, in a stage with five members in an Approval Group and a threshold of All, rejecting a task can either require all five members to approve the resubmitted content or alternatively, only those members who had not approved the content before it was rejected.
It's another configuration option intended to help tailor Umbraco Workflow to your specific requirements and make sure the processes "flow" as smoothly as possible.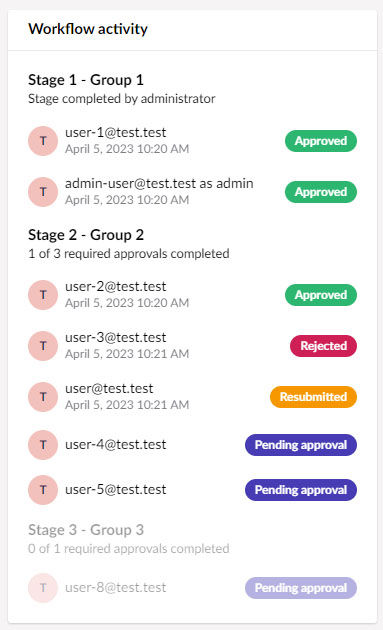 The Workflow History UI has been updated to provide an accurate audit trail of workflows with Approval Thresholds enabled.
Disable Mandatory Comments
Sometimes approval is all you really need to move on - and now that is possible! Previously all approvals had to be accompanied by a mandatory comment. You can now set comments as optional making it possible to simply review and approve.
Comments are mandatory by default, so everything will work as you're used to but you can now disable this in the Workflow Settings. This little tweak can make it easier and faster for both editors and reviewers.
Delayed Content Locking
Content Locking is a useful feature, where it is possible to disable editing while a piece of content is waiting for approval. This ensures that all reviewers are approving the same content. 
We've introduced Delayed Content Locking, so it is possible for the editor to make changes until a workflow has been initiated, e.g. when the first stage in a workflow is approved (or the first approval if Approval Thresholds are enabled). This means those last-minute updates can be added easily without having to cancel the workflow, update the content, and resubmit the workflow. 
Updated UI for Workflow Settings
You might have noticed that things look slightly different when configuring settings in the Workflow section, and you're absolutely right! As more options have been added over the last few releases, the list of settings got longer and no longer provides a quick and easy overview. So for this release, we've changed the UI to accommodate the new additions and hopefully improve the overall UX.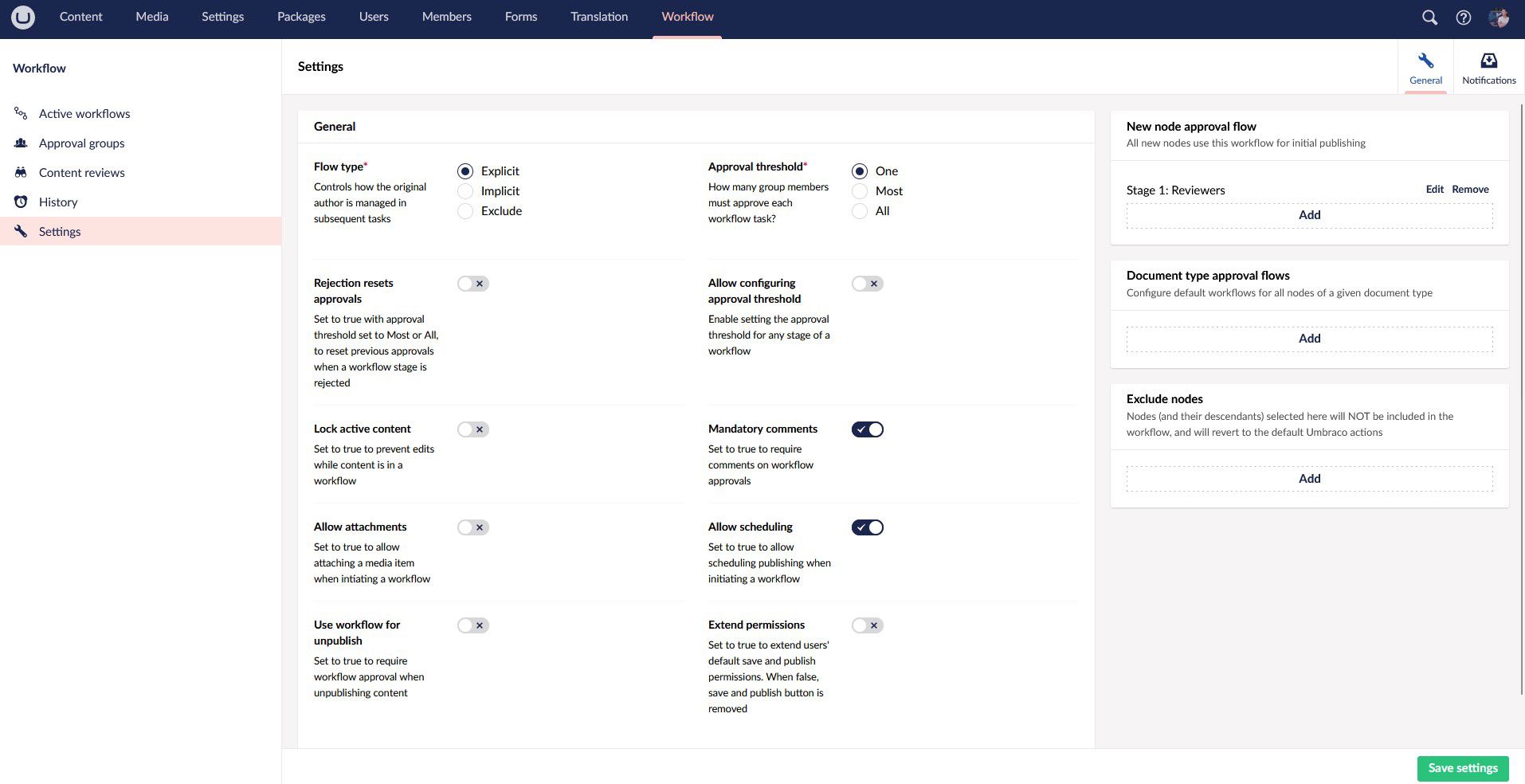 This follows a similar convention as introduced with the Block Grid Editor in Umbraco 11, where more complex options can be displayed in multiple columns and grouped, all for a better overview. 
Other updates
Aside from the new features Workflow 11.2 and 10.2 contain a number of smaller fixes and improvements, mainly targeted at developers:
Ensure notifications inheriting from ObjectNotification have a public Target property
Improve logged messages when publish fails on workflow completion
Fixes issues with casing on Linux
Ensure canEdit flag is set correctly when Workflow application state changes
And a couple that will benefit anyone working with Workflow in the backoffice:
Improve UI notification when publish fails on workflow completion
Ensure cancelled workflows are never marked as actioned by admin when cancelled by the original change requestor, regardless of their admin status

How to get your hands on the latest release
You can either create a new installation using the package available from the link below or upgrade an existing Umbraco 11 or 10 project.
Umbraco Workflow can be found on Umbraco Marketplace and the latest versions are on the usual Nuget feed.
If you're new to Workflow, the documentation site will help get you up and running, and you can read more about pricing and licensing on the product page. 
Should you come across anything that isn't working as expected, please provide feedback on the GitHub issue tracker for Umbraco Workflow.