https://www.rocksolidknowledge.ai/
Garden Games is an eCommerce company that sells and manufactures outdoor games and sports equipment via two online shops. Their employees interact with customers using the Zendesk helpdesk system, historically spending a lot of time answering simple or repetitive queries. Garden Games felt that a machine powered by artificial intelligence (AI) could answer these frequent requests. Rock Solid Knowledge coined this solution a "helper bot", whose task was to understand and automatically reply to help desk tickets. The helper bot has now been named AimHappy Pro. AimHappy Pro works out the crux of the request, finds more information, and automatically returns a user-friendly, tailored reply. This allows employees to focus more on complex and creative tasks. Get the full scoop 👇
Skills used
Integrations
Communication
eCommerce
Support
Digital Strategy
A real success story of Umbraco being used with AI in production 🚀
AimHappy is a friendly ''helper bot'' that:
✅ reduced the workload of staff by 40%
✅ processed over 15,000 tickets in 2020
✅ includes custom third-party integrations with Umbraco, Zendesk, Microsoft LUIS, and KHAOS Control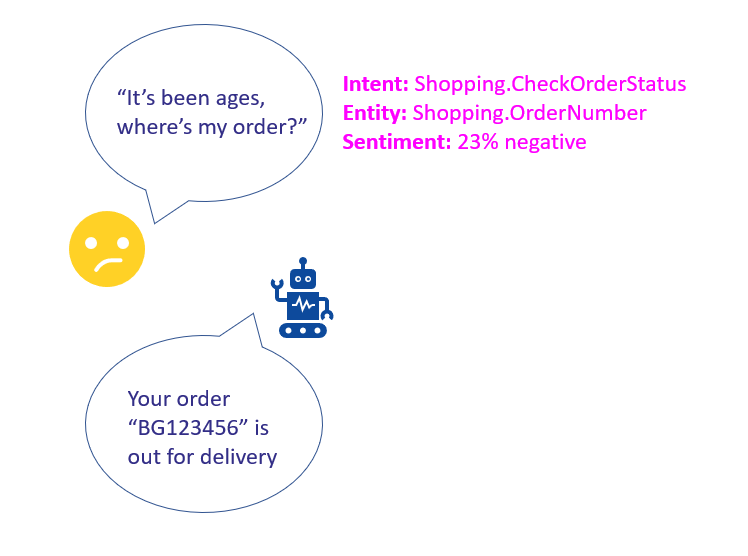 How it all began
When you're an inventive company, you want your employees to be spending their time on fresh new ideas, not repetitive queries. John Cardy, director and co-founder at Garden Games, noticed that his customer service team was copying and pasting answers to the most common questions asked. Once they received a query, agents had to manually check all information in KHAOS Control. It would save valuable time and effort if a bot could find this information out based on the customer query.
Garden Games wanted a computer to be able to read, identify and answer common questions. There were plenty of people who could describe what AI would eventually do, but John Cardy could not find real experts who could make it happen - until he spoke to Rock Solid Knowledge.
Rock Solid Knowledge knew that they needed to build a system that reads enquiries, answering the ones it can, leaving Garden Games employees free to work on the more complex issues or develop new outdoor toys and sporting play products. Garden Games agreed that for the project to be considered a success, the helper bot should be able to correctly answer over 30% of all customer queries.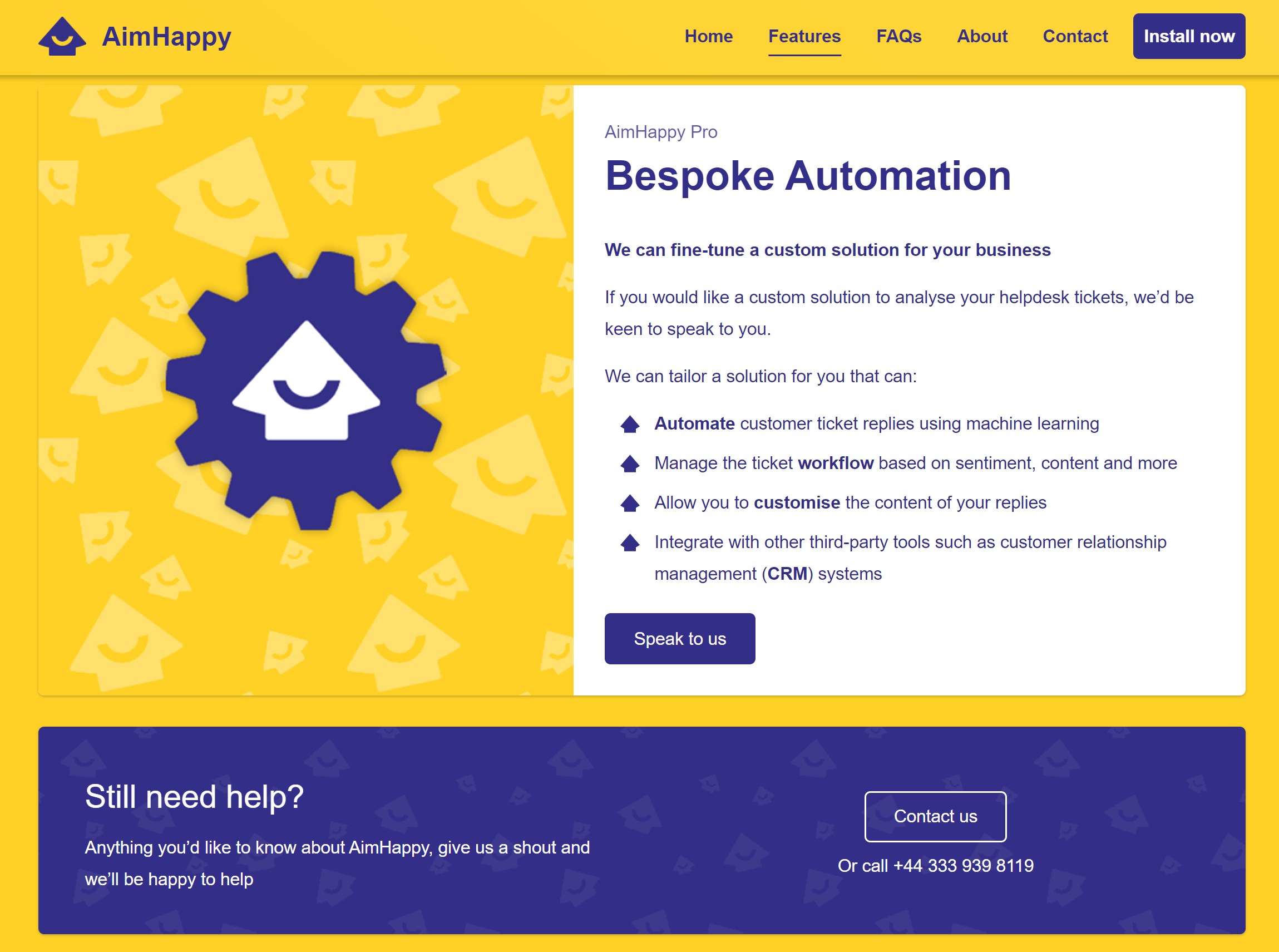 How we made it happen
Rock Solid Knowledge built a headless Umbraco site to use as a powerful helper bot hub, allowing helpdesk agents to shape AimHappy Pro customer replies. Umbraco sits alongside key third-party integrations: Microsoft LUIS, Zendesk, and KHAOS Control. 
Once we install AimHappy Pro in a Zendesk instance, it sends customer tickets to an API where it carefully processes them by: 
Removing unwanted content

 

Splitting into sentences using OpenNLP

Using AI 

to

 

establish 

ticket

 

intent

 and sentiment

 
The bot discards any non-important intents, such as disclaimers. If the customer asks something specific to an order or product, AimHappy Pro can automatically retrieve this information from KHAOS Control (e.g., order status or product stock). 
Once the bot has a full set of intents, entities, sentiment, and any extra product or order information, it has all the data it needs to automatically craft a suitable reply. 
AimHappy Pro requests the reply content that it needs via a cached Umbraco content API layer. Customer service agents use the power of Umbraco to set up the bot just how they like: 
Decide the content of global replies

 

Set individual and combinations of intent replies

 

Change content per shop and channel

 

Manage threshold settings, such as at what % a ticket is negative

 

Determine the start of a forwarded email so the rest of the email isn't analyzed

 

Set the business priority of each intent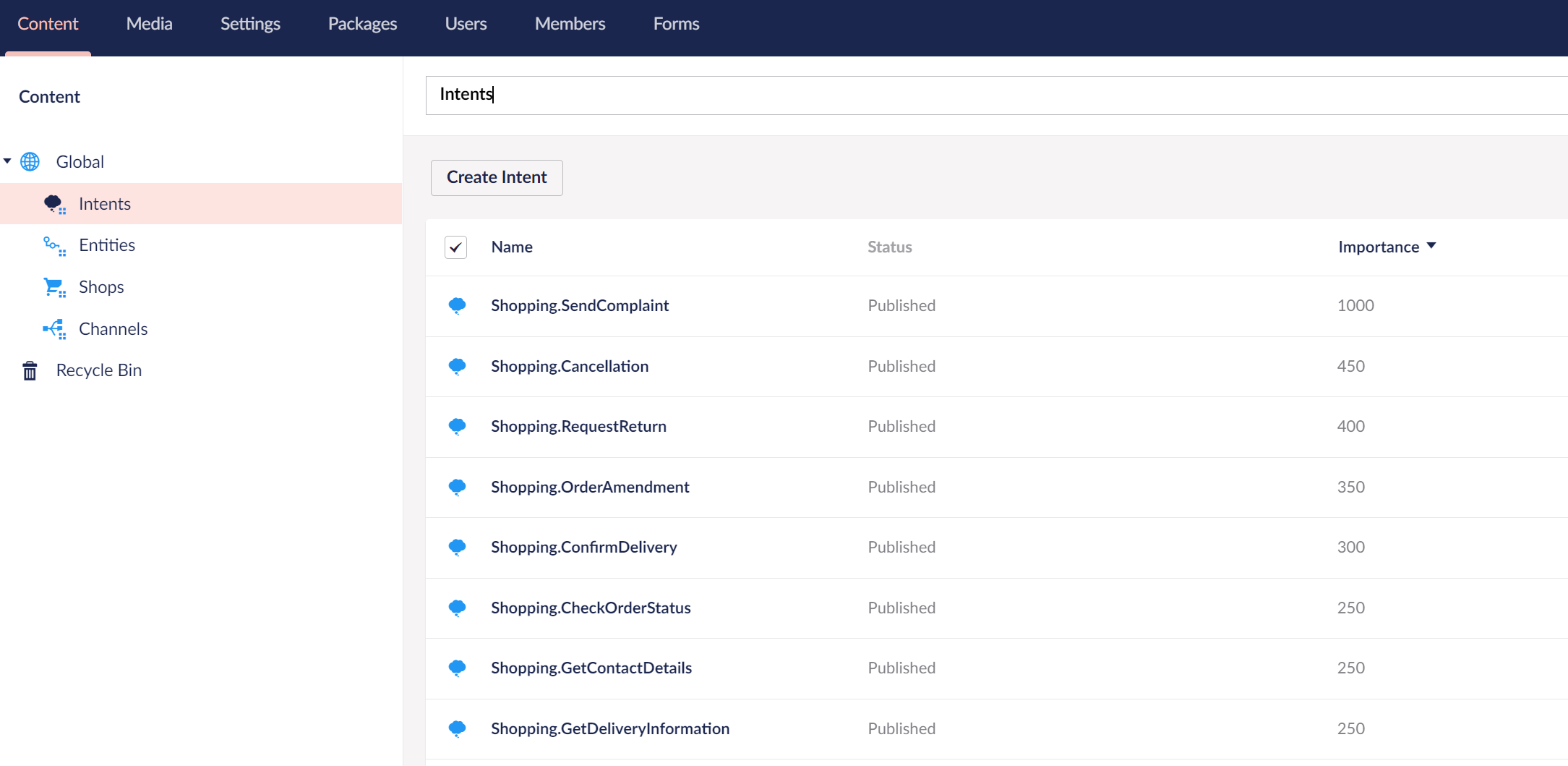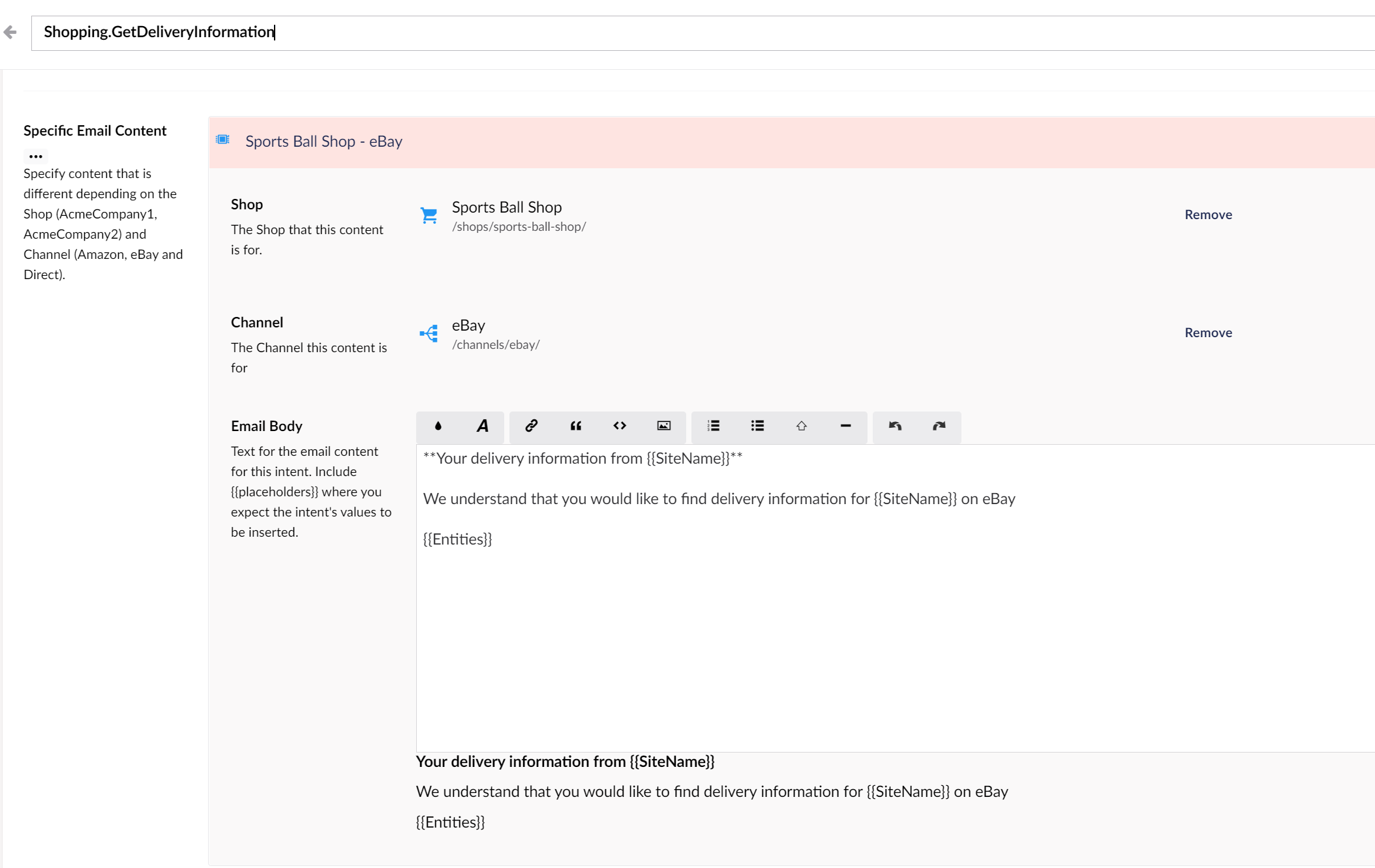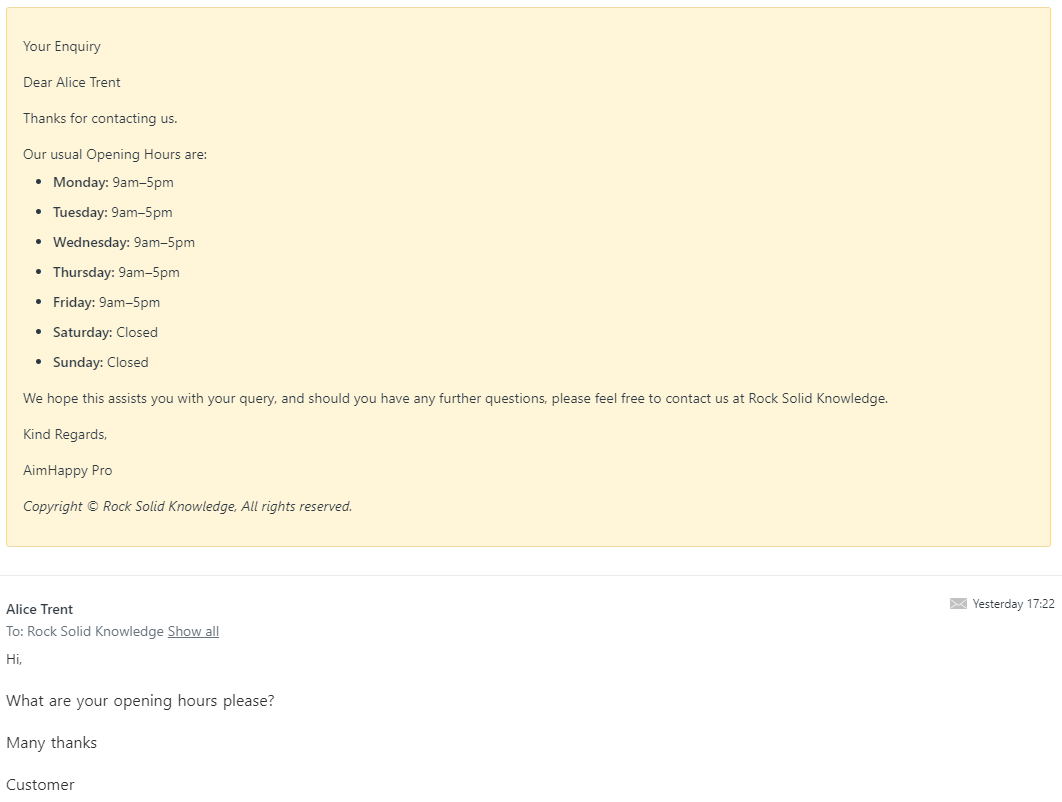 AimHappy Pro replies to the Zendesk ticket with a fully tailored response. Depending on the Umbraco intent settings, replies can be public or private.  
The bot can also automatically assign the ticket to helpdesk agents depending on the intent, channel, and shop. For example, it can assign purchase orders from an eBay shop to a specific Zendesk agent. Additionally, if the ticket is a negative complaint, the bot can set the Zendesk ticket priority to Urgent.  
AimHappy Pro works in harmony with existing Zendesk functionality and uses Umbraco as a great management tool for agents to evolve replies over time.
An Umbraco solution with stunning results 🙌
The system developed is just as Garden Games hoped it would be – as John Cardy, Director, says, it is "like having an extra person here, but one who never takes a day off".
Rock Solid Knowledge's AI-driven helper bot has been live for Garden Games since January 2020, with many successful customer replies. It has been fine-tuned and optimized as more has been learned about the business domain, and the bot is now a fully-fledged product, AimHappy Pro, that can be customized and rolled out to other customers in the eCommerce space.