https://minneapolis2040.com/
Cities like Minneapolis (MN) often publish comprehensive plans to set the direction for their growth and development as a city over the upcoming decades. In the past, Minneapolis' plans were released as a basic document, which hindered community engagement. The city's leadership wanted to try something different this time around. They decided on a first-of-its-kind interactive city plan website to foster a healthy discussion between the city's leadership and its residents. Emergent Software took the leap and produced a unique interactive website that focuses on collaboration and accessibility for all users. Today, they're here to share the whole story:
Skills used
Accessibility
Analytics
Business Development
SEO
Content Creation
Sector
Public sector & charity
Property & construction
✅ Unique interactive city plan  ✅ Mobile-friendly solution  ✅ Easy content editing
A solution that exceeded the expectations
How we got started
We, at Emergent Software, helped the City of Minneapolis determine the best way to communicate its comprehensive plan through a website. Mobile-friendliness and accessibility were high priorities, as their main goal was to ensure all residents have the ability to collaborate with the city on its 2040 comprehensive plan. 
Residents would need to be able to comment on specific parts of the plan, which would be reviewed by the city as it modifies the plan based on feedback collected. A Content Management System (CMS) would be essential to the city's ability to regularly update the plan and create new website content in an organized fashion. We chose one of our favourite web development tools, Umbraco CMS, which allows us to tailor both the design of the website itself and the interface for the site's many content editors.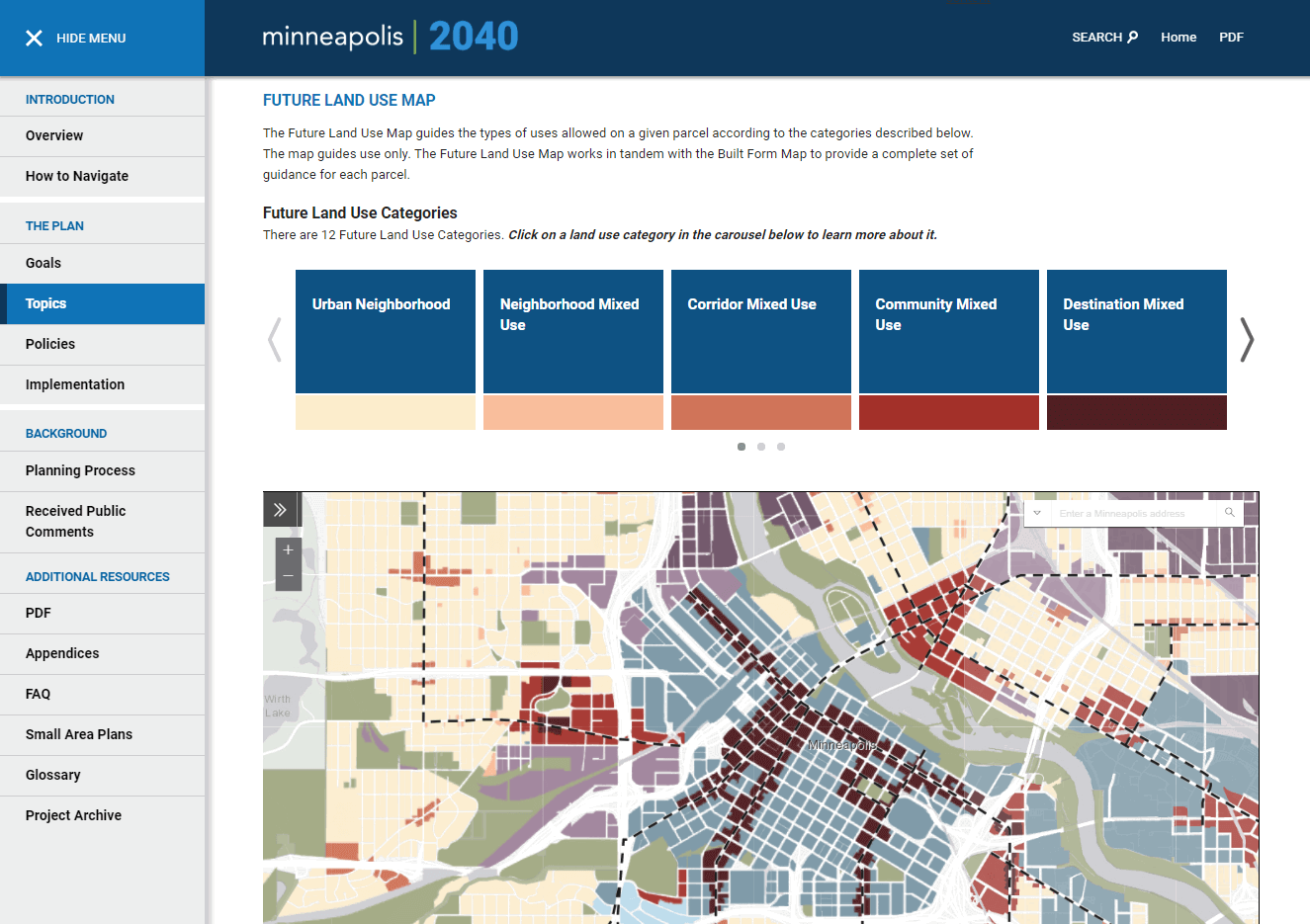 Working with Umbraco CMS 
We started with Umbraco's powerful, built-in, content entry tools that allowed city workers to easily create content for the 2040 plan. From there we customized the CMS to allow for complex relationships between the cities Goals, Policies, Topics, and Implementations. We built a custom plugin that would collect public feedback and a change tracking feature that would give full transparency over what pieces of the plan changed based on public feedback.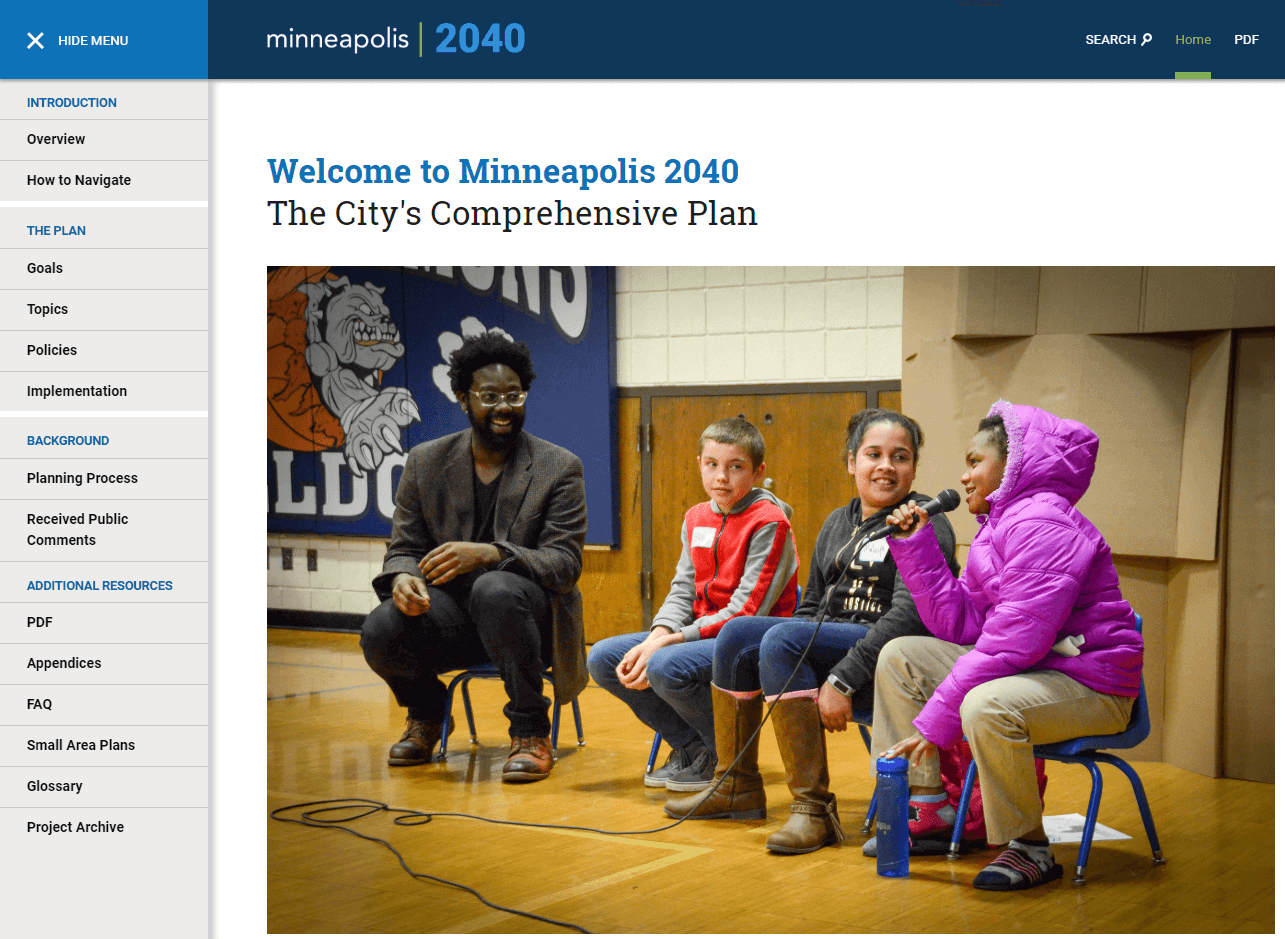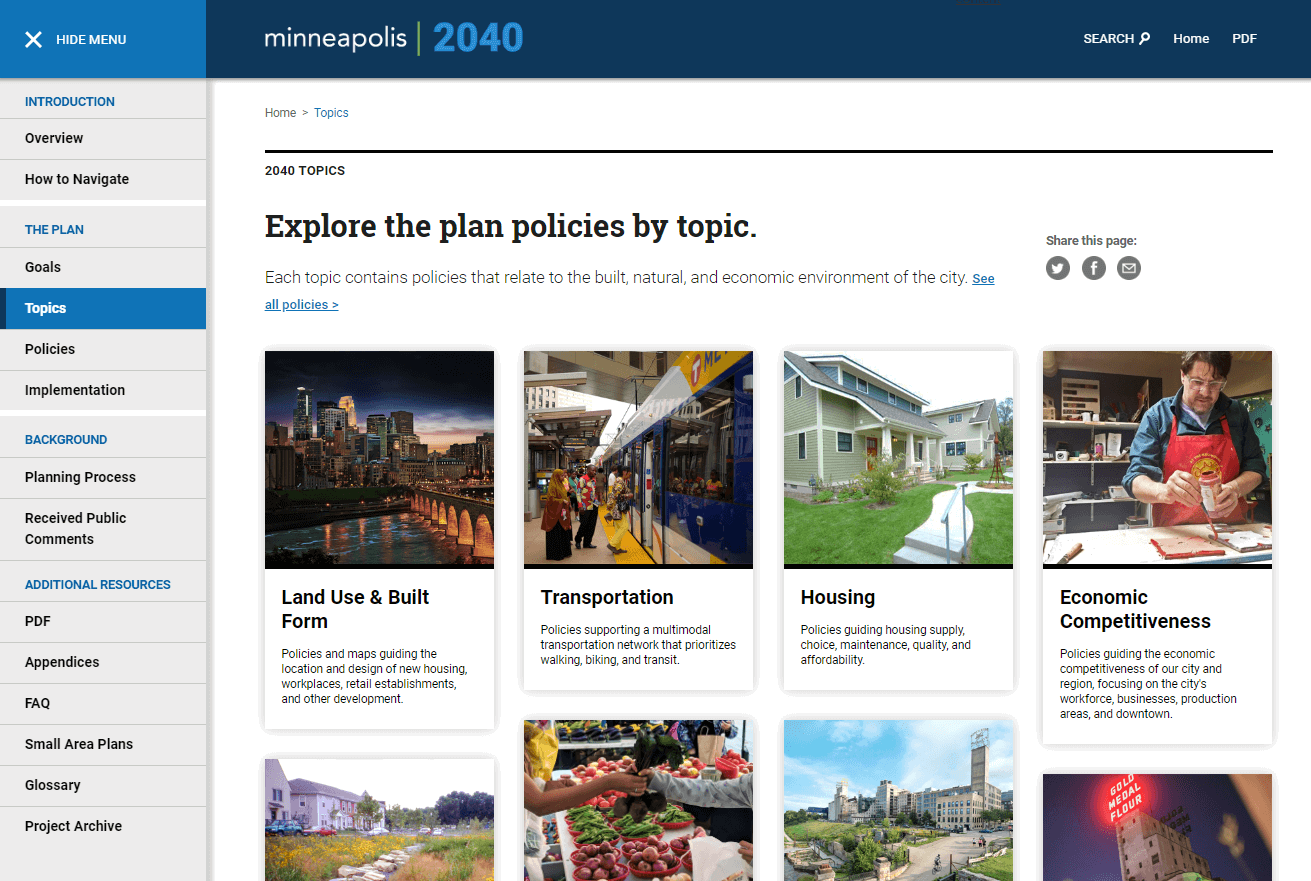 We developed the website to be WCAG 2.0 AA accessible and responsive so it could be easily digested on any device. Finally, we set up an Azure serverless infrastructure that let us easily deploy changes with no downtime, scale as traffic grows, and minimize downtime.
Achieving success ✨
The new website has been well received by both the City of Minneapolis team and users of the site. It has received thousands of comments and lots of traffic, completely exceeding the expectations the team initially had. The team has enjoyed the easy content editing Umbraco has provided and look forward to continuing to update the site as the city plan unfolds.