https://privelease.mercedes-benz.nl/
Private lease is a booming market in the car industry; prices are being adjusted on a daily basis and customer standards and demands rise day by day. Mercedes-Benz was in need of a platform that would make it possible to not only cope with this dynamic market but also one that would place them in charge. Perplex then took Umbraco and developed a solid solution that has already produced top-notch results and is an Umbraco Award winner. Perplex will tell you all:
Skills used
Digital Strategy
eCommerce
Integrations
Architecture
Marketing Automation
Sector
Finance
Retail
Transport & logistics
Professional services
A stunning solution with a fabulous performance ✨
Increase of test drive requests
Contract request improvement
Increase of conversion rate of online orders
What we did
We already had a lot of knowledge of the Mercedes-Benz calculation and contract management software due to other projects we did. So we went back to the drawing board and started sketching.
Out came an Umbraco based "Midlayer" platform which made it able to communicate with the internally used Mercedes-Benz software.
It combines data where needed and, not completely unimportant, makes it editable/customizable in a very clear and visual way using Umbraco. It also gives Mercedes-Benz employees full control in their private lease product range without having to know all the complex software running behind it.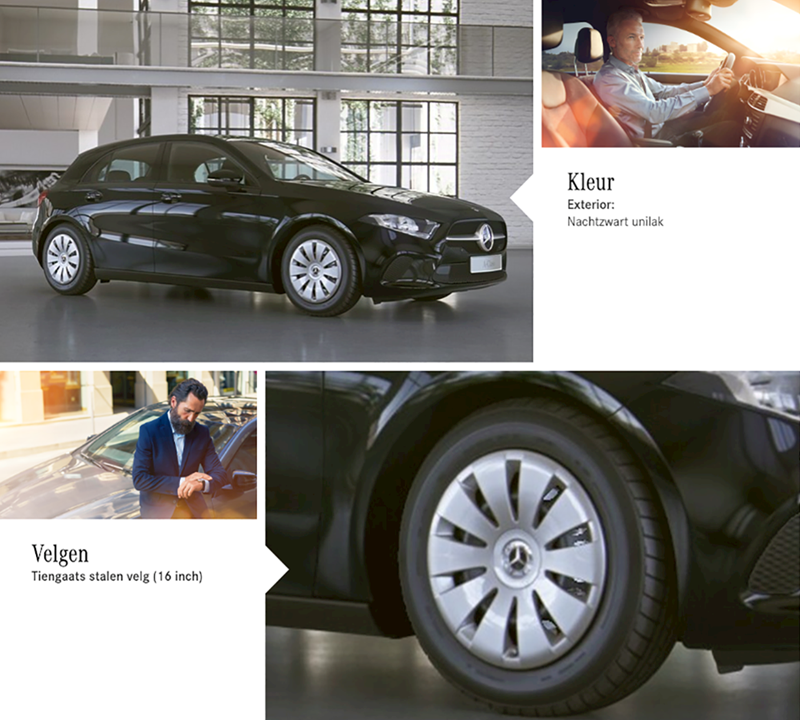 How it works
The Umbraco Midlayer is communicating with calculation software, Mercedes-Benz and smart vehicle production data software (which vehicles can be manufactured and which car options can be combined) and a Mercedes-Benz image database server (combination of car data - model, color, rims, and upholstery - transformed into images).
That's a lot of data which is automatically being synchronized on a daily basis. We also managed to bring all the data back to easy-to-read-and-understand APIs.
This makes it able for third parties to also communicate with the Midlayer without the need to understand all the internal software applications.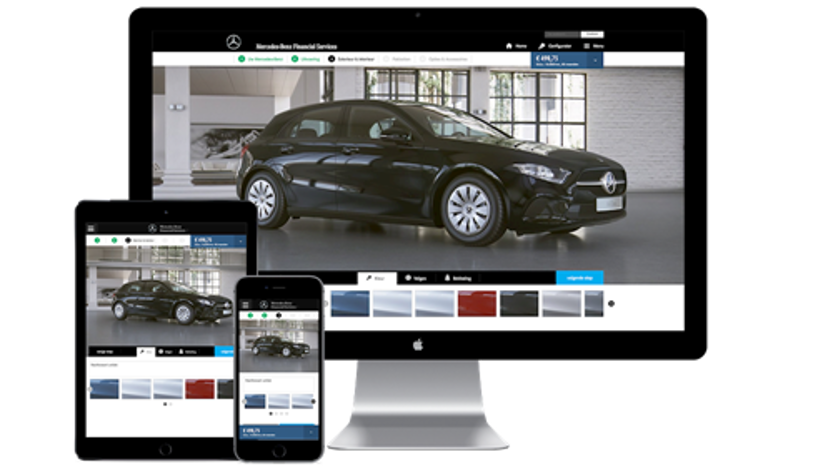 All this data communication in the backend is invisible to the end user (the customer).
The customer simply configures his/her car in a completely visual manner and directly sees accurate pricing without any effort.
Besides the Midlayer we also developed 2 websites (Mercedes-Benz and smart) - managed from one Umbraco installation - which directly communicates with the Midlayer backbone.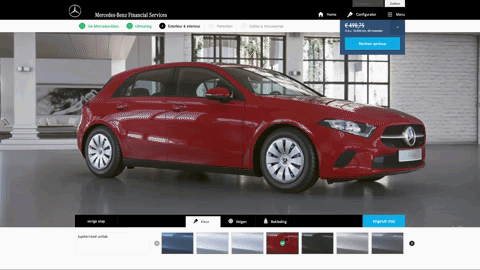 Key benefits
One of the key benefits for the new site is real-time and accurate lease calculations that are usable for the end user. A lease calculation is complex and the web services provided by the internal calculation software require a lot of automotive knowledge to interpret. By stripping irrelevant parts we can make it useful and readable for the customers.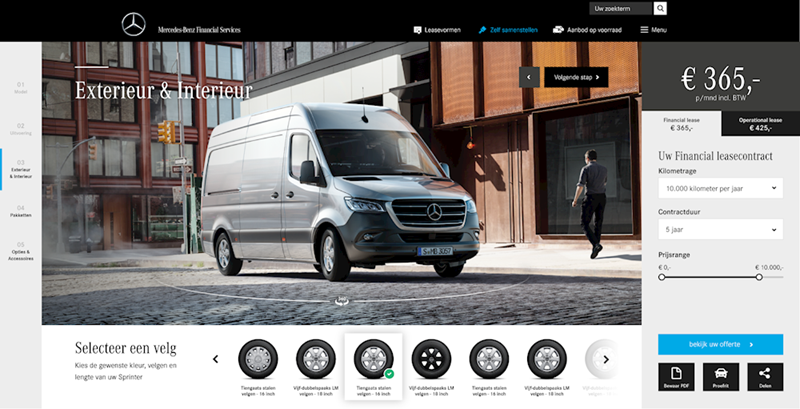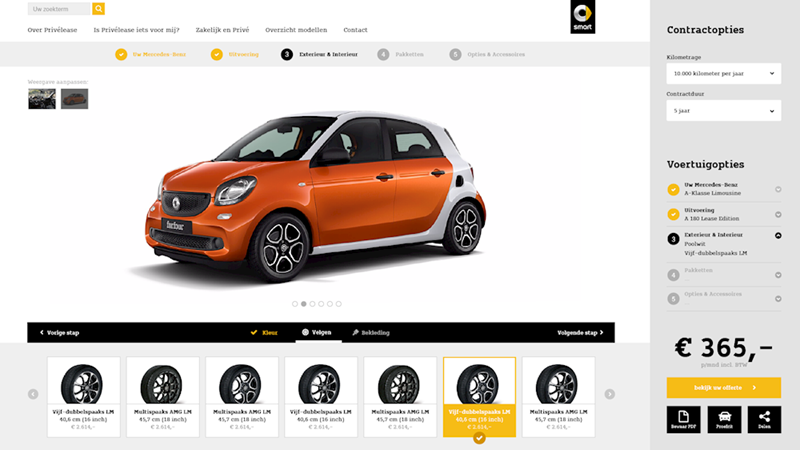 We've successfully visualized car configuration – interior and exterior including options, packages, and accessories. As well as implemented automatic data enrichment – images are automatically matched, fetched, scaled and served in and by Umbraco. Knowledge-intensive data process made available for third parties through simple APIs with Umbraco as a communication hub.
There was an increase of test drive requests of 132% and a contract request improvement of 149%. We also improved the contract flow; the online made request is picked up in the showroom or by headquarters and can fluently be processed into a contract (straight-through-processing).
And, of course not to be forgotten, the conversion rate of actual online orders increased by 143%.