https://www.village-hotels.co.uk/
This is a story of a ground-up rebuild ✨ Our Gold Partner, Equator, replaced every part of Village's website, from front-end design to the reservation and rate management structures that work away behind the public-facing pages. The project achieved an improved average conversion rate of more than 13%, and a 21:1 ROI, all within six months of launch! They also created in-room concierge with Echo Dots and a connected Totem system for thee lobbies. Could that be more awesome?
Time to hand the microphone to Equator - they're here to tell you all about it: 
Skills used
eCommerce
Headless CMS
PIM Systems
SEO
Umbraco Cloud
Achieving success within 6 months of launch 
increase in booking conversion rate & organic traffic
increase in natural search rankings
How it all started 🤩
We started with a blank piece of paper to design the ultimate digital experience for guests across all hotel touchpoints. This included a new website, booking engine but also, in a world first, we worked with Amazon's own engineers to programme Echo Dots to respond to tailored questions from hotel guests. If you want to check gym times, book a taxi or get a hangover cure, you don't need to call reception.

Finally, the cost of pop-up stands and leaflets was creeping towards seven figures when we offered a digital alternative. We sourced smart totem screens for every lobby in the network, instantly clearing reception areas of untidy and quickly redundant printed material while saving serious amounts of money.
Watch the case-video
Let Equator tell the story from project brief to final (and still ongoing) product. Watch the entire recording of the case webinar or jump to the bits you want to know more about: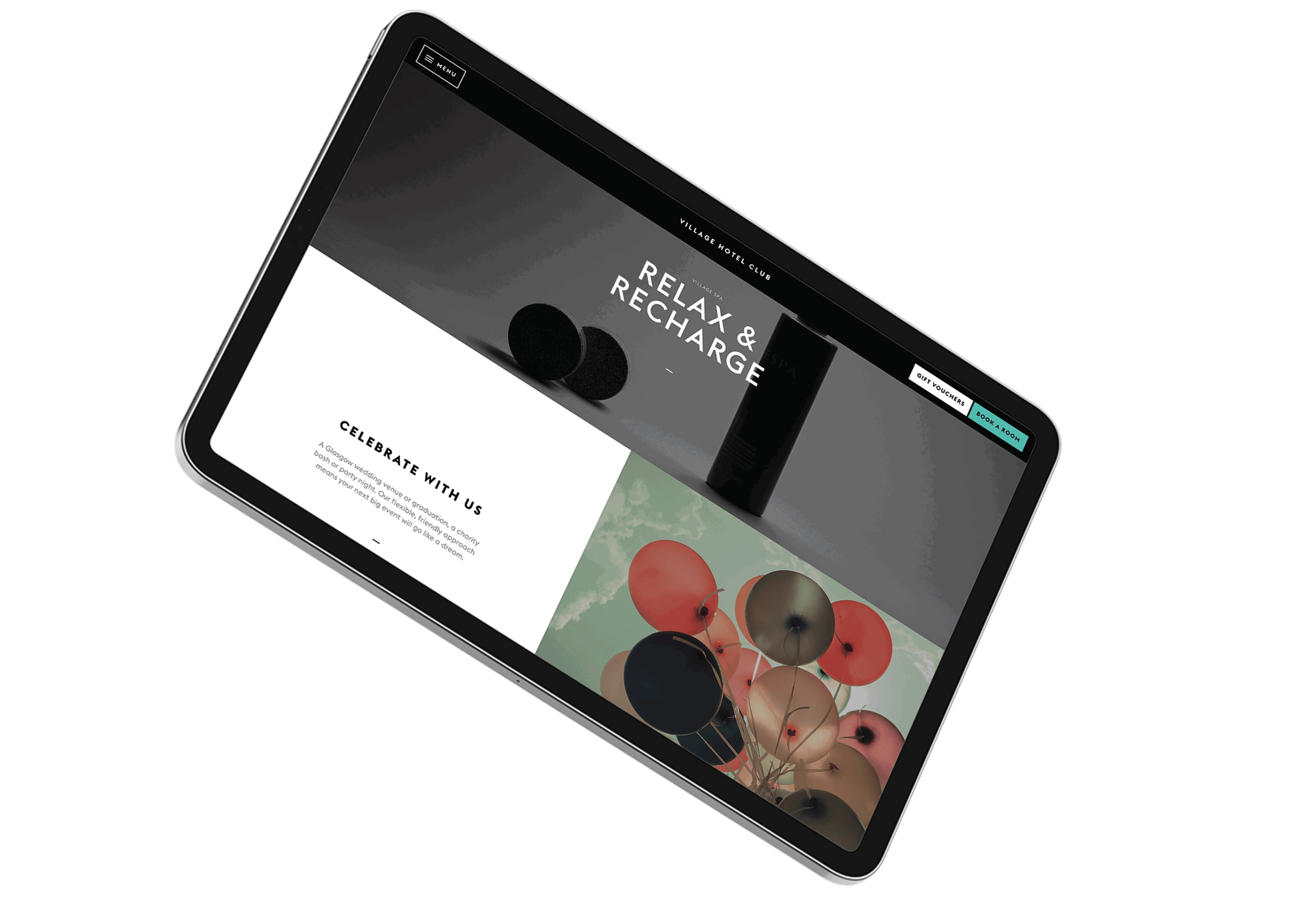 Succeeding with Umbraco 💪
We used Umbraco's extensive ''headless'' CMS architecture to power a whole raft of technologies, including the booking engine, Alexa, and totem screens. This gives us the capacity to integrate future tech when it's available. Our CMS included personalisation capabilities for customised interactions based on viewing patterns, source of traffic, and even the weather.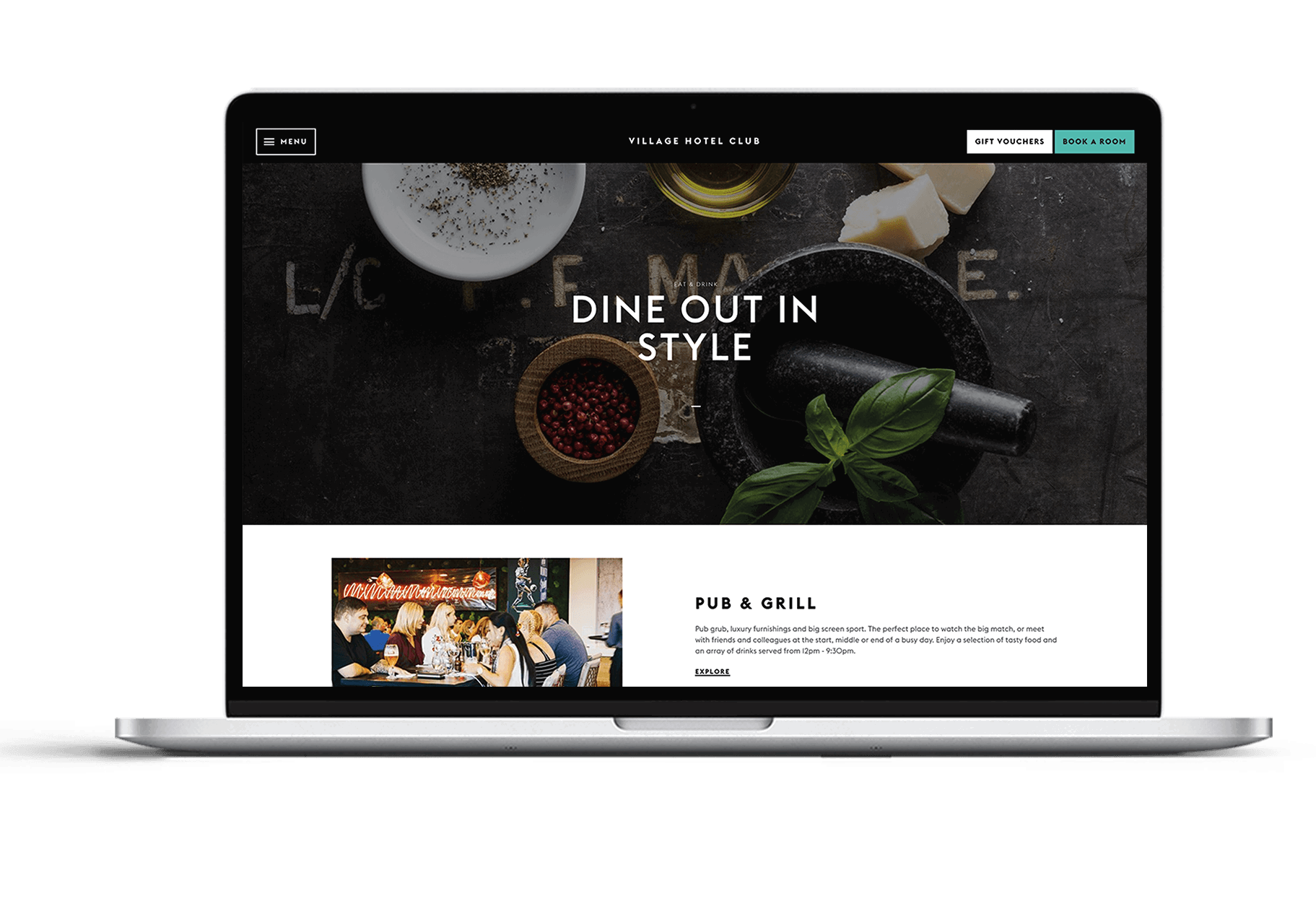 We designed the booking engine to be extendable, which meant we could support Village when they migrated their hotels from Opera to Hetras platforms. In the event, we ran both engines at the same time, in the same UX, during the switchover period. Finally, the Totems connected to our multiple cloud system; these allow marketing messages to be updated in real-time. Staff at the hotel or Village's HQ can promote upgrades, seasonal offers, special events and more, responding instantly to availability and demand.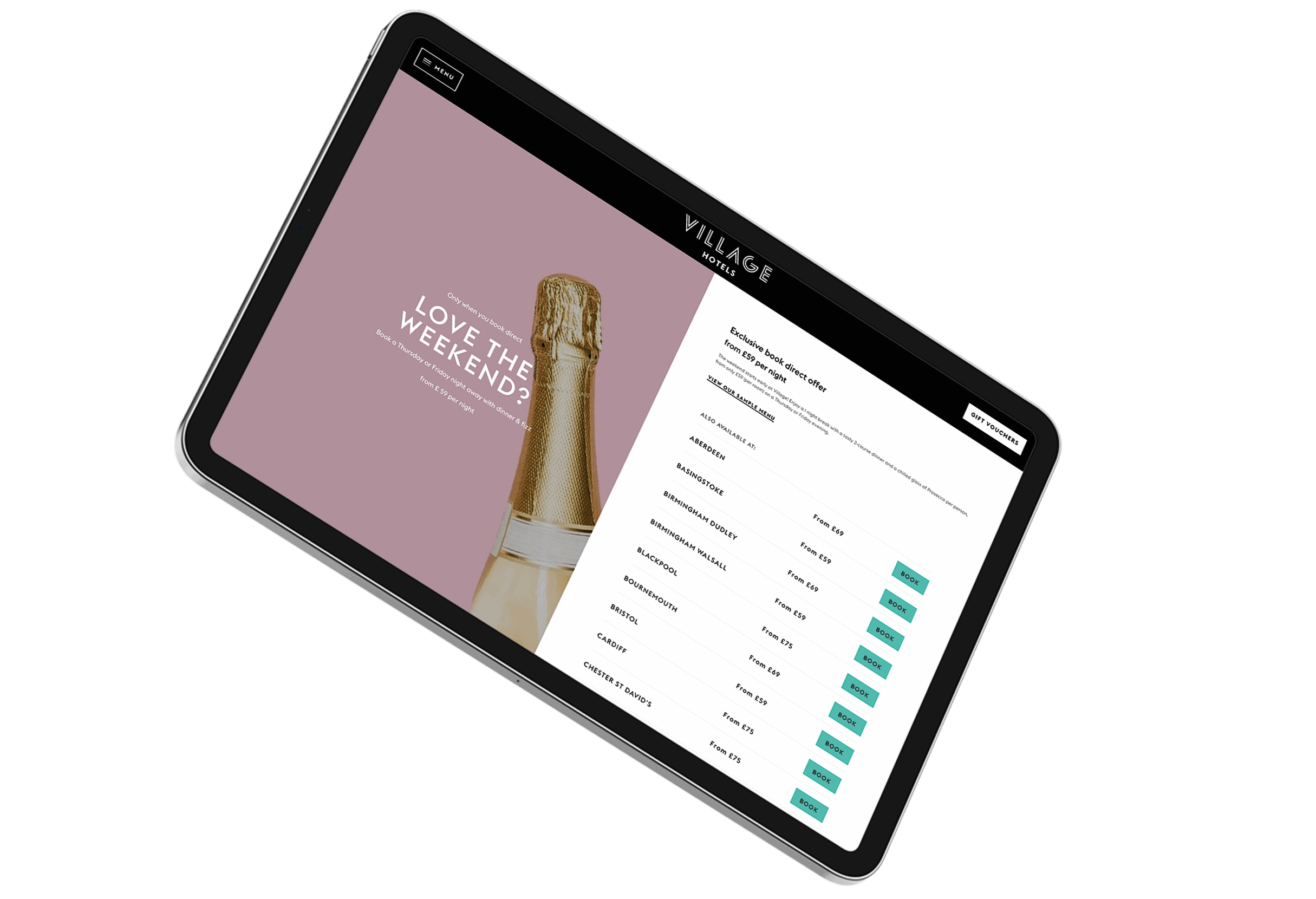 We love working with Village Hotels because they have such progressive thinking and are committed to reinventing the entire guest experience around digital and leading the hotel industry.
Project Brief
A new website, bespoke booking engine, multiple hotels etc.
Component driven design & build
"We like to think of it as Lego - you can put pieces together and make page templates"
Launch day and ongoing improvements
From brochure website to multi-site set-up
Custom Forms
Workflows connected to CRM
Empowering editors to spin-up campaigns
Christmas parties, special discounts etc.
Smart screens and digital Concierge
Using Umbraco as a headless CMS together with Amazon Echo.
A platform for growth
A future-proof architecture and platform