The current global situation can make us feel more disconnected than ever, and these are no doubt difficult times for everyone. But here at Umbraco we believe that this adversity is an opportunity for us to band together and appreciate each other even more and in new ways! 💙
So we wanted to create a fun and easy space for everyone to hang out together in true Friday fashion, and we invite all of YOU - our amazing community - to participate, whether you are long-time PR contributors, a brand sparkling new partner or an Umbraco editor, developer, designer, project manager, freelancer etc.! Every Umbracian can join! 🦄
📢 In order to participate, we need you to sign up right here - so that we can send you the secret link! Don't miss your chance!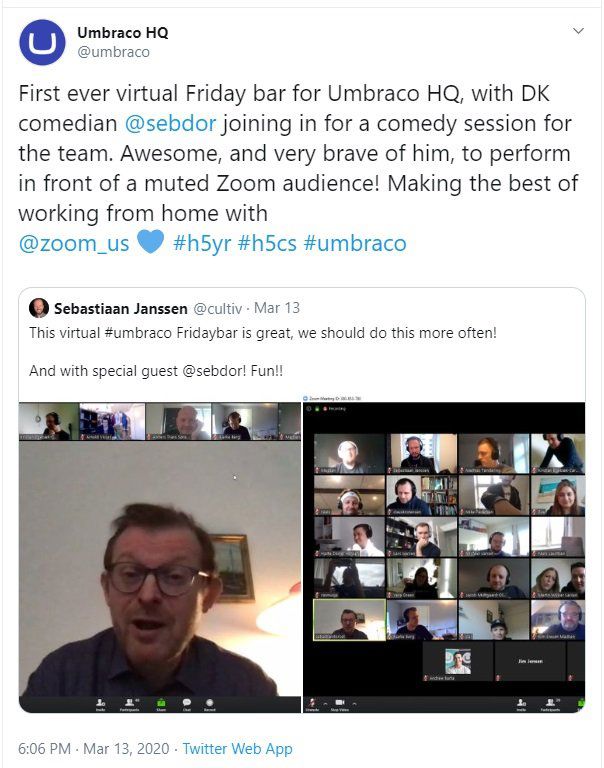 A few weeks ago we took our weekly Friday Bar virtual, and it was a lot of fun!
To keep the vibe going, most people stayed on for umbraCoffee - the wonderful discussion livestream hosted by Marcin and Callum - which quickly evolved into a shared UmbraFridayBar experience (check out how that went down!). Everyone had such a good time that we knew we had to do it again.
But this time we want to take it to the next level.
And so FunkyUmbraFridayBar was born. 🕺
So here's the plan...


📆What day? Friday 27th March
🕓What time? 16:00 CET (4pm)*
🌍Where? Your living room/ home office/ shed/ kitchen, wherever is comfiest! 😉
👨‍🦲Who? All of us!


The FunkyUmbraFridayBar will be hosted on Zoom and then streamed live on our main YouTube channel for anyone to join. Once you sign up (we'll get to that in a second) you will receive the link to join, and we will let you know via social media when this goes live on YouTube.
*We understand that this might not be the end of the day for everyone, but please feel welcome to join in with your morning coffee! The livestream will also be saved to our YouTube channel so that you can catch all the fun in your own time.
If you have Spotify, you can join our awesome collaborative playlist so you can listen along to songs chosen by fellow Umbracians and even add your own!


What will happen?
Good music, inflatable unicorns, cats, dressing up; the usual stuff. 
To guide us through this fun and Funky virtual Friday bar, we've arranged for Arnold to be our host. ➡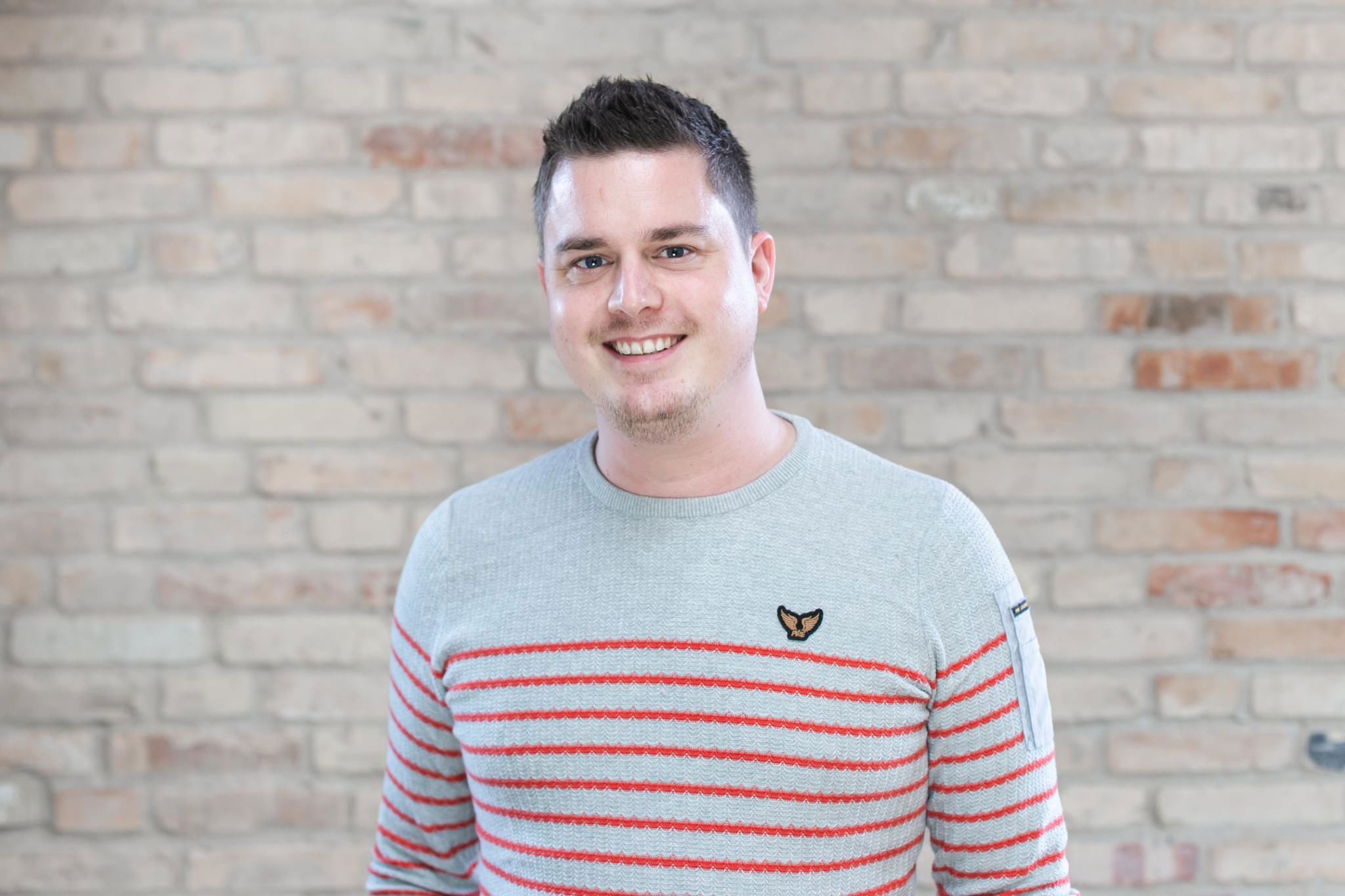 And we already have a few things on the agenda for you to look forward to:
🎇 Dressing up is always a little crazy, but can you dress up 6.13% crazy? Let's see who gets really creative! If you're not joining Zoom, remember to share your selfies on Twitter with the hashtag #FunkyUmbraFridayBar


🎇 Do you have some fun Umbraco trivia up your sleeve and want to put your fellow Umbracians to the test? You can submit your weird and wonderful questions and answers to the Funky Umbraco Trivia Quiz when you sign up!


🎇 We want to use this opportunity to celebrate all the weird and wonderful of our community and get a bit "closer" to each other by getting to know each other a bit more.
So, do you have a secret talent that will blow everyone's minds? Have you been waiting for the perfect moment to show off that collection? These don't necessarily have to be Umbraco-related, as long as they're fun and appropriate we can't wait to see it. Please write about what you would like to show when you sign up!


Who knows what other friendly and funky things will come up? Perhaps a virtual drinking game, suited for a virtual bar? Or maybe even some words from the Chief Unicorn himself? There's only one way to find out!
So sign me up!✍


You can sign up right here and then you'll:
Put down your email to receive the Zoom link on Friday
tell us about any talent or collection that you want to show off
Contribute your question and answer for the trivia quiz (if you want to!)
By signing up in advance it becomes much smoother and faster to set up, so that we can get straight to the good stuff.


⌛Please sign up by 15:00 CET on Thursday 26th March.⌛


Remember, if you would rather get straight into pyjamas after a long hard week, then you can join in on our YouTube channel and enjoy the craziness from the comfort of the chat box. In this case you don't have to put down your email, but we would still love for you to contribute your ideas! 
Keep a close eye on our social media this week and next for updates, and remember to keep sharing your ideas with us!
And don't forget to sign up by Thursday! 😉
We can't wait to see you!
#H5YR