"A certified developer can keep their official status for two major releases" 
The above sentence was until today to be found on the "Certified Developer" page on umbraco.com. And as the strike-through signals, this is no longer the case.
With the announcement of a new release cadence where we are expecting 2 major releases per year the rule of "A certified developer can keep their official status for two major releases" is no longer relevant or fair (you'd have to get certified every year 😅). Furthermore, the future major releases are expected to be less feature-heavy compared to previous major releases e.g. Umbraco 7 vs. 8.


Thus, due to the technical nature of the future major releases as well as the frequency, it no longer makes sense to tie a certification together with a specific major release. What makes sense then?
24 months 
It makes sense to tie the certification together with time. From 2022, this means that when you've earned your certification status (Professional, Expert, or Master), it's yours to keep and brag about for 24 months. 
Why 24 months? In CMS development and the world of Umbraco, things are constantly moving and improving. We see 2 years as a very reasonable timeframe for you to still call yourself certified with valid Umbraco knowledge. 
Furthermore, this timeframe also aligns nicely with how we'll handle Long Term Support (LTS) and End Of Life (EOL) for future Umbraco versions. Starting from Umbraco 10 (ETA H1 2022), we will release an LTS version of Umbraco every 24 months. This means that whenever you decide to get certified you're guaranteed that your knowledge is based on either the latest or the previous LTS version. This is also a guarantee for those hiring Umbraco certified developers - if the developer has an official certification, you can be sure their knowledge is not outdated. 
And just before these 24 months runs out, if you want to renew your status, we've got you covered as we're introducing a new way to retain your certification title (more on that further down 👇)
Bye to points, hello to clear certifications 
What does it mean to be an Umbraco "Professional" or an "Expert"? With the old certification point system, it was "pick and mix" which has its pros and cons. One of the cons is that it's not clear for e.g. an employer to know what it means when they hire an "Expert" - Do they even know the fundamentals? Do they know about security in Umbraco? 
We are therefore introducing a new structure that'll make it more clear what the certification titles mean as they will tie up to specific courses: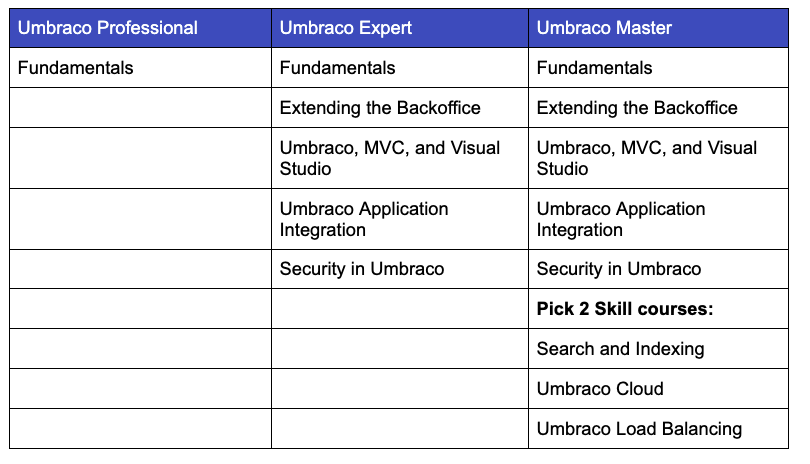 This new structure also makes the certification path more straightforward. E.g. if you want to become a Master, you have to start by becoming a Professional, then an Expert, and finally, to become a Master you have to pick and pass 2 of the current 3 Skill courses - as well as pass all the required certification tests…
Introducing certification tests
As you can see above, we're keeping the certification ranking: Umbraco Certified Professional, Expert, and Master. 
But we're also introducing a new step on the path to the certification titles - certification tests.
Update 04/05/2022: Due to the introduction of Certification tests, individual course tests are no longer required. 

This means that in order to reach the certification statuses, you have to pass a certification test on top of the individual course tests e.g. The Expert Certification Test. This test will become available to you for free when you've completed and passed all the required courses specific to each certification status and it will be based on a mix of the knowledge you've learned by going on these courses. 
For example, to become an Umbraco Certified Expert your path will look like this: 
Go on the Fundamentals course


After passing the Fundamentals course you'll get free access to the Professional Certification test, pass, and you're now an Umbraco Certified Professional for the next 24 months.


Go on the remaining 4 required courses before the 24 months are over (Extending the Backoffice, Umbraco, MVC, and Visual Studio, Application Integration and Security)


After attending all 5 required courses, you get free access to the overall Expert Certification test, pass, and congratulations! You've now upped your title to Umbraco Certified Expert for the next 24 months!
Renewing your certification status in the future 
By introducing certification tests you also get the chance to renew your certification status in order to retain your certification. This means that when you're getting close to the 24-months line, you have two options:
Update your knowledge by going on all the required courses again and get access to the certification test. Pass, and you have earned your title again for 24 months.


If you have kept your knowledge up to date during the preceding 24 months or perhaps you have been on any available bridging courses to ensure you're aware of all the new changes, then you're able to renew your current status by purchasing the certification test on its own. Pass, and you have renewed your title for another 24 months.