LTS & EOL for Umbraco CMS
We want it to be safe and easy to use Umbraco CMS in Cloud and elsewhere. We are currently releasing small and frequent updates and additions on a fixed cadence every 6 weeks (minor releases) and make sure to fix bugs and release the bug fixes as soon as possible (patch releases). Going forward we will only include breaking changes in new major versions - which will be released twice per year - you can learn more about the release cadence here.
Starting from Umbraco version 10, ETA spring 2022, every fourth major version (so every 2 years) will be a long-term supported (LTS) version. 
2 support phases for major releases
Starting from January 2022, we have introduced two phases of support for our major releases: 
The "Support" phase
In this phase, we fix bugs, regressions and security issues. New projects can be created in Umbraco Cloud from this version. This phase is 9 months from the first release - extended to 24 months for LTS-majors.
Fixing regression issues on the last 3 minor releases 
Adding compatibility patches (to ensure new server-, browser-, and .NET Framework versions are supported)
Continue to review issue reports and patch PRs. This will be done with stability in mind so no new features, only "critical" fixes. 
Provide relevant security advisories and updates
The "Security" phase
After the "Support" phase, the release will go into a "Security" phase. From here on we will only fix security issues. The security phase lasts 3 months - extended to 12 months for LTS-majors.
At the end of the Security phase, the major is considered End Of Life (EOL), and we no longer recommend using it.
We only ever patch on the latest minor of a particular major.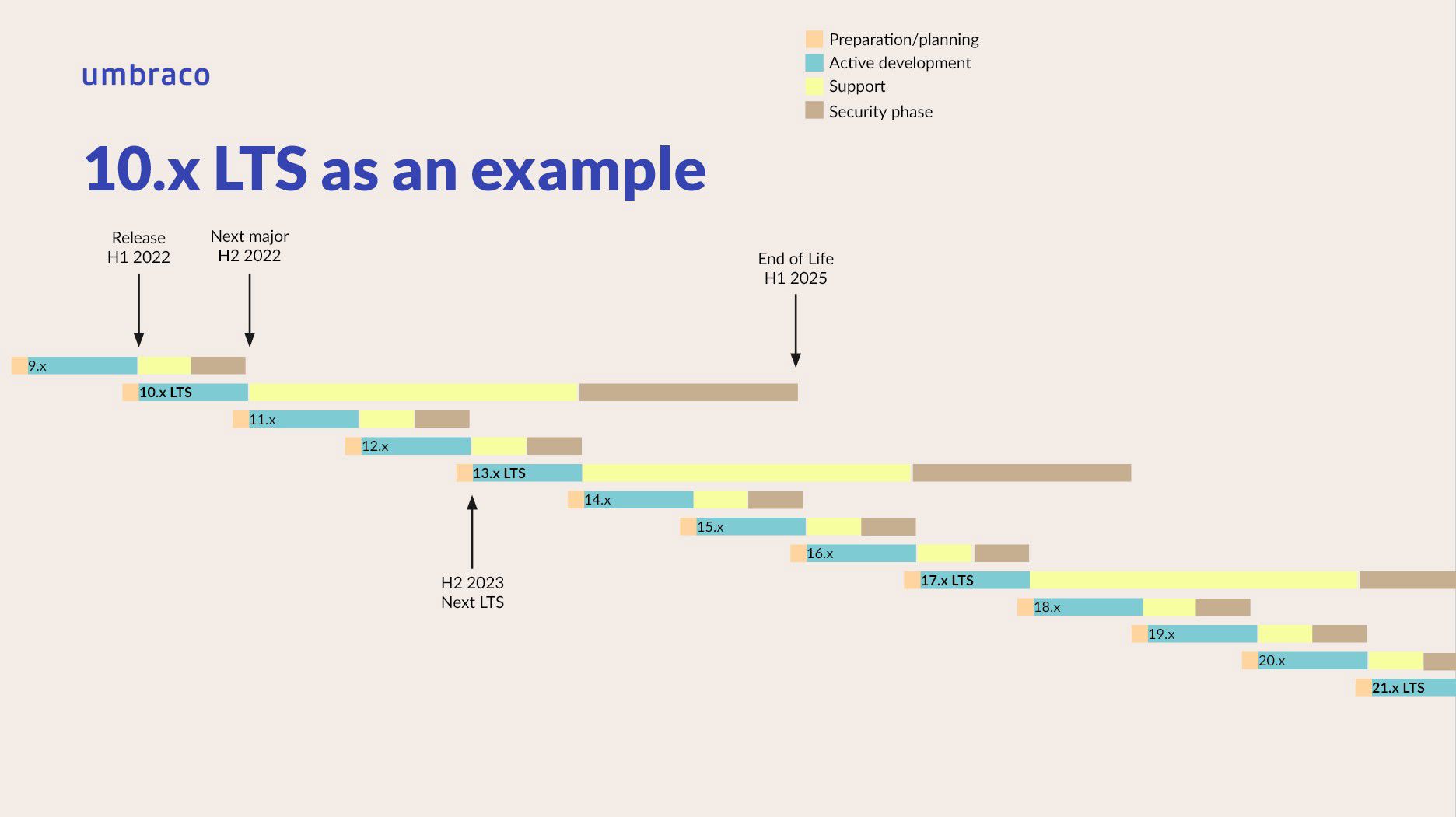 Aligning Umbraco releases with .NET LTS releases
Based on the model described and shown above, Umbraco CMS LTS releases will be aligned with the LTS releases of Microsoft .NET. So you can have your entire platform supported for a longer period of time. 
Umbraco 10.0 is LTS and supports .NET 6 LTS
The next LTS will be Umbraco 13.0 and will support .NET 8 LTS.
What about Umbraco 9, 8 and 7?
Umbraco 9 is in Support phase until September 16, 2022, with an additional 3 months of Security phase ending on December 16, 2022, when it is considered EOL.
We will consider the last minor releases to Umbraco 8 and Umbraco 7 as LTS.
Umbraco 8.18 will be the final minor version of Umbraco 8 and was released on February 24th, 2022. This version will be supported for 2 full years + an additional year of the Security phase. EOL for Umbraco 8 is February 2025.
For Umbraco 7, the last minor (7.15) was released in July 2019 and the Security phase started in July 2021. EOL for Umbraco 7 is September 2023 (to stay in line with our previous commitments for Umbraco 7, we have extended the Security phase for an extra 24 months).
Read more about end-of-life dates for previous major versions:
LTS & EOL on Umbraco Cloud
By default, all new projects on Umbraco Cloud are based on the latest version. Should you need to use a previous major, please be aware of the following:
It will no longer be possible to create new projects in Umbraco Cloud based on a major version that has entered the Security phase - this also goes for baseline children.
From July 2021 you can no longer create new sites nor create baseline children based on Umbraco 7
24 months from the last minor of Umbraco 8 (released February 2022) you can no longer create new sites nor create baseline children based on Umbraco 8
LTS & EOL for Umbraco Forms, Umbraco Deploy etc.
We have aligned version numbers for Umbraco Forms and Deploy with the CMS. This makes it easy to know which versions are compatible with what. 
The corresponding versions of Forms and Deploy will be LTS. So your .NET, Umbraco CMS and Umbraco HQ packages are all supported for longer when you opt for the LTS-releases. 
This version alignment will happen no later than the first LTS of Umbraco CMS. 
What about Courier?
The latest minor for Courier (3.1.0) was released in April 2017, the security phase was extended the  until March 2022, and is now considered EOL.
Deploy On-premises has taken the place of Courier for Umbraco 8 and 9+.
What about Contour?
Contour 3, the predecessor to Umbraco Forms, was released 2012 and is considered EOL.
What about Umbraco Heartcore and Uno?
Umbraco Heartcore will automatically upgrade, so there is no LTS and EOL on these products. 
Umbraco Uno has been discontinued as a product and all Uno projects will be moved to an Umbraco Cloud projects running Umbraco 8.18 thus, will follow the LTS and EOL for Umbraco version 8. 
The Umbraco CMS release cadence
How does the Umbraco versioning work? And how often can you expect a new release of Umbraco CMS - and what kind of releases? We've gathered it all here:
What Umbraco product is relevant for you?
On the Umbraco product shelf, you find a wide range of products and services to support your needs in order to succeed with your digital project. Give it browse: