Overview:
Umbraco Headless release date.
Umbraco Headless Umbraco Heartcore release date
I'll just get right to it: we are happy to announce that our new headless offering will be released on Monday the 2nd of December 2019. And yes, it also comes with a new product name: Umbraco Heartcore. 
We are excited to offer you this service and we can't wait to see the projects that'll be built with this headless CMS offering. 
What is Umbraco Heartcore? 
Heartcore is the new SaaS offering by Umbraco HQ. The headless CMS service enables you to connect the Umbraco backoffice with any - and multiple - platforms, devices, channels etc. in order to distribute your content. 
Due to its RESTful API, you can provide content through Umbraco to e.g. apps, smartwatches, screens, smart speakers... anything really! We provide you with the well-structured and beloved Umbraco backoffice experience - you decide on the frontend. 
No need to be an Umbraco developer
Let's be realistic, if you're reading this blog post you might already be in the Umbraco-sphere and possibly an Umbraco developer. And don't worry - Heartcore is also built for you. But maybe you have some colleagues, friends or family members who are not all that into ASP .NET. The good news is that Heartcore might just be perfect for them as well! 
Because of the detachment of the frontend, there's no need to be an Umbraco developer in order to work with Umbraco Heartcore. You can essentially use any programming language or platform with our REST APIs. We have extensive API Documentation, so it should be easy to get started. There will even be 2 client libraries available at launch, one for NodeJS and one for .NET Core, making it extra easy to get started with Javascript and C# - more client libraries are already in the works. And if you want to use Umbraco Heatcore with something else, or want to create your own client library, you can make use of the full REST APIs to create and consume Umbraco content.
What's included in Umbraco Heartcore?
First of all, you get all that you love about the Umbraco backoffice: a logical way to structure your content, an intuitive way for editors to add, update, delete and design content, a media library to keep track of all types of images, files etc, straightforward user management ensuring that different users only have access to the areas that are relevant for them...etc. All the things that you, and your clients, love when working with Umbraco. 
Umbraco Heartcore comes with a managed API. This means that all your content, media etc. are automatically exposed via a REST API. This comes complete with CRUD capabilities and a built-in API browser. As part of the service, Heartcore also comes with Content Delivery Network (CDN) capabilities using Cloudflare, providing you with a stable platform as well as fast delivery of your content to any frontend and users - wherever in the world they might be! With CDN, your content, media etc. are delivered through Cloudflare's extensive network of servers so that it is possible for your content to be distributed smoothly and fast to your users. In Heartcore, the Umbraco Media Library is using Azure Blob Storage out of the box with Cloudflare in front as the CDN (https://media.umbraco.io). In addition to this, we have included an image service as part of the CDN, so you can resize, crop and do all of the image manipulation as with regular Umbraco websites.
Finally, Umbraco Heartcore runs on Umbraco Cloud and that brings a ton of benefits. One of the benefits of the service is that you don't have to worry about versions or upgrading. We provide you with a backoffice packed with helpful editor features and we make sure the APIs are always kept up-to-date. This means you don't have to worry or spend time maintaining and updating an extra codebase. 
That's just some of the features Umbraco Heartcore ships with. In previous Product Updates I've also mentioned a few of the other features (look under Umbraco Headless news 😉) 
The name?
If you're reading this as someone who's already part of the Umbraco-sphere, you might know Umbraco Heartcore as Umbraco Headless.

We have decided to give this product a "real" product name. A name that both say something about the offering - but also let our values shine through. It is still a "headless CMS" and part of what makes it interesting is of course that it's headless. But so are many other CMSs these days. That's why adding "headless" in the actual name becomes a bit redundant. One of the main things we want to highlight with the name is that you get Umbraco at its core - that it's friendly at its core. And of course, there's a little wordplay of being hardcore or creating hardcore solutions as well 😉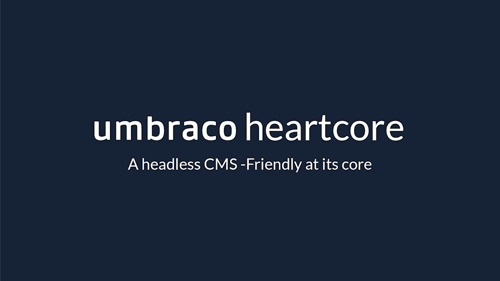 Hand to heart; we believe that "Umbraco Heartcore" says more about all that you get and are able to do with the service as it's much more than "just" a headless CMS, as you've hopefully got from the description above - if not, you might feel it when you start using Heartcore ;) 
Can I try before I buy?
Yes. It's always nice to take things for a spin before you go all-in, right? That's why, from the 2nd of December, you're able to take a free 14 day trial of Umbraco Heartcore. During the trial, you can test the key features, have a look at the backoffice, try and connect with the API - and maybe even take the initial steps to set up a real project. 
The trial is of course with no strings attached, so when it comes to an end it's completely up to you if you want to upgrade.
All the details about Umbraco Heartcore plans, features, prices, roadmap, support etc. will be available on our website from launch - the 2nd of December.