Overview: 
New Releases

Umbraco 8.2.1
Umbraco 8.2.2
Courier 3.1.8

Upcoming Release: Umbraco 8.3 and 8.4
Updates to the Roadmap

New in "Now": Improved Partial Restore on Umbraco Cloud
Headless - be the first to know! 
Update on Project Unicore
New Releases: 
Umbraco 8.2.1
This patch for Umbraco 8.2 was released on Tuesday the 22nd and contains bug fixes relating to the release. Among the bug fixes are:
Expanding multiple nodes in tree would cause the backoffice to freeze - fixed.
Publish with descendants would, in some scenarios, throw an error - fixed.
Some fantastic investigation and PRs have helped with these patches. Massive High Five You Rock to all who participated by raising issues and contributing to getting them fixed. If you have sites on Umbraco Cloud running version 8.2, they have received the patch automatically. You can find the full list of fixes and dive into the details on the download page.
Umbraco 8.2.2
Today we released a small patch to Umbraco CMS. This includes an important fix regarding empty/none existent cache files and addresses an issue with reordering cells in the Grid containing a Rich Text editor.  You can find the details and how to get your hands on the patch on the download page. Sites on Umbraco Cloud running 8.2+ will be updated automatically today.
Courier 3.1.8
A couple of weeks back we released an update to Umbraco Courier with a number of bug fixes. You can find the latest version along with the changelog on the Courier download page.
Upcoming Release: Umbraco 8.3 and 8.4
357! That is the number of PRs we've received during Hacktober fest this year. Amazing! 
Hacktoberfest has been a record-breaking event for Umbraco again this year. We're so thankful for all the many, many contributions. The PR team has already merged 181 of the PRs adding a swath of great fixes and features to Umbraco and we want to get them out as soon as possible.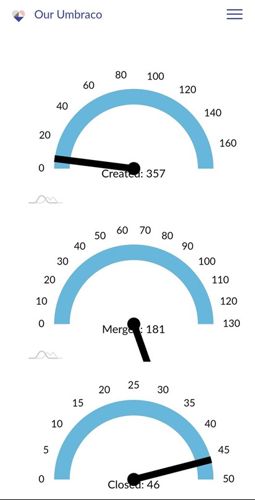 Maybe you recall me saying that Umbraco 8.3. will be a Hacktoberfest celebration? There's been a small change of plans, but don't worry, we will celebrate - it'll just be part of the 8.4. release instead. 
We are still working on testing and running through all the Hacktoberfest PRs and we will create a Release Candidate of 8.4, giving you enough time to test all the shiny new Hacktoberfest features before it's officially released. Depending on how the internal and external tests go, we're aiming for an early December release of Umbraco 8.4. 
This also means that we'll release Umbraco 8.3. next Tuesday (12th of November), as we have a few - none Hacktoberfest related features - that are ready to go. 
You can find the details on what will be coming in 8.3 on our.umbraco.com. 
Umbraco 8.3 will be a small minor release and most notably, it will be possible for you to change the culture of language. Previously, you had to create a new language and potentially migrate all existing content. With 8.3 this will be available at the click of a button. So there's some added flexibility to look forward to if you're working with language variants.
Updates to the Roadmap
No items have been moved around in the Roadmap within the previous two weeks - but we have added a new item in Now and have a few updates on others:
New in "Now": Improved Partial Restore on Umbraco Cloud
With this extended Partial Restore feature, you will be able to restore a single content node or a specific part of the content tree to a new Umbraco Cloud environment. It is already possible to update a node or section but current functionality requires you to restore the entire content tree in an empty installation. If you have a lot of content this can take a while, so being able to choose exactly what you want should be a nice productivity enhancement whether you're spinning up a new local instance, onboarding a new team member or getting a development environment ready for upgrading.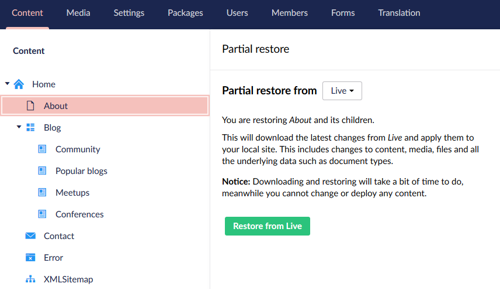 The Partial Restore will work as you know it, right-click a node and update it but now you'll also be able to browse the content tree on another environment and choose what to restore.
Headless - be the first to know! 
Things are moving along with Umbraco Headless, and with the expected launch being Q4 2019, this is just a friendly reminder that if you're curious about Umbraco Headless, want to be the first to know, try or buy, then remember to sign-up for the dedicated Headless newsletter.  
Update on Project Unicore
Project Unicore is the codename for the transition of Umbraco 8 to a version of Umbraco that runs on the .NET Core framework.
We've now started the next chapter of the project at Umbraco HQ, namely the restructuring of the current codebase to allow for a smooth transition to .NET Core. We know there are a lot of community members itching to get Umbraco on .Net Core and that want to contribute to the transition. Once we have the initial project structure in place, it is easier for us to facilitate community involvement, both for future RFCs and actual implementation, and this is the main goal with the initial steps in the project. 
You can read more about this initiative in the detailed RFC and more about the overall project in the original RFC.
Introducing the project lead
To ensure the success of Project Unicore we have also appointed a project lead at Umbraco HQ: Bjarke Berg.
Bjarke has tons of experience with .NET and .NET Core from 9 years of professional developer experience, including solid Umbraco experience from more than one year in the Core development team at Umbraco HQ. He has worked with .Net Core, in production, since the early release candidates and finally, Bjarke was part of the team defining Project Unicore earlier this year.
As we've now started concrete preoperational implementations of the first initiatives in Project Unicore we are also working on the best ways to initiate further community collaboration on the project. We'll keep you posted on these options and the project in general in future Product Updates, on the Roadmap and on dedicated future announcements related to the project.
If you have ideas, thoughts or comments related to Project Unicore at this point, please don't hesitate to reach out to us on product@umbraco.com.
That's it for this update...
A large part of the work we do is inspired by the feedback we get from you. For issues and specific feature request, you can find the issue trackers for our products on the Umbraco Github account.
If you have product feedback you're welcome to reach out to us on product@umbraco.com, contribute to the RFCs and if you want to get personal, you can find me on Twitter (@hemraker).
… Until next time.