Update on Umbraco Uno
June 10th we released a new branch of our Cloud services called Umbraco Uno. Umbraco Uno is a SaaS platform that makes it easy to get from idea to complete website in Umbraco without requirements for code or technical insights into Umbraco, in a short amount of time. You can read more about the release in the official launch post and in the previous Product Update.
We've seen a lot of interest in Umbraco Uno since the launch and I want to say a special thank you to everyone who took time to test the product and give us constructive feedback.
Since the release we've been working on enabling custom code access on Umbraco Uno, much like you know from regular Umbraco Cloud. This will enable the use of Umbraco Uno as a starting point for bigger projects where more detailed development is required for the end result. We expect to make custom code access available for standard and professional customers during July.
On the Product Roadmap we've also moved the "Improved Widgets" to "Now" as we are currently working on utilizing the upcoming Block Editor (new feature in Umbraco 8.7) to rebuild and improve all the widgets supported in Uno. This new feature will give you an even better editor experience when working in Uno. 
Deploy on Premise
We've been working on Deploy on Premise for some time now and I'm happy to report that we've come very far in the process. However, we've also come to the conclusion that Umbraco Deploy needs additional improvements than originally intended for an initial release to ensure a high-quality experience when used in an on-premise context. 
Work on further improvements has already begun, but this, unfortunately, means that we'll have to push the launch expectations for the project, now targeted for Q3 2020. We know a lot of you are waiting for this product and we'll make sure to keep you updated on the progress and updated release expectations as the work continues.
Warming up for Umbraco 8.7
It's been almost 3 months since the launch of Umbraco 8.6 and a ton of work has been put into the CMS since then. We are currently working on the last details of the new Block Editor for Umbraco as well as reviewing and testing all the other improvements that the new version contains. 
This includes:
Improvements to the support of segment variants in the codebase of the CMS, which is a contribution by our Gold Partner Perplex.


Tons of improvements on accessibility for the CMS primarily done by the accessibility team and as community contributions.


A brand new Block Editor based on the RFC work initiated as part of last year's Codegarden conference.


Multiple improvements for performance, documentation, UX etc.
To help you with the overview of upcoming releases, we've updated the release overview page on Our with categories for issues included in the release, making it much easier to find the details of what's included and any changes related to a specific topic (e.g. accessibility).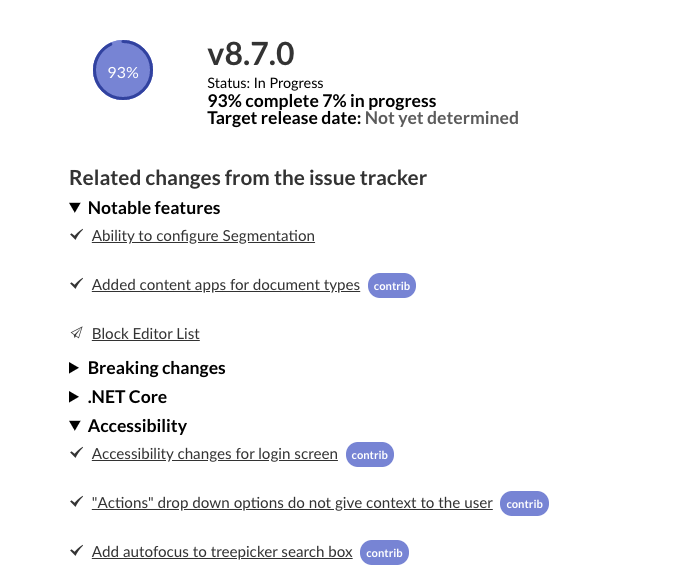 An additional improvement of the overview page is the inclusion of the "contrib badge" marking issues where community involvement was part of the process. As you can see from the overview page for Umbraco 8.7, we have a ton of open-source collaboration with our community. H5YR!
More updates about Umbraco 8.7 will be available soon, so stay tuned.
Brief updates on: GraphQL, Forms and Preview API
If you look at our public Roadmap, you'll notice that we have a ton of things going on at the moment. Here's a few other updates for you:
GraphQL for Umbraco Heartcore is nearing completion and we'll soon be able to offer native GraphQl support for all starter and professional customers on Umbraco Heartcore. We'll bring more updates on this exciting feature in the next product update. We've updated the ETA to Q3 on the Roadmap. And here's a little sneak peek of some of the things to expect:
We are getting the first Content item with the Content Type "Products" selecting only the "featuredProducts" property, for each featured product the name, photos and features is selected.
For media items we can get the server to generate a crop url for us by passing in arguments to either the "url" field or the specific Image Cropper field, which in this case is "umbracoFile".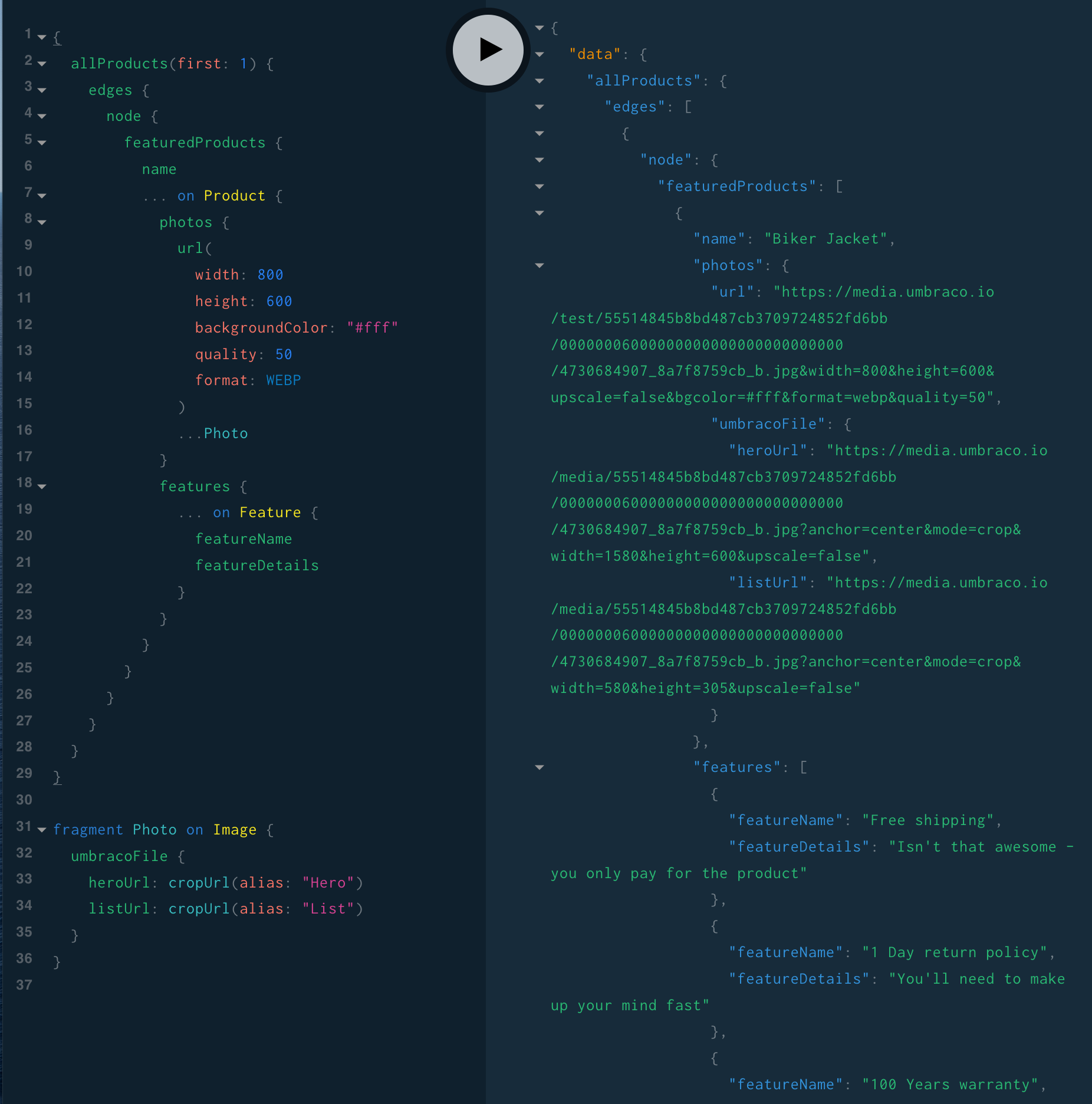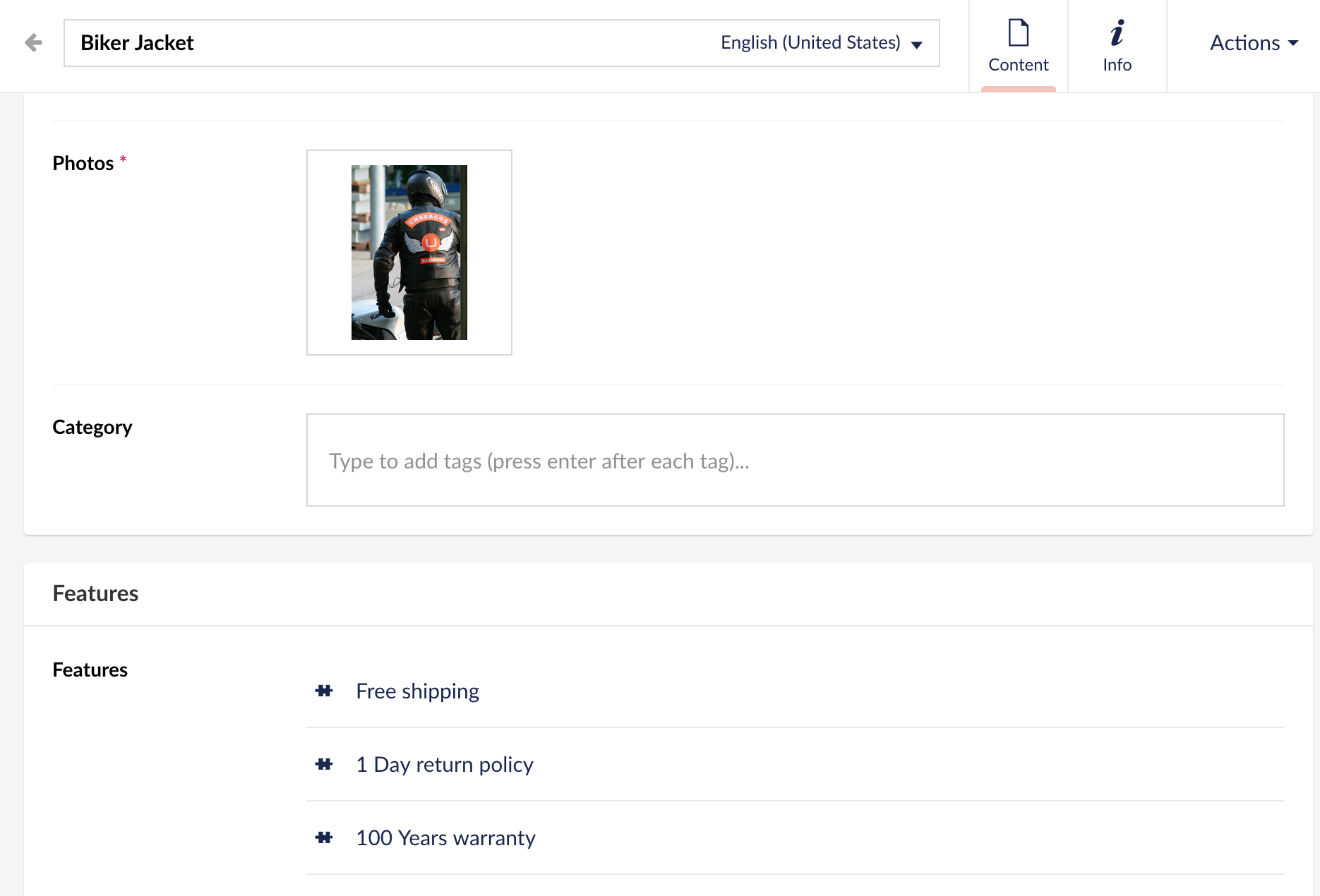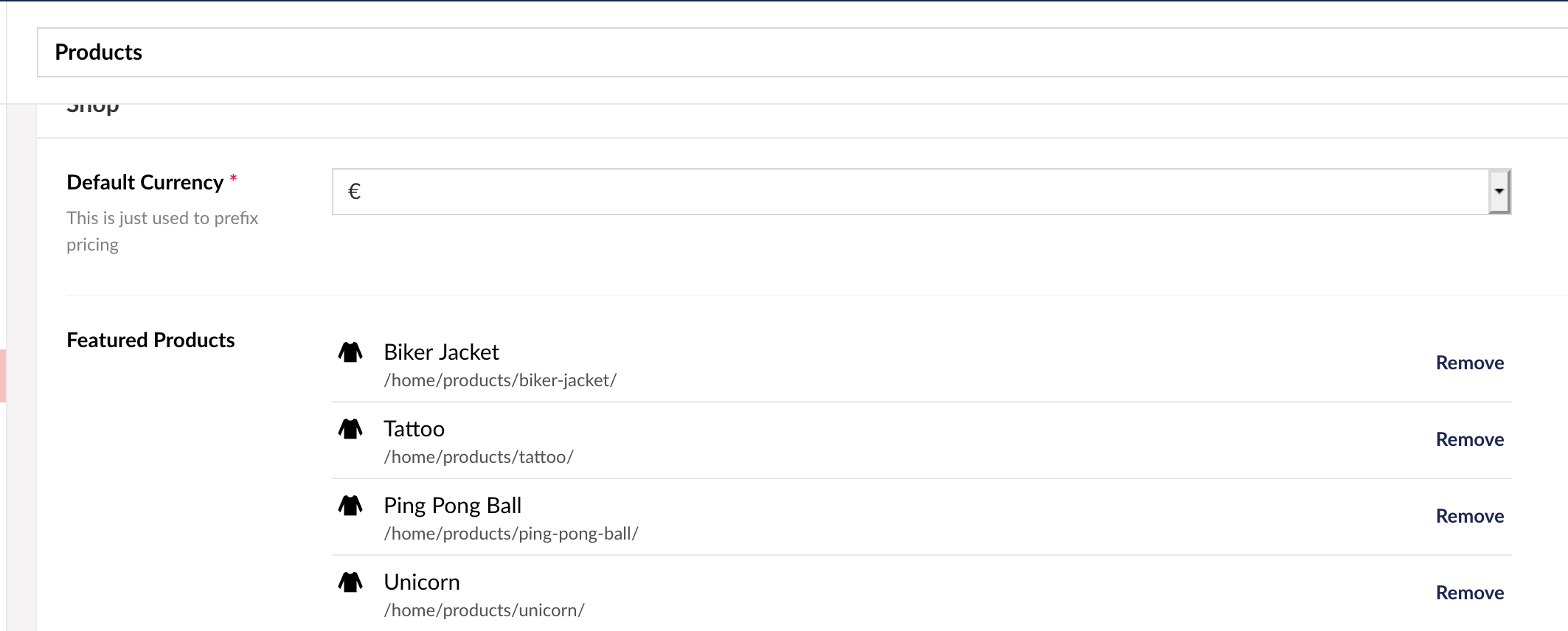 For Umbraco Heartcore, we've also started work on a new feature that will allow developers to connect preview capabilities to Heartcore content editors through the use of a Preview API. We've updated the Roadmap moving the feature to the "Now" section.


We have an upcoming release for Umbraco Forms where we've made several improvements to the product including support for storing Forms items in the database. We won't make the original ETA of June, but we are almost ready so we expect to release it soon.
That's it for this update. We have quite a few features and improvements coming out during the next couple of months, so keep an eye on the Product Roadmap and our upcoming blog posts - it should all be very exciting news :) 
Until next time, take care.
Jacob Midtgaard-Olesen, Umbraco CTO, product@umbraco.com