Overview:
What's new in Umbraco 8.9
You could say Umbraco 8.9 is a very focused release. It contains improvements and updates to a very specific area of the CMS: User authentication. 
We've been working for some time now on improving the login and authentication flow on Umbraco Cloud. As part of this work, we've identified some features for Umbraco CMS that could be updated and improved and even a couple of new features made it in there. It's centred around backoffice users and how these can be linked to external login providers such as Active Directory, Okta, Google etc. A great example of how work on our SaaS platform feeds back to all users of Umbraco CMS. 
So whether you're developing an enterprise solution with requirements around centralised login or want to offer editors easier (and more secure) login via Facebook or Google, this has now been enhanced to give you more control and more options.
External Login Providers
Implementing external login providers for Umbraco is no mean feat. If you want to get up and running quickly (and with example code), I recommend installing the Identity Extensions package. You can also find a helpful introduction in this blog post on how to log in to Umbraco with Google authentication. While it's not a new post, it should help with the basics.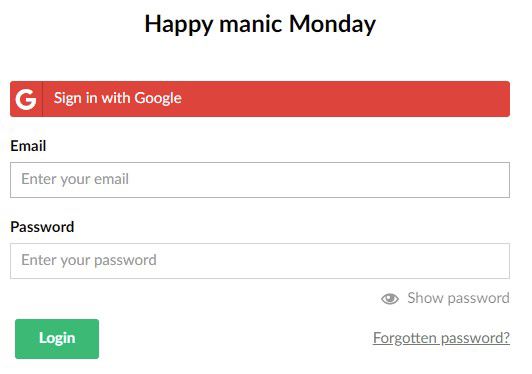 The package also has snippets and configuration examples for using Facebook and Active Directory and should give a good idea on how to implement other external login providers.
We have updated the documentation for external login providers.
Once you have an external login provider configured, Umbraco 8.9 will offer a bunch of improvements and some new features to take advantage of:
Auto Linking
Auto linking allows you to link an Umbraco user account to an external account. Prior to 8.9, it was not possible to do this automatically for existing users which meant that introducing features such as single sign-on or two-factor authentication to an existing project was not always a smooth transition. 
With the new auto-linking capabilities you have more control over how things should work both for existing and new users. You can still make use of manual linking if needed (linking accounts manually from the backoffice), hook into events to update user data, control if local login should still be an option and more.
There is updated documentation for auto-linking with the new features. Here you'll also find examples for:
Adding custom angular HTML views to provide an even more customised experience
Working with claims and data from external providers
Persisting data from external providers in Umbraco 
Backoffice User Manager
Umbraco has its own implementation of the ASP.NET Identity User Manager. It's called the Backoffice User Manager and contains a number of APIs and extension points that lets you control authentication, password handling, add two-factor authentication and more. 
The Backoffice User Manager documentation has been updated with descriptions and examples of the new features in 8.9. This also includes events to:
"Hi-jack" Umbraco's user invite workflow to create users in an external login provider
Customise the workflow for logging out of Umbraco/external providers 
Community Contributions
While the above-mentioned feature has been developed by Umbraco HQ, we've had some good collaboration along the way. So here's a big thank you and #h5yr to Lars-Erik Aabech from our Norwegian Gold Partner MarkedsPartner for feedback and to Merijn van Mourik for doing some thorough testing of the Release Candidate and taking the time to provide detailed feedback and suggestions. Finally, Ronald Barendse and Simon Hiort-Lorenzen pointed out some issues that needed to be fixed before the final release. Much appreciated!
How to get your hands Umbraco 8.9
As always, from today, all newly created version 8 Umbraco Cloud projects will be running 8.9. For all our Umbraco Cloud customers with existing projects, this upgrade is only 2 minutes away:
We've wrapped it all up for you, so all you have to do now is follow these steps:
Add a Development Environment to your project, if you do not already have one (Add a Development environment by clicking "Manage Environments" in the project view)


Make sure you also restore the content to the Development Environment from your Live.


When the Development Environment is all set up and you've made sure you don't have any pending changes on the Development Environment - you are all ready to upgrade to Umbraco 8.9!


It's as easy as clicking a button - like, literally clicking the "Upgrade Available" button on the Development Environment. The auto-upgrader will take care of everything from here! 🚀


Once it's done, check the Development Environment to make sure everything is looking right.


When that's confirmed, you are ready to deploy the upgrade to the next environment - Live or Staging, and start taking full advantage of all the new features.


Non-Cloud and release notes:
As always, installation and release notes can be found on Our: https://our.umbraco.com/contribute/releases/890
This release is also available from Nuget: https://www.nuget.org/packages/UmbracoCms/8.9.0