Empowering digital projects to succeed 🌤️
Umbraco Cloud provides a range of features that make creating, hosting, and maintaining Umbraco projects less time-consuming. Over the past year, we've seen a steady rise in interest in Umbraco Cloud in Australia and New Zealand, which made adding Australia to the list of Regional Hosting Options the next logical step. 
We already have a number of Umbraco Cloud projects in the region, and being able to provide an even faster and better service, along with the data privacy benefits of regional hosting makes great sense. We're sure we'll see even more successful projects on Umbraco Cloud in this region very soon.
The Australian data center was made possible in close collaboration with our first Australian Platinum Partner, Luminary:

We are thrilled that Umbraco is opening a hosting environment in Australia. It will provide opportunities for speed improvements for existing customers and data sovereignty in Australia for new customers who need it. We are excited to be part of this journey, to become the first Umbraco Platinum Partner, and help bring an Umbraco data center to Australia.

This milestone ensures Australian data residency, swift deployments, and seamless management, within a cost-effective, auto upgraded and secure PaaS (Platform as a Service). With cloud-native Umbraco add-ons such as Forms, Deploy, Commerce and Workflow, content editors will be able to utilize multiple self-service options and developers can concentrate on custom functionality for their clients. This marks a major milestone for Luminary, Umbraco HQ and the open-source community in Australia.
Our primary objective with Umbraco Cloud is to empower partners and end clients with the tools they need to excel on the Umbraco platform. Adding more hosting options and features aligns with this goal, enhancing the appeal of Umbraco Cloud for new projects across many regions. Importantly, Umbraco Cloud makes it easier to gain access to the wide variety of tools and features designed for the platform, including automated upgrades, content synchronization, deployment workflows, CDN, caching, performance insights, and security features, among others.
The regional benefits
Aside from meeting customer and partner demands, and providing easier access to the advantages of using Umbraco Cloud, introducing the new region has additional benefits:
Improved speed - faster websites!
With the new region being on the other side of the globe from most of the existing regions, there is a noticeable performance improvement. Internal testing shows a remarkable 70% improvement in average response times for Australian users when comparing the same projects hosted on Umbraco Cloud in the Europe-West region. 
The improvement in speed applies to ongoing development as well as content editing. This means that daily work will be faster, more responsive, and help increase productivity and time-to-market. While caching and CDN features available with Umbraco Cloud already deliver efficient response times, serving data to the end user will also be positively affected by reduced latency.
Easier for you to meet data privacy requirements
There are significant advantages to choosing a local hosting option. Australia has a robust set of data privacy rules and there are sectors and types of data that have hard requirements for data sovereignty. These can be easily met with this new option. In addition, it can be easier to comply with a broader set of rules and document processes if the data transfer and storage are localized. 
No additional cost
That's right. Choosing a region that makes sense to you and your business will not cost you extra. It's a service we've decided to provide for you in order to support you in creating successful digital projects on Umbraco Cloud in our main markets.

After thorough consideration of our partners and clients, it's evident that there's significant demand in Australia and New Zealand. We're excited to introduce the Australian Regional Hosting Option for Umbraco Cloud, enhancing accessibility to our features in the region while ensuring compliance with local data regulations.
Umbraco Cloud's Australian Regional Hosting Option
Getting started is exceptionally straightforward. When initiating a new project on Umbraco Cloud, you select the Australian option. It's that simple!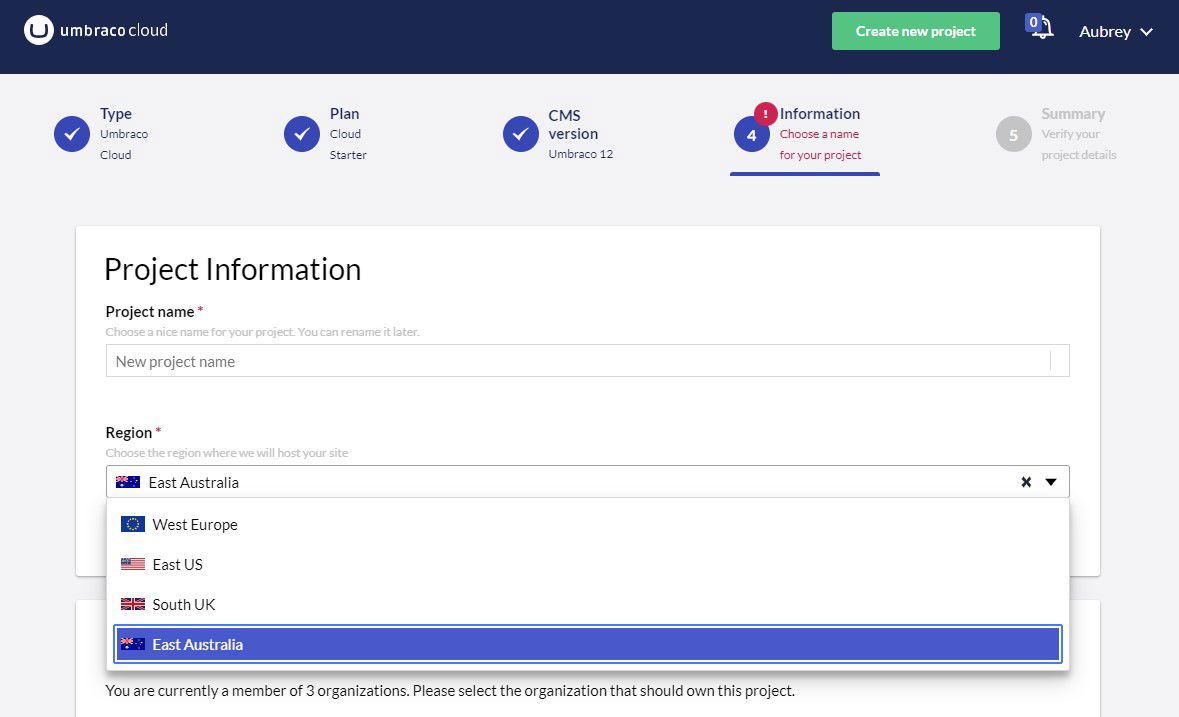 Having multiple regions to choose from simply means more flexibility for agencies and companies that work internationally, or have requirements for specific regions. With the latest addition, there are now 4 options to choose from for your Umbraco Cloud projects:
East Australia: The latest addition, allows you to utilize the Australia East Azure data center for hosting your Umbraco projects.
East US: Perfect for projects and clients based in the US, and a compelling choice for the broader Americas region.
West Europe: Situated in the Netherlands, it caters to Europe-based clients and projects, and has good connectivity worldwide.
South UK: The UK Azure data center option, serving the United Kingdom and surrounding areas.
Discover more about Umbraco Cloud
If you're keen to delve deeper into the Umbraco Cloud platform, you can schedule a free session where one of our Cloud experts will demo the benefits and answer your questions. They'll guide you through the platform's features, roadmap, and how it bolsters your ability to build and maintain Umbraco sites.
Learn more about Umbraco Cloud

We're excited about extending Umbraco Cloud's presence to Australia. It will open up new opportunities for a variety of projects for our partners working in the region.  Furthermore, the prospect of expanding to new regions in the future is equally exhilarating. If you have specific requests for Umbraco Cloud's next expansion or suggestions for features that would help you succeed with Umbraco Cloud, we encourage you to reach out at product@umbraco.com.