Overview: 
New release: Umbraco 8.11 (and 8.11.1)
Umbraco 8.11 is out in the wild and brings some nice features and fixes to the CMS. In fact, 50 fixes and additions are contained in this release and a whopping 40 of them are community contributions. Among them are the last of the contributions made during Hacktoberfest 2020 - Big thanks and HIGH FIVE YOU ROCK to everyone who contributed. Now it's time to get your swag on or plant a tree: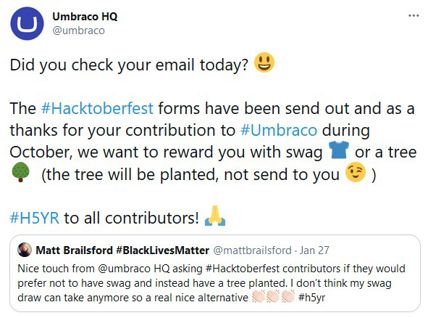 Shortly after the release of 8.11 we (un)fortunately identified a breaking change and have subsequently released a patch. You can find details on the release, and the patch, in the Umbraco 8.11 release blog post.
New release: Patches for Umbraco CMS
We've also released 5 additional patches for Umbraco 8.6+. These releases have fixes for better performance, improvements specifically targeted at sites hosted on Azure and some specific fixes for the relevant minor. Please see the release notes for details:
Upcoming release: Alpha3 for Umbraco on .NET Core
We're very close to having the next alpha release of Umbraco on .NET Core ready. It will be the 3rd alpha release for project Unicore, with the long-awaited routing and frontend rendering ready for testing. This means you'll be able to try the complete experience of creating content and rendering the content in razor templates.
Target release date: February 9th, 2021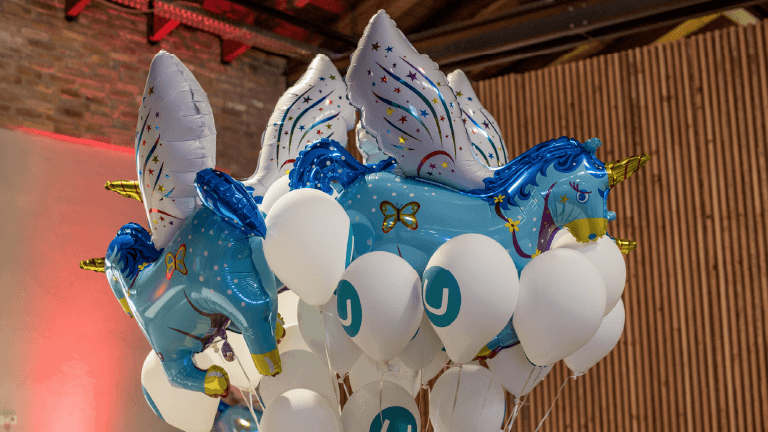 The alpha release will be accompanied by a blog post detailing the release and providing an update on project Unicore. We've also updated the .Net Core items on the product roadmap to reflect the current roadmap for the project.
If you want to know more about the move to .NET Core we've gathered all information along with an FAQ on this brand new landing page for Migrating Umbraco to .NET Core. We'll make sure to keep it up-to-date with relevant information and add to the FAQ as questions come in. 
Single sign-on for existing projects on Umbraco Cloud 
Back in December, we enabled single sign-on for the Umbraco Cloud portal. Single sign-on reduces the number of times you need to login to Umbraco cloud. From January 4th, all new Umbraco 8 projects are taking advantage of this as well. Once you are logged in to Umbraco Cloud, you can access the backend of your projects without having to log in again.
But it doesn't stop there, we want everyone on Umbraco Cloud to be able to benefit from the ease of use and added security. This means we need to upgrade existing projects to utilise single sign-on as well.
The first round of maintenance, enabling single sign-on for projects running Umbraco 8.9+, has been scheduled for February 9th. Please see the Umbraco Cloud status page for more information. We will have more information on the upgrades for projects running Umbraco 8.8 and earlier versions (incl. Umbraco 7.x) soon.
Request for comments for future-proofing Umbraco's backoffice
As mentioned in the last product update, we've set a deadline for the first RFC in the backoffice project for today, January 29th, 2021. We're thankful for all the great input and discussion, it has definitely helped form this RFC as well as the roadmap for the rest of the project. If you have any additional comments, you can still add them today and we will not close the comment section when the RFC is accepted.
We're currently working on the next RFC for building a UI Library based on web components (as detailed in the first RFC) and will let you know as soon as it is ready. 
That's all folks
Just a couple of things to update you on before I go:
Updated Umbraco Code of Conduct
We have just published a new and updated version of the Umbraco Code of Conduct. It's been revised with the help of our lovely Umbraco MVPs over the last several months. It now contains more details on what is not acceptable behaviour and, importantly, who to contact if you encounter anything that does not live up to the CoC.
It's an important thing to have in place for newcomers to the community (new contributors, event speakers etc.) to let them know this is a safe and friendly corner of the broader tech community. 
If you're an Umbraco event or meetup organiser, you're of course more than welcome to use and refer to this as the code of conduct for your event/meetup. 
The CoC is open source, so if you have comments or suggestions you can find it here on Github. We'll have more details on the new CoC in an upcoming blog post.
… Until next time
A large part of the work we do is inspired by the feedback we get from you. For issues and specific feature requests, you can find the issue trackers for our products on the Umbraco Github account.
If you have product feedback, you're welcome to reach out to us on product@umbraco.com.