Overview: 
New release: Umbraco Forms 8.11/9.3 and Deploy 4.5/9.3
Another round of features have been released for both Umbraco Forms and Deploy, and some highly-requested ones at that.
For Umbraco Forms, you can now edit entries submitted via Forms directly in the backoffice.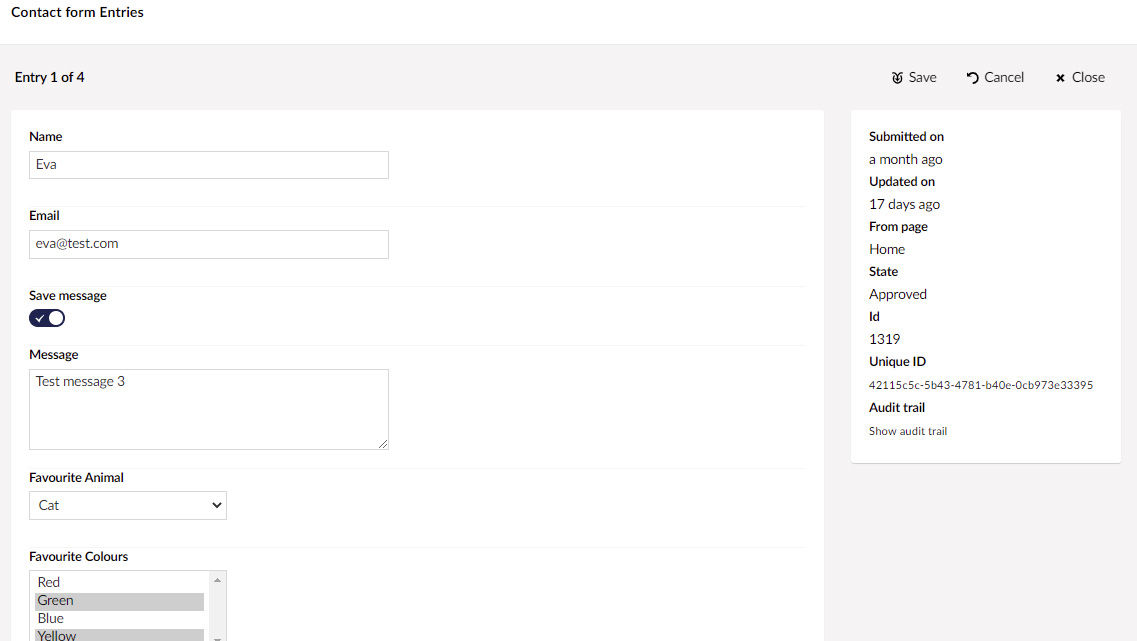 This allows you to correct and fix submitted information or add notes before approving. 
With new powers comes more responsibility and with this new release of Forms for Umbraco 8 and 9 you have better control over who is responsible for what. There are a lot of improvements and new features to the Permission system such as controlling Default Access to New Forms, Start Folders, User Group, and User Permissions, and more.
The new release of Umbraco Deploy also has some nice new additions. The ability to compare content between environments before a transfer is now available in the actions menu. This makes it easier to predict how the transfer will affect the target environment and you can be more confident in the outcome.
Another requested feature that is included in this release is the ability to transfer Member data between environments in the same way as Content. This is an opt-in feature and needs to be enabled in configuration to potential privacy concerns with handling Member data. You'll find there are multiple date policies to choose from so you can tailor it to suit your needs.
All releases and features are available for both Umbraco 8 and 9. They are included with all new projects on Umbraco Cloud and existing projects can upgrade to the latest version at any time.
Released on March 8, 2022. You can find more details and information in the Umbraco Forms 8.11/9.3 and Deploy 4.5/9.3 release blog post.
Upcoming release: Umbraco 9.4 (release candidate is out 🎉)
A new release for Umbraco CMS is in the works. The fourth minor for Umbraco 9 delivers a lot of smaller tweaks, improvements, and fixes, many of which are contributions from the community - In fact more than 70% 😍 There's also a big new feature set, that has been in the works for a long time. 
With Umbraco 9.4 running you can now see where content is being referenced by going to the info tab.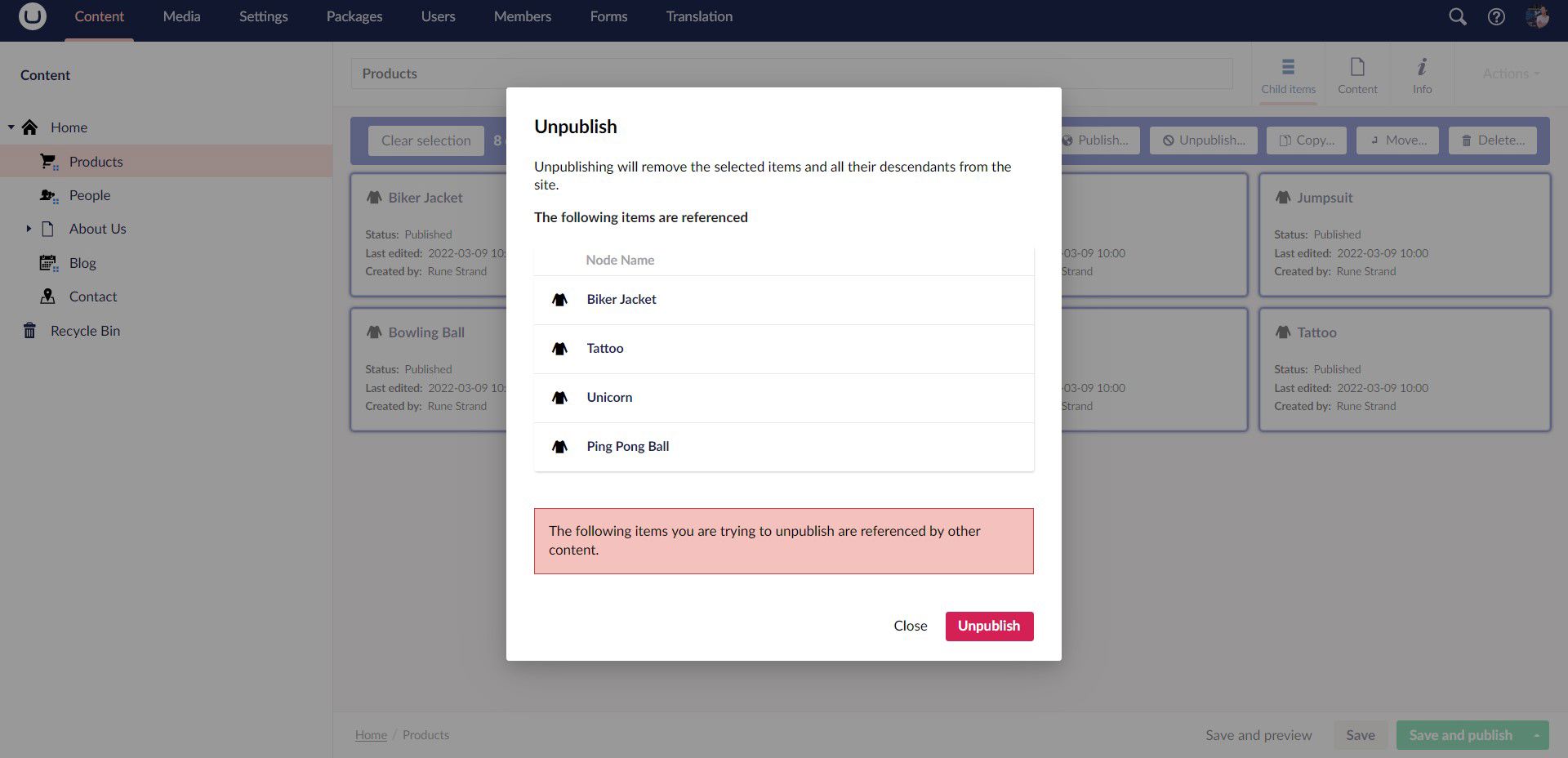 And you even get warnings when trying to delete something that's being referenced elsewhere. Complete with actionable links and Infinite Editing.
This should all make it easier to understand how things are connected and what the consequences of deleting and un-publishing are. Of course, it also factors in Media and Members 😀
You can help test out the new Item Tracking and warnings by installing the Umbraco 9.4 release candidate and trying it out for yourself. Catch all the details on what and how to test, and how to provide feedback, in the Umbraco 9.4 release candidate blog post.
Targeted for release on March 24, 2022
New Patch: Umbraco Forms 7.5.8
A new patch is available for projects running Umbraco CMS 7 (7.9+ to be specific), addressing an issue with file uploads. Patches have been automatically rolled out to all eligible projects on Umbraco Cloud.  More information and download can be found on the Umbraco Forms page.
Released on March 8th, 2022

What's new on Umbraco Cloud?
It's not just all the features and improvements you get for free with the new Forms and Deploy releases that are worth taking a look at. There are also new features and updates for the Umbraco Cloud portal and services.
Static outbound IPs and new security options
New release notes are available as of today, with information on some cool new features for your Umbraco Cloud projects.
It is now possible to get static outbound IP addresses for your Umbraco Cloud projects which can be used for allow-lists in other services.
You'll also find an array of new options for controlling transport security for your hostnames. 
These allow you to set the defaults for all hostnames on a project and even let's you configure them on a per hostname basis.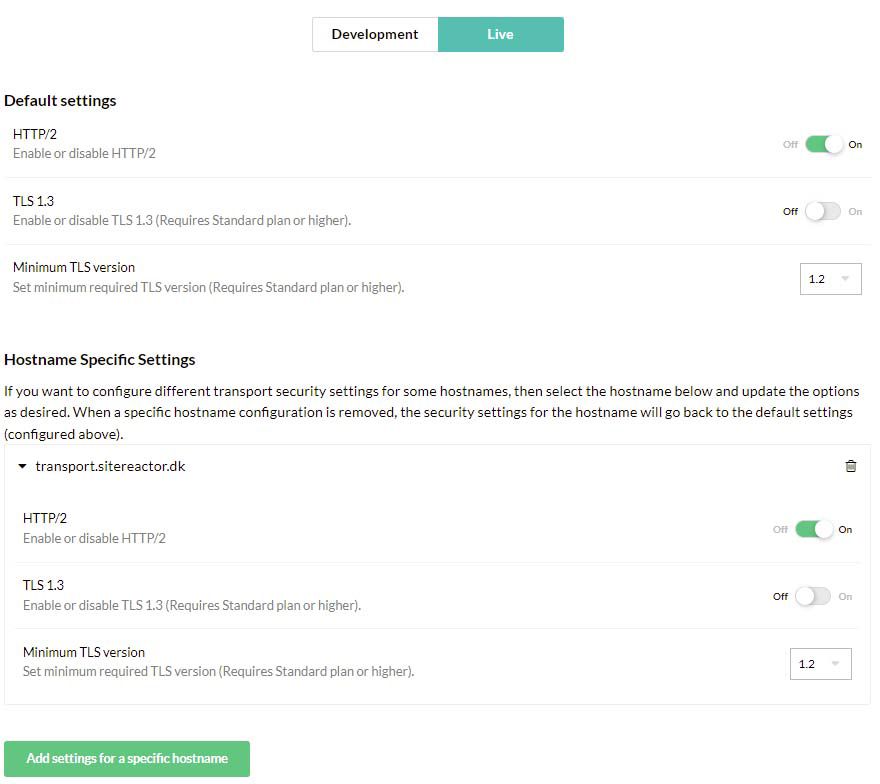 See more details about the new features in the Umbraco Cloud release notes for March 15, 2022
Improving the Umbraco Cloud usage limitations
We have a few adjustments to our Umbraco Cloud plans to make it easier to choose the right plan and help predict the cost. The changes are in relation to the usage limits on each plan. 
Last Thursday, March 10th, we have removed the limit to the number of Content nodes and page views per month for all Umbraco Cloud plans. This means that you don't need to consider these when choosing or working on any Umbraco Cloud plan. 
Furthermore, we have increased the number of available Custom domains/Hostnames for each plan. This means that on a Starter plan you now get up to 10 custom hostnames, on a Standard you'll get up to 50, and on Professional plans, you're allowed to add up to 100 hostnames. 
The changes have been communicated to all Cloud customers and partners and the feedback has been really good. We're super excited that this has helped make Umbraco Cloud even more attractive for Umbraco projects 🚀

Updates to the Roadmap
A little bit less movement on the roadmap than we've seen in the first few months 😅 Aside from moving the items related to the new Umbraco Deploy and Forms releases as well as the new Security features for Cloud projects to the Roadmap History page, there is one new addition to the roadmap:
New in "Later"
Starter kit(s) for Umbraco Cloud
We want to make it easier to get started with Umbraco CMS on Cloud. To help improve this we want to make it possible for you to choose a starter kit when creating a new project on Umbraco Cloud. 
You can see all the roadmap items and follow along with progress on the Product Roadmap.
That's all folks…
Before I wrap up this Product Update I just want to highlight some of the progress that has been made in Future-proofing the Backoffice. Aside from being done with phase 2, aside outlined in this blog post, a lot of work has been done on the Umbraco UI Library since it was made available back in November 2021. Instead of trying to outline all the new changes and what you can do with it, I'll let my colleague Warren do the talking:



The Umbraco UI Library is open-source and available on GitHub. You can also find detailed documentation and examples on uui.umbraco.com. It's already being used to improve the Umbraco Cloud portal and will soon be released in 1.0. 
If you are interested in how this actually makes it into the backoffice and maybe even want to help out, you should keep an eye out for a blog post on the new Backoffice Community team later this week. There you'll find all the details on how the team works and how you can apply.
… Until next time
A large part of the work we do is inspired by the feedback we get from you. For issues and specific feature requests, you can find the issue trackers for our products on the Umbraco Github account.
If you have product feedback, you're welcome to reach out to us at product@umbraco.com.