Overview: 
New release: Umbraco 9
It's time to celebrate! A new major version of Umbraco is out and you get a ton of new features as a developer, cross-platform capabilities, performance improvements, and much more. Umbraco 9  is based 100% on .NET 5 and ASP.NET Core and is ready for production.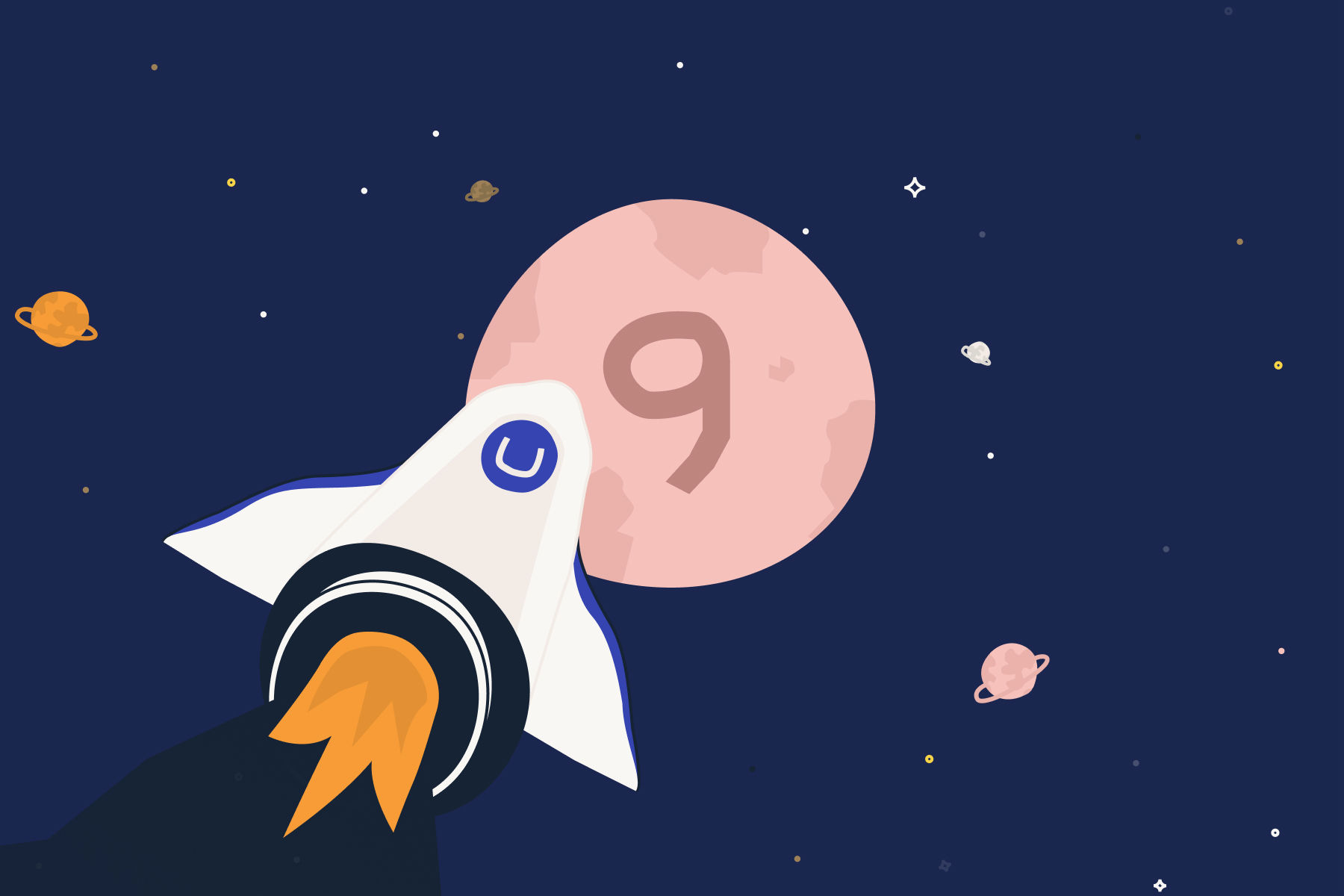 This is a huge milestone for Umbraco and the entire community. So many people have been involved in this effort, from MVPs making the initial plans way back in 2018, over the Unicore community team, to the hundreds of developers that have pitched in with contributions and feedback during development. More than 1300 contributions have been made on the Umbraco Github repositories alone, and many more have helped out by writing blog posts, making videos, creating demo projects, and upgrading packages. A huge part of getting to a stable release is testing and we've seen a staggering 17,000+ downloads of the release candidates alone 🤩 
Umbraco 9 is available from NuGet and if you want one-click setup, deployment workflow out-of-the-box, automatic upgrades, and much more, we're happy to say that Umbraco 9 is now the default for new projects on Umbraco Cloud (you can still create Umbraco 8 projects but this is now opt-in). All new projects are of course running on our new and improved Umbraco Cloud infrastructure and with Umbraco 9 you also get a bunch of new features that will increase your productivity and collaboration on Umbraco Cloud. You can read more about the new features in the Umbraco 9 on Cloud blog post or jump straight to creating a new project or trial.
You can read more about the release of Umbraco 9 and how to get started in the Umbraco 9 release blog post.
Along with Umbraco 9, we've also released compatible versions of the official add-ons Umbraco Forms and Umbraco Deploy.
Umbraco 9 was released on September 28th, 2021.
Check out the recording of the live launch stream where you get a full tour of Umbraco 9 with speakers from Umbraco HQ and the best community in the 🌎
Upcoming release: Umbraco 8.17 (Release candidate is out 🎉)
9 might be out but that doesn't mean the release train is running out of steam 🚂 Thursday next week Umbraco 8.17 will be released with 45+ features and improvements. Not least of which is tabs for the backoffice. That's right, tabs are making a much-anticipated return to Umbraco CMS, providing you with additional tools to organize properties in the backoffice.
You can mix and match with groups and tabs to provide the best possible editing experience and it's all backwards compatible. See the Umbraco 8.17 release candidate blog post for more information. 
Umbraco 8.17 will be the last scheduled release for Umbraco 8. The next time the release train hits the station is for Umbraco 9.1 and you can expect a new Umbraco 9 minor every 6 weeks going forward. We are working on Umbraco 8.18, which will be released when all the community and HQ PRs have been processed but there's is currently no ETA.
Target release date: October 7th, 2021
🎶 Wake me up when September ends 🎶
… And Hacktoberfest starts! You definitely don't want to be sleeping when we kick off Hacktoberfest 2021. 
That's right, we're once again joining the popular open-source event. It's a great time to get started with contributing, or maybe get back into the swing of it. There are many places you can participate in the Umbraco eco-system alone: PRs for Umbraco 9, contribute to our open-source documentation and for the second year running, contributions to Umbraco packages also count. Read more about the month-long event and how you can join in the Hacktoberfest 2021 blog post.
Look forward to seeing your contributions  🎃
Introducing the Umbraco Marketplace and the rise of integrations
We love Umbraco Packages 💙 And we know we're not the only ones who do. 
Packages are a big part of Umbraco being a truly flexible CMS. So we think it makes great sense to shine some extra light on the many great packages and the people who build them. That's why we'll soon be introducing a new marketplace for packages on umbraco.com and are continuing the Technology Partner program as part of this. We hope that these next steps we take will give Umbraco Packages the visibility they deserve and expand to help make it even easier to integrate services and tools with your Umbraco projects. Get the full story in the Umbraco Marketplace blog post.
DXP and best-of-breed
This is just a part of the DXP (Digital Experience Platform) initiative for Umbraco, discussed recently at Codegarden. We're also looking to highlight the different ways applications and services can be integrated with Umbraco to provide inspiration for how to implement a good best-of-breed strategy (and maybe even provide inspiration for some new packages). The first DXP blog post is out, showing you how you can integrate Umbraco Forms with HubSpot CRM.
Integrate, develop and lose your head - from anywhere
Speaking of integrations… We're actually looking for someone to join our team at Umbraco HQ to strengthen the integration possibilities for Umbraco Cloud and Umbraco CMS with a focus on making it easier to extend and enhance Umbraco as well as delivering concrete integrations.
We've also opened new positions for a front-end architect and team lead to head up our front-end team and help push the Umbraco backoffice forward. If you're interested in Umbraco as a headless CMS, we're also looking for a senior backend engineer to help bolster the Umbraco Heartcore offering and product development going forward.
Work from anywhere
At Umbraco, we have a work from anywhere policy, for most roles, that enables you to work where you see fit and are most productive. Jump over to the job openings page for more information and don't hesitate to get in touch - Let's grab a (virtual) coffee and have a chat 🙂

Updates to the Product Roadmap
With the release of Umbraco 9, the last item for the Umbraco on .NET Core/Unicore project has been moved to the Roadmap History page 🎉
Today, being the last day of Q3, there are a few items we have to acknowledge have slipped past the expected release. For the time being, we've removed the target release date for Block editor in Heartcore with GraphQL support but, as you can see above, we are hiring to get more hands on deck for Heartcore specifically. We've also updated the target release date for UI Component Library (Q4) and Define Extension API for Umbraco CMS (October 2021).
As soon as we have new or more detailed information about these, update the roadmap we'll be sure to let you know.
… Until next time
A large part of the work we do is inspired by the feedback we get from you. For issues and specific feature requests, you can find the issue trackers for our products on the Umbraco Github account.
If you have product feedback, you're welcome to reach out to us at product@umbraco.com.