New Umbraco Cloud features and improvements:
Two new switches that'll save you a lot of time
Recently, we have introduced two new on/off switches in the Umbraco Cloud Portal. The beauty of these is that they both only require a single click to switch on or off. A click that'll let you get on with your work a lot faster as there's now no need to contact Umbraco HQ in order to get these functionalities enabled manually.
The new switch functionality is available for all Cloud users today giving the possibility to enable/disable Basic Authentication and IIS Logging.
The Basic Authentication switch
By enabling Basic Authentication, you're adding an extra layer of login, thus, security, to your Umbraco Cloud environments.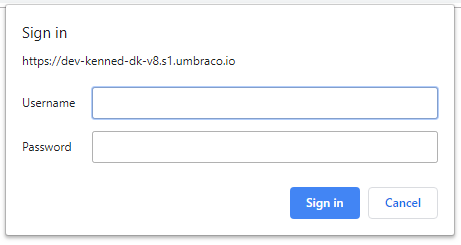 This means that you're able to work on all your environments without them being published before you want others to see them/have access to them. It also means that your site won't be indexed by Google before your live site is ready and you've disabled Basic Authentication.
How to switch Basic Authentication on/off?
It's very simple; in the Umbraco Cloud Portal, go to "Settings" in the top right corner and choose "Public Access". Here you'll find an overview of your environments and for each of them, you'll find the on/off switch for Basic Authentication.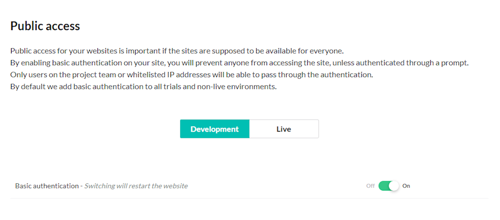 The IIS logs switch
If you ever find your site acting weird or unpredictable, one way of solving the mystery would be to have a look at the server logs. And now, getting access to your site's logs have become super easy. Simply to go to "Settings" in the Umbraco Cloud portal, choose "Advanced" and from here you're able to switch on the IIS Logs. Follow the instructions and you'll be able to start the process of debugging your site within a matter of minutes.

Performance improvements to the Baseline feature
Baseline. The one-of-a-kind Umbraco Cloud feature that lets you base an endless number of child projects on one baseline project. If you're already taking advantage of this feature, you might have noticed that recently the overview seems to be loading a lot faster? That's because we have improved the performance of this feature. For our clients who already have hundreds of child projects, the speed has increased significantly going from minutes to just a few seconds making it faster to manage and upgrade the child projects ⚡
Stability on Umbraco Cloud
Stability has and will always be one of our top priorities on Umbraco Cloud. As a hosting provider, this is a serious matter. Since the incident late February, we've been dedicating the majority of our development and operations resources to a vast number of improvements to both infrastructure and software in order to improve our general resilience to issues in the future, reduce the impact of issues and to avoid a similar incident from happening again.
We've not only been focusing on the specific incident but also taken a top-down approach to analyse and improve our current setup and our ability to deliver the performance expected of us. We've already seen several good results and have had no issues since the conclusion of the incident. Our dedication to performance and stability will remain and we will continue to prioritize this topic to guarantee our ability to deliver the best possible service.
In other Cloud news...
When will Umbraco Headless be released?
The work on Umbraco Headless is well on its way. Currently, we are working on building a new and even better infrastructure for the final Umbraco Headless product. This product will be released on Cloud in Umbraco 8 which all in all will provide you with an even better and even more stable Umbraco Headless platform compared to what you'll find in the current beta/trial version. We expect to deliver Umbraco Headless in Q3 this year and we will keep you updated on the project as we get closer to the launch day.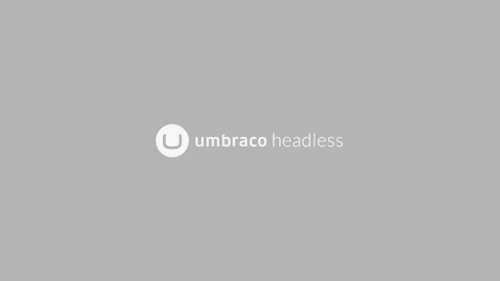 Update 5/6/2019: We have concluded the public beta of Headless based on Umbraco version 7 as we prepare for the release of Headless on Umbraco version 8. So we now have a form on /headless for registering your interest and for receiving updates on Headless. 

Umbraco 8 on Umbraco Cloud
From the very launch of Umbraco version 8 it has been possible for you to create sites on Umbraco Cloud based on Umbraco 8. When creating a new project, you are being faced with the choice of going for either Umbraco version 7 or Umbraco version 8. And we are pleased to see that many have already started creating projects on Cloud in the new generation of Umbraco - H5YR! (High-five-you-rock!) 🙌
For how long will I be able to create Umbraco 7 site on Umbraco Cloud? Good question. With the launch of Umbraco 8 there are two dates you should be aware of if you currently have sites built in Umbraco 7 or plan to create more:
August 31st 2019 Update: 31st of December 2019 will be the last day that you'll be able to choose to create sites in Umbraco version 7 on Umbraco Cloud. From then on, all new sites will automatically be on the latest version of Umbraco 8.

 




September 30th 2023 will be the last day we support sites running Umbraco 7 on Umbraco Cloud. This means that up until this date we will provide you with necessary updates for Umbraco 7 in regard to bug and security fixes. This date also leaves you with a fair amount of time to do any necessary migrations of sites from Umbraco 7 to Umbraco 8 (the Umbraco 7 to Umbraco 8 content migration tool and documentation are currently in the works).
That was all the recent Umbraco Cloud-news - told you we had a lot!
With this new news format, we want to keep you updated on the latest Umbraco Cloud happenings at least every 3rd month - or as soon as we have some awesome Cloud related news we just can't wait to share with you!🌤️