New year, new docs
That's right! We've given the Umbraco Documentation a major upgrade with a new modern platform and a flatter structure making it easier to navigate.
When we released Umbraco 11 back in December, we also launched a new platform for Umbraco Documentation. We have wanted to do this for some time and it feels great to say it has finally happened.
We chose to go with a Saas (Software as a Service) platform called GitBook, as this matched both our need for a GitHub integration, low maintenance, and the way we format the articles.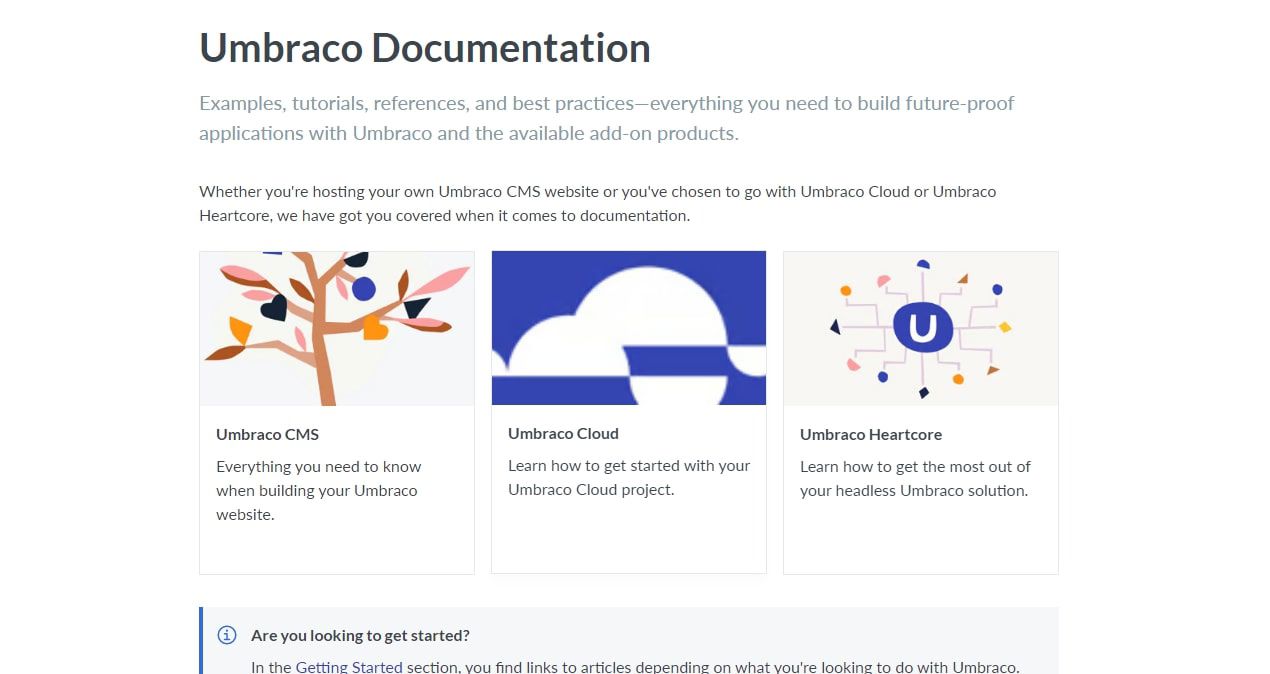 With the move to a new platform, we have also made some major changes to the way we structure the documentation. Previously, all the documentation for all of the Umbraco products lived on the same page. This was what made sense in the old setup, but it also meant some context loss when using the search and could lead to confusion when it came to finding articles for the current product versions.
What we have done on the new documentation platform is, that we have given each individual Umbraco product its own separate documentation site. All are still under docs.umbraco.com/ but have their own navigation menu, search, and, yeah, basically their very own docs site.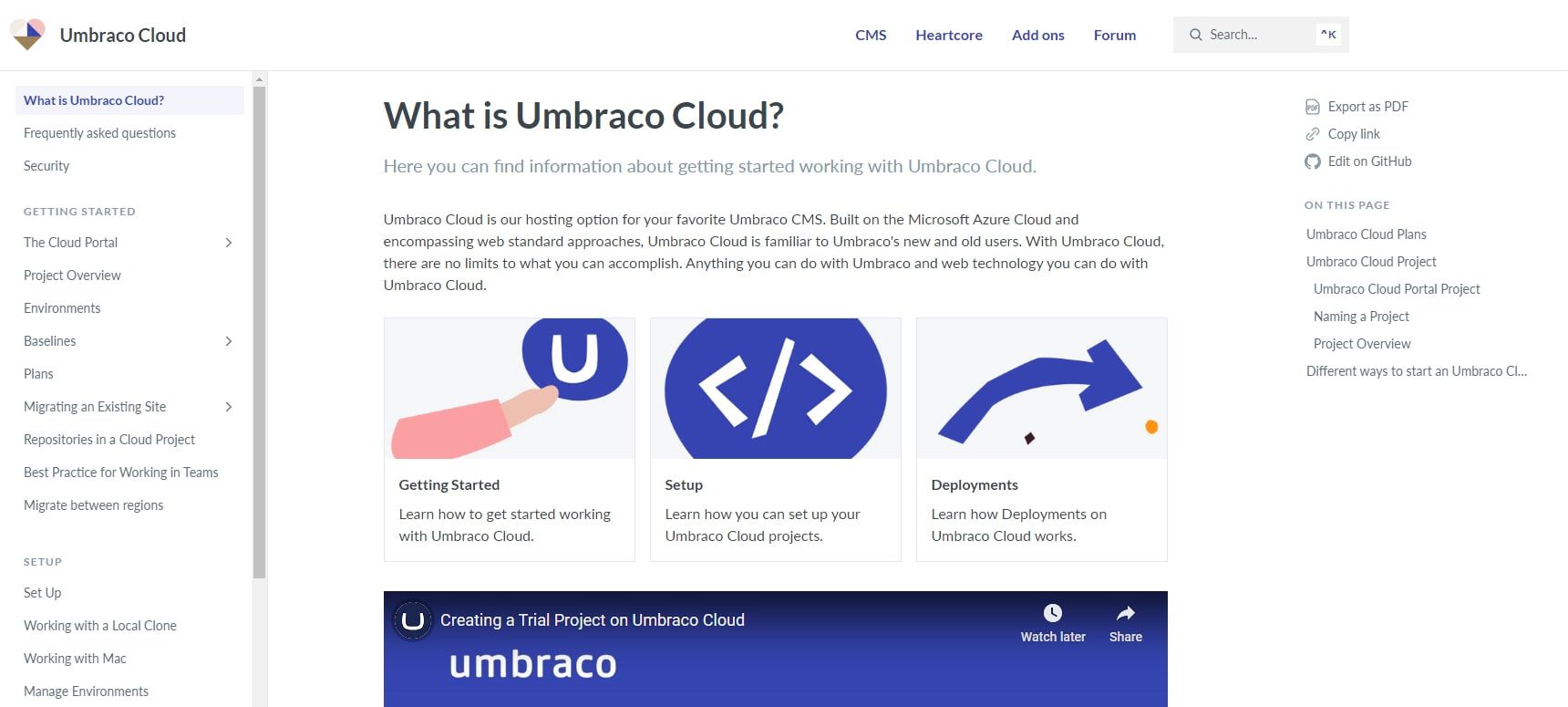 Now, that was a lot of information, but, what's really in it for you? What are the benefits of this new platform and structure for you as a reader, and perhaps as a contributor?
Improved search functionality
Whether you're looking for a specific code snippet or a description of a certain feature, the search will provide you with detailed search results with both preview and contextual information.


A modern platform
The platform makes it easy for us to provide you with clean and modern-looking documentation that is simple to navigate, while we maintain the look and feel of the Umbraco documentation.


Best of breed
Choosing a Saas solution for the Umbraco documentation makes sense in terms of keeping the platform up to speed with new and evolving technologies. In the two short months since we launched our docs on the platform, a ton of improvements, both big and small, have been released - all of which have already benefitted the way we do docs!


Stay in the context
When searching for something while viewing the Umbraco CMS documentation you will only see results that are relevant to that product. This will ensure that you do not lose the context you're in unless you actively choose to visit another product docs site.


We love contributions
Are you a docs contributor? The process for contributing is pretty much business as usual, except for a small little upgrade: You can now suggest changes to multiple Umbraco versions within the same branch/PR. No need to make several PRs if your change applies to more than one version.
If that does not get you super hyped, I don't even know what to say 😄
Legacy vs. modern Umbraco
As you might have noticed, we have started to distinguish between legacy Umbraco and modern Umbraco. The line is drawn between Umbraco 8 and Umbraco 9 due to the underlying change in the framework being used between the versions.
We have decided to use this distinction in the Umbraco documentation as well. All documentation related to legacy versions is still on the Our website, while all documentation for modern Umbraco is available only on the new documentation sites.
Eventually, though, we will move all Umbraco documentation to the new sites.
One year of Youtubing
A little over a year ago at the end of January 2022, we released the Umbraco Learning Base Youtube channel, and what a year it has been!
With more than 100 new videos released, over 1600 new subscribers, and with more than 150.000 views it is safe to say that so far it has been a great success.
So let's take a look back at the first year of the Umbraco Learning Base channel ande of the numbers from the previous year and a few of the great things that we have accomplished.
Firstly, let's take a look at which videos on our channel that has gotten the most views.
People love our getting started videos
It is clear that people visiting our channel are interested in getting started working with the Umbraco CMS. This is why the "Getting started with Umbraco" videos and playlist have gotten over 48.000 views since we went live with the Youtube channel and are by far the most popular video on our channel.


We're popular with different ages
It is great to see that the youtube channel is being watched by different age groups as well.
Our channel is by far most popular with people aged 25-34 which accounts for 49% of the views on our channel, followed by people aged 35-44 which accounts for 29% of the views on our channel 😀


Our channel has been viewed in over 50 countries around the world 🌍
We are especially popular in India where we can see that we have had 17000 views, closely followed by the UK with 14000 views, followed by the home country of Umbraco, Denmark with 11000 views.
It is truly awesome to see that so many people are watching our videos and engaging with them in the comments. Hopefully, you all will follow keep following us on this journey to help even more people learn how to use Umbraco, the world's friendliest CMS 😀
A revamp of the upgrade docs
"I need to upgrade my Umbraco website, but, where do I start!?"
This is probably a situation that you've found yourself in before. There are quite a few versions of Umbraco CMS and the other HQ products, so it can be quite a jungle to find the correct upgrade path.
We have revamped the upgrade documentation for all products in order to clear a path and to make it - hopefully - easier to figure out where to start.
First of all, we've gathered all upgrade instructions and version-specific notes for all versions and products on the new docs site. So, if you're upgrading from Umbraco 7 to the latest version, you will be able to find the material and guides that you need on docs.umbraco.com.
We have also been through and tested the various migration guides, in order to ensure smooth sailings when you need to embark on one of those journeys. A great example is the guide that enables you to migrate your Umbraco 7 project to Umbraco 8.
You can find all the updated upgrade docs for each product:
And that's a wrap 🎬 
PS: Remember to subscribe to the Umbraco Learning Base YouTube channel