Umbraco Uno is built with creative agencies in mind. Agencies that need to spin up simple, yet professional and good-looking websites in no-time without having to involve an entire team. 
Uno empowers creatives to do more on their own. No code is needed and with a widget-catalogue filled with pre-built website functionalities to choose from as well as customisation options to ensure everything stays "on brand", spinning up an impressive website for yourself or a client becomes a breeze. 
And it just got breezier...
A website is a visual experience - the editing should be as well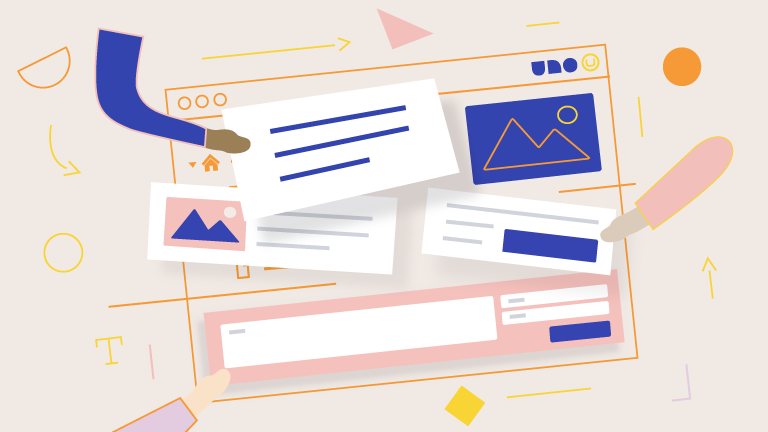 A website is very much a visual experience - you have a brand, a story, a vision, a product to tell or sell to your visitors. That's why it's important to consider the experience of the visitor to ensure your website gives them the right impression and leads them to the main actions. Basically, ensuring an enjoyable and fruitful visit to the site. 
As a professional, these are probably considerations you already have when you build and structure the content of a website, so it only makes sense that what you see in the backoffice is what your visitors end up getting. 
"It's like working on the live site"
That's hopefully the feeling you'll get when you spin up an Uno site. 
The latest update to Uno means that the content widgets you choose for your website come "alive" in the backoffice. 
"Hmmm, how will this gallery grid look with these 4 images? Does this image work well with my text? And does the entire page have a coherent look?" 🤔
Now, you don't have to look far to answer these questions - they're more or less staring you in the face. While working and structuring your content in the backoffice, you'll constantly get a preview of how this will look on the live site. 



This means fewer clicks on the "Preview" button as you'll be confident that your work on the various web pages follows the right look and functionality. 
The new editing experience helps you stay on-brand as well as on-track functionality-wise and provides you with a much more delightful and intuitive workflow. A delightful experience you'll get from the first build as well as when coming back to do future edits. 
But enough talk - let's get your eyes on it!
Take a free 14 days trial of Uno and discover just how delightful and fast it is to get a website up and running:

New SEO features in Uno 
The new editing experience is not the only thing you're getting with the new Uno. 
We've thrown some very helpful SEO (Search Engine Optimisation) features into this update as well.
Uno is meant for real sites - that's why even more features for improving the site' SEO have been added. While some SEO improvements are based on your content (see SEO tips here), others are based on how your website is built, available features etc. 
Since we're taking care of the website foundation for you - the latter one is on us. And it's our pleasure! 
With this new update to Uno, we've taken the platform to what we will define as an "SEO-Friendly" level with features and options like adding an image ALT text, manual redirects etc.
8 new SEO improvements: 
Noindex and nofollow settings on individual pages
What do you do if you have a campaign page on your website that you don't want to appear in the Google search results? You tell Google with our new Index/Noindex setting.
The Index/Noindex attribute tells Google whether or not they should add a page to their search index. The standard is "index" (or blank), but with this new feature you can change it to "Noindex" instead which means Google will still crawl the page and any links on the page, but it will not add it to the index nor show it in the search results.
On each page, you have a SEO section at the bottom where you can update relevant SEO elements.  
Learn more in the "How to set up SEO on each of your pages" documentation.
URL management on individual pages
Having short URLs is great for SEO. But since Uno generates the URL based on the page name, you'll often have a conflict between readability for editors vs. SEO-friendly URL. With this feature, you can now get both! You're now able to customise the URL without changing the name of the page, making it more straightforward for your visitors - and Google.
Learn more in the "How to set up SEO on each of your pages" documentation. 
Canonical URL settings on individual page level
If you have 2 or more identical pages, Google will treat it as duplicate content and only show 1 of these pages in the search results. Which of the two pages Google picks is often more or less random which can be a big problem if you have a preference as to which it should show. By setting up a canonical URL on a page, you can control which of the duplicate pages that Google should index.
Learn more in the "How to set up SEO on each of your pages" documentation. 
Hide your page from search engines
When you're working on a new website, you don't want Google to crawl it and show your unfinished pages in the search results. One way to avoid it would be to add "Noindex" on all of your pages using the feature described previously. But that would both be time-consuming and not the proper technical way to do it. 
Instead, we've added a simple checkbox in the "SEO settings" section which you can activate to block crawlers completely from crawling your site. This lets you work on your site without any worry of it showing up in the search results before it's ready. And as soon as you're ready to launch, you deactivate the setting and your site will be ready to go.
Learn more in the "SEO settings in Uno" documentation. 
Add manual redirects
Umbraco Uno comes with an automatic redirect feature which automatically adds a redirect if the name or path of an URL is changed. But what if you delete and unpublish a page that has a ton of external and internal links to it? To avoid the dreaded 404 errors and losing "link juice" from the external links, you can now manually add a redirect to guide users to a page of your choice. 
Learn how to set this up on your page in the "Manual redirect settings in Uno" documentation. 
Image ALT text attribute in the media library
Having an ALT (alternative) text is an accessibility and SEO best practice. The ability to add ALT text to images is already part of Uno, but with this new feature, we've made it easier for you to manage by including it in the media library. This means that you can set the ALT text for a new image once when you upload it to the media library and it will automatically be used every time you add an image to your website. That means better accessibility and SEO - without extra work for your editors.
In the media library, you can update the ALT text for every image you upload
Learn more in the "SEO for images in the media library" documentation. 
Schema Markup: Organization and blog post markup
Schema markup is used by Google in a lot of different ways to improve their search results. Implementing schema markup normally requires custom coding, but with this new update, two types of schema markup are now added automatically to your site.
Organization markup is used by Google to show more information about your organization in the search results in the Knowledge Graph. It covers typical information about your organization such as company name, logo, social profiles, contact information and more. By filling out all of the fields in the new "SEO settings" section the markup will automatically be added to your website. 
Learn more in the "SEO settings in Uno" documentation.
Blog post markup is used to provide additional information about your blog posts to Google. This is used in different ways and can help get your blog posts shown in the "Articles for you" page in the Chrome browser.
Learn more in the "How to set up SEO on each of your pages" documentation.
The new content blocks and SEO features will be made available as options for existing Uno sites within the next 2 weeks. An email has been sent out with more details. 
Try the new Uno today!
It's no secret that what you're getting with today's Uno is a big step up from the Uno of yesterday. 
More intuitive, faster time to market - and more fun. 
So even if you've already tried Uno before, we highly encourage you to take it for a spin again. 
And if you've never tried Uno, then we hope you'll get a delightful first-hand experience where you'll discover just how much you can do on your own.
Take a free 14 days trial (no credit card registration needed) and see if Uno might just be the obvious (and quick) choice for your next website:



P.S. Want a demo before you're let loose on your own? 
We get it - a bit of guidance can be nice before you start playing around. That's why we offer a free Uno webinar. 
In this webinar, you'll be guided around the Uno platform and discover it's most important features, so you feel a bit more prepared when you jump on your free trial.