https://www.cormarcarpets.co.uk/
Cormar Carpet Company, one of the leading carpet manufacturers in the UK, needed a modern digital presence to effectively market their product, encourage users to order carpet samples, and visit their local Cormar stockist. The company reached out to CSI Media for designing and developing a brand new B2C website. Have a look at how CSI media did it using Umbraco CMS, they'll tell you all:
Skills used
Branding
Integrations
Marketing Automation
Content Creation
Sector
Engineering & manufacturing
Retail
Household & personal products
A solution that brought plenty of post-launch happiness 🎉
increase in sample requests
Our client
Cormar Carpet Company was established in 1956 by Neville Cormack. The family-run business has seen exponential growth with over 3,000 stockists across the UK, 240+ employees and a fleet of 60 delivery vehicles. The family values - combined with a high-quality product and efficient operations - saw Cormar win the prestigious Best Carpet Manufacturer award in 2018.

Back in 2014 we, CSI Media, developed a bespoke web portal system, a B2B Trade Portal for Cormar.
This system enables carpet retailers across the country to easily order Cormar's carpets, track delivery of orders, pay invoices and order samples.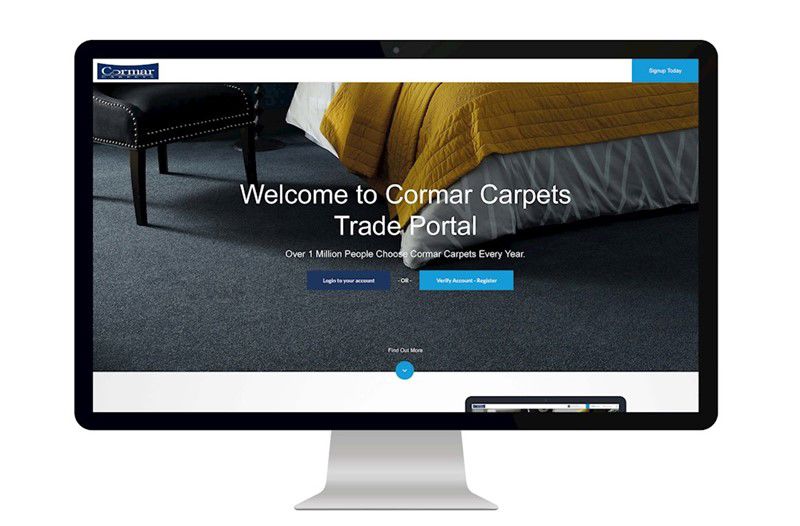 What we needed to achieve
Following the success of the B2B Trade Portal, Cormar appointed CSI Media to design and develop a new B2C website. 70 percent of carpet consumers search online before visiting a carpet retailer. Therefore, Cormar needed a modern digital presence to effectively market their product, encourage users to order carpet samples, and visit their local Cormar stockist.
Specifically, the website needed to achieve multiple objectives:


✔️ Improve brand visibility.
✔️ Effectively present the expansive selection of carpet ranges.
✔️ Enable users to find their nearest carpet retailers that stock Cormar.
✔️ Incorporate the ability for users to order samples to be delivered to their home.
✔️ Deliver an excellent experience on the latest browsers and devices.
✔️ Provide an intuitive and flexible content management system for the team at Cormar.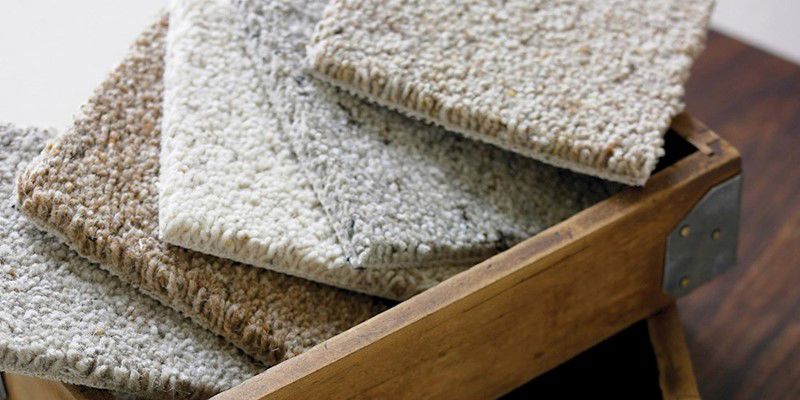 Crafting the website
Considering the visual nature of the product, we placed great significance on the look of the website, working in collaboration with Cormar during the design phase to create a clean and immersive digital journey that reflected their new, fresh brand.
But there is little value in having a beautiful website if people aren't visiting it, which is why we placed great importance on building a website optimised for SEO. SEO features include Page Titles, Alt Text and canonical links, helping to support Cormar's rankings on search engines.
With the website having been built on Umbraco, the marketing team at Cormar can now enjoy a high-level of autonomy over content on their website. They can edit content whenever they like, easily add the latest carpet ranges and add new Cormar stockists.

Perhaps the most exciting thing from a marketing perspective is the ability to develop new and engaging landing pages. We achieved this by designing a set of original design components, combining a mixture of text and media elements. These components can be grouped together and collated in any order on a page, giving the client the flexibility to create unique and immersive online experiences.
Thanks to the new solution, both editors and users now have a much friendlier experience:
Users can draw inspiration
Users can draw inspiration for their next carpet by visiting the Inspiration page - where ideas and suggestions are presented in distinct categories including Family-Friendly Carpets, Striped Carpets and Lounge Carpets - via a custom teaser component that we designed.
Furthermore, Cormar present their expansive collection of carpet ranges via teaser blocks, helping users to choose the perfect carpet for their home.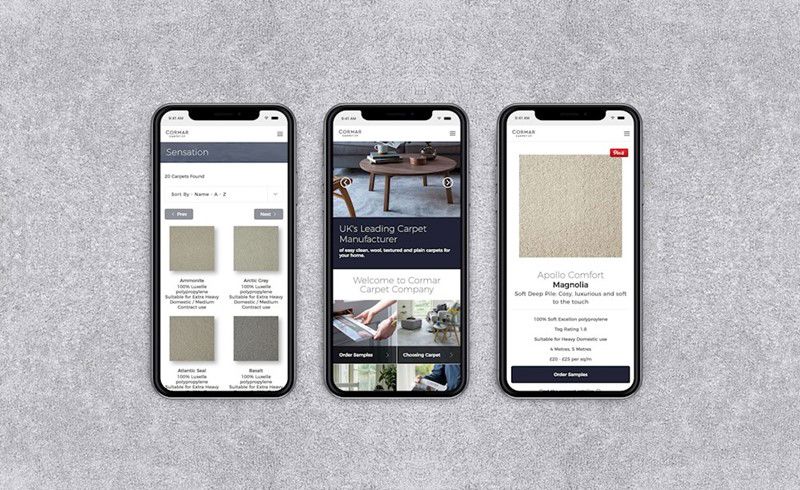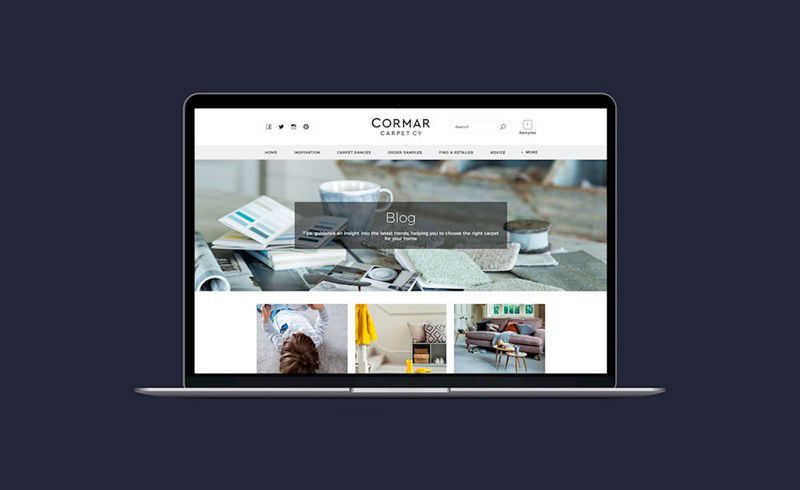 More engaging blog articles
Blog articles are an important marketing initiative for Cormar. Customers are given an insight into the world of carpets and interior design with imaginative décor ideas and maintenance tips.
Our design components allow the marketing team at Cormar to create engaging blog articles with interesting layouts, combining a mixture of text, images and call to actions. Furthermore, blog articles are a useful SEO tool that help drive organic traffic to the website.
Easier to order samples
We developed a bespoke basket system to facilitate the ordering of samples. Customers can add up to three samples to their basket, simply by selecting "order sample" for their chosen carpet/s. The Umbraco system records details of prospective customers who have requested samples, enabling the marketing team to follow up with targeted email communications.
Furthermore, the B2C website integrates with the B2B Trade Portal so that sample requests from both platforms are consolidated into a single system. This maximises the efficiency of the sampling process and enables Cormar to track samples data/ how many of each swatch has been ordered, without having to amalgamate data from the two separate channels.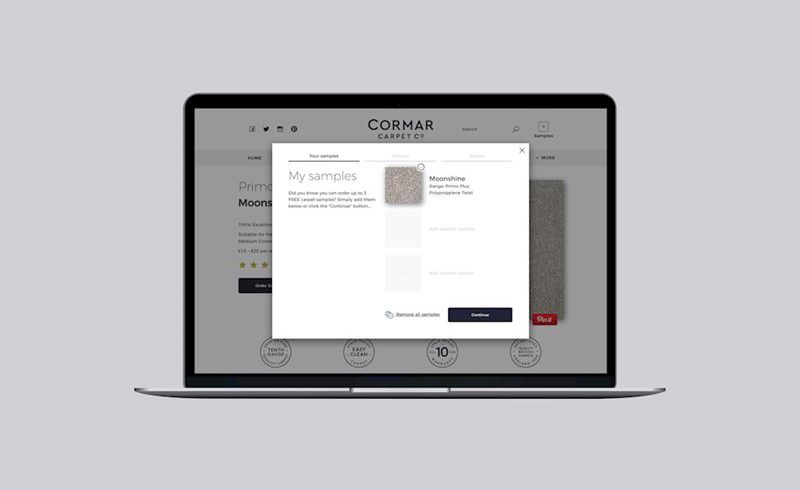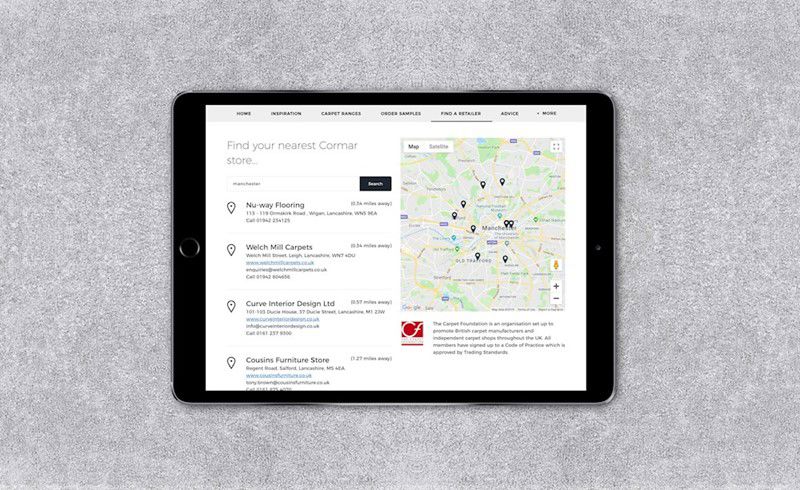 Efficient "Find a Retailer" system
The 'Find a Retailer' tool enables prospective customers to find their nearest Cormar retailer via an integrated postcode lookup tool. Users enter a town, county or postcode and the system returns the 10 nearest retailers with key contact information, a clickable web address and a Google Maps preview.
The team at Cormar can easily add new retailer records in the Umbraco CMS.
Stamp of approval
The new website is not only a great joy for us and Cormar Carpet Company, it also recently won Gold in the Marketing category at The National Flooring Innovation Awards 2018.
They're also one of the UK's largest carpet manufacturers who have recently been voted "Best Carpet Manufacturer" by readers of Interiors Monthly.

"We have had an overwhelmingly positive response to the new look of the site and the user interface. CSI Media are a brilliant company to work with, always friendly and efficient, and deliver on time and to budget. I highly recommend them."