https://www.star.dk/en/
The Danish Agency for Labour Market and Recruitment (STAR) has a website that services job centres, unemployment insurance funds, municipal case handling, a host of educational institutions, HR-departments in organizations, among others. Over the years the agency had deployed a large host of different websites to service every audience, and was beginning to lose track of it all. With the help of Umbraco and Capgemini Sogeti things were about to change for the better:
Skills used
Design
Integrations
Accessibility
Architecture
Communication
Sector
Public sector & charity
Information technology
B2B
About the agency
STAR is a department under The Ministry of Employment and a central node of information and service within the employment sector. The agency retains 500 employees.
To satisfy a broad audience with information and functionalities, over the years STAR had deployed 30 websites with over 3 million visits per month combined.
Lately however, the agency was losing its grip on the myriad of sites, and it became expensive and laborious to update, develop and maintain their digital presence.
STAR asked us, Capgemini Sogeti,  for simplification, branding, and better business economics without loss of momentum.
Work to be done
STAR decided to consolidate all of their current web-solutions, both graphically and technically in order to attain:
Transparent communication with a graphic design that aptly supports the agency's knowledge and brand.
Simplified editor interface to make it easier for editors to publish content through one CMS platform.
Simplified user journey that is logical and intuitive.
Minimized technical complexity.
Reduced costs in relation to future development and maintenance.
The CMS solution thus sought to integrate and streamline a wide range of the client's existing websites and campaign sites in one intuitive and user-friendly way.
How we did it
At Capgemini Sogeti we are collaborative by nature, and employed SCRUM as our agile methodology and Collaborative Business Experience™ to ensure that the product meets expectations regarding quality, time, and budget.
This is a team-oriented approach in which we worked together with the client to align efforts in four areas: goal oriented value; risk reduction; optimized capacity; and organization adjustments.
STAR opted for an open source Umbraco CMS solution to ensure a future-proof and scalable platform while adhering to technical requirements.
The "white label" solution's modular construction makes it easy for the Ministry of Employment to create new web and campaign sites, URLs, redirects, feeds, etc.; all this with built-in security measures adhering to defined group-level guiding principles.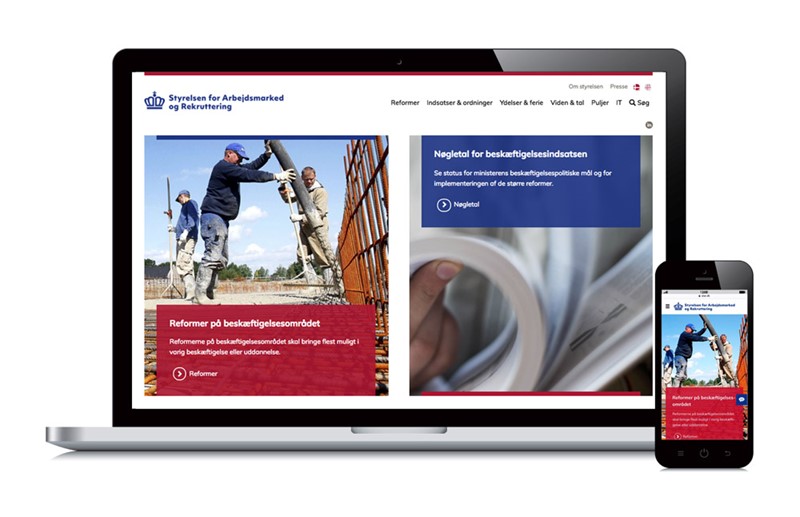 We have used Microsoft Azure, Gitlab and Jira as project tools. The test and pre-production environments have been established on Microsoft Azure.
In order to secure continuous delivery we have set up all environments in Azure to match the final production environment delivered by The Agency for Governmental IT Services.
Throughout the project we have had continuous delivery, test and demos as prescribed by the SCRUM methodology. The customer has worked with content creation and migration in parallel with the development of modules, Web API and frontend.
This parallel process has been a success due to the earlier mentioned close collaboration between the Danish Agency for Labor Market and Recruitment and Capgemini Sogeti Denmark. Staying true to the iterative approach, it has been possible for the team to adjust the solution to comments and corrections put forward by the product owner.
Results
We built the new, "white label" STAR solution specifically with modularity and scalability in mind. And today, with the new Umbraco solution in hand, the editors can create any number of websites.
Pages are completely customizable, and the editor can select from sizable number of ready-made "modules". All of this is done exclusively from the Umbraco backoffice, without the need for a developer.
Pages and modules in the solution are responsive in nature. This provides the editor with a great deal of freedom, as he/she can trust that whatever module combination they put on a page will display well on any device – large or small.
The key benefit for the client, is the ability to create, maintain and update any number of websites using the same solution. By selecting from a sizable number of ready-made modules, the editors and administrators enjoy an unprecedented freedom.


A high level of visual customizability allows the editors and administrators to work with colors, text, imagery and logos that can be added independently. Each website represents its own group in the Umbraco Backoffice, encapsulating the configuration and content.
The solution supports a multilingual configuration, allowing editors and administrators to create websites in several languages.
Supporting the Umbraco solution, a Web API service layer has been created. Combined with a powerful and custom-built import tool (residing in backoffice), the API supports special websites and modules with data. This includes a set of mathematical formulas used to calculate results for "Efterlønsberegner" based on a mixture of constants provided by editors in backoffice and personal numbers provided by users in the responsive UI.

"We have strengthened our brand while improving our ability to guide our site's visitors quickly to their desired service or information. Finally, the solution will knit our internal organization closer together than ever before. We are very happy!"
Client feedback
STAR  is very happy with the delivered solution. As STAR's Product Owner Morten Joon Sørensen notes down: "Development made swift progress and with full control in the established development environment. Software was continuously transferred to the test environment, and Capgemini Sogeti retains the most brilliantly competent QA professionals. Capgemini Sogeti has managed to drive the project forward while handling unforeseen obstacles beautifully. It has been a pleasure, and the result definitely lives up to our expectations:
✔️ our time-to-market for new websites is reduced;
✔️ it is easier to fully grasp our service and functionality offerings;
✔️ all editors can use our platform across old silos;
✔️ it is easier and cheaper to maintain and further develop our website;
✔️ the visual design of our entire digital presence is renewed;
✔️ the website is responsive and handicap friendly;
✔️ the user journey is more logical and intuitive."