https://www.selfmade.com/
How do you successfully transform a 40-year-old, family-owned fabric and haberdashery business into a leading global lifestyle brand and community? That's the question Selfmade asked themselves before they embarked on a digital transformation journey into parts unknown. Our Gold Partner, IMPACT, supported this journey by completely transforming Selfmade's digital presence into an Umbraco Cloud solution 🚀 IMPACT is here today to tell you all about this successful transition 🎤
Skills used
Architecture
Design
eCommerce
PIM Systems
Umbraco Cloud
Sector
Household & personal products
Retail
About Selfmade
Selfmade® is a new name for STOFF & STIL; a supplier of fabrics, haberdashery, yarn, crafts supplies, and other creative products. Selfmade® is a 40-year-old, brand-new concept, as we like to call it. Since 1989, STOFF & STIL has been a creative beacon for sewists, crafters, and knitters. They started with just one local store in Denmark selling surplus stock. Now, they are an international chain with an extensive online shop and 31 brick-and-mortar shops throughout Europe. Here, in 2021, 40 years of experience and creativity culminate into a brand-new concept: Selfmade®. With Selfmade, they aim to breathe new life in age-old techniques and solid craftsmanship and make creativity accessible for everyone, regardless of their skill level.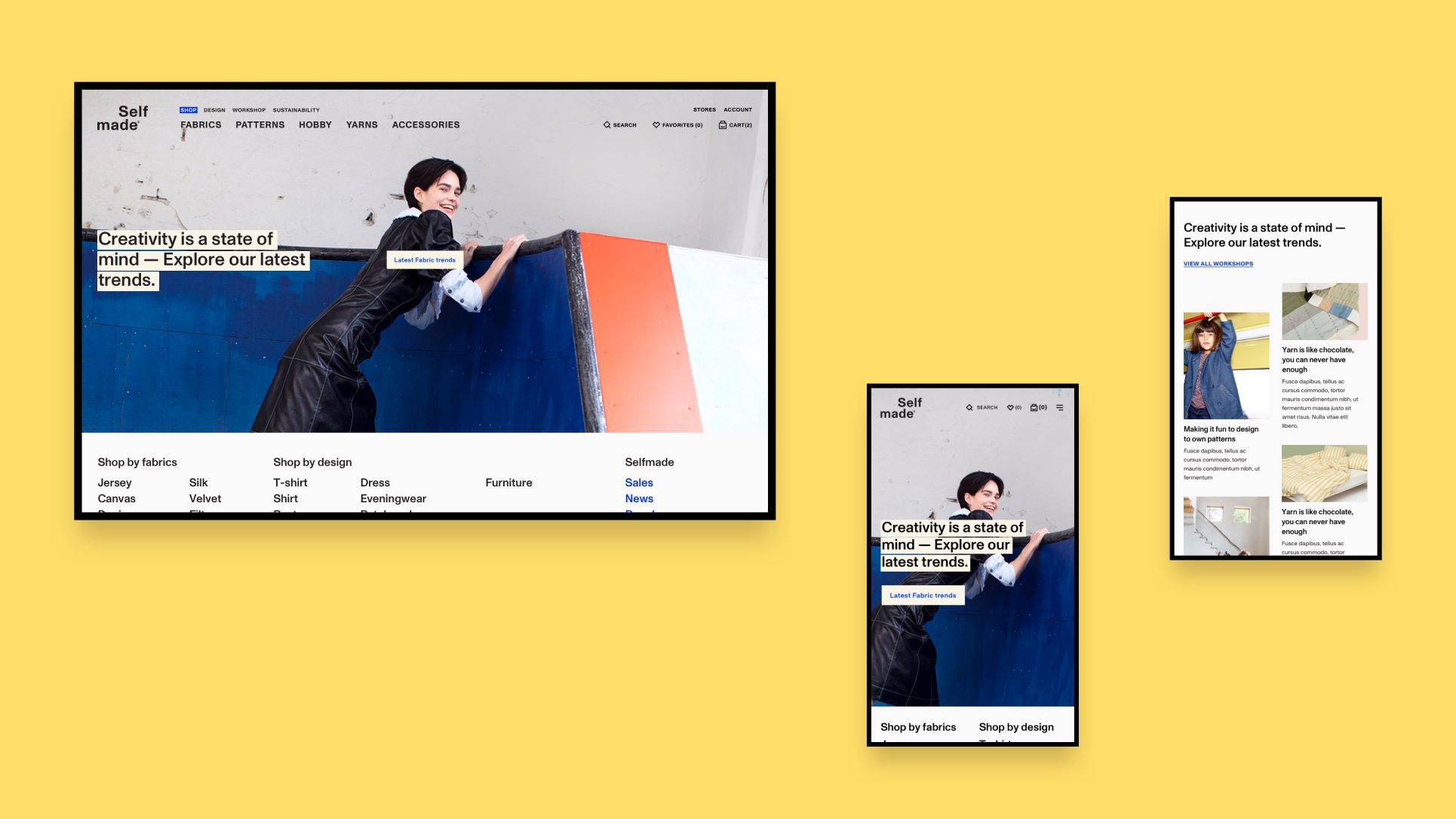 Selfmade believes creating is a lifestyle. And they want to share that lifestyle with the next generation of creatives - those who say 'no' to cookie-cutter trends, greenwashing, and fast fashion. Selfmade realized that many of its business's inherited tenets, from being recyclable to saving fabrics from landfills, placed them in the perfect position to influence and build a caring, curious, and sustainably-minded community. 
At the same time, they needed to avoid driving away their existing customer base while converting millennials and Gen-Z into committed customers. That meant making the transition from catalog-first to digital-first and honoring their long legacy in Denmark while expanding into other European markets.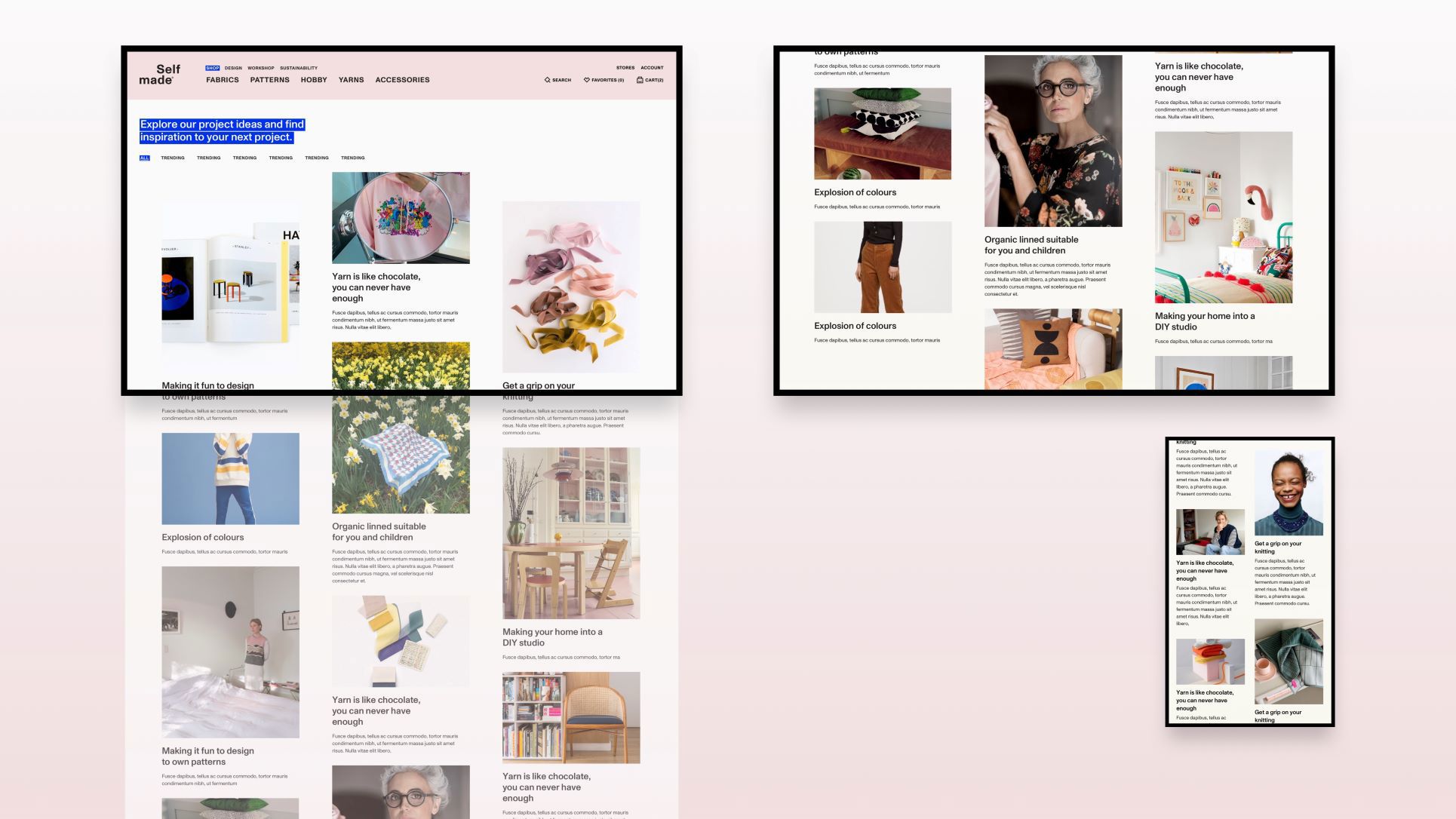 How did IMPACT transform Selfmade's digital presence? 🚀
The answer? Challenging the very definition of what constitutes a traditional commerce website. The new Selfmade website doesn't meet customer expectations - it creates them. This isn't just a name change, it's a mindset makeover. The website is no longer a sewing supermarket but a creative DIY universe. IMPACT and Selfmade signaled this progression through website design features that enable its users to explore the world of DIY, unleash their creative power, and collaborate with other creatives on and offline.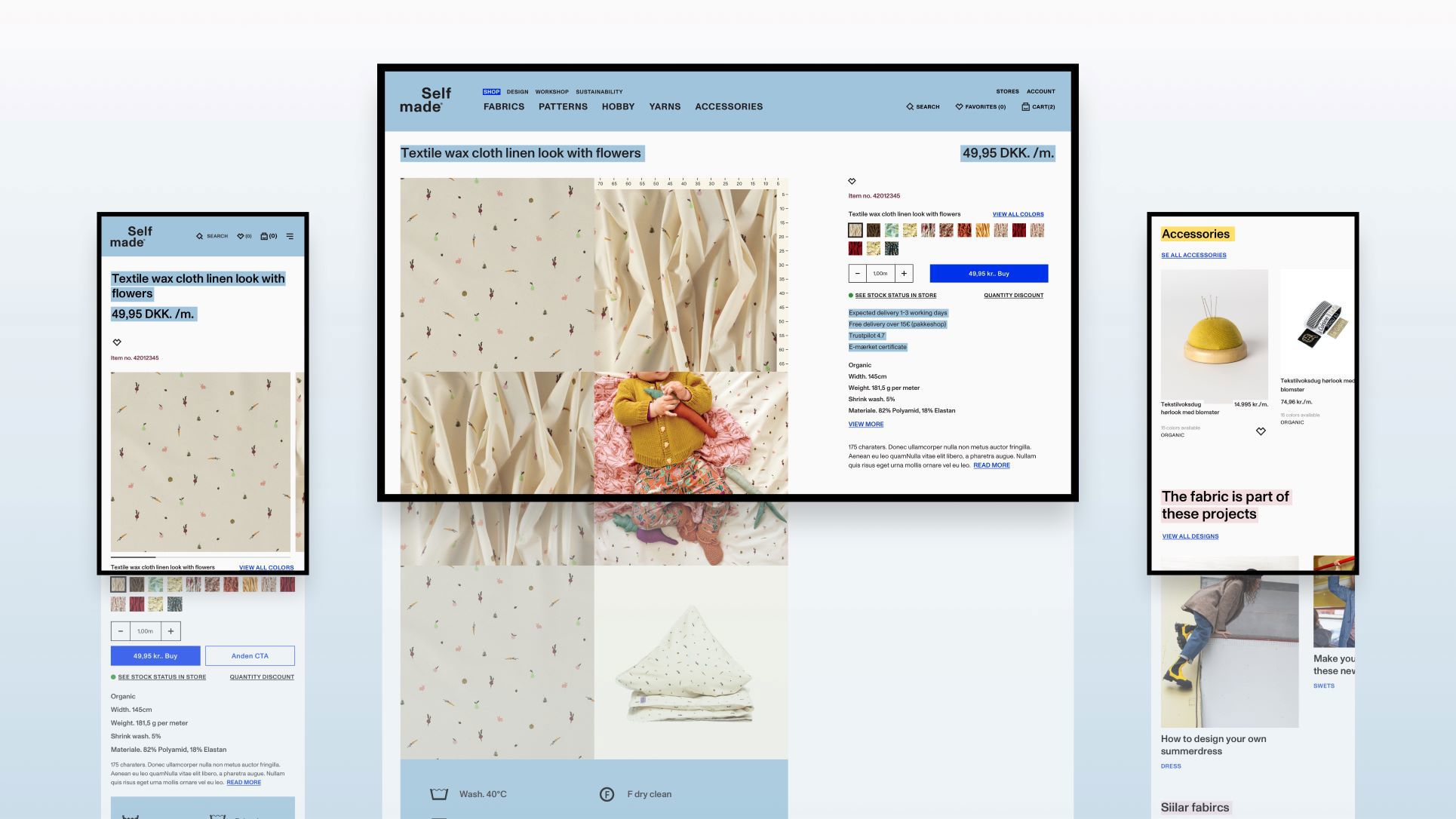 The colorful, playful design is a drastic departure from the catalog look. Instead, it draws inspiration from the in-store experience and fashion houses. Our "Shop the Look" feature combines the best of convenience and creativity with commerce. Here's how it works: The user browses Selfmade's gallery of inspirational designs until an A-line dress catches their eye. In just a couple of clicks, the user's basket is filled with everything they need to craft their next sustainable sartorial masterpiece.
But the user journey doesn't end there. Uniqueness is a priority for Selfmade's customers. When it comes to design, they believe the possibilities should be endless. That's why we designed the platform so that its users can adapt and customize every part of their project, from buttons to fabrics to zippers. With 60% of Selfmade's turnover coming from just one category, we paid extra-close attention to the fabrics section. Instead of cutting it down, we embraced it. 
It's wonderful to be nerdy about your passion, so we turned fabric navigation into a visually delightful world in which fabric lovers can get lost in for hours. To provide added inspiration for its users and encourage mixing and matching across projects, we implemented Raptor recommendations to help them discover everything they didn't know they needed to design their vision. That still left the problem of bridging the gap between the loyal customers Selfmade already has – and the customers it wants to attract.
To create a sense of continuity between the old and new face of Selfmade, we created a hub for passing on creative guidance and DIY tips from the company's loyal brand ambassadors to the next generation of creatives. Selfmade isn't thinking about today. Or even tomorrow. They're thinking long-term. With these changes, Selfmade is designing the sustainable creating experience of the future.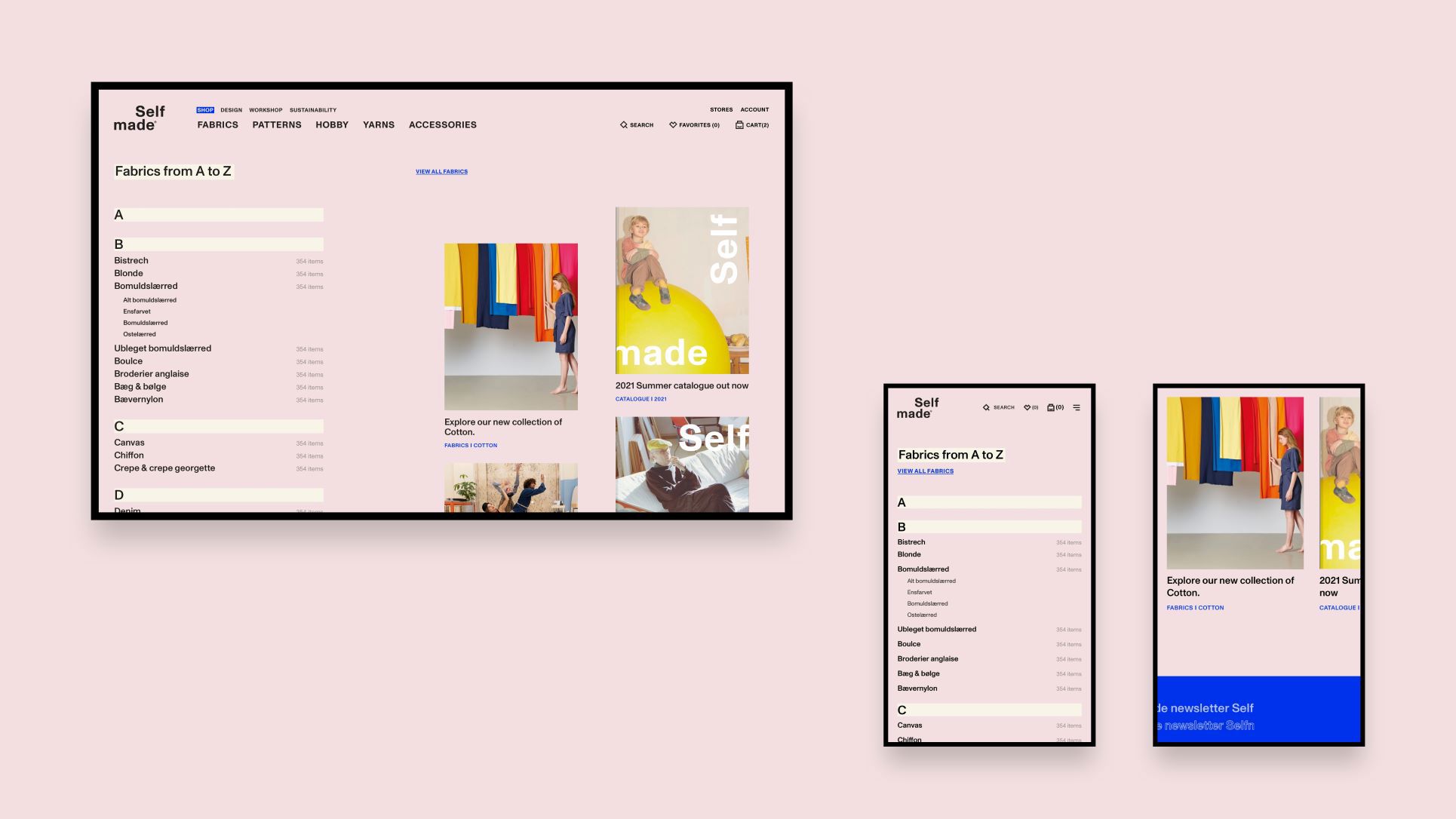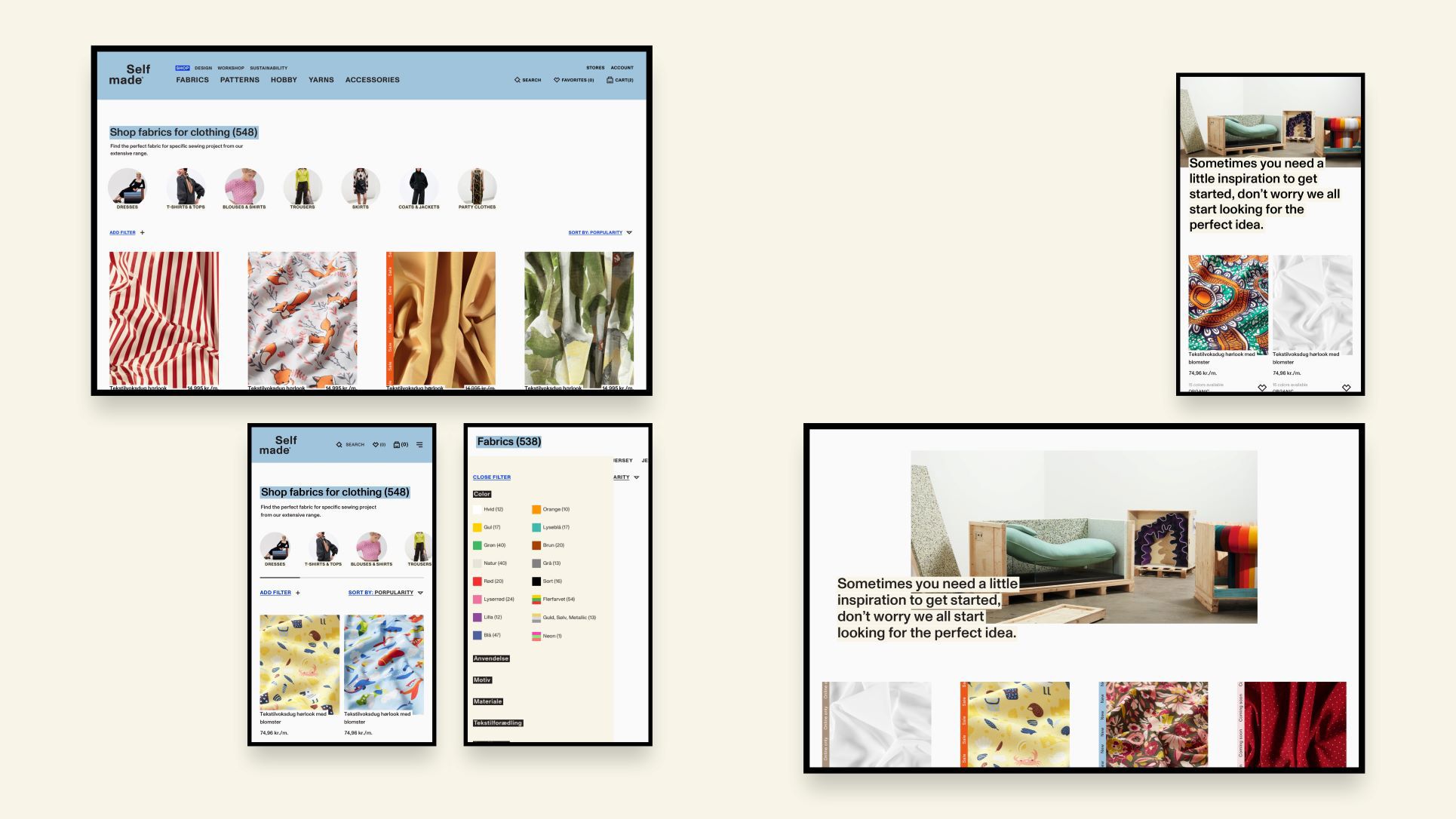 Take a look at the stunning results ✨
✅  New brand position 
✅  PIM-driven - automatization
✅  Communication of new brand values through design 
✅  Being the brand that innovates and creates standards for others to follow 
✅  The project has been test-launched in 2 markets while we adjust the final go-live elements
Can't wait to see what the future holds 🚀