https://www.skoringen.dk/
Skoringen is the largest footwear retail chain in Denmark and Norway – delivering more than 2.8 million pairs of shoes every year at a total of 195 stores. With ambitious plans for an omnichannel transformation, they needed a new digital platform as the heart of delivering personalized commerce experiences. The result is a top-of-the-line headless CMS platform that allows Skoringen editors to create AI-based content. The solution was built using Umbraco Heartcore to create a Headless Single-Page Application, which makes the editor experience seamless and intuitive. It has also uplifted Skoringen's conversion of visitors to customers significantly. Overall, conversion rate has increased by 19%, mobile conversion by 32%, and drive-2-store rate by 49%. There is no doubt – Umbraco is Skoringen's key to producing next-level commerce and personalized customer experiences.
Skills used
Content Creation
eCommerce
Headless CMS
Umbraco Cloud
An Umbraco Heartcore case study with stunning results 🙌
increase in conversion rate
increase in mobile conversion
increase in drive-2-store rate
The goals 
Skoringen's goal was clear. They were determined to compete with the best omnichannel players and pure, webshop-only players by delivering top-class customer experiences, but an outdated website made it impossible to do so. Their site was unresponsive and did not even support mobile devices.
Skoringen was stuck in the tentative beginnings of being online: They lacked the ability to connect physical stores with their online webshop. They struggled to provide a seamless experience for customers when transitioning between online and offline and did not deliver must-have omnichannel features, such as click-and-collect and real-time check-ups on stock levels in nearby stores. Bottom line: They did not have a lot. For these reasons, Skoringen sought an up-to-date website that allowed them to deliver the same customer experience online as they could for a pedestrian who walked up to the store.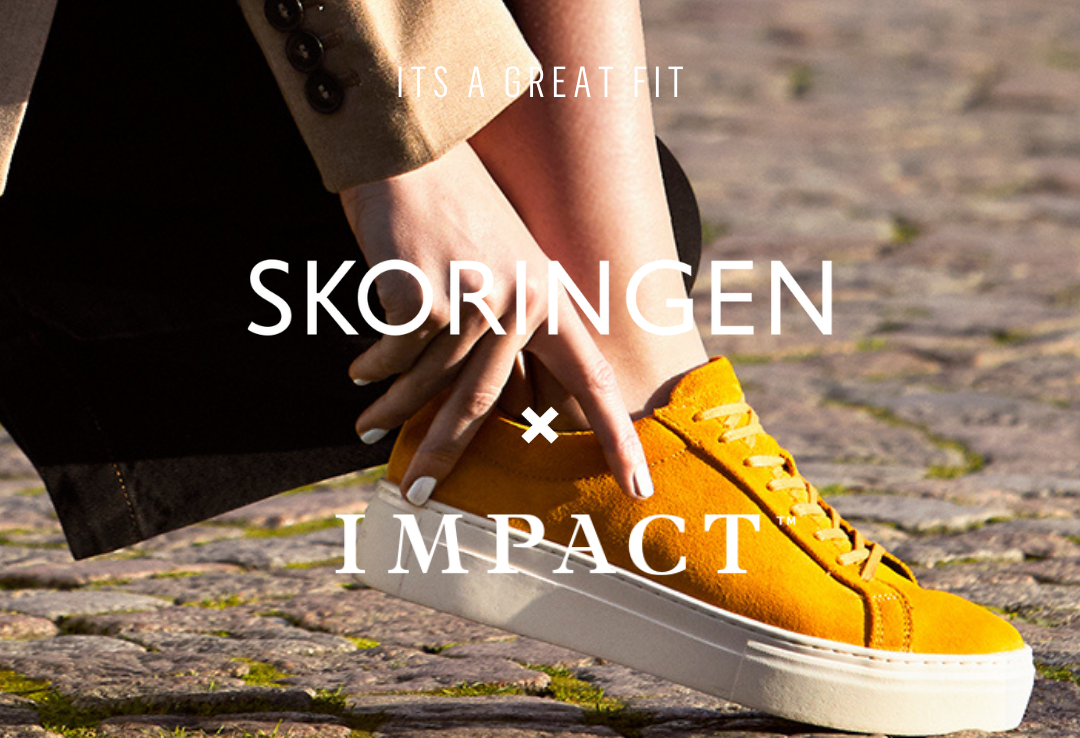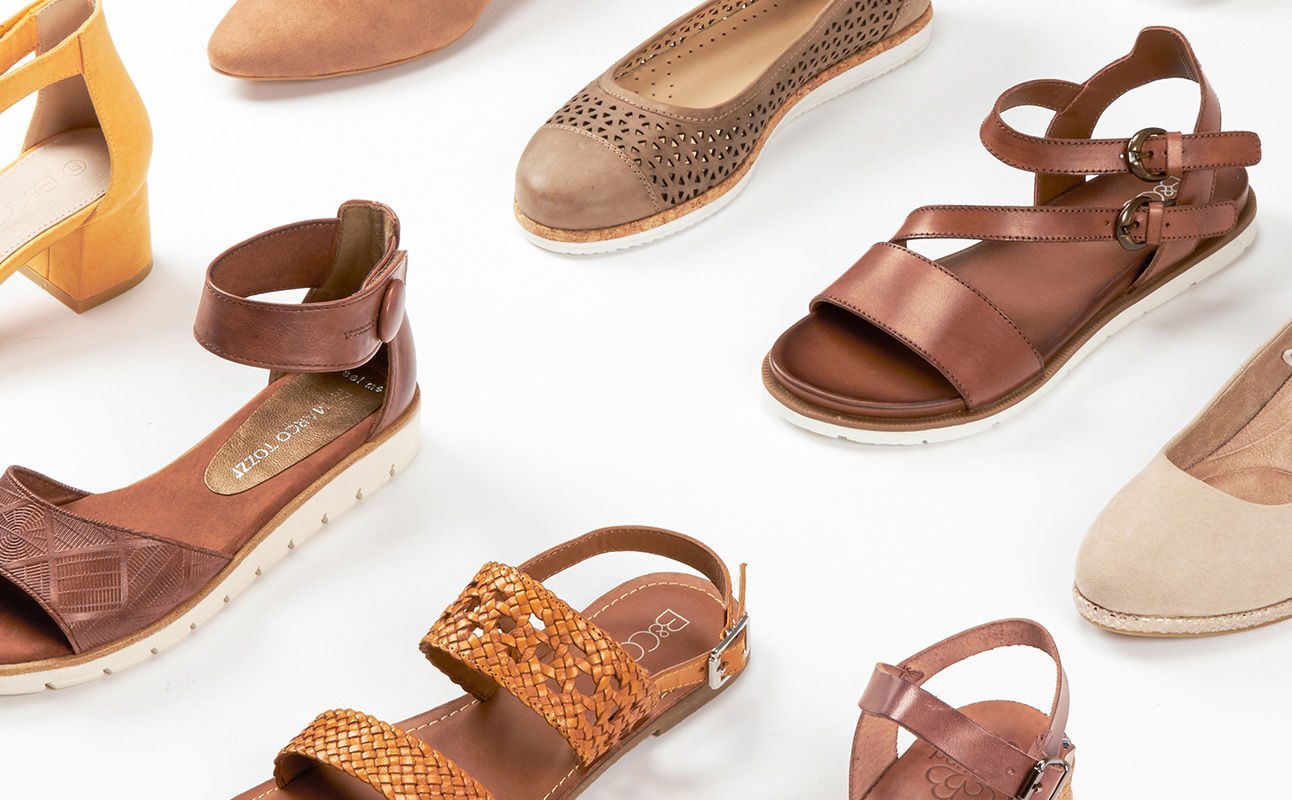 In the name of transition, they wanted to deliver personalized content for the individual customer and to make it as seamless as possible for the customer to switch between website, mobile device and in-store. The solution demanded an easy delivery experience that mirrors a super-easy and intuitive experience for users and customers. 
Tech-wise, Skoringen needed a platform that would allow them to create and deliver content in a heartbeat. For the editors, it was a must that their new CMS platform was intuitive and easy to navigate. It had to be 'snappy' and allow them to edit whenever they needed, wherever they needed.
How we made it happen 🚀
Skoringen's solution builds on a new platform, where speed is the center of attention. Using Umbraco Heartcore, we created a Headless CMS that is lightning-fast. Instead of reloading each and every page whenever the customer clicks, we used a Headless Single-Page Application based on microservice integration architecture to make Skoringen's new website reload only what is also new.
Umbraco Heartcore reflects the most compressed and lightweight version of a CMS, so Skoringen's solution takes full advantage of Umbraco Cloud and Azure Cloud's capabilities, making it possible to access it whenever, wherever. That means no reloading pictures, JavaScript, stylesheets, footers, headers, you name it.
With multi-currency, multi-language, and multi-country options, the editors can easily go live with new content to many different customers. One of the solution's main editing features is the visual content editor. This editing feature utilizes the same styles as the website and thereby provides editors with a visual experience of the content they are creating.
With the intuitive grid, different customized components are inserted, edited and previewed on the same page, drastically improving and simplifying the editing experience.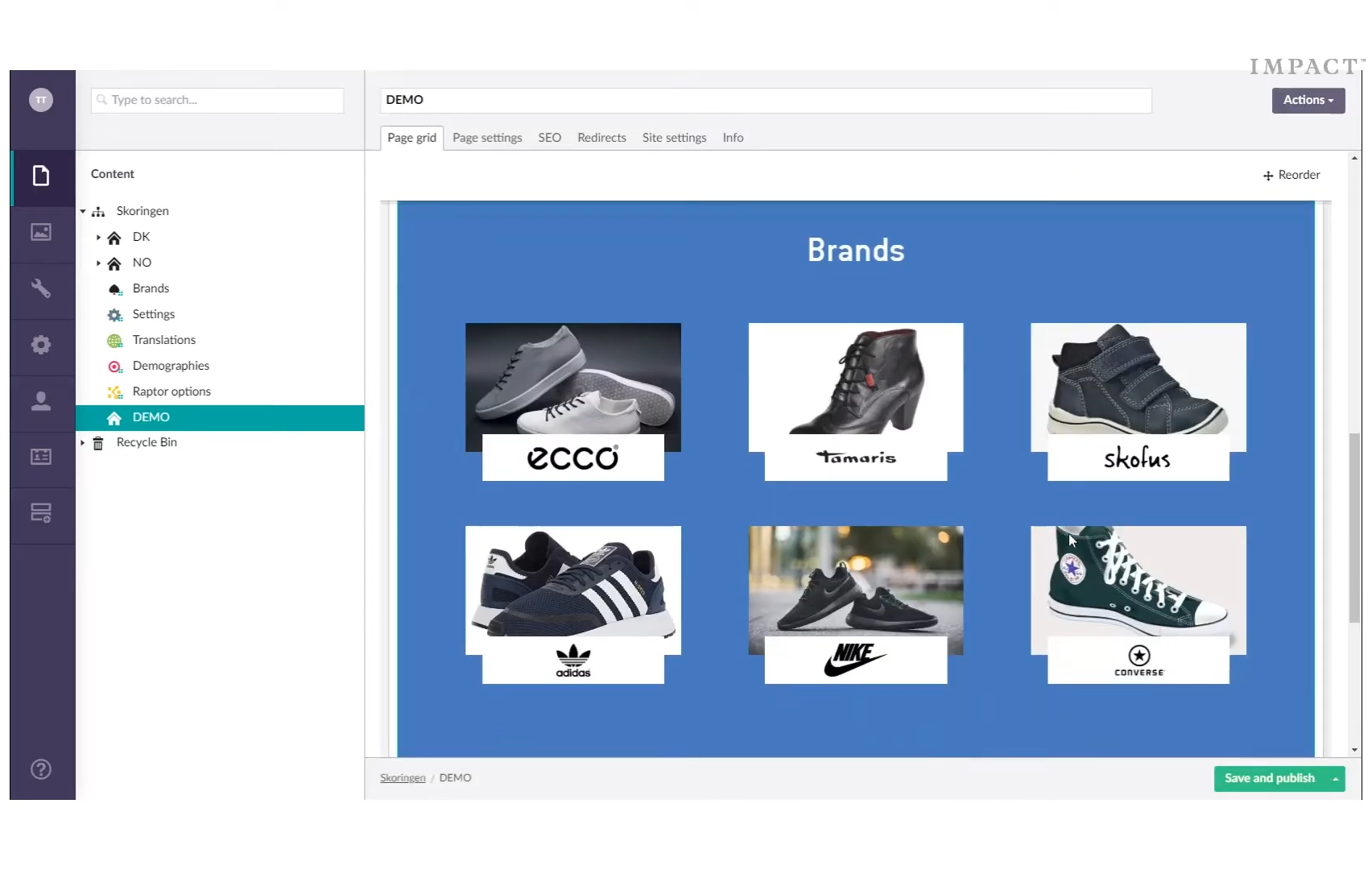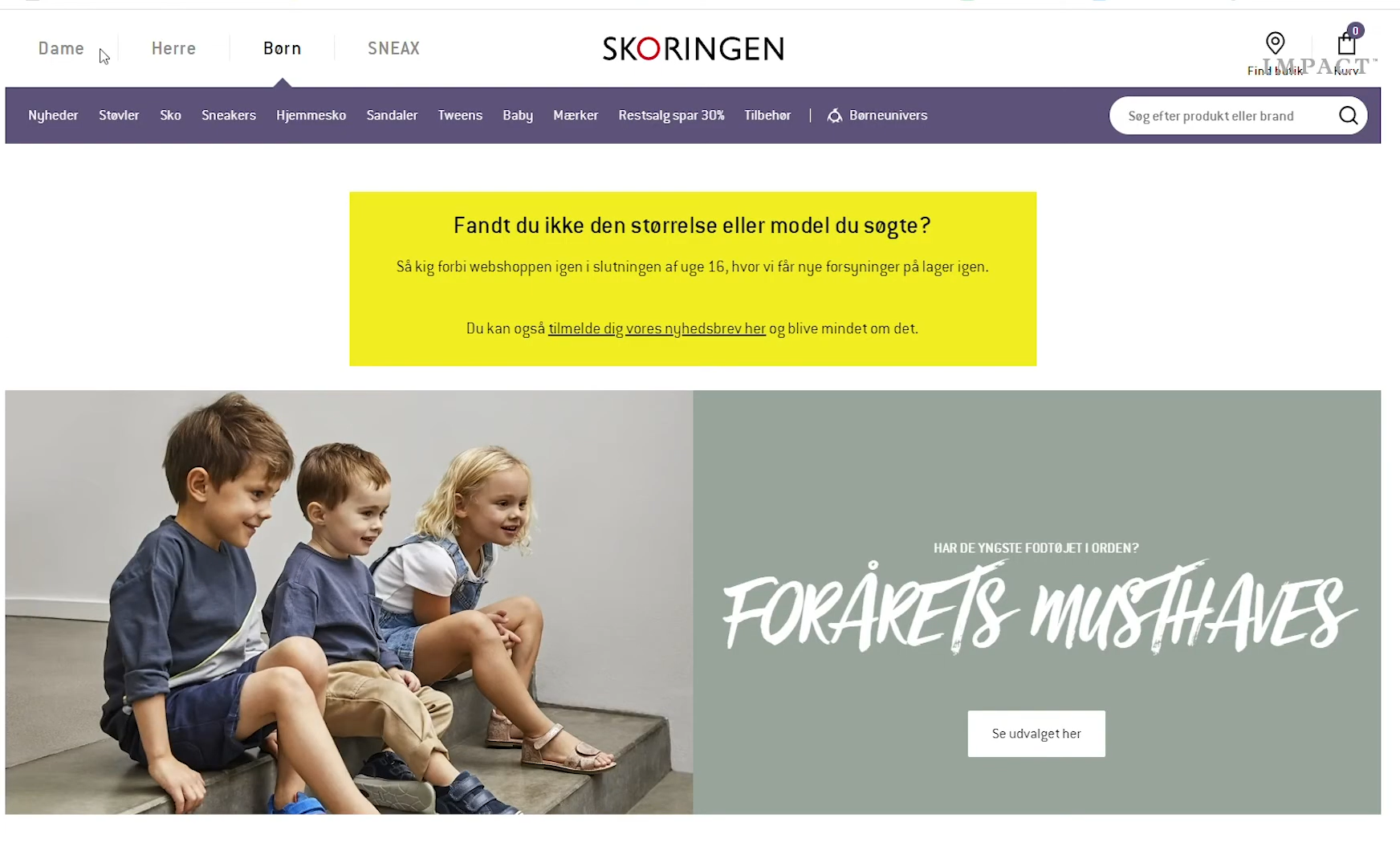 From an omnichannel perspective, the solution we created in collaboration with Skoringen makes it possible to deliver personalized customer experiences based on store data from POS and behavioral data. The data is constantly derived and stored through Umbraco – making it easy to mix content and commerce.
One of the best features of Skoringen's new Umbraco solution is sheer ease of use both for the developers and most certainly for Skoringen's editors, for now have an extremely intuitive solution to work with. Creating and publishing relevant content becomes painless, which significantly boosts the content quality as more data is collected.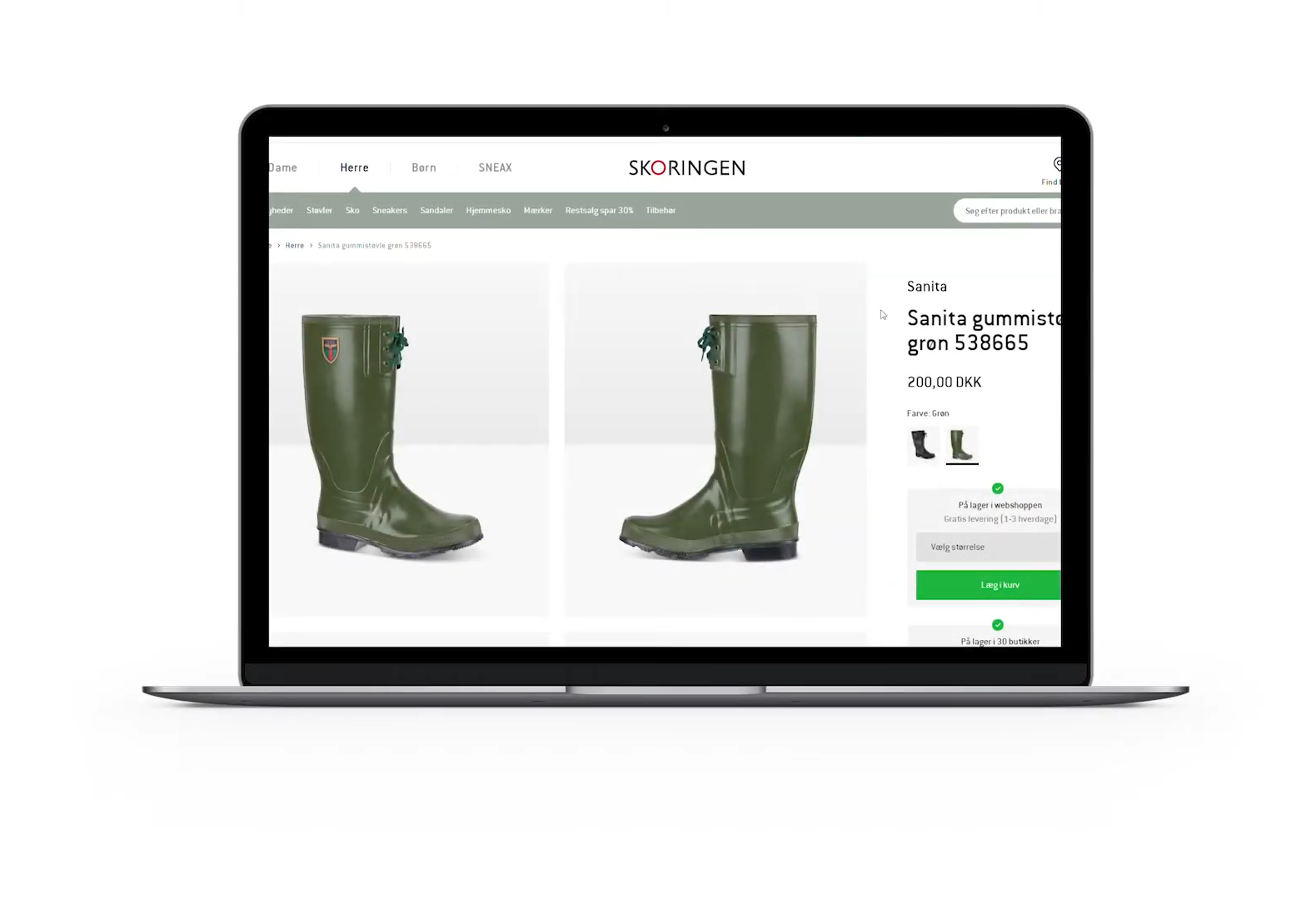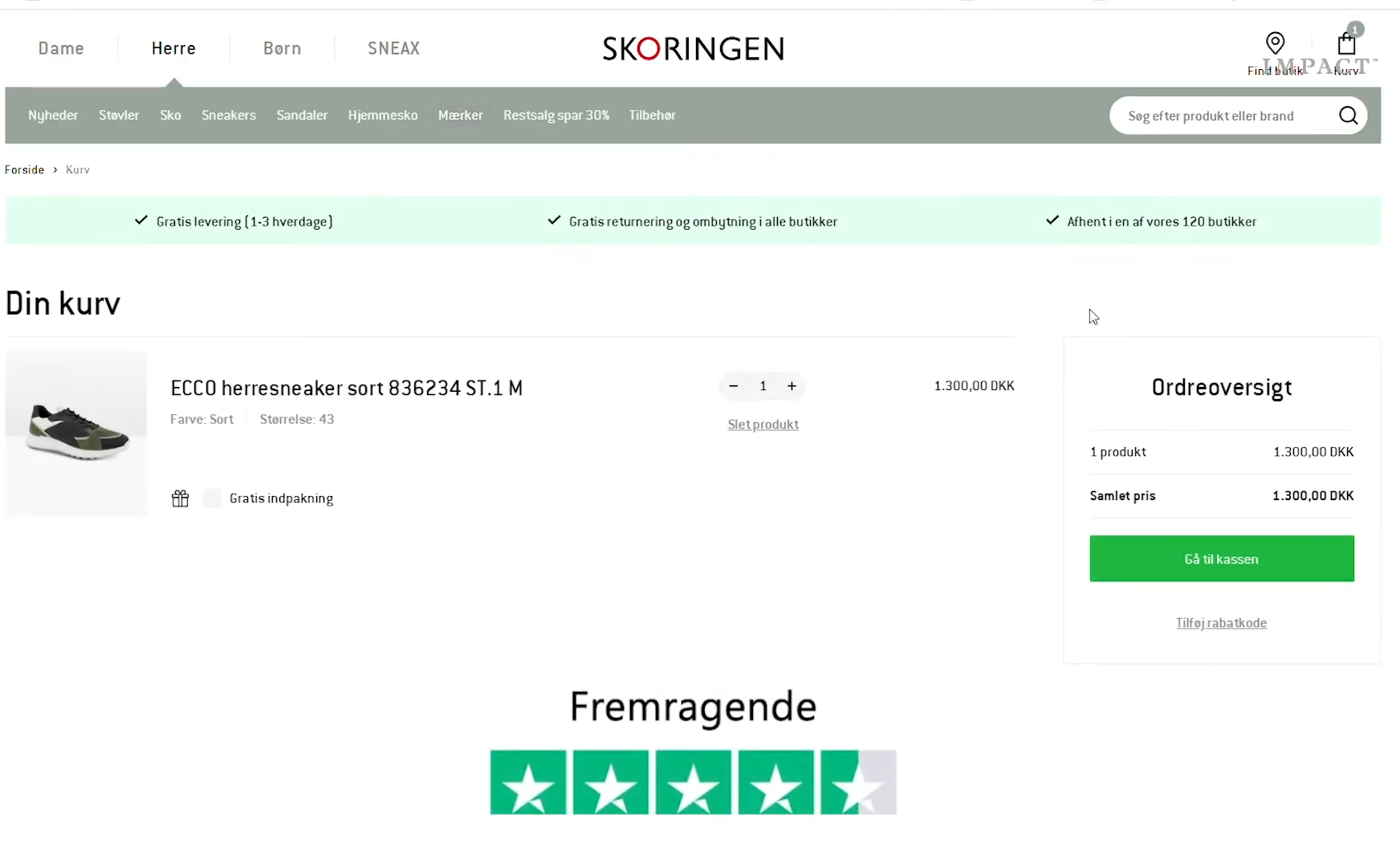 After-launch joys ✨
The customers love the digital shopping experience and customer satisfaction is excellent on Trustpilot. We now know the Umbraco solution has significantly improved the conversion of visitors to customers:
Conversion rate has increased by 19%, mobile conversion by 32%, and the drive-2-store rate by 49%. There is no doubt Umbraco helps produce next-level commerce that customers love to interact with.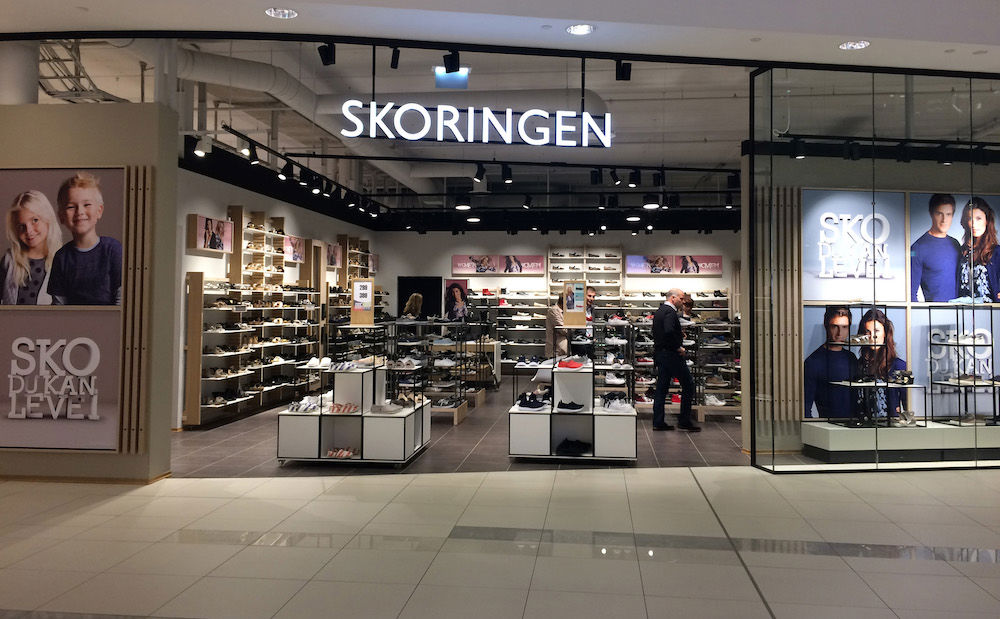 Skoringen's editors take full advantage of the solution to showcase what personalization truly is. The customers receive personalized content and product recommendations that are AI-based from previous behavior.
The state-of-the-art headless commerce application in combination with Umbraco Cloud, Umbraco's flexibility with customization, and Azure Cloud's capabilities all play a major part in making the life of a Skoringen editor easier. By tying all applications and data together, the editors can finally deliver a highly-personalized commerce experience.
It's fast, it's seamless, and it attracts customers effortlessly.