https://www.westminster-abbey.org/
Westminster Abbey, a UNESCO World Heritage Site and one of the biggest tourist destinations in the UK, needed a new website. One that would be as beautiful and special as the Abbey itself with the user experience to reflect the friendly welcome given by the Abbey to its visitors and worshippers. The Abbey were drawn to build their new platform on Umbraco, as the CMS was recommended to them by other organizations. What happened next? Pixel<to>Code teamed up with M&C Experience Design and set out to change the Abbey's digital presence for the better:
Skills used
Design
Digital Strategy
Accessibility
Architecture
Mobile
Sector
Arts & culture
Public sector & charity
Tourism & hospitality
Education
An award-winning site with hugely increased engagement
Increased online ticket sales
Increased views of service time listings
A new website for the centre of British history
Westminster Abbey has been at the centre of British history for over a thousand years and welcomes more than a million visitors per year.
It has hosted every English coronation since 1066 and is the burial place of kings and queens and many other distinguished figures.
The Abbey is one of the most popular tourist attractions in the UK, but it is also a working church welcoming worshippers to daily services and hosting events including choral, musical and organ recitals.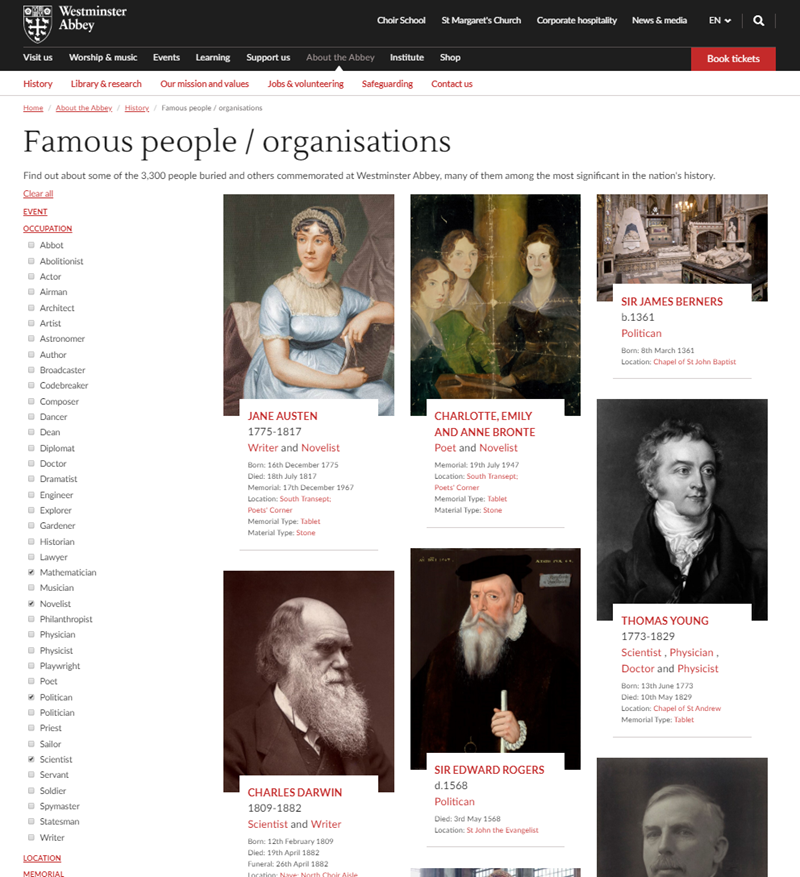 With the new website, it was important not just to show how awe-inspiring the building is, but also to convey a sense of the role the Abbey has played in history and continues to play in British life.
With a more confident use of imagery and an engagingly open tone of voice, M&C Experience Design ensured that the site was designed to address the needs of its diverse audiences and encourage more visitors to worship, visit or attend an event.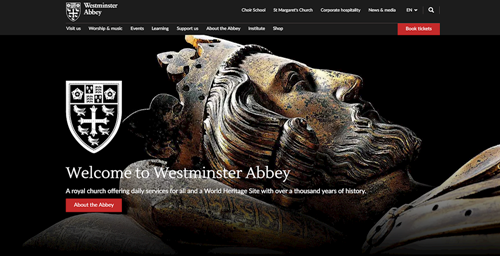 Why choose Umbraco?
The abbey were drawn to Umbraco by strong recommendations from other organisations due to its reputation for user-friendliness and ease of editing. They asked for a demonstration, and Pixel<to>Code built a simple backend for their existing site to show exactly how the editing experience could be made easier.
Umbraco also appealed because it was free and open source, but with direct support available from a corporate HQ if needed.  For developers, Umbraco gives complete control over markup and enables the design to be delivered exactly as intended.
What had to change...
The previous Abbey's site, built on Squiz Matrix, had grown organically since launch and had become a confusing experience for both website visitors and content editors. 
Navigation in particular was overly complicated and the site did not work well on tablet and mobile, a frustration for a large proportion of its users who are tourists visiting London with access only to mobile devices.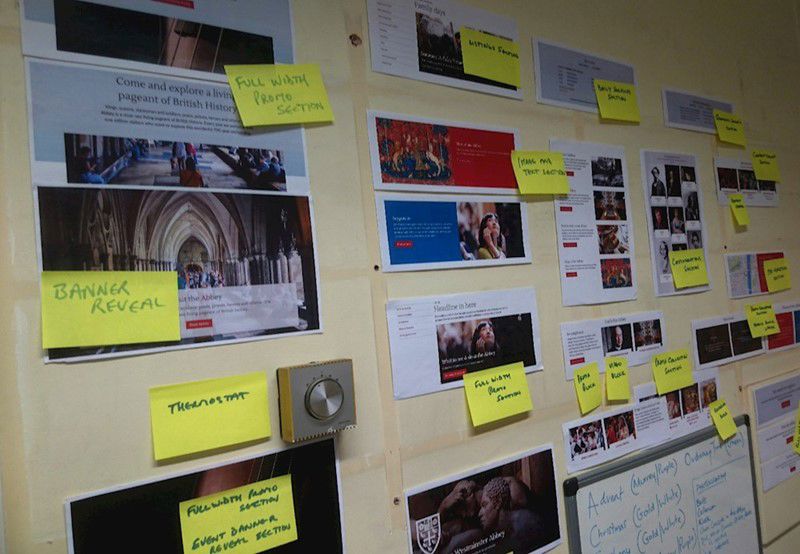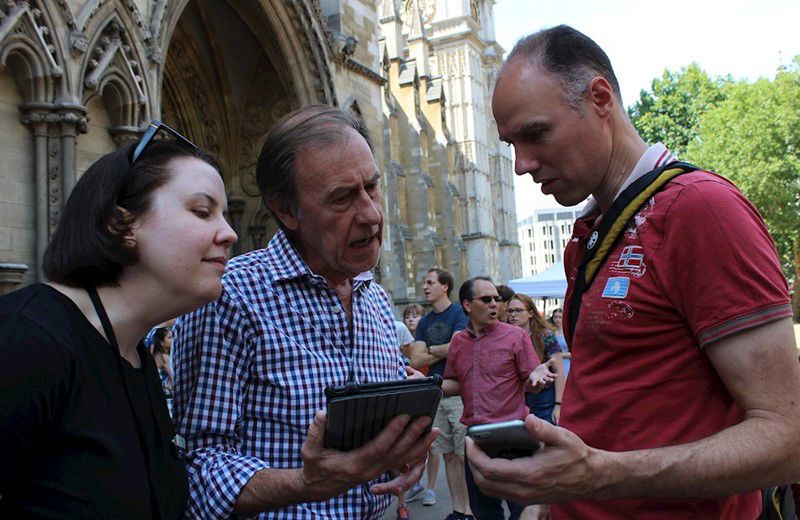 ...and how we changed it
We always place great emphasis on ease of use for editors. One particular challenge was the quantity of content, with news items, sermons and lectures going back 15 years, and more than 3000 people buried or commemorated in the Abbey. 
Umbraco Compositions were used to ensure consistency between different content types, with content organised logically within the tree in the same format as on the page to make sure that it could be found and updated easily.
A great deal of thought went into designing a set of components that were sufficiently flexible and self-contained to be easily reused across the site. The editing experience was intuitive which meant that training needs were minimal. Umbraco Content Templates were useful for items like job vacancies, in guiding infrequent editors. 
The landing pages present content drawn from several sources, and performance was a key consideration, particularly given the amount of photography on the site. Every technique was employed to best deliver images reactively according to screen size, whilst retaining quality and the integrity of the design (and all the MVPs in the Umbraco community who make these things possible - you deserve a huge amount of credit, great work!).

"Building a website for so many different audiences, while keeping the editing experience as simple as possible, was a great challenge. We focused on building reusable components, using a small set of basic templates, and keeping everything in the content tree for consistency. We had concerns about the scalability of this approach, but with the right techniques and plenty of caching, the site runs very fast despite the amount of content on each page."
Transient data, such as daily service and entry times, were devolved to a separate module for performance reasons, with a facility built to generate months of data at a time from default values. 
The main focus in testing was to ensure that the website could cope with the inevitable traffic loads and spikes during a royal event or release of tickets for Christmas services. Using load-testing tools like Locust, along with Application Insights and the Azure performance tests, we were able to pinpoint and resolve areas of stress.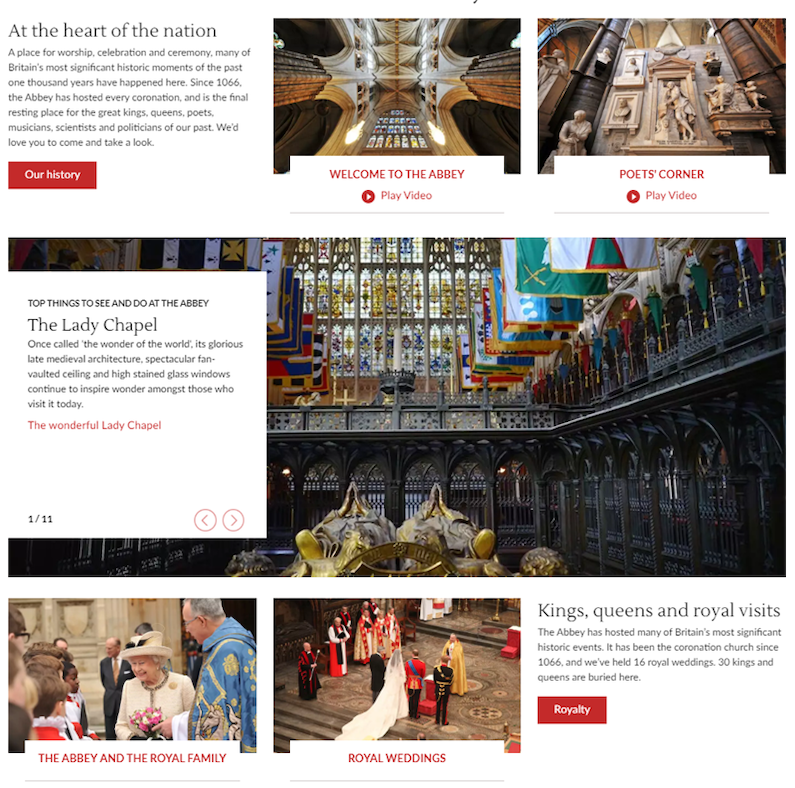 Post-launch happiness
Feedback from internal staff and the public was universally positive, with hugely increased engagement on the site and through online ticketing. Access from mobile devices has risen exponentially.
Here are just some of the post-launch numbers:
The bounce rate has been reduced by 45% and the exit rate by 10%.
Online ticket sales have increased by 60%, with ticket sales to those in the UK increasing by 11%.
Visits to the site from people in the UK have increased by 13%, and views of service times listings have increased by 59%.
The website was also recognised by winning the 2018 Digital Communication Awards, Website & Microsite category, and a Gold Stevie for Non-Profit Website at the International Business Awards 2018.