Development on Umbraco 9 has not started. At Umbraco HQ we are fully committed to improving and updating Umbraco 8 and have not yet started any planning or development of a version 9.
We want to ensure that Umbraco 8 is the best possible version of Umbraco, which is why we're continuously introducing new features to it. If you want to know more about upcoming features for Umbraco 8 - and our other products - you can go to our product roadmap.
Next Umbraco products being released
The Umbraco HQ development team is constantly working to improve the CMS. Additionally we have some additional products that are being developed and will be released in the near future. Below is a few of the main Umbraco products actively being worked on to be released.
Umbraco .NET Core
The project to move Umbraco to .NET Core has already started and has progressed from planning to active development. 
It started with a .NET Core community team being formed - called Team Unicore. The project lead on Team Unicore is Bjarke Berg from Umbraco HQ.
If you're interested to follow the status on the project you can keep an eye on the product roadmap or our blog for updates on the migration to .NET Core.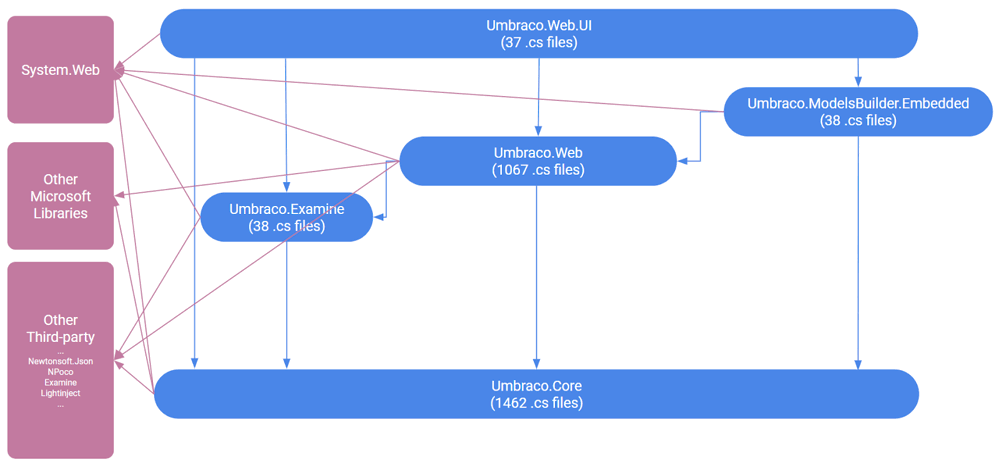 Umbraco Deploy on Premises
The Umbraco Cloud Deployment technology is going to be made available for projects outside of Umbraco Cloud. This will give Umbraco projects hosted on premises the ability to ease deployment between multiple environments by connecting external hosted Umbraco projects with localhost or Umbraco Cloud as development environments.
Umbraco Deploy on Premises is going to be the Umbraco 8 alternative to Umbraco Courier (which is not supported in Umbraco 8).
Release of Umbraco Deploy on Premises is expected in Q2 2020.