Overview:
New features 
Since the last Cloud Update in December, an impressive amount of new features and improvements have been added to Umbraco Cloud. If you haven't tried out Umbraco Cloud yet, you can take a free trial and see all the benefits for yourself. 
Break reference between baseline and child project
The Baseline feature on Umbraco Cloud lets you easily create clones (or child sites) based on an existing project (the baseline). One of the big advantages is that you can continue to develop your Baseline project and push functionality out to the child sites when needed. Sometimes it can be required to break the link between the Baseline and child projects, making it a standalone project. This is now a feature in the portal as opposed to something you needed to request. 
Click the button, sever the connection (and read the fine print first 😉)
New Project Overview Page
You'll find a new item in your project settings menu that takes you to the Project Overview page where you can find general information for the project such as project plan, alias, status, and more.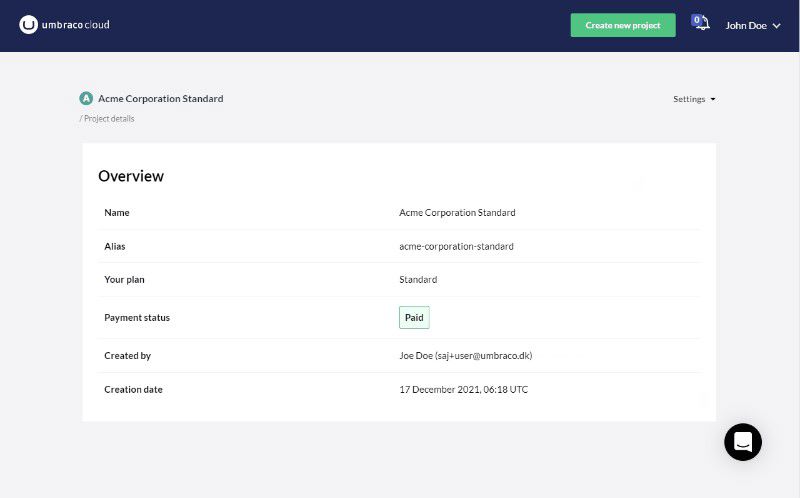 Easy access to blob storage connection info
Umbraco Cloud projects are set up to use blob storage for Media out-of-the-box. Should you need to connect to the container you can now find all the info you need on the Connection Details page, complete with copy-to-clipboard functionality.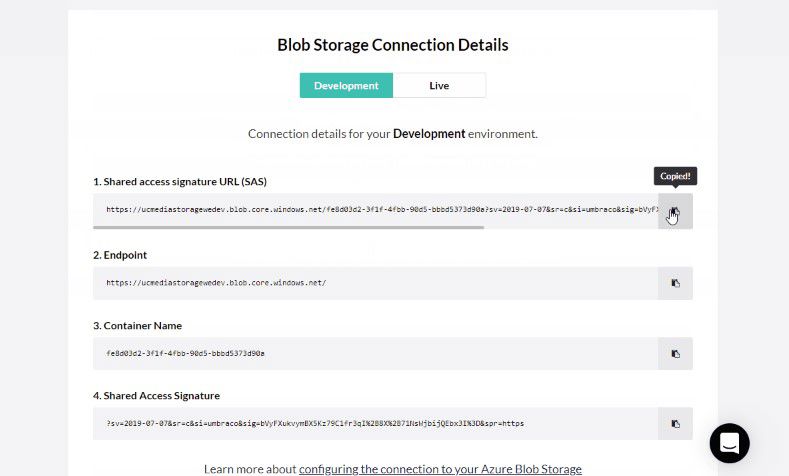 GraphQL support for Eye Dropper Color Picker
The Eye Dropper Color Picker property editor is now also supported in the GraphQL feature for Umbraco Heartcore. It allows you to add a more advanced color picker to a property. You might recognize this from the configuration of the current Color Picker Property Editor.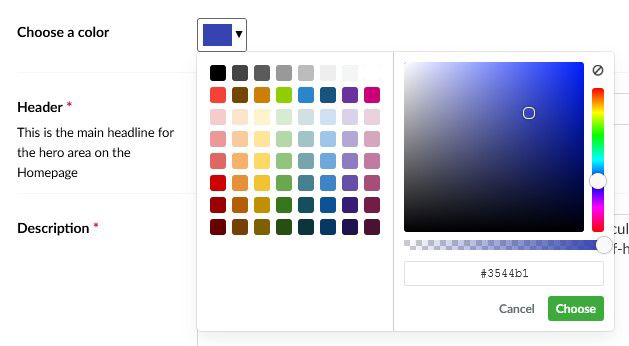 It makes it possible to choose any color with an eyedropper or enter the hex code and even adds options for choosing the alpha (transparency) and displaying a palette for selecting colors. 
Umbraco Heartcore is the headless offering on Umbraco Cloud, if you haven't tried it yet, you can find more information and a free trial here.
Invite workflow improvements
Inviting colleagues and clients to a project has also been improved with multiple updates to the invite workflow. Not only is the email delivery vastly improved (which should result in fewer invites ending up in spam folders), but you now have the option to copy an invite URL.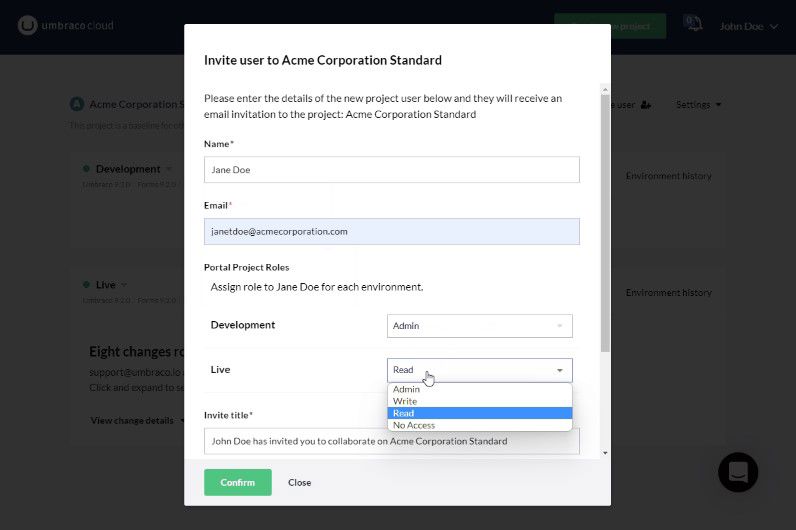 Another improvement that'll help make it easier to invite team members with the correct permissions, is the addition of role assignment to the invite workflow. This means you no longer have to remember to go to the user and set roles for each environment, this can be done immediately while creating the invite.
Finally, you can now see the status of your own pending invitations, expiration date, and the option to delete/revoke an invite.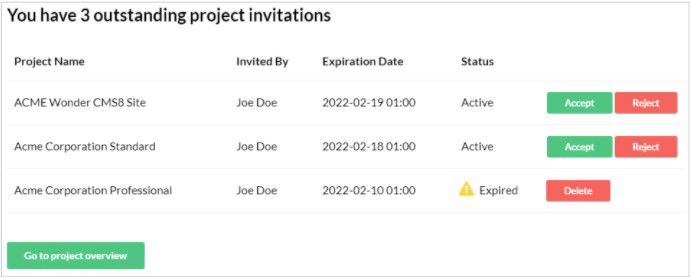 Backoffice user groups for team members
In order to get a quick overview of who has access to what, you can now see the backoffice user groups assigned to a user for each environment on a project. This can be found on the Team page and is shown beneath the project permissions.

Usage limit warnings
You now get warning labels on the project page if the project resource quotas are close to or have been exceeded. As always, you can find more detailed information on the Usage page.

Release Notes
In order to help keep track of all the new features and improvements, we've made release notes for Umbraco Cloud available. Here you can read more about the new features and improvements and see them in action. The release notes are available at our.umbraco.com under the Cloud documentation. You can also access them through the Umbraco Cloud in your profile menu: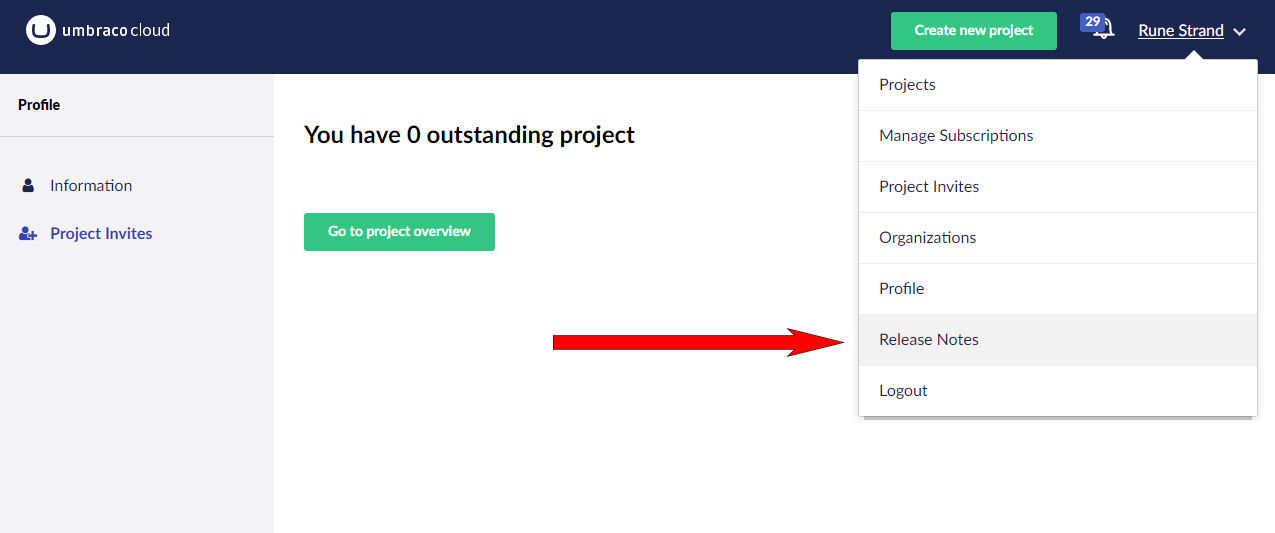 We are constantly releasing features and fixes to the portal, release notes are added 1-3 times per month depending on how much there is to shout about.
Improvements and fixes
During December we have provided a lot of small improvements to the Umbraco Cloud Portal. Actually too many to mention, you can find a few of the highlights in the list below.
Alignment and consistent order of product version numbers for environments on the project page.
Confirmation box for restarting environment (to avoid accidental restarts)
Required technical contact details for projects prior to creation (so every project always has at least one technical contact)
Alerts in the portal when a profile does not have a phone number or when a project does not have a technical contact associated (contact information is important in case there are issues related to a project or a profile).
We have reworked a couple of the criteria that trigger notifications for an available upgrade. Now you will get a notification on Starter projects without a development environment as seen below.
The upgrade banner will no longer be displayed on projects with one or more environments already upgraded.
The Create new Cloud project wizard has received some performance improvements. It is now loading asynchronously and the potential baselines are loaded much faster to ensure a better user experience when creating a new project.

Umbraco Cloud on the Product Roadmap
If you're following along in our bi-weekly Product Updates, you might already know there's been quite a lot of activity in the past couple of months. In the Cloud Updates, I'm going to highlight the items that are directly related to improving Umbraco Cloud. Here are the highlights since the last Cloud Update:
New in "Now"
Static IPs, and expanded security and CDN Capabilities
In February and March, there are a lot of new features that'll make your Umbraco Cloud and Heartcore projects even more powerful. New security options will be available for hostnames such as toggling HTTP protocol and TLS, and you get Expanded CDN Capabilities with more control over caching mechanisms. 
Content Comparison
If you're using the Content Transfer feature on Umbraco Cloud there is also good news. A new feature will let you Compare Content items before you transfer them between environments, a big help to ensure the correct changes are being transferred. This will be available as part of the Umbraco Deploy 4.5/9.3 release and will be available for upgrade on Umbraco 8 and 9 based projects as well as all new projects. For more details see the release candidate blog post for Umbraco Forms and Deploy - there are a lot of great features coming your way on March 8th!
Regional Hosting Options
A little later in the year, new regional hosting options will be available on Umbraco Cloud. Starting out with a new data center in the US will make Umbraco Cloud an easier choice both for companies based in the USA and projects focused on that market, with local data storage and faster response times. It's fantastic to be able to deliver this as it has been hugely requested. With the new infrastructure on Umbraco Cloud in place, which was built from the ground up with regional support and stability as top priorities, work has now begun and is targeted for release this summer ☀️
New in "Next"
Customizable Projects Overview 
A new addition to the roadmap, currently in the planning stage, is a customizable Projects Overview page for the Umbraco Cloud portal. This is aimed at improving the page where all your projects are listed with enhanced project management, a better overview of all your projects, more relevant information, new features, and layout options. 
Target release: Q2, 2022. 
New in "Later"
Technical Partner Trials
A little further down the line, we're looking to make Umbraco Cloud a better tool for partners that have developed integrations with other services and products. Technical Partner Trials will make it possible for potential customers to try out integrations and packages with trial projects that are fully configured completely with website content. This, along with new integrations already on the roadmap and the upcoming Umbraco Marketplace, is a part of our Composable DXP (Digital Experience Platform) strategy.

Make sure to check the Product Roadmap for the latest updates.

Automagic updates, new features, and more
Aside from all the new features that have been added to the Umbraco Cloud platform, there has also been a number of release for the core products used on Umbraco Cloud. Umbraco CMS, Umbraco Forms, and Umbraco Deploy are a huge part of the Umbraco Cloud offering. They come for free with all Cloud and Heartcore projects, and there have been great new additions to all of these products, meaning a whole bunch of new features for all Umbraco Cloud users.
Umbraco CMS
2 minor releases
2 automated patch rolled out for the CMS
New Package telemetry for better statistics on how packages are used, Markdown for property descriptions, performance enhancements, a long list of improvements for Members with a new Content App, easier integration for external login providers, 2FA, and more. These are just some of the new features available for Umbraco CMS with the release of versions 9.2 and 9.3. All releases also provide additional improvements and fixes - and they were all immediately available or rolled out automatically on Cloud.
Umbraco Forms
2 minor releases
7 automated patches rolled out
Umbraco Forms now has a localized interface to match the language of the current backoffice user. Currently available in the following languages: Spanish, Italian, French, Polish, English UK, and of course English US as the default, and there are more to come. You will also find new field type options and support for Content Apps. You can read more in the Umbraco Forms 8.10 & 9.2 release blog post.
All these features and improvements were released for both Umbraco 8 and 9, and available on release day on Umbraco Cloud. Many more fixes were added through the patch releases all eligible sites were automatically patched.
Umbraco Deploy
7 automated patches rolled out for Umbraco Deploy (and one more coming next week) 
Umbraco Deploy is responsible for deploying schema and transferring content for Umbraco Cloud and Umbraco Heartcore and has received 7 patches since the last Cloud update, all rolled out automatically to make sure your Umbraco Cloud projects are running smoothly. On March 8th, 2 new minors will be released for both Umbraco 8 and 9, and if you want a sneak peek of what you get, take a look at the release candidate blog post where new features such as Content Comparison are explained.
If you haven't done so already, or it's been a while, you really should give Umbraco Cloud a go. You get a 14-day completely free trial, so why not give it a spin? You can a free trial right here.
Got any questions? Why not ask the Cloud team directly?
If you have any questions there is a perfect opportunity to ask them directly to the Umbraco Cloud teams tomorrow, Wednesday, February 23, 2022. Here team leads and one of our new product owners will be answering questions about the present and future of the Umbraco Cloud platform. So don't hesitate to sign up for the Community Office Hours live stream and add your questions: 
Sign up and add your questions
When you have signed up, you can post your questions. The live stream will begin at 16.00 CET, we look forward to seeing you there and answering all your questions.
See you soon 👋
That's about all there is to say, at least from a high-level perspective, on the first month and a half on Umbraco Cloud in 2022. Hope you're as excited as we are about all the new features that have already been released, and all the great things coming up. Next week you'll get another round of regular Product Updates and the Cloud Update will be available in April. 
A large part of the work we do is inspired by the feedback we get from you. For issues and specific feature requests, you can find the issue trackers for our products on the Umbraco Github account.
If you have product feedback, you're welcome to reach out to us at product@umbraco.com.