Who's Owain?
Full name: Owain Williams

Company: LEWIS

Job title: Technical Developer
Twitter:  @scottishcoder
Time working with Umbraco: 11 months commercial experience, 3 years as a hobby.
What convinced you to go to Codegarden 18?
For as long as I have known about the Umbraco Community I've wanted to go to Codegarden, but it was after Anders and Kim visited our office to discuss becoming Gold Partners that my boss suggested I should go. It didn't take much to convince me.

Before arriving - what were you most looking forward to?
Meeting everyone from HQ and the community who I had spoken to via Slack, Twitter and on Our. The talks all sounded amazing too, but it was the community part of the event I was most excited about.

Before arriving - what were your biggest worries about going to CG18?
I was concerned that I wouldn't know enough to make it worth my while going. I struggle with imposters syndrome a lot. I'm constantly questioning whether I am good enough to be in this brilliant community, good enough to do my job, or whether I know enough to speak to other developers. The good thing was, I was totally fine. There was no need to worry!

Did you gain something unexpected from participation in CG18?
I didn't expect the food to be so great. It really was top quality. I also didn't expect to have such a difficult time trying to pick and choose which talks to go and see. There were a couple of times I was torn between which to attend. I'm really glad that all the talks were recorded, it means I can watch them all back when I get a chance.

What are your top 3 favourite things/take-aways from Codegarden 2018?
Top of the list has to be being awarded MVP status! I was so shocked when I received an email from Niels saying that I would be collecting this award during his keynote speech. I still can't believe it. There were so many great people on stage with me that I feel very humbled to be amongst them.
I loved how everyone is happy all the time. Everyone is really enjoying themselves. Lots of smiling faces and everyone, from the first high 5 on the Wednesday morning to the final hugs and good-byes on Friday, everyone is really friendly. If you arrived not knowing anyone on the Wednesday, I think you'd find it hard not to have at least a couple of new friends by the Friday!


Not all the CG18 talks or activities were about Umbraco which was great - it keeps everything really interesting. 
Some talks were about how people started coding, some talks were about mental health and why it's good to talk, then there were the #cgrunners every morning meeting for an easy 5k jog and the yoga / relaxation sessions were also brilliant.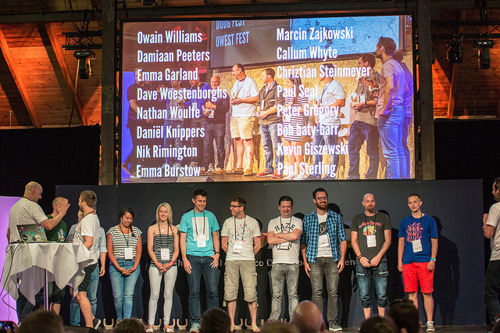 What are your top 3 recommendations for CG19 first timers?
Relax! Everyone is super friendly. Go to the talks that interest you, not the ones you think will be beneficial to your job. If the talk interests you, you will enjoy it more and get more from it and you can always make it relate to your job in some way.


Talk to as many people as you can. Some of the best bits of CG18 were the times I just stopped and spoke to people. It can be long days, starting at 9 or 7am if you go to #cgrunners and maybe not finishing until late in to the evening but go with it, do what makes you happy.


Join the social media channels before coming to CG19, get to know people via their Twitter accounts and their profiles on Our. This can really help break the ice on your first day. If you are on Twitter, add your Twitter handle to your name badge this also helps with introductions.

Will we see you for CG19?
I really hope so! I'm currently thinking about submitting a talk for next year. One which will be aimed at Codegarden first timers. I have already suggested to my boss that it would be really good to go again but we'll see.
Anything else you'd like to add?
If you can, get your boss to come along with you, even if it's just for the first day. I did, and he got to see Codegarden first hand which is so much easier than trying to explain everything when you get back to the office.
I'd like to thank everyone who made my first Codegarden so special. It really was great.
Thanks to everyone who joined in with my Codegarden t-shirt idea too. For those of you who don't know about this, I posted on social media asking people if they would like to meet me and to submit their names to a list on Github. The list really took off and 49 people added their names. I got the names printed onto a t-shirt and my aim was to get everyone to tick their names off when I met them. I managed to get everyone ticked off by day 2 and a number of others manually added their names during Codegarden. It was great fun and it encouraged me to meet as many people as I could in the 3 days I was there.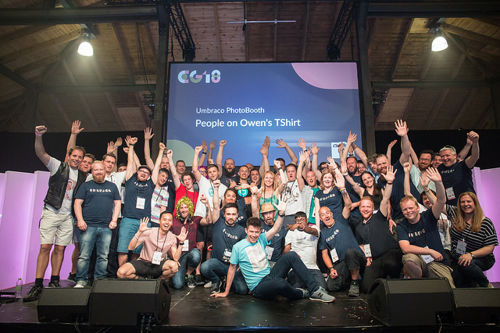 My final words of advice are - pace yourself!
As I mentioned, it can be 3 long days of talks, socialising and learning. If you need some down time, take it. There are plenty of places you can get away from the crowds and have some you time.
I think more content editors and front end users should attend Codegarden, they could really help shape the CMS into something that is even better than it already is and I can guarantee you will get something from the 3 days. 
Most importantly though, enjoy yourself.
Hopefully see you all at CG19!