What is the Dream Corner?
It is a new creative space at Codegarden where the community and Umbraco HQ can meet, interact, share thoughts and ideas about the Umbraco CMS.
The Dream Corner is three-fold:
✏️ Draw. Share your ideas in the form of drawings or get inspired by others.
❤️ Contribute. Submit your very first (maybe?) pull request to the Umbraco core, right there on the spot at Codegarden.
🦄 Meet. Chat with other Umbracians, share your ideas, and learn more both about the friendliest community and the Umbraco CMS.
Who will be your guides?
The Dream Corner will be guided by two friendly and talented Umbraco HQers: our UI/UX guru Niels Lyngsø and our Head of PR (Pull Requests) Sebastiaan Janssen.
Once we announce the full Codegarden 2019 schedule, you will be able to see at what time slots Niels and Sebastiaan will be at the Dream Corner. It is, however, open to everyone during all three days of the conference. It's a space for everyone to chat and share their vision or ideas.
Dream Corner with Niels Lyngsø
Share your dreams or a story from real life usage of Umbraco. Unleash your creativity and set it free - draw an idea for a feature or a scenario where Umbraco could make life better.
To help conceptualize your ideas, Niels Lyngsø will be around to listen and help bring them on paper. In this way, it will be made available for others or for HQ to witness those ideas "alive".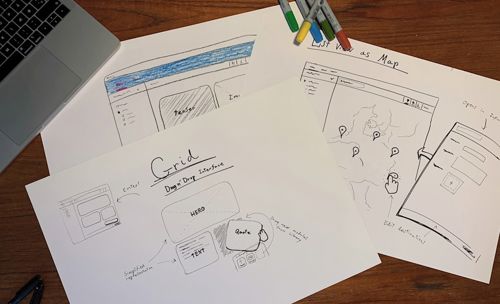 What do we exactly mean by "idea"? An idea can be anything, all dreams are welcome. They can be vague or concrete:
Maybe it's a scenario with no solution or maybe you already know how it should be done but are looking for input from others.
Maybe your idea feels too big or too unrealistic, and only drawing it and talking about it can help give it a form.
Maybe you're carrying around complex ideas that you cannot make the time to bring to life.
Maybe you don't have any ideas, but you're feeling a bit curious about the Dream Corner and want to listen to other people's ideas.
Either way, don't be afraid, we won't judge your drawing skills or ideas - all dreams are welcome!
Dream Corner with Sebastiaan Janssen
If you've always considered submitting a pull request an impossible task, but still dreamed of the day when it will finally happen, at this Codegarden your dream may come true.
And you won't do it alone. Our Head of PR, Sabastiaan, will be there to help you get started with contributing to Umbraco. Hands-on!
While we're at it, you can learn more about contributing to the Umbraco CMS.
At the Dream Corner with Sebastiaan you will:
Fix
Learn
Experience
Have fun
Get some karma points
Benefit your career
Grow your network
Make the world a better place
Quite a list! And hey, this can be you - but please don't leave Sebastiaan hanging, high five right away 😉
Do I need to sign up?
Not at all. Just stop by and start dreaming!
Oh well, one tiny thing... in order to do so you need to have your Codegarden ticket:


Get your Codegarden 2019 ticket now >>


Pssst… are you a Codegarden first-timer and too shy to join?
This is the best year to be a Codegarden first-timer as we will have a bunch of lovely, super friendly people helping you out to get familiar with the conference and all that is has to offer - meet uBuddies.
See you in Odense in May!