What is Umbraco UI Builder?
The Umbraco UI Builder is your new tool to manage data in a very familiar and user-friendly interface. Ever had to grapple with custom database tables or integrate external data sources into Umbraco? With the UI Builder, this becomes a task of sheer simplicity. It serves as a bridge that auto-generates a management user interface for your custom data sources, ensuring that it aligns seamlessly with Umbraco's look and feel.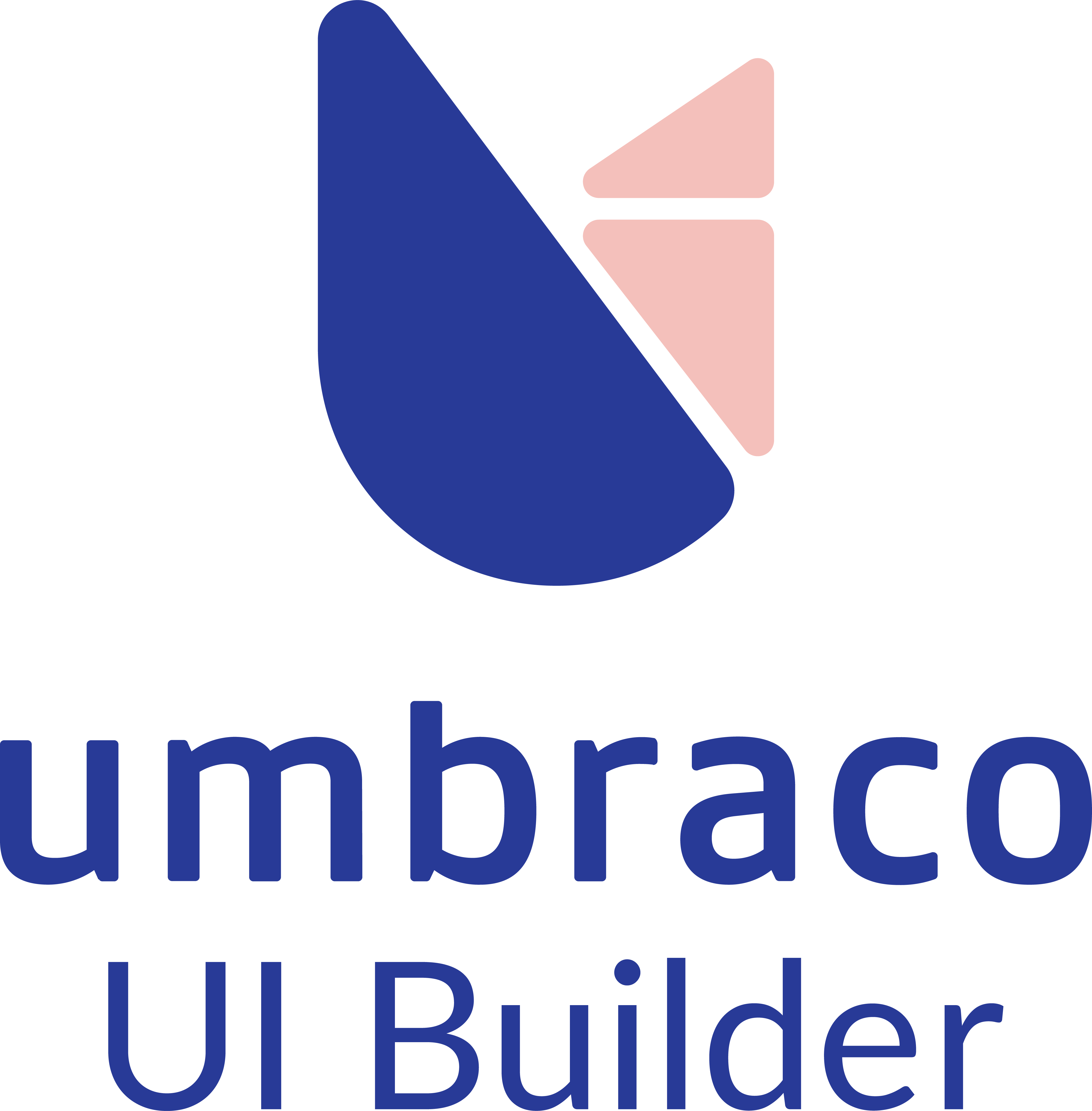 This could be data from your webpage e.g. customers' product reviews or comments/feedback on the latest article or blog post and it could be data that already exists in other databases or other systems, e.g. specific data that editors could benefit from having available in the backoffice, e.g. from a Product Information Management (PIM) system or Customer Data Platform (CDP). Really, the use case is any data editors would benefit from viewing or editing via the backoffice.
And all that's required for you to handle this data in Umbraco using the UI Builder is a simple configuration, and voilà – you have a robust UI ready for data management!
A very handy tool for you to have in your digital toolbox so you're prepared for whatever projects come your way. 
1 developer instead of 4
Imagine the hours you can reclaim with the UI Builder. A task that would have previously required a team of developers can now be wrapped up by a single developer in mere minutes. The magic lies in its capability to automate the creation of custom management interfaces. With a developer-centric configuration API, it auto-crafts an intuitive user interface for both developers and end-users alike.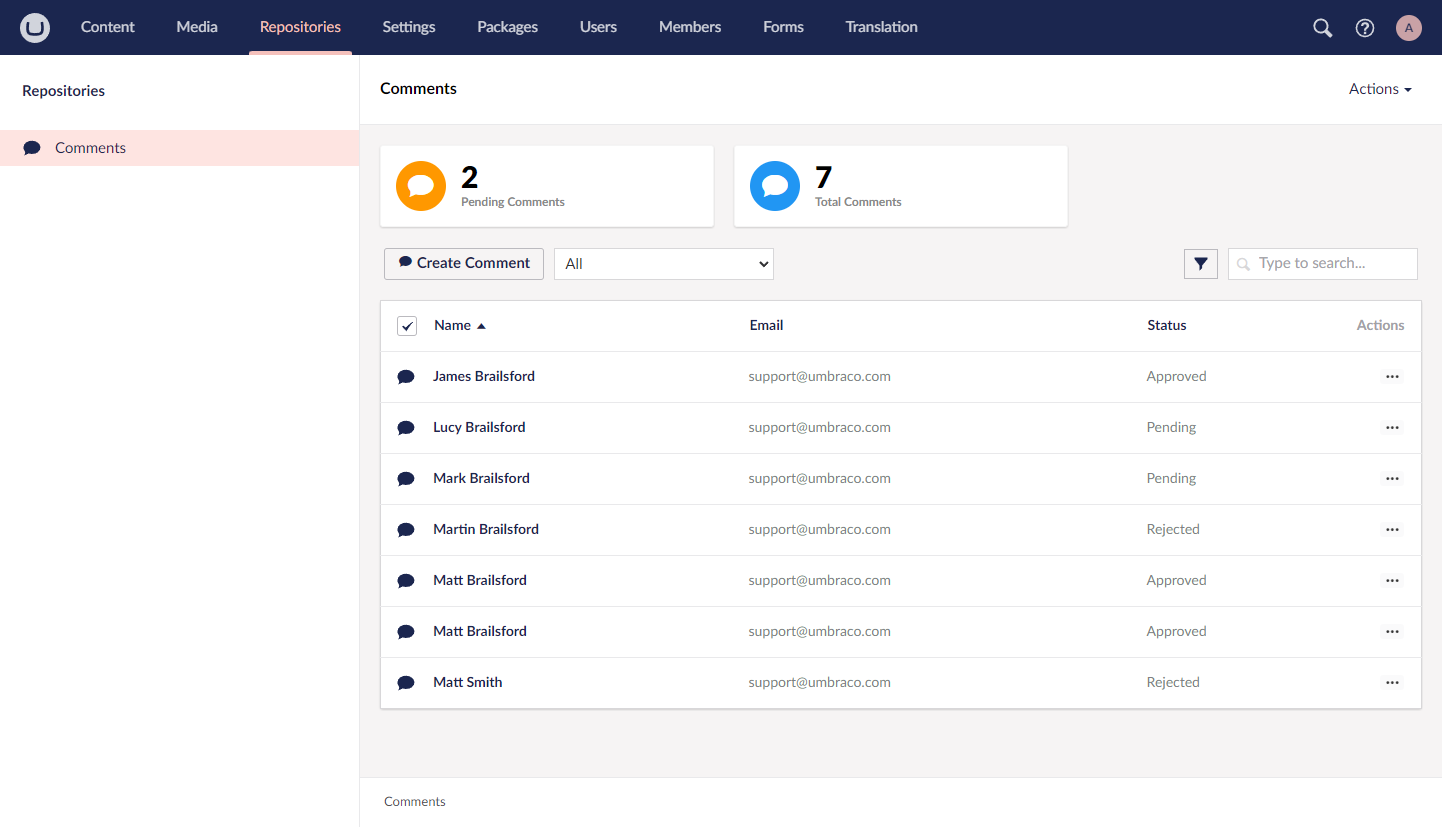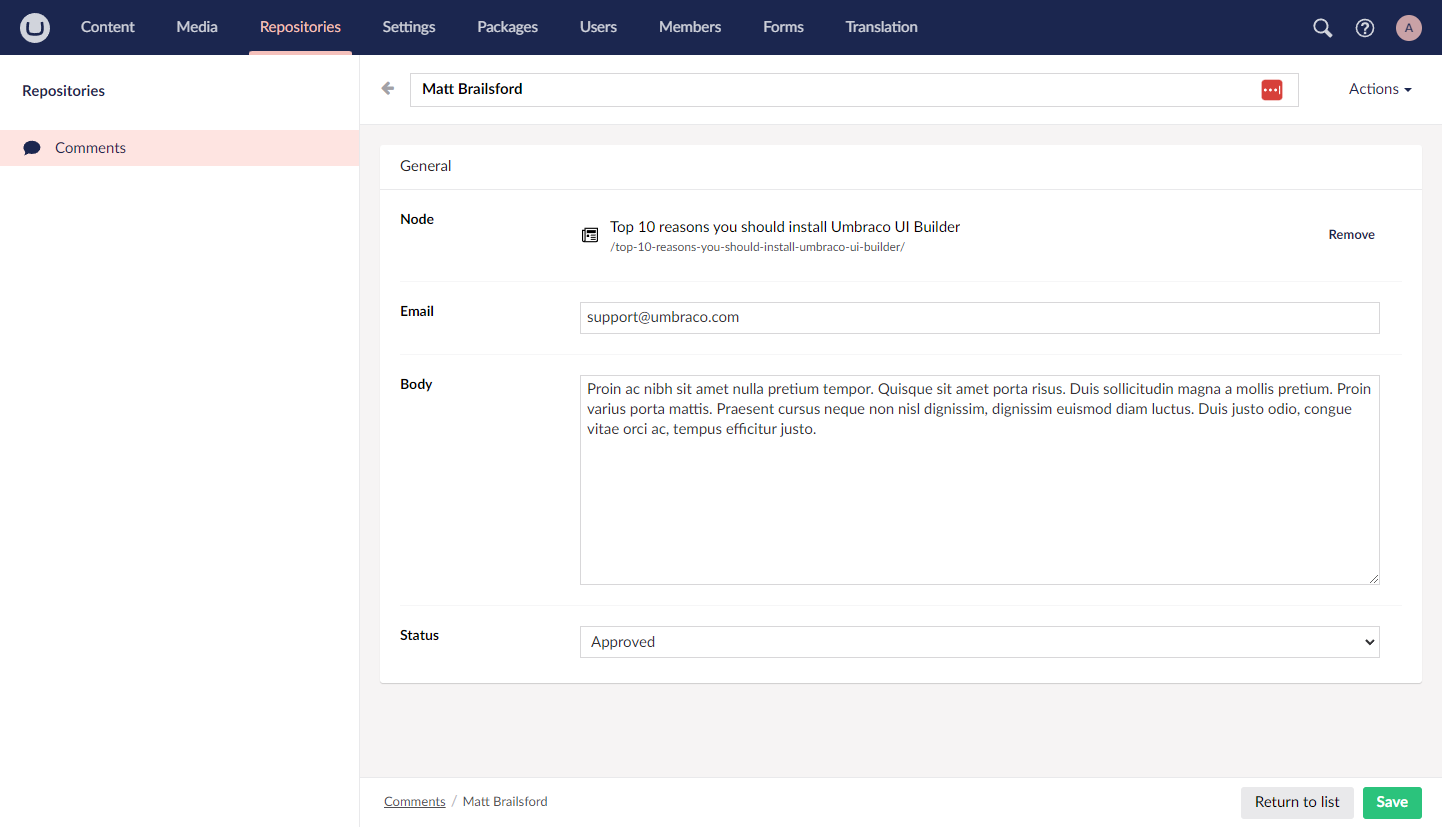 A few lines of code and you're off
With a low-code approach based on the C# coding language, the Umbraco UI Builder ensures a minimal learning curve. And if you've previously worked with Umbraco, the experience is only smoother. Familiar concepts like Sections, Dashboards, and Content Apps mean that customizing and extending functionalities is a breeze. This alignment with existing Umbraco UI concepts guarantees a unified editing experience for your users.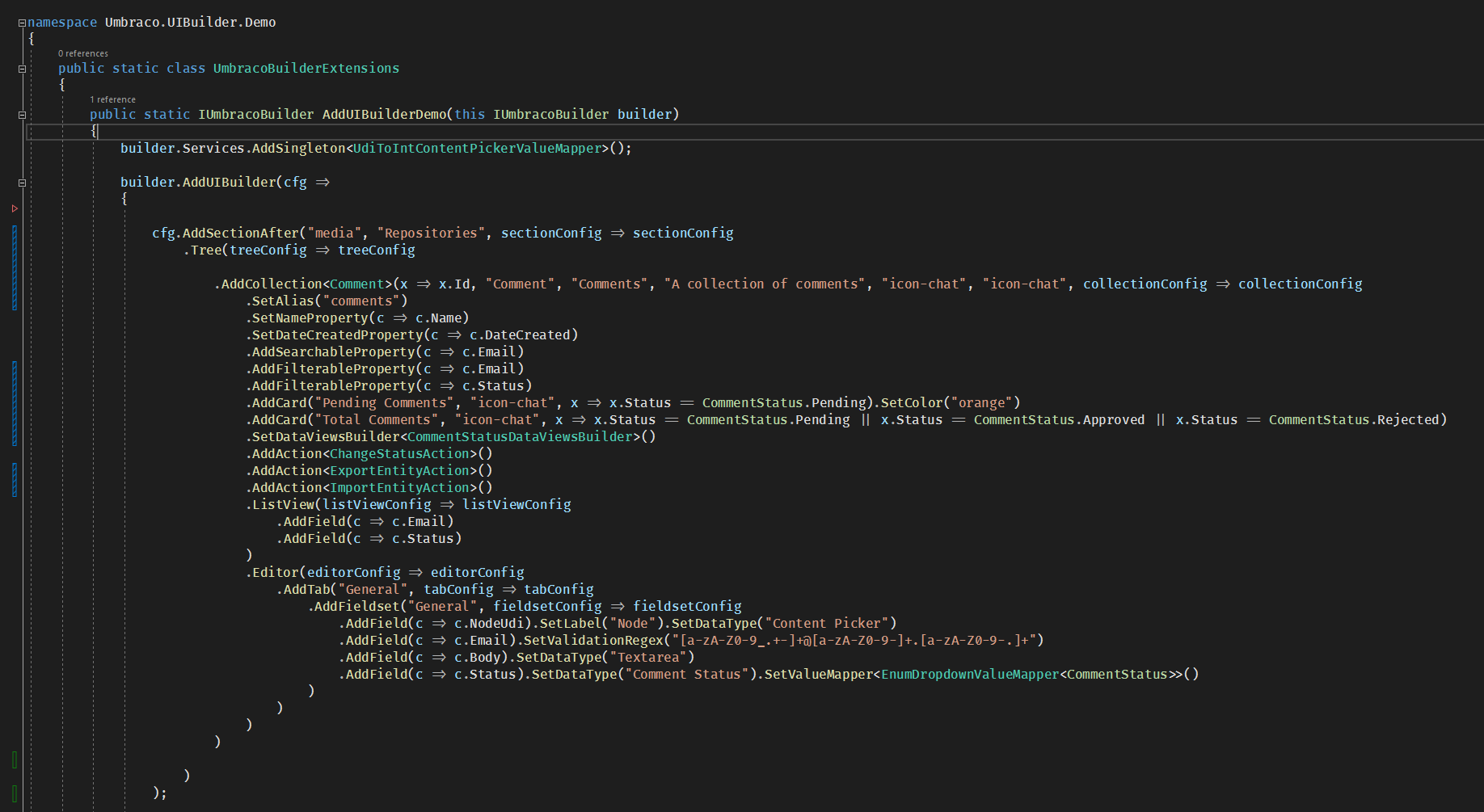 Absolute Data Sovereignty
With the Umbraco UI Builder, data management is in your hands, ensuring you can comply with required data legislation. Whether you're integrating with third-party data sources or storing within the Umbraco database, you're in complete control.
The Artist Formerly Known as Konstrukt
While we're celebrating the launch of Umbraco UI Builder, a quick stroll down memory lane is in order. This product has its origins in what many of you knew and loved as "Konstrukt" - the brainchild of none other than Umbraco community member turned Umbraco HQ'er, Matt Brailsford.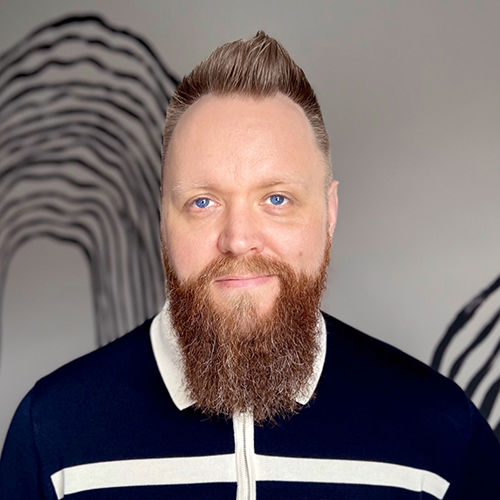 As an Umbraco add-on, Umbraco UI Builder is now in the very competent hands of the Umbraco DXP Team, led by Andy Butland, who will make sure this add-on is always maintained, supported, and compatible with the latest versions of the CMS. You are always welcome to suggest features or report any issue to us on Umbraco UI Builders public issue tracker.  
Get started with Umbraco UI Builder
As of today, Umbraco UI Builder works with Umbraco 12 and all upcoming versions of the Umbraco CMS. We have also released it for Umbraco 10 so it aligns with a Long Term Supported (LTS) version of the CMS. 
The product is available as part of Umbraco Cloud on Standard and Professional plans or as an add-on subscription for agencies. 
A new feature on Umbraco Cloud 
Our mission with Umbraco Cloud has always been to simplify your daily interactions with Umbraco. So, it was a no-brainer for us to integrate the UI Builder into the Umbraco Cloud offering. This powerful feature now comes with all current and future Cloud projects on Standard and Professional, without any added costs.
As an Umbraco Cloud customer, please reach out to support in order to get a free UI Builder license activated on your project.
Available as an add-on 
If you have or will have projects outside of Umbraco Cloud that could benefit from Umbraco UI Builder, the product is also available as an add-on for web agencies.
Agency license subscription: €3.350/year
Unlimited usage across all projects from the agency 
Upgrades included
If you need a subscription for Umbraco UI Builder for one project only, please reach out to us using the ordering form on the UI Builder product page. 
Installing Umbraco UI Builder
As with all our add-on products, you can get it straight from the Umbraco Marketplace. 
The process is the same for projects on Umbraco Cloud and on-premises installations. See the Installing Umbraco UI Builder documentation for all the details and options available. 
Migrating to Umbraco UI Builder
For Umbraco 8, 9, and 10, Konstrukt, the predecessor to Umbraco UI Builder, is still available. You can find the migration documentation here. 
It is easy to migrate from Konstrukt to Umbraco UI Builder but be aware that if you have a licensed version of Konstrukt you will need to get a new license for Umbraco UI Builder. 
Fully documented to get you up and running fast
Umbraco UI Builder comes with full documentation describing all its features and configuration options in detail giving you the best possible start. Check out the Umbraco UI Builder documentation now.
For issues and feature requests, please refer to the Umbraco UI Builder issue tracker.
Can I try before buying?
Yes! 
You can use Umbraco UI builder unlicensed for 1 collection of data, or without limitations when working locally. This way you can try it out and really discover how much time it can save you.
Start using Umbraco UI Builder today
Ready to manage your data in a smoother way? 
Or maybe you have a few questions about the product and how it can work in your setup? 
Wherever you're at, feel free to contact us, and let's see if Umbraco UI Builder will work for you: