My new Job at Umbraco
My name is Christian, I'm 28 years old and I'm new in S.W.A.T (Support Warriors and Troubleshooters) - you could say that I'm sort of a S.W.A.T padawan.
My job is to offer support for the users of Umbraco. I believe that as a support warrior it's important to be engaging towards the customer, and I aim to be as helpful as I can. All in all, my goal is to be a friendly and approachable guy - maybe we'll end up chatting sometime? 🙂
I'm looking forward to growing my knowledge and getting familiar with Umbraco along the way. To be honest with you all, I had never heard of Umbraco until a couple of months ago when I went for a chat with my union and they told me to try Umbraco. I went home and looked at the page. And boy am I glad I did - applying for Umbraco looks like it might be the best thing I ever did 😃
Before Umbraco...
As part of my background, I have a bachelor's degree in Information Science, IT and interactive design. My educational background is designed to make me able to form a bridge between techy people and non-techy people, but my biggest focus during my studies was service design and I've written my thesis on this. Service design is about how to locate a need for a service (a product) and then understanding how to tailor the use of the product to the user's needs via UX - design (user experience). So in short; how to design a good service for the user of that service.
When I'm not at Umbraco
In my spare time, I am a gamer. I play all consoles and PC and I mainly play World of Warcraft and I'm very passionate about this so I read the books as well.

I like to build PCs from scratch and I've done this a couple of times now and I have built my own gaming pc and some of my friend's gaming PCs.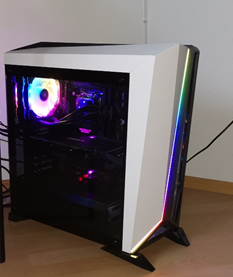 I live with my fiancé and we share the common hobby of playing games on PC together. And when we're not gaming, we often go on walks.
That's it from me. And who knows - maybe we'll talk someday if you're ever in need of some friendly Umbraco support 😉