I love building and growing stuff 🚀
Hi, my name is Javier and I grow stuff. To be more concrete, I build scalable tech solutions for a living. How cool is that? I am very grateful to have the opportunity to do what I do, and I usually say, "I am the luckiest man I know."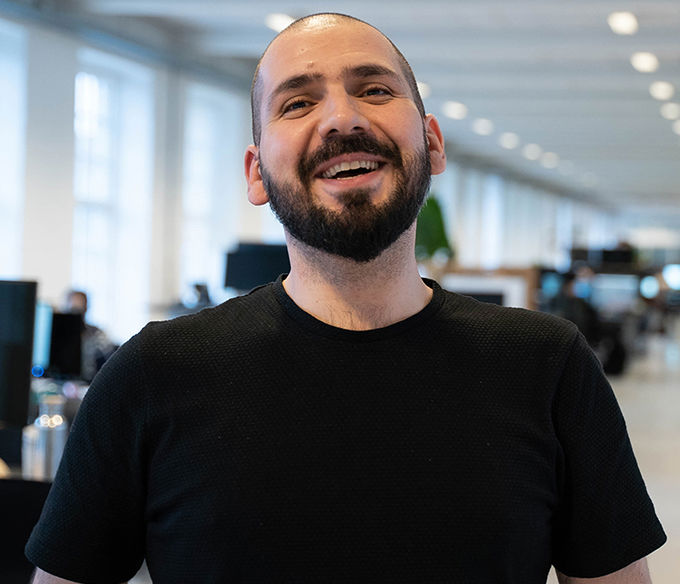 How did I end up at Umbraco HQ?
I stumbled upon Umbraco for the first time in 2017, when I was invited to HQ to know more about the community and how HQ was interacting with it. I was very impressed back then!
But my link with the company goes back a little more in time. In 2012, I moved to work for a company where our dear Head of Business Development Martin and CEO Kim were playing a key role. We made a great impact and good business together, and at the end of that journey we cultivated a mutual admiration and a good relationship that we kept up over the years.
Fast forward to when I announced my decision to quit my former leadership job to my close network: Kim introduced me to the idea of taking a leadership role at Umbraco, as a CMO to lead the Communications and Marketing Astronauts (COMA) department. 
The idea grew on me week after week. In general, the more I dig, the more I like it. At the end it was a no brainer: great challenge, good mission, killer culture to build on and a million things to do in order to grow the company. Just my cup of tea!
About me
Born and raised in green Spain, I moved to Denmark in 2006 to work as a researcher for the Math department in Copenhagen University for a short semester. A 4-month project turned into 8, and then into 18…. and then I met my wife. The rest is history.
Very early on in my career I became obsessed with problem-solving and the "dark arts" of growing tech companies. You can read more on my LinkedIn (no surprises, it's boring). 
For the last almost 20 years of my life, I have been involved in growing very cool tech ventures, all based in Scandinavia, but all with a very international focus and quite innovative approach to business.
I lead companies from a handful of employees to thousands of specialists, where I mostly focus on operations, branding,  marketing, data, and of course, leadership and sustainability, as my true business passions. 
I know I am an  "unconventional" leader,  and I am proud of it. I am also stubborn, I give a terrible first impression, I ask a million questions and I push very hard for excellence in everything I do. And for some reason I can't comprehend, people tend to like to work with me.
Outside of work
In my private life, I live with my family in Frederiksberg. Together with my wife we built a lovely, caring family of four. My son and my daughter take up most of my time outside of the office, but I am very active cultivating my other passions/obsessions.
Perhaps you might be interested in a few peculiar things about me. Let's see:
🇩🇰 After 16+ years in the country, I don't speak, understand or read any Danish. That part of my brain is dedicated to other affairs. 
♟️🏀 I am a collector of board games and sneakers. That comes from my deep love for chess and basketball as a kid. Still playing both. And sucking at both. 
🎹 Music is my passion. I have been playing music since I was 10, and over the years, I've curated a large collection of guitars, pedals, vintage synthesizers and tons of weird electronic music devices. If something makes a weird noise, then I want it. Also vinyls, tons of those too.
🎮 I love video games, especially Nintendo classics. I was there when vintage gaming was just called gaming…also when you had to steal the land line of the house to connect a 56kbps modem and wait a full night to download a 4MB demo. World of Warcraft (WoW) was a very big part of my life at some point. If you can guess my main character's faction, race, class and role, I will buy you a beer.
🍷 I worked professionally with wine on the side for many years. I am still traveling around the world with my wife visiting regions on a mission to find the perfect new white wine that blows our mind. It has happened before. It will happen again.
🇯🇵 I love Japan. It is my favorite place on earth. I have visited the country several times and also had the opportunity to get to know the culture and the people from a close distance…and I am still as puzzled about them as I was the first time I landed there.
🛹 I decided to pick up skateboarding at the age of 42. Yes, I know this is definitely a bad idea for a 100kg weightlifter with dozens of injuries. But it was a skateboard, a motorcycle or growing a ponytail. I have no bike license or hair, so it was an easy choice.
As the new CMO heading up COMA, I'm happy to be sharing my time between Odense and Copenhagen. Don't be shy and say hi - I don't bite before midnight.