Overview: 
Upcoming Release: Umbraco 8.8
The next minor release of Umbraco is very close to being done. Umbraco 8.8 gives you a lot of great tweaks and improvements to the backoffice UX. There are also some nice features for developers and editors such as improved image cropping in the grid, API updates for fetching entities and performance enhancements for working with members. That's just a tiny sliver; Umbraco 8.8 has more than 180 features, fixes and enhancements.
It's currently out as a release candidate and we'd love to get some feedback on it, so head over to the blog where you can get an overview of the release in the Umbraco 8.8 RC blog post and see how you can get your hands on it.
Expected release date: October 1st, 2020 
New Release: Umbraco .NET Core Alpha 2 Release
We're extremely happy with all the positive feedback that you've given on the alpha release of Umbraco on .NET Core. This has helped a lot and we've followed up with a new release: Umbraco running on .NET Core alpha 2 which is out today 🎉
This release fixes some of the known issues and also some of the issues found by the community in alpha 1:
Embedded ModelsBuilder is now migrated to .NET Core and uses Roslyn
Authentication on section trees
Logging framework log messages
Bugfix for caching of the wrong user
No SMTP server is configured by default
Added launchSettings.json to the dotnet new template
Furthermore, this release also includes everything in the Umbraco 8.8 Release Candidate.
With the main focus still being on the Umbraco backoffice, Alpha 2 is out, and we encourage you to go test it and report back if you find any issues - this way, you can actively help us in a successful move to .NET Core. Read how to install the new alpha 2 in the documentation.
What's new in Umbraco Cloud
Lot's of great updates in Umbraco Cloud and they're all automated, so you don't have to lift a finger. 
New automated upgrade: Umbraco Deploy 3.5.1
It's now possible to transfer segments between environments (segments were added in Umbraco 8.7). We've also fixed an issue with restoring content from the splash screen when you boot up a fresh local clone of a site. Finally, the new User permissions for restoring and transferring content (mentioned in the last Product Update) has received a little UI love to make it fit more seamlessly into a project.
You get all this with the latest patch version of Umbraco Deploy (3.5.1). All existing sites on Umbraco 8.7+ will have received this automatically. Everyone else can get it by upgrading to the latest version. You can find the release notes on the Umbraco Deploy page.
The automated patch was applied on September 22, 2020.
Upcoming automated upgrade: New Uno widget format + SEO features to existing Uno sites
Alongside the launch of Umbraco 8.7 on September 10th, a new version of Uno was released. A release that included a new widget format that gives Uno users a true "what-you-see-is-what-you-get" experience when working with content. The release also included 8 additional SEO features and became the standard for all new Uno sites. 
As promised, existing Uno users (projects created before September 10th) would also get access to these new improvements - and that's happening with an upgrade this week (Wed/Thurs) which gives you the option to use these new features.  
An email has been sent out to all existing projects with instructions and documentation is ready to ensure a smooth transition from the "old" widget format to the new improved "WYSIWYG"-format. 
Upcoming feature: Preview API for Umbraco Heartcore
Only a few days away from you being able to make use of the new Preview API for Umbraco Heartcore. This will enable developers to build a solid previewing experience, allowing content editors to easily preview content before it is published. It was mentioned in the previous Product Update so you can see some more details there and we'll publish a blog post explaining the feature in full on Tuesday.
Expected release Date: Tuesday, September 29th, 2020
Upcoming automated upgrade: Umbraco 8.6.5
There's an incoming patch release for Umbraco 8.6.5 addressing an issue with redirect URLs not showing up on the Info tab. There are a few other issues addressed in this release and you can find the details on the Ubraco 8.6.5 download page. So if your Umbraco Cloud projects are running Umbraco 8.6.x they will automatically receive the fixes.
Expected release Date: Tuesday, September 29th, 2020
Updates to the Roadmap
It's a little quieter on the Product Roadmap front than the last couple of product updates. This time around there is no movement but we have updated the target release for the CMS authentication item and Authentication improvements for Umbraco Cloud. We're looking at getting this released early in Q4 and the roadmap now reflects this. When we get closer you'll get a thorough update.
When the Preview API for Umbraco Heartcore is released on Tuesday, we'll move the item to the Product Roadmap history page.
Get familiar with the Block List editor
Have you tried the new Block List editor in Umbraco 8.7? Maybe you're not quite sure where to start or what exactly you can do with this new feature? We've got you. 
Tomorrow, we're posting a technical deep-dive blog post for the Block List editor. This should give you a good (head) start for working with the new property editor introduced in Umbraco 8.7. 
There are a ton of things you can do with Block Lists, there's already documentation but we thought it deserved a little more attention. If you want a sneak peek of what you can do with the Block List editor, take a look at the Umbraco 8.7 release blog post or have a look at Umbraco Uno, where it's used extensively to give editors a customized WYSIWYG experience.

So keep an eye on the blog 👀 We'll shout on Twitter and Facebook as soon as the Block List editor deep-dive blog post is out. 
Update: The Block List editor deep dive is now published!
Hacktoberfest is coming - and you're invited! 
Is it October already??? Not quite yet 😉 But it's only a week away and you can look forward to another round of Hacktoberfest!

Hacktoberfest is a celebration of Open Source software. It's a collaboration between Digital Ocean and Github where they reward contributors to open source projects with a free t-shirt if they contribute during October (read a lot more on their official website).
We enjoyed all the fantastic contributions that came in last year from both Umbraco veterans and new-comers. So we're super excited for this year. There will be initiatives from all four community teams. We're finishing up the last details and will have a blog post out on the 1st of October to give you all the details of how to participate, what you get out of it etc.. 
The Package Team has already announced a new initiative for this year - contributions to open source Umbraco packages will count towards your Umbraco Hacktoberfest contributions.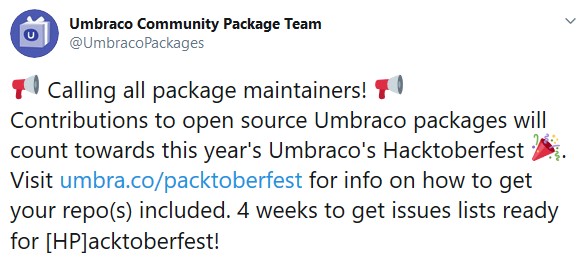 If you're a package maintainer or know someone who would qualify don't hesitate to sign your Umbraco package up. 
Pssst... Interested in joining a community team?
While you're waiting, you might want to check out the open call for volunteers for the Community teams. The deadline is today (!), so it's very much your last chance to sign up.
That's it for this update…
We really appreciate all the testing and feedback you provide on the releases, RCs, alphas etc. It makes a huge difference for all our products and for everyone using Umbraco. For issues and specific feature requests, you can find the issue trackers for our products on the Umbraco Github account.
If you have product feedback, you're welcome to reach out to us on product@umbraco.com.
… Until next time.