What did we do? Well. Oct 27th, we hosted a CMS PR workshop at HQ. We assembled the CMS team, the Core Collaborators team and some special guests from our service and support teams to decide what we will do with the amazing contributions from the community to the CMS repository over the last few years. Thanks to your energy, your commitment and your time, we had plenty to work with.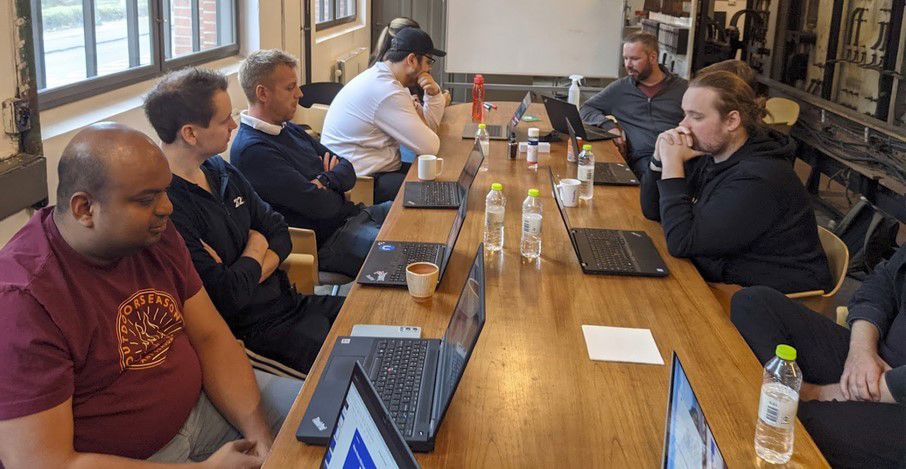 In case you missed it, Umbraco 9 on .NET 5 has been released and the 6 week release cadence (the release train 🚂) has now shifted to minrs for Umbraco 9. This doesn't mean that we quickly let go of Umbraco 8. We are well aware that existing sites will not be migrating overnight and we love Umbraco 8. We are committed to keeping it safe and stable. That said, with the release of Umbraco 8.18 we are moving Umbraco 8 into the Long-term Support (LTS) phase so we will be looking at merging the final feature PRs in the coming months. The aim of the workshop was to ensure that the existing PRs get the love and attention they deserve. And we managed that with aplomb.
The Process
Using the beta feature, Github Projects, we organised the PRs into batches of 30 and assigned each batch to a group. The groups were made up of HQ members and community members alike. The other consideration for teams was that we had similar skill sets within the teams. A front end bias in one, a back end bias in another to distribute PRs according to area of expertise. Sebastiaan and I gave a run down of all the things we wanted to consider around assessing a PRs viability and as a team, and with input from the CTO Filip, we made some high level decisions around what kinds of features we wanted to keep and what we would be letting go. The teams worked in sessions and, using the boards, were able to work through each PR, make a decision and then give some comments that we can use internally to report back to you. 
This means that your inbox isn't being spammed with our thoughts while they are still taking shape. We came back together at the end of each section to discuss issues with the wider team and to seek additional expertise wherever necessary. 
What does this mean for you?
For you, this means you have a really exciting release to look forward to. If you're a contributor, and you're waiting on some action from us, you'll have heard from us in recent days - or you will hear from us soon. We will be working through the comments from our teammates and writing to you to explain the next steps. We are incredibly grateful for all your contributions - even those we cannot merge.
And for us?
We have enjoyed getting up-close-and-personal with your contributions. We have a relatively small team internally that works regularly with community contributions and the feedback from the workshop really highlighted the value in having not just those team members but also the entire CMS team working with PRs. 
We learned more about what you want, what you're doing and how you work. It was an invaluable experience in that sense, giving the whole team visibility around the work that you are doing. And why!
Going Forward
We will look closely at the way this workshop impacts our project and, if we feel that the impact was positive and significant, there will be more sessions to come. In which case, you'll hear from us again. In the last year, processes have changed around versioning and issue tracking so what we learn from this workshop and the weeks that follow will inform our decisions around how to best shape those to suit the needs of the project and the community. 
We will let you know how we get on 🙂
When will Umbraco 8.18 be ready?
When it is ready, of course! This workshop has gone a long way to ensuring that readiness will be sooner rather than later. That said, while we are keen to get this release to you, we don't want to rush and miss a valuable opportunity to make this release everything that it can be. It will be made available as a release candidate so we can get it thoroughly tested. 
For now, you can keep an eye on the release in the Umbraco 8 development branch or by looking at the 8.18 label on the tracker.- 
keep an eye out for future Product Updates and as soon as we have a target release date, you will know.