New documentation
Before wrapping up 2018, let's just take a brief look back at what happened in November and December - or as I like to call it: the post-Hacktoberfest months 😉
November and December were a couple of really productive months, and a lot of new documentation was created. Here's a quick little overview:
You see? A ton of new documentation 👏
Numbers!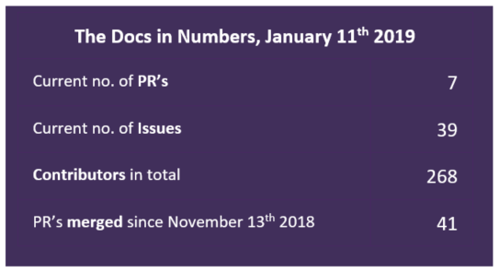 Since my last blog post, we've managed to clean up the repository a bit. We're now all the way down to 7 Pull Requests. That's an all-time low! 👏
Wrapping up 2018
2018 truly was a great year for the Umbraco Documentation. I can't possibly tell you about all the amazing things that have happened, so instead, I'm gonna give you my personal highlights from 1 year of working with Umbraco Documentation:
The Documentation Curators
After having worked "solo" with the Umbraco Documentation repository for about half a year, I got some teammates back in February when we introduced the Documentation Curators.
Not having worked with Umbraco for very long, it was really great to be joined by some very experienced Umbraco community members: Jeavon Leopold, Marc Goodson and Damiaan Peeters.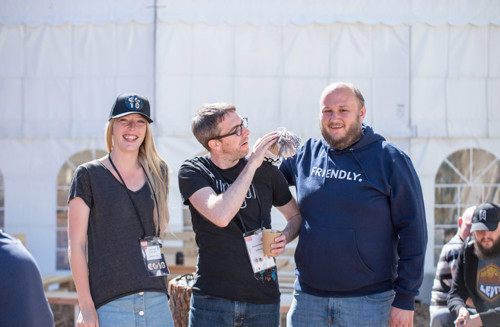 Codegarden 2018
Yes, I know what you're thinking. Umbraco Codegarden is the highlight of every year for any Umbraco fan! This year, however, was a bit more special for me and the rest of the Documentation Curators.
Why? Well, the Umbraco Documentation got a lot of attention during all three days of Codegarden! Jeavon and I got a few minutes during the opening keynote on day 1 to talk about what we've been doing with the Documentation. I did a lightning talk about my own journey with the documentation, and we also had a session during the Open-Space on Friday.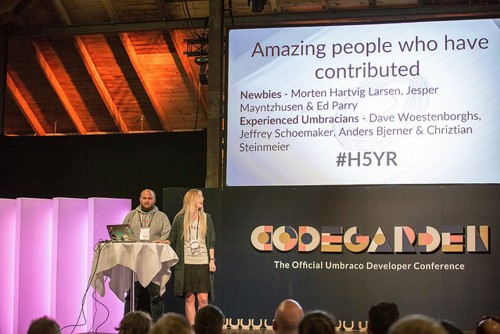 It was amazing and inspiring to see all the interest in growing and updating the documentation. We even unintentionally started a Typo-fix race. This meant that a bunch of people went through the entire documentation fixing typos and grammar issues in all the articles 🤯 This was SO cool, and now we have Documentation that's even easier to read and understand. Perfect!
Jesper joined the team
Another highlight of mine from this year, is when Jesper joined the Documentation Curators. He started as an intern at Umbraco HQ in February 2018 and was hired in a full-time position in August, where he also joined the Documentation Curators.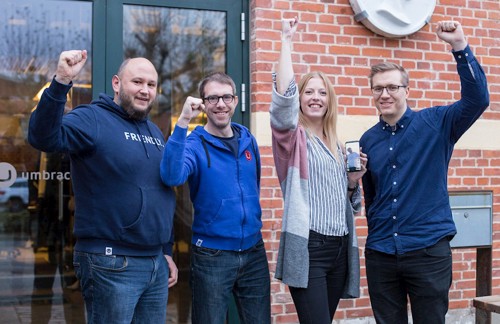 Where my specialities lie with Umbraco Cloud, Forms and Courier, Jesper is very technical and loves to deep-dive into the more code-heavy parts of Umbraco and the documentation. That's why he was - and still is, of course 😉 - the perfect addition to our little team!
Hacktoberfest
Hacktoberfest is an event originally hosted by Digital Ocean and Github each year during October. It's supposed to encourage people to contribute to open-source projects on GitHub, and by making 5 contributions / Pull Requests you are awarded a T-shirt! 
Last year we decided to join in on the fun: Umbraco Hacktoberfest. By making just one contribution to any Umbraco repository on Github you'd win some exclusive Umbraco swag.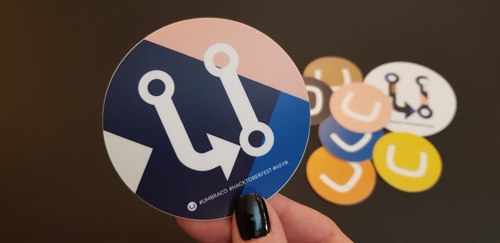 The event was a smashing success and we broke all the records! Once again, thank you to everyone who participated #H5YR 🙏🎊 And thank you for sharing your excitement for the Umbraco Hacktoberfest swag on Twitter!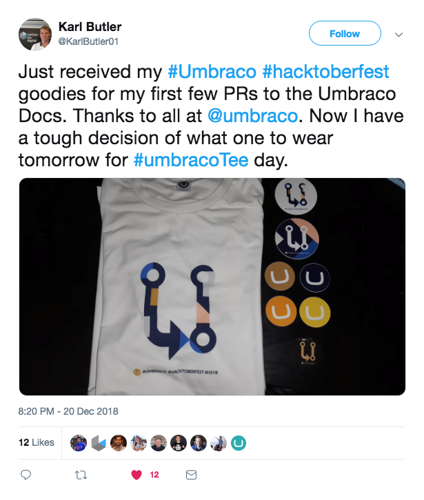 Community visit
The final thing I want to mention for this look back at 2018 is a very special visit we had in November.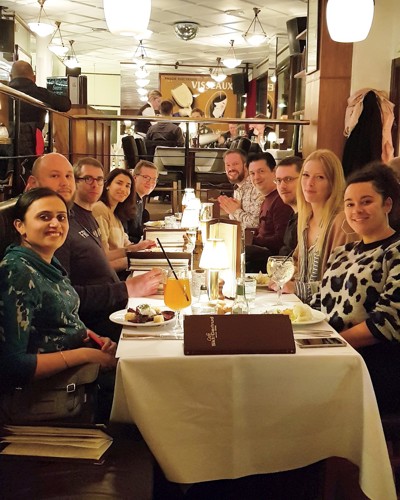 We had invited the two community teams - The Documentation Curators and The PR Team - to join us at Umbraco HQ for two days to talk processes and to get to know each other even better! It was a very productive visit and a super nice way to wrap up our first year of these collaborations. 
As a little bonus, we did a little video for 24 days in Umbraco where you can hear more about the team members of the two teams and why they decided to join.
What a year! 🤩
Now I can't wait to see what 2019 will bring…

Oh, and one more thing! If you haven't made any New Years resolutions I have a great idea for you. How about starting the year by contributing to Umbraco? 😎
We've made it easier than ever to get started with the Documentation. Have a look at these three Issues, where you can find lists of the stuff that needs documenting:
Until next time