Updates on Our
Quite a few things to tell you this time. Let's get to it!
Remember that Jesper from Umbraco HQ joined the Documentation Team last month? One of his first tasks as part of this dream team has been to look into how we can improve our workflow when managing the Umbraco Documentation repository. Sounds pretty neat, right?
He started by making it even easier for you to report an issue with the Documentation. You might have noticed it already: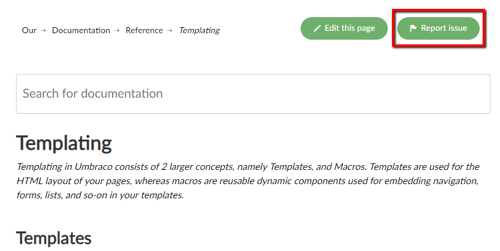 Just as it's possible to quickly edit an article on the Documentation using the "Edit this page" button, you can now do the same with issues! 👏 Clicking this button will send you directly to a new Issue on GitHub, where you can report missing and/or outdated documentation. What's really cool about this, is that the new issue automatically takes the URL from the article you are reporting from. That makes it easier for both you, when creating the issue and us, when we address it!
That's not it! We also added another cool new section to the Community pages on Our: The Documentation Curators 🤓

The section contains a bunch of information about who we are, what we do, how we do it and even why we do it. We've also added some details about how to contribute and what to contribute with. Basically, it's a section that demystifies the whole Documentation Curator concept.


Numbers - extended edition
The numbers I've been showing you in my Docs Diary up until now have been pulled from the GitHub repository somewhat manually. I'm going to continue to do this, but I'm going to do even more!
As you might have heard, Umbraco HQ has started focusing even more on the community. Part of this is tracking the activity on our GitHub repositories for both Umbraco CMS and the Umbraco Documentation.
Take a look at this: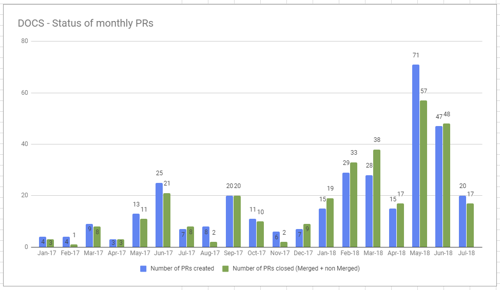 Going all the way back to January last year we now have an overview of the activity on the Documentation repository. Note that all PRs created by people from Umbraco HQ have been filtered out, meaning that these numbers show the community activity.
Notice how the numbers start going up at the beginning of this year - right around the time the Documentation curators were introduced? Oh, and how we have a really huge spike in May? Some of you can probably guess what caused this spike. Hint: It has something to do with Codegarden '18.
We collect a bunch of different numbers:
Total numbers of open PRs at the end of each month
The number of new contributors

 

← definitely one of my favorites!!
And we even track the number of PRs that are closed within 30 days
...buuut those are for another time 😉
And now; the usual overview: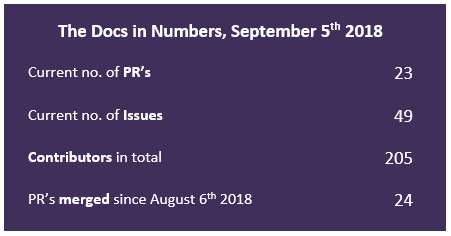 Notice how we're down to only one page of PRs again?

Also… what's new on Umbraco TV? 📺
A lot! And as I'm also part of the Umbraco TV Crew, I'd like to share some news related to that as well.
We already have a whopping 27 videos online on the Umbraco HQ Youtube channel. All videos on the Youtube channel are currently Umbraco Cloud-focused. But, hey! We have BIG plans to do even more CMS related videos for Umbraco TV as well 👏
The newest addition to the Youtube collection is a thorough 7-video walkthrough of the Migration guide - you know, for when you want to migrate an already existing Umbraco site to Umbraco Cloud.
That was all from me 😉
Until next time!