We've said it before, and today it's worth repeating: we are blessed with a fantastic, talented, friendly and active community 🙌 H5YR to you all! 
At the core of this community, we have the truly hardcore - the Umbraco MVPs. The ones that go the extra, extra mile in helping us further develop Umbraco and the Umbraco community.
Every year we celebrate as we reward new extraordinary contributors with this title as well as re-reward the ones who, year after year, keeps amaze us with their contributions. The 2020 MVPs are based in 12 countries across 3 continents and have contributed in a wide variety of ways: Core, Documentation, Packages, Forum discussions, Events organization, Speaking at events, Mentoring, Tutorials, Content creation, etc. 
Now, who are they? Give a (virtual) whoop and applause to the following:
The 2020 Umbraco MVPs 👏
Alan Mac Kenna
Chris Houston
Danny Lancaster
Emmanuel Tissera
Karl Tynan
Lennard Fonteijn
Matthew Wise
Rachel Breeze
Robert Foster
Tom Madden
Martijn Maris
Cherie Gregory
Erik-Jan Westendorp
Steve Megson


The 2020 renewed Umbraco MVPs 👏
Dave Woestenborghs
Daniël Knippers
Dennis Adolfi
Owain Williams
Carole Rennie Logan
Lotte Pitcher
Paul Seal
Nik Rimington
Callum Whyte
Emma Burstow
Heather Floyd
Mike Masey
Jan Skovgaard
Laura Weatherhead
Matt Brailsford
Poornima Nayar
Søren Kottal
Alex Skrypnyk
Anders Bjerner
Lucy Brailsford
Marcin Zajkowski
Steve Temple
Anthony Dang
Bjarne Fyrstenborg
Chriztian Steinmeier
Damiaan Peeters
Emma Garland
Erica Quessenberry
Frederik Raabye
Janae Cram
Jeavon Leopold
Jeffrey Schoemaker
Kenn Jacobsen
Kevin Jump
Kyle Weems
Lee Kelleher
Marc Goodson
Nathan Woulfe
Andy Butland
Dan Booth
Hendy Racher
Henk Boelman
Lars-Erik Aabech
Paul Sterling
Peter Gregory
Ravi Motha
Søren Gregersen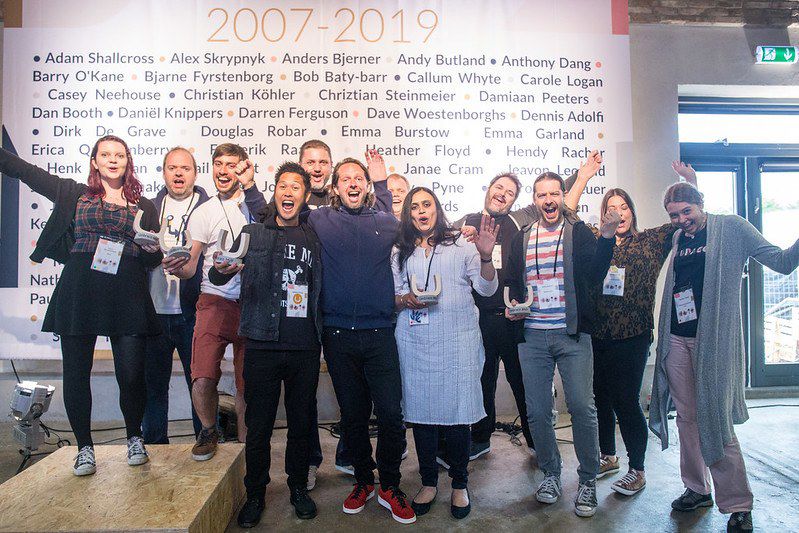 Help us celebrate - #UmbracoMVP2020 style!
What a list, right? 🤩
Usually, you know, under what we can only recall as "normal" circumstances, we'd have invited all the new MVPs to our yearly Umbraco conference, Codegarden. Here, we would've invited them on stage during the opening keynote for them to receive their well-deserved Umbraco MVP trophy accompanied by the sound of huge applause and cheers from over 700 Umbracians.*Chills* ✨
We're sad that we can't give the new MVP this rush of recognition. But we'll do our best - and we hope you want to join in too! Throughout today, we'll highlight each of the new MVPs on the Umbraco Twitter with a nice badge and a comment about their contributions that's either from Umbraco HQ or by the person who nominated them. Join in by giving a like, a #H5YR, a 🎉, a retweet - anything to recognise these new fantastic people that's made the MVP list. 
The renewed MVPs will of course also be given a joined shout out 🙏 And if you as a renewed MVP tweet a picture of yourself with your MVP statuette and the hashtags #UmbracoMVP2020 #Umbraco, we'll make sure to retweet! 
Follow the Umbraco Twitter account or check #UmbracoMVP2020 for all the MVP celebration. 
You can also watch or re-watch the 2020 MVP show which was live-streamed earlier today
H5YR!
A final High-five-you-rock and virtual confetti to all the new and renewed 2020 MVPs! 🎉
And a H5YR to everyone who took the time to nominate a worthy Umbraco MVP and thus, helped us in the selection process. 
If you want to know more about the MVP program, see who's been nominated previous years, what benefits an MVP gets etc. you can find all the details on the "Most Valuable People" section on Our Umbraco.
P.S. Let's celebrate some more! if you want to join us for more celebration today, remember that today at 16:00 we'll live stream the 2020 Umbraco Awards on YouTube.