Overview
What's new in Umbraco 10.2
What's new in Umbraco 10.2
Some great new features are available as well as a long list of improvements and fixes.



User Permissions for Languages
New feature adding the ability to limit the language variants an editor has access to. Now it is possible to specify, on User Groups, what languages a user can manage. By default, all existing User Groups allow editing of all languages.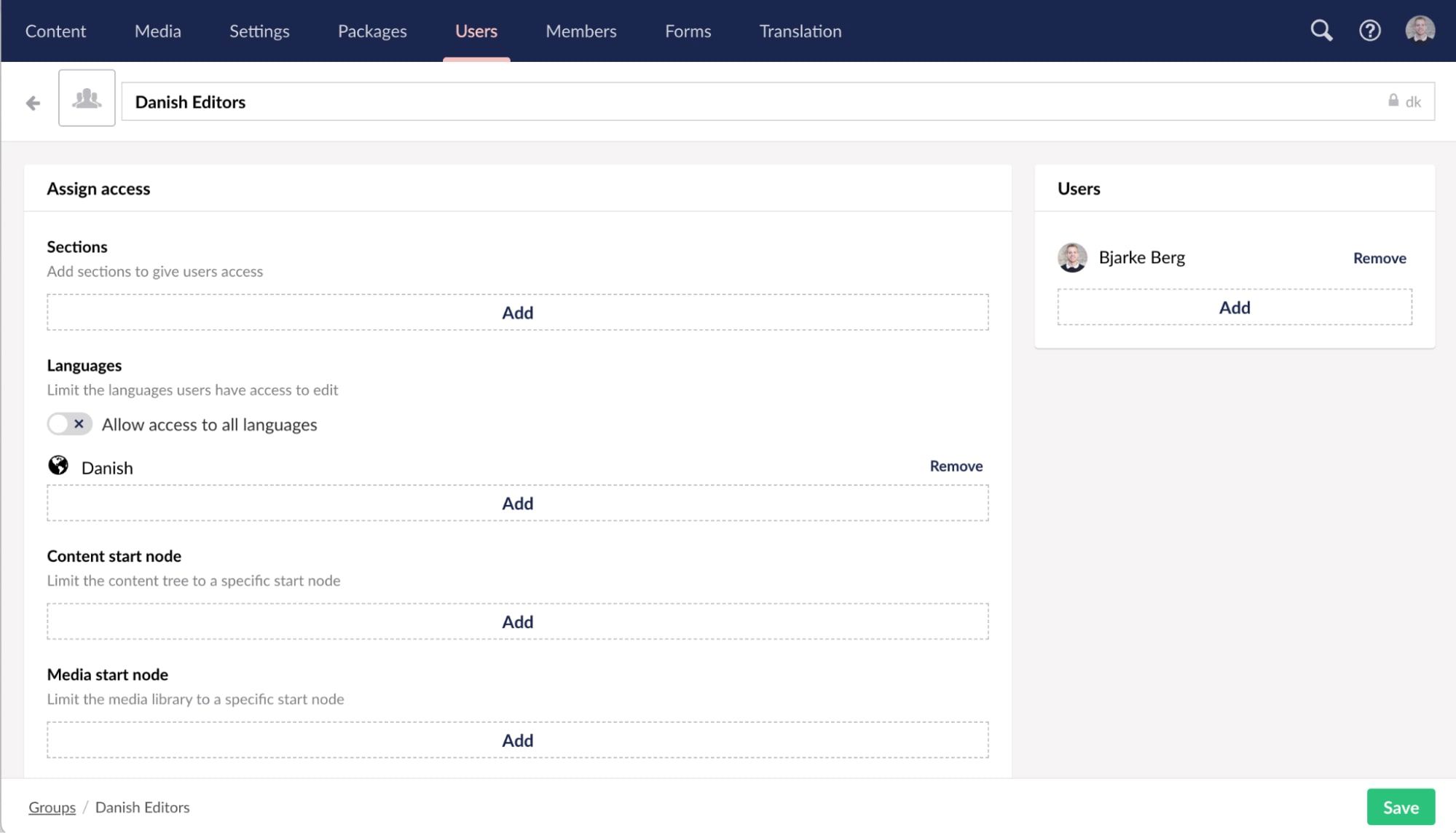 The languages that you are allowed to manage are reflected in both Content and Translation sections. See the Control User Group permissions on language variants documentation for details.
Improved read-only mode
When a user does not have permission to manage a given language, all Property Editors are shown in read-only mode when looking up that language. Read-only makes it possible to see but not edit content and has been updated to allow for copying. That's right, you can now copy content that cannot be edited by highlighting text or using property actions such as copying all items from a Media Picker. 
All built-in Property Editors in Umbraco now support read-only.
Read-only mode for Property Editors
Property Editors now have native support for the read-only mode. This can be used by package developers as well with a new configuration option for package manifest. This allows developers to implement support for the new read-only mode and provide the optimal editing experience. If read-only is not implemented, the behavior will be as before with an overlay that makes the content inaccessible. Documentation for this feature is in the works, for now the pull-request for the new features has details that should be helpful.
Editing shared properties across languages
With the introduction of user permissions for languages the behavior of properties that are shared between languages (invariant properties) has also been updated. Shared properties can now be edited and updated from any language, not just the default language.
We have introduced new culture/shared labels on properties to make it more clear where values come from. As it is now possible to edit an invariant value from any language the culture label has been updated to say the property is "Shared" instead of the previous "Inherited from…"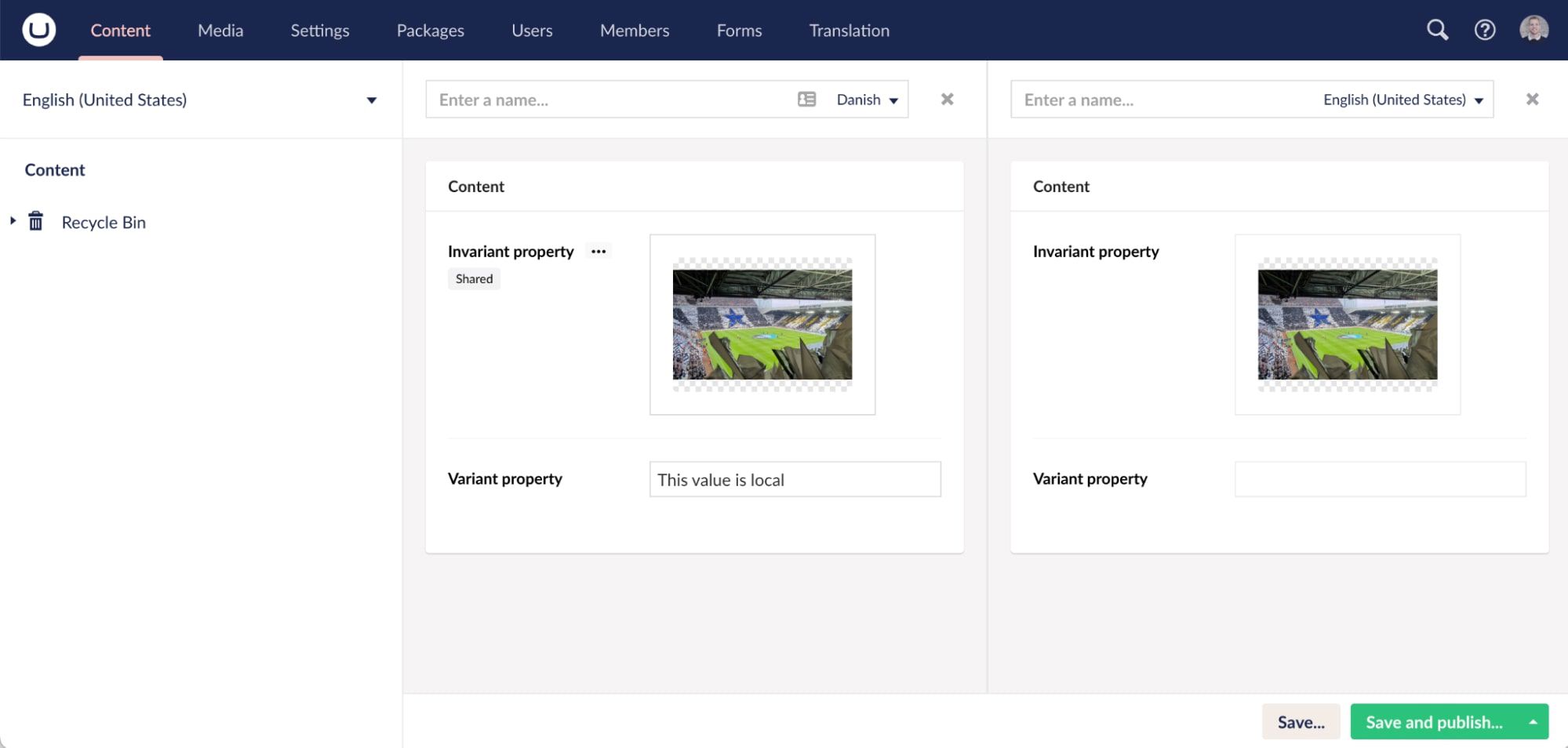 To edit a shared property the value will have to be "unlocked" to make it clear that this change will affect all languages. See the Allow Edit Invariant From Non-Default documentation for details.



Updated Translation Section
As mentioned above the new user permissions for languages is also reflected in the Translation section. You will now see read-only for languages you don't have access to on Dictionary Items.



And just as with read-only for Content properties you can still highlight and copy text from all languages. 
Filtering Dictionary Items
To further increase usability in the Translation section it is now possible to filter Dictionary Items similar to what you know from other List Views. 
A search field has been added in the top right corner of the translation section - really useful for sites with a lot of Dictionary items. Thanks to Johannes Lantz for contributing this great piece of functionality 🙌
Changes since the release candidate
There have been a couple of updates since the Umbraco 10.2 release candidate was made available. 
And much more…
There are many more features, improvements, and tweaks included in Umbraco 10.2. 
Developer experience has been boosted by adding extensions to the UmbracoBuilder making the options available much more discoverable. 
A number of accessibility improvements have been added as well as UI/UX tweaks such as an improved Compositions dialog in the Content Type editor.
And of course, the fix for the recent security issue in Umbraco 9 and 10 is also included making Umbraco 10.2 a fantastic release. See the full list of features and enhancements in the release notes.
Community Contributions
Of the 42 bug fixes and feature additions in Umbraco 10.2.0, a total of 21 of them have been contributed by the community, by 15 unique contributors.
We're welcoming 4 brand new contributors who have made their first pull request for Umbraco CMS; they're marked with a star below. Welcome to the contributor club Lucas Bach Bisgaard, Ambert van Unen, Tobias Mønster, and Mayur Deore 🏆
⭐ = First pull request to Umbraco CMS
And of course, as a thank you, we've just added another bunch of trees to our growing plot for today's 10.2.0 release to celebrate your contributions! 🌳🌲🌴

How to get your hands Umbraco 10.2
As always, from today, all new Umbraco 10 projects on Umbraco Cloud will be running 10.2. For all our Umbraco Cloud customers with existing projects, this upgrade is only 2 minutes away:
We've wrapped it all up for you, so all you have to do now is follow these steps:
Add a Development Environment to your project, if you do not already have one (Add a Development environment by clicking "Manage Environments" in the project view)
Make sure you also restore the content to the Development Environment from your Live.
When the Development Environment is all set up and you've made sure you don't have any pending changes on the Development Environment - you are all ready to upgrade to Umbraco 10.2!
It's as easy as clicking a button - like, literally clicking the "Upgrade Available" button on the Development Environment. The auto-upgrader will take care of everything from here! 🚀
Once it's done, check the Development Environment to make sure everything is looking right.
When that's confirmed, you are ready to deploy the upgrade to the next environment - Live or Staging, and start taking full advantage of all the new features.
Non-Cloud and release notes:
As always, installation and release notes can be found on Our: https://our.umbraco.com/contribute/releases/1020 
This release is also available from NuGet: https://www.nuget.org/packages/Umbraco.Cms/10.2.0