Overview
What's new in Umbraco 11.1 and 10.4
What's new in Umbraco 10.4
What's new in Umbraco 11.1 & 10.4
Drag & Drop support for Media Picker
It is now even easier for editors to upload images and files in the backoffice. Drag and drop support has been added directly to the Media Picker, so you can now simply drag the file in, without having to open up the picker.



This can be a time-saver, especially in cases where you don't need to adjust crops for images or upload the file to a particular folder. 
By default, a file will be uploaded to the root of the Media Section or the user's Start Node in the Media Section,  and you can control this further by configuring the Media Picker with a Start Node (the folder that will be used by default).
Documentation for Creating Media has been updated with the new drag and drop feature.
Maintenance Page
A new maintenance page has been added. It will be shown if the site is in an upgrade state and needs authentication to complete the upgrade. Previously you would be redirected to the login screen which can be helpful if you are a developer or site administrator. Now you will instead see a maintenance page.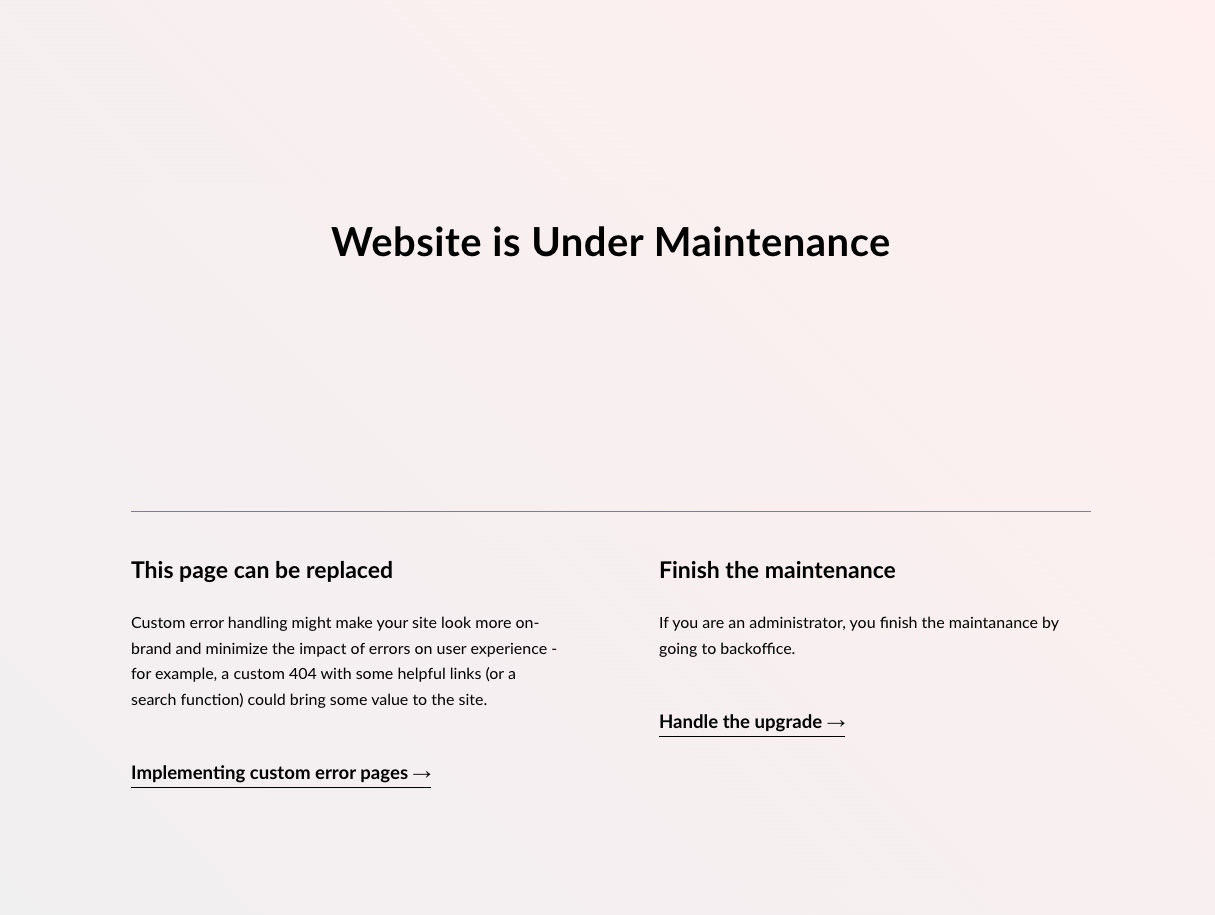 This new page can be customized can be fully customized to fit both branding and design, and contain exactly the information you want. The default maintenance page contains links to documentation and authentication for the final upgrade step.
Hiding the Maintenance Page
Additionally t is also possible to continue showing your website while Umbraco is in Upgrade mode. This will allow website visitors to continue browsing the site while the upgrade is pending. This is done with a new configuration option.
Hiding the maintenance page should be used with caution though. It is not recommended to let Umbraco be in Upgrade mode for extended periods, so this is a feature you can use for specific use cases, and you should remember to go to the backoffice and finalize the upgrade.
More information along with a tutorial on how to customize the maintenance page can be found in the documentation. 
Single Block Mode in Block List Editor
The Block List Editor now features a Single Block Mode. This is useful when the editor is used for e.g. settings or configuration on a site and contains a single block that should always be present.
It essentially provides an alternative to Groups and Tabs by allowing you to hide (or collapse) the properties on the block and comes with all the other benefits of the Block List Editor such as custom labels, Settings, Property Actions, and more.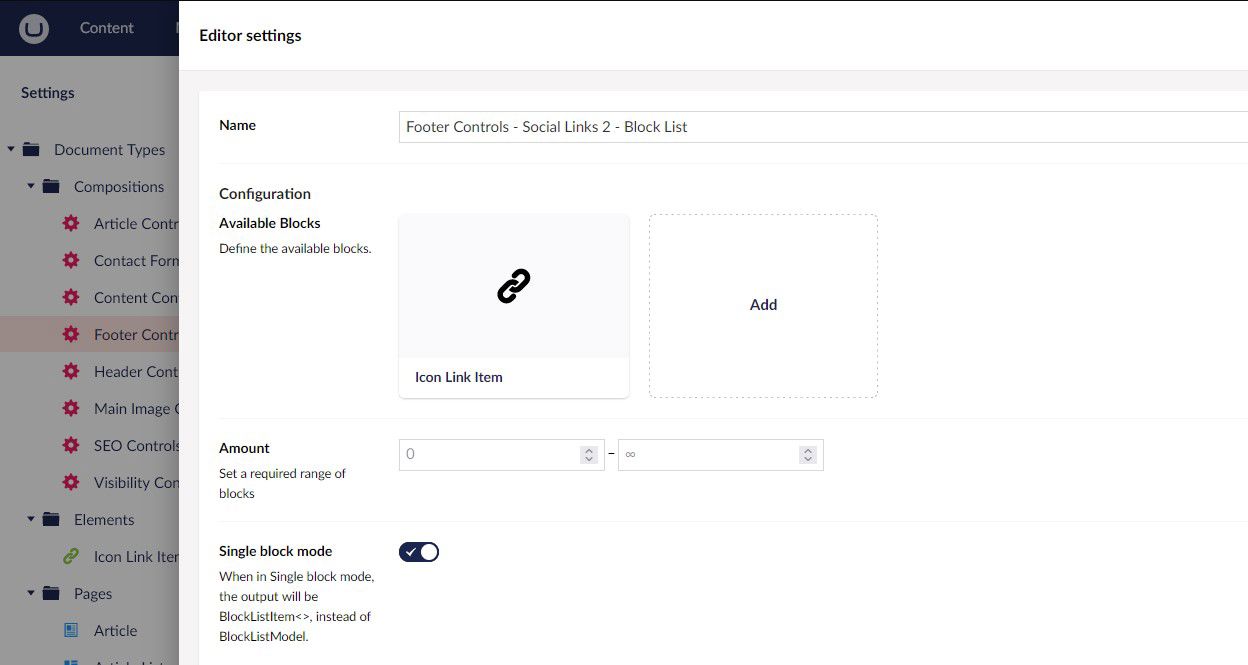 This new feature can be enabled when configuring a Block List Editor that only has a single block available. 
Tags Editor Support in Element Types
The Tags Editor is now supported in Data Types that rely on Element Types, such as Block Grid Editor and Block List Editor. Nested Content also supports the Tags Editor now, but it is recommended to migrate to using the Block List Editor as Nested Content is now deprecated.
Disable 2FA for Members
You can now disable the 2-factor authentication (2FA) for Members from the backoffice. This means that if a Member loses access to their 2FA authentication device, you can easily help them out by disabling 2FA. From there the member can re-enable 2FA and register a new device or method.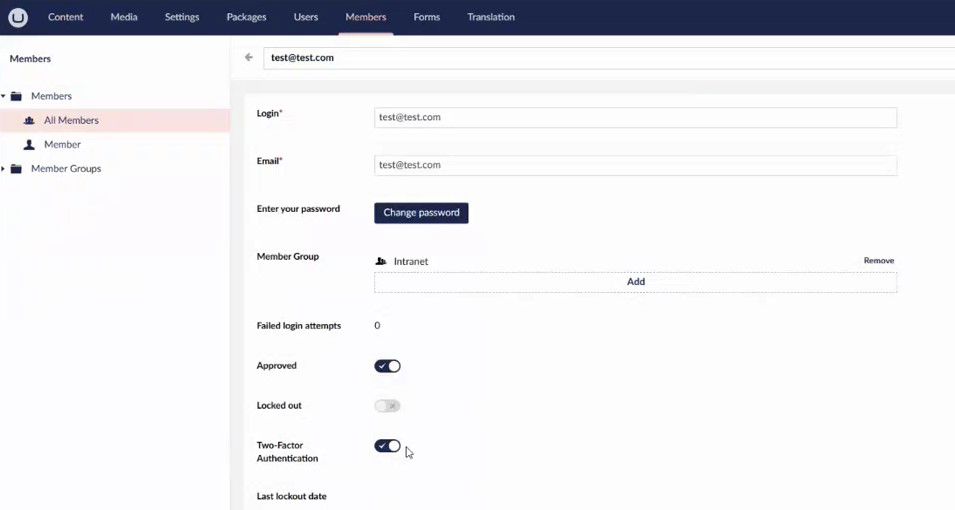 To be able to do it you need to be part of the Sensitive Content User Group. The toggle for disabling 2FA is found on the individual Member in the Member Section. 
Security Health Check Updated
The Health Check that ensures the HSTS (HTTP Strict Transport Security) header is present is now updated to exclude localhost, as this header is not recommended to have, while the host is  localhost.

Performance Improvements
The releases also contain a series of small low-level performance improvements, that either optimize for CPU or memory. Areas that are improved are rebuilding the media cache when removing file extensions from files, GUID/UDI generation, and batch upload files in the Media section.
What's new in Umbraco 10.4
New Property Editor: Block Grid Editor
The Block Grid Editor was launched along with Umbraco 11, and now makes its debut for Umbraco 10 as well, including the above-mentioned addition of support for the Tag Editor and a number of smaller updates and improvements.
The Block Grid Editor is a new Property Editor focusing on bringing better layout and content structure capabilities to editors. Taking a cue from the popular Grid Layout editor that has been delivering layout capabilities for content editors since Umbraco 7, the Block Grid Editor is built on modern and future-proof technology and provides a vastly improved developer experience on top.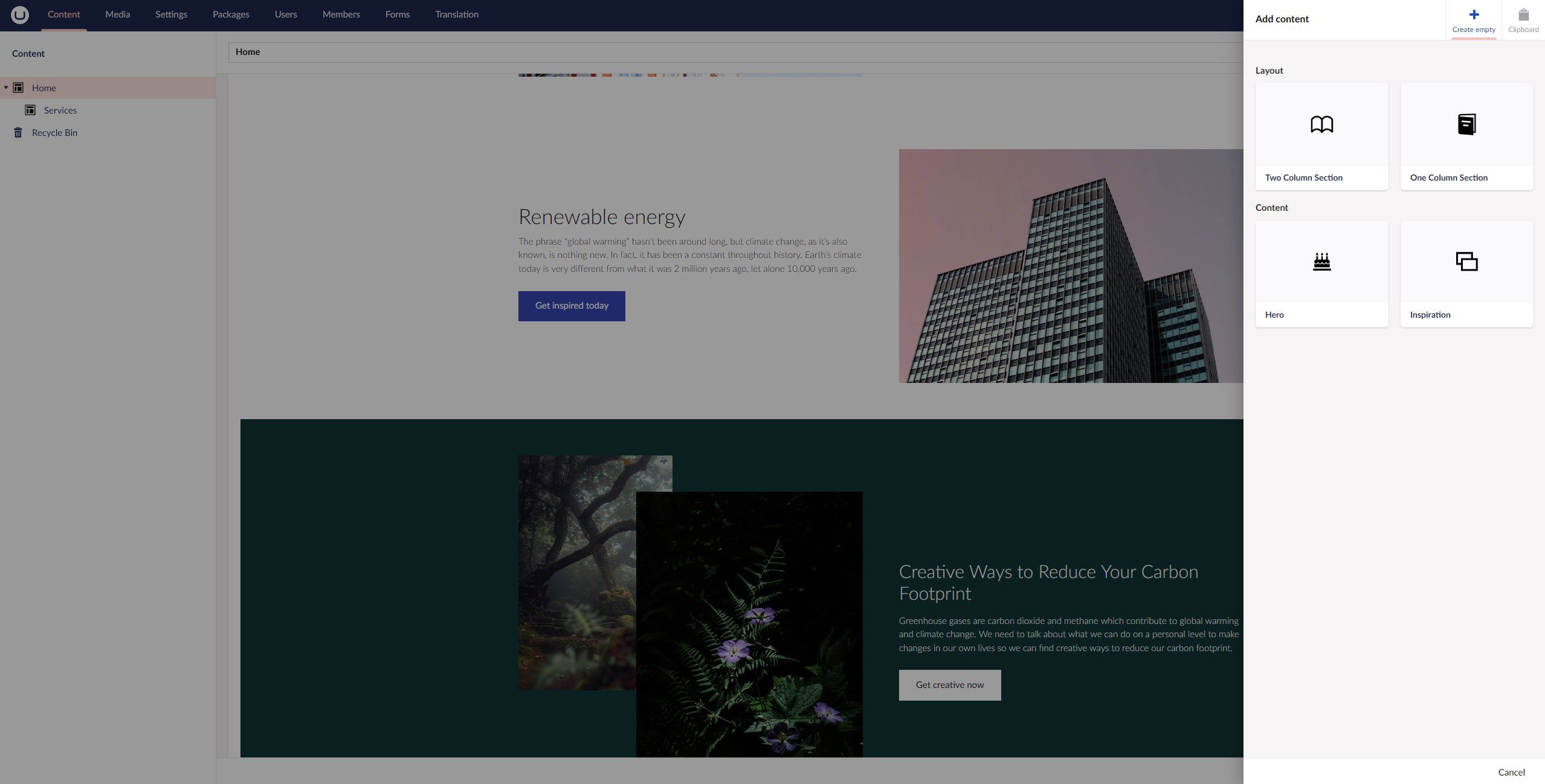 If you haven't tried it in Umbraco 11 and want to test out the new Property Editor we just published a Deep Dive blog post that takes you through all the basics. You can also dig into the extensive documentation for the Block Grid Editor.
Community Contributions
Of the 94 bug fixes and feature additions in Umbraco 11.1.0, a total of 65 of them have been contributed by the community, by 41 unique contributors. And for Umbraco 10.4.0 the count is 116 bug fixes and feature additions, with a total of 64 of them being community contributions, by 40 unique contributors.
We're welcoming 9 brand new contributors who have made their first pull request for Umbraco CMS; they're marked with a star below. Welcome to the contributor club Jesse Andrews, Jonny Muir, Roy Berris, Georgina Bidder, Jari Larsen, Dami Tugbobo, Simon Jansson, Kristian Tolleshaug Mørch, and Sean Maloney 🏆
⭐ = First pull request to Umbraco CMS
And of course, as a thank you, we've just added another bunch of trees to our growing plot for today's 11.1 and 10.4 releases to celebrate your contributions! 🌳🌲🌴

How to get your hands on Umbraco 11.1 and 10.4
As always, from today, the latest versions of Umbraco are available on Umbraco Cloud. For new projects, you can choose between Umbraco LTS and Umbraco 11, and they will be running 10.4 and 11.1 respectively. For all our Umbraco Cloud customers with existing projects, the upgrade to the latest version is only 2 minutes away.
We've wrapped it all up for you, so all you have to do now is follow these steps:
Add a Development Environment to your project if you do not already have one (you can do so by clicking "Manage Environments" in the project view)
Restore the content to the new Development Environment from your Live environment.
When the Development Environment is all set up and you've made sure you don't have any pending changes on the Development Environment - you are all ready to upgrade to Umbraco 11.1/10.4!
It's as easy as clicking a button - like, literally clicking the "Upgrade Available" button on the Development Environment. The auto-upgrader will take care of everything from here! 🚀
Once it's done, check the Development Environment to make sure everything is looking right.
When that's confirmed, you are ready to deploy the upgrade to the next environment - Live or Staging, and start taking full advantage of all the new features.


Non-Cloud and release notes:
As always, installation and release notes can be found on Our:
https://our.umbraco.com/contribute/releases/1110
https://our.umbraco.com/contribute/releases/1040 
This release is also available from NuGet: 
https://www.nuget.org/packages/Umbraco.Cms/11.1.0
https://www.nuget.org/packages/Umbraco.Cms/10.4.0