Overview:
To help you provide us with feedback, I've gathered an overview of some of the items that you can help test for this RC. We have run internal testing and are very happy with the current state of the build - but extra polishing and testing is always helpful. So if you have time to help - or just find yourself super curious, feel free to dive into the 8.10. RC today. 
What's in Umbraco 8.10?
Improvements to preview mode
When previewing content you will now be prompted to end or continue preview mode. This is to make it easier to understand whether you're watching published or saved content. These are the very friendly changes that have been introduced.
If you are previewing a page and navigate to another tab (or access the frontend later with the preview session still in effect), you receive a prompt telling you that preview mode is active. You can then choose whether to stay in preview mode or end the preview session. This goes for any page you visit on the site.
If you have ended the preview mode in a tab and have another preview tab open, when you access this, you will be notified that the preview mode has been closed and you can choose whether to view the published version or stay in preview mode.
Last but not least; The preview session will now be closed automagically if you close all your preview tabs. That way you won't accidentally return to a website in preview mode.
Right click the video to watch in fullscreen
This should help alleviate the stress of thinking "Wait, have I actually published this!?" - I think we've all been there 😉
Anonymous telemetry
With Umbraco 8.10 we're introducing a new way of getting statistics on Umbraco installations.
An Umbraco project will now generate a unique GUID for an installation. This along with the Umbraco version will be sent as an http request to help gather statistics on the number of installations and adoption of new versions. This is great to have in place for the launch of Umbraco running on .NET Core.
The GUID is derived from a telemetrics-id.umb file that is generated on install, or when upgrading to 8.10+. It will ping "home" every 24hrs.
You can align the GUID across a project to ensure that different environments for the same project are not counted twice by checking it into source control.
Having solid statistics benefits Umbraco HQ as well as the community and agencies using Umbraco. It can help gauge trends and will inevitably be used in many presentations/sales pitches. 
Block List editor copy/paste improvements
You can now copy (and paste) an entire block by using the property action. This means that you will also copy Settings if they have been added to a block. Previously only content was copied.
If you assigned custom colors or thumbnails to your Block catalogue, these will now be shown in the create/copy dialogue as well. 
Block editor label expressions
Adding a dynamic label to blocks can make a huge difference for the overview and ability to quickly identify a block. This has now been improved, so it is no longer just the Content properties that are accessible but also settings, index and other (depending on how your Block editor is set up). 
You can use this in the Block List editor (and for custom Block editors) from 8.10+, and it has been made backwards compatible so you still access content properties by alias:

If you want to access index, settings or other objects these are available by using $:

Display label above property
You now have the ability to display a label for a property above the editor as well as the default left aligned label. This works for Block (List) editors as well.
Right click the video to watch in fullscreen
This will give you more flexibility in how you arrange your properties and allow you to give more editing space in a standardised way.
… And much more
The release candidate is chock full of great fixes and improvements. Many of them from this year's Hackotoberfest. So you find another round of awesome accessibility improvements (issues addressed!), checkbox list for Grid settings, improved cache performance and much more. 
Massive HIGH FIVE YOU ROCK to all contributors and the Core Collaborators team for keeping track of it all.
You can find the full list of features and fixes on the 8.10 download page.
Breaking Changes
A few pieces of ancient functionality has been removed in this release and while they are likely not used anymore, they have been marked as breaking changes:
Known issues
For the new preview improvements mentioned above, we have identified some changes that need to be made to make the experience more consistent. These changes have not made it into to the release candidate: https://github.com/umbraco/Umbraco-CMS/issues/9484 
How to test
First, you need to make a new Umbraco installation from 8.10RC (links below) or upgrade an existing project, both scenarios can provide valuable feedback.
If you find things in the RC that are not working, we'd be grateful for feedback on the Github issue tracker. You're welcome to add comments to the features and fixes listed under 8.10 release or submit new bug reports (click New Issue and select Bug Report), please prefix the issue with 8.10RC:.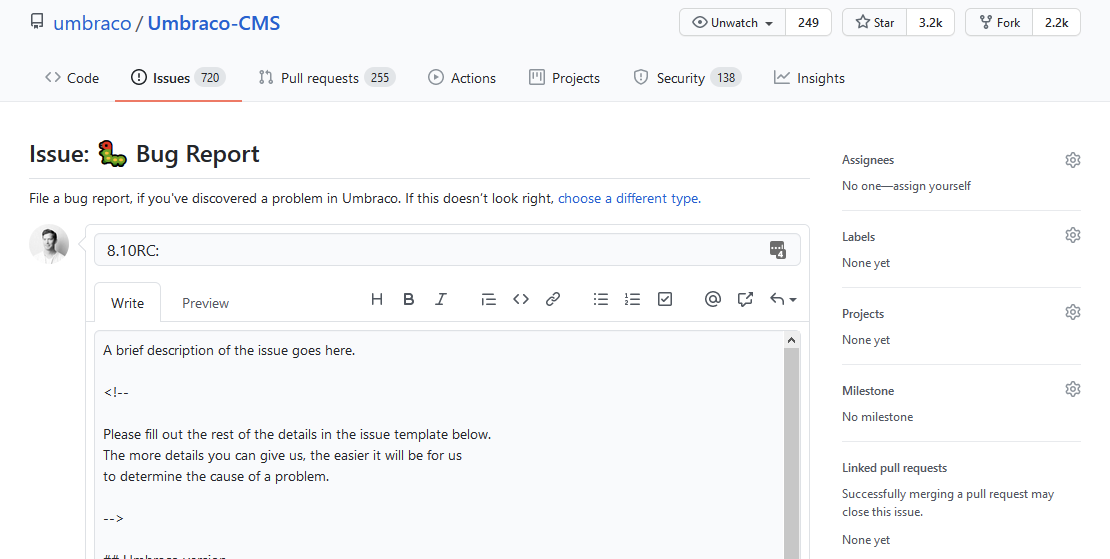 As mentioned previously, the RC is feature complete, so we're not going to add additional features but will, of course, fix bugs that prevent a stable release.
How to get your hands on the Umbraco 8.10RC
As always, installation and release notes can be found on Our: https://our.umbraco.com/contribute/releases/810
This release candidate is also available from Nuget: https://www.nuget.org/packages/UmbracoCms/8.10.0-rc
When is the public release?
We're aiming for a full public release on December 17th, 2020. This means Umbraco 8.10 will be available for upgrade on Umbraco Cloud and via Nuget or the download page. We need a couple of days to wrap up the release so the sooner we get your feedback the better 🙂
Big H5YR 🙌 to everyone who has contributed to Umbraco 8.10 and thanks to everyone willing to lend a hand in testing it out. It means the world to get it validated by the users.

Bug reports are best handled on the issue tracker and as always, we welcome you to submit product feedback and questions on product@umbraco.com