Overview
What's new in Umbraco 8.10
Accessibility improvements
This release contains no less than 15 features and fixes that improve accessibility in Umbraco. These cover a lot of different areas such as using correct HTML elements, adding keyboard shortcuts and providing a page title for the content you're working on. 
These improvements make life easier, and friendlier, for everyone using Umbraco. Big HIGH FIVE YOU ROCK to the entire A11Y accessibility team and Rachel Breeze, Bjarne Fyrstenborg,  Jan Skovgaard, Doug Moore and Joe Glombek for their contributions 🙌
Updates to the Block List editor
Introduced in Umbraco 8.7, the Block List editor has been very well received as a replacement for Stacked/Nested Content. With Umbraco 8.10, there are several improvements that enhance the user experience and extend the capabilities of developers to configure the editor:
Block List editor copy/paste improvements
You can now copy (and paste) an entire block by using the property action. This means that you will also copy Settings if they have been added to a block. Previously only content was copied.

If you assigned custom colors or thumbnails to your Block catalogue, these will now be shown in the create/copy dialogue as well. 
Block editor label expressions
Adding a dynamic label to blocks can make a huge difference for the overview and ability to quickly identify a block. This has now been improved so it is no longer just the Content properties that are accessible but also settings, index and other (depending on how your Block editor is set up). 
You can use this in the Block List editor (and for custom Block editors) from 8.10+, and it has been made backwards compatible so you still access content properties by alias:

If you want to access index, settings or other objects these are available by using $:

Improved preview mode
The user experience for previewing content has received an overhaul in order to make it clearer and more logical for the user if they are viewing saved or published content. The preview mode (session) is a global state in Umbraco, which means all tabs will either be in preview mode or not. While many of us have gotten used to this over the years it is an acquired skill (and taste), this should now be easier, especially for newcomers, with the following improvements:
Auto-close preview session
If you have started a preview session, this will now be automatically closed if the browser tab (or tabs) have been closed. This means you will no longer return to a site in preview mode from a previously started session. No more "Wait have I accidentally published this?????" moments 😉
Pop-ups when switching browser tabs
In order to make it clear whether you have started/ended a preview session, 8.10 introduces a friendly pop-up that asks how you want to view the content you've switched to.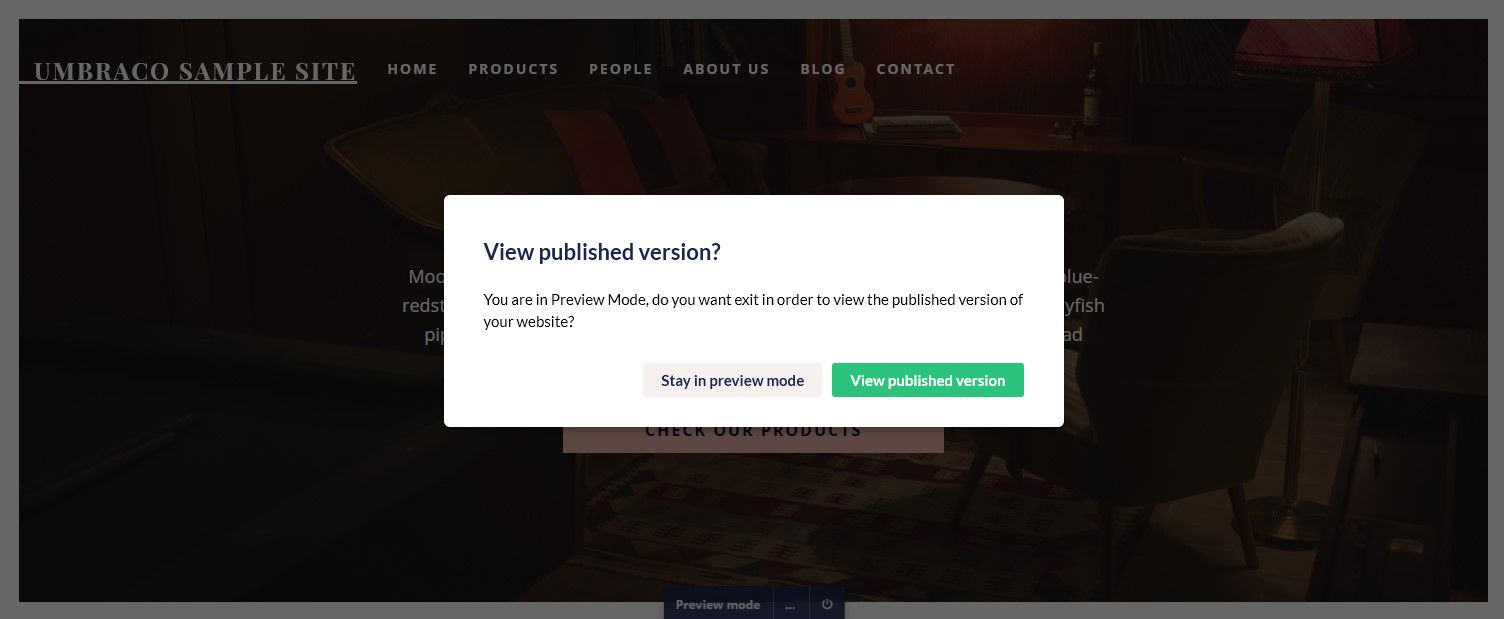 If you have initiated preview mode and switch to a tab that was opened prior to this, you will be asked whether you want to continue preview mode or end it and view published content.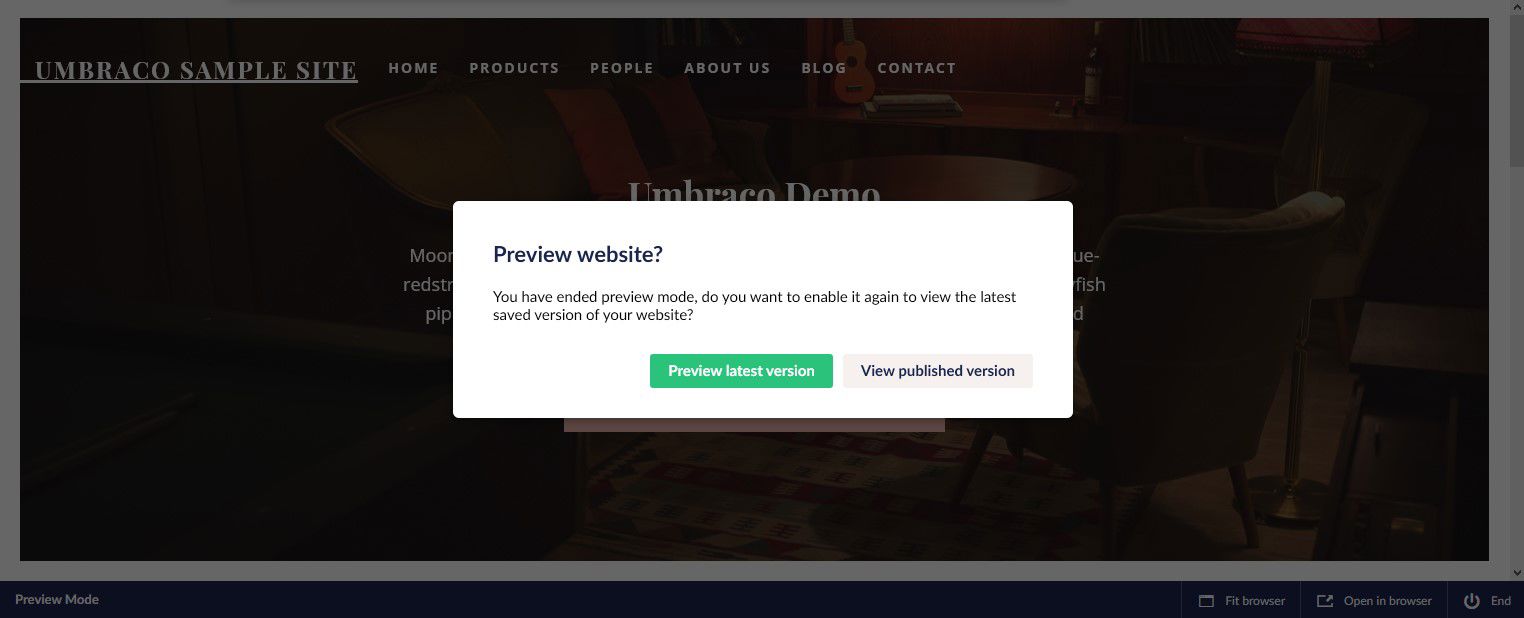 The same goes for ending the preview mode; When switching to a tab that was in preview mode you will now be asked whether you want to view the published content or start preview mode again.
Full-width editing
Sometimes you just need a bit more space… With this release, you can now allow a property to take up the full width of the editing area. This can be a great UX enhancement providing a better overview and more space and a better editing experience for specific properties.
This is done by simply displaying the property label (and description) above the editing area as opposed to the default left-aligned approach.
Checkbox list for Grid settings and styles
The ability to add settings and styles to your rows and cells in the Grid Layout editor is great for empowering editors to enhance content. You can now add checkbox lists to the support way of adding settings and styles, great for allowing multiple settings to be selected in a concise way.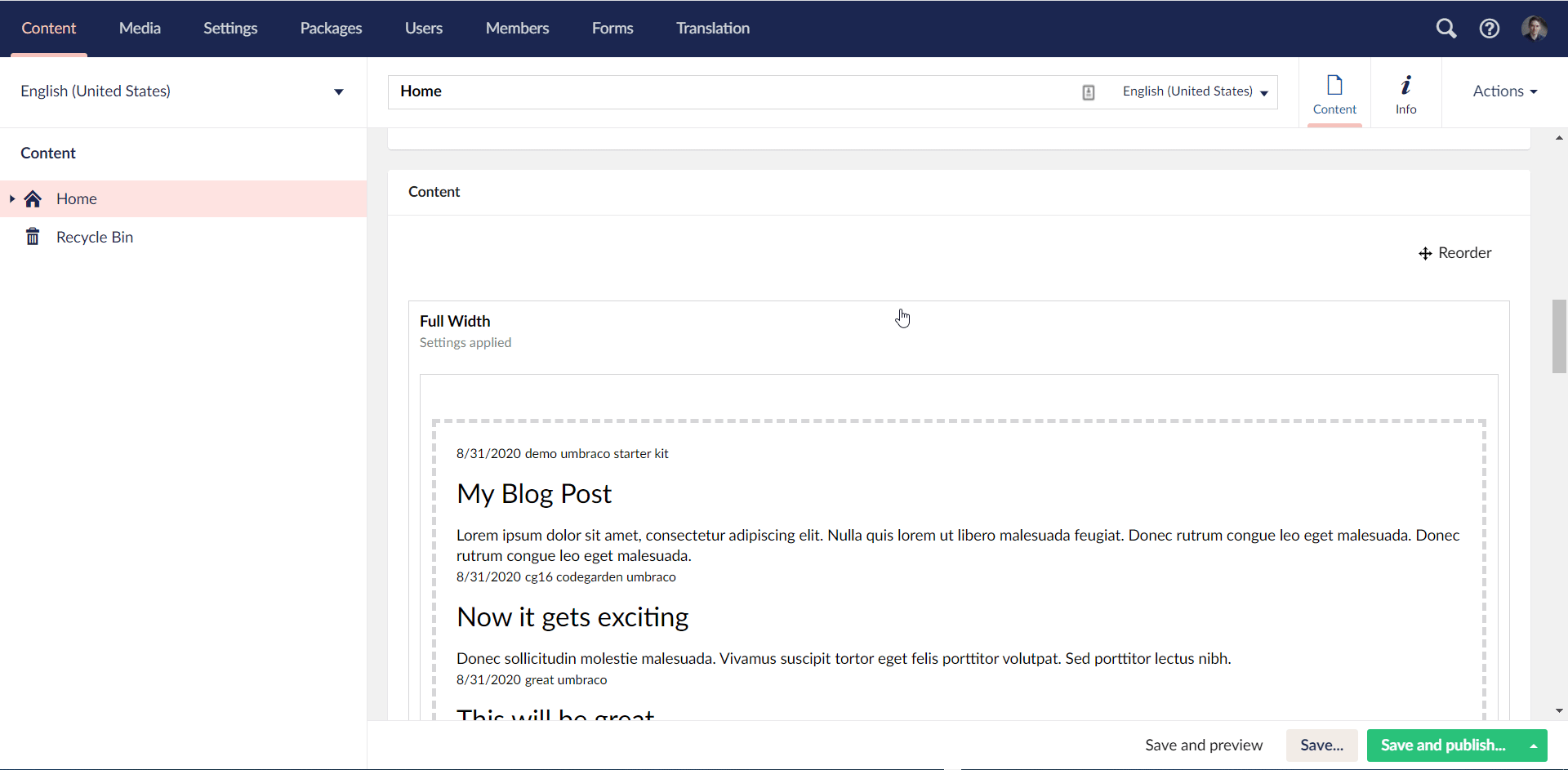 Shout out to Bjarne Fyrstenborg for this great addition 🙌
Faster content query and reduced memory consumption 
The frontend caching layer (for published content) in Umbraco has been updated to be quicker and less resource-intensive. Massive thanks to Chad for this wonderful contribution 🙌 This is the first in a long list of features and fixes that Chad has created or contributed to, that will help reduce the footprint and increase the performance of Umbraco CMS. More will come in upcoming releases.
Anonymous telemetry
Having solid statistics benefits Umbraco HQ as well as the community and agencies using Umbraco. It can help gauge trends and will inevitably be used in many presentations/sales pitches.
An Umbraco project will now generate a unique GUID for an installation. This along with the Umbraco version will be sent as an HTTP request once every 24hrs to help gather statistics on the number of installations and adoption of new versions. 
The identifier is stored in umbracoSettings.config on the <backoffice> element, this GUID will be generated automatically for you during a fresh install or during the upgrade to 8.10.0+.
You can align the GUID across a project to ensure that different environments for the same project are not counted multiple times by checking it into source control.
Community Contributions
Of the 110 bug fixes and feature additions in 8.10.0 a whopping 85 of them have been contributed by the community created by 29 unique contributors. We have included 57 contributions that came in during this year's Hacktoberfest.
We're welcoming 6 brand new contributors who have made their first pull request for Umbraco-CMS, they're marked with stars below. Welcome to the contributor club Mücahit, Daniel, Tomas, Owain, Christopher and Graham! 🏅
Speaking of Hacktoberfest, we're a little behind in processing the incoming pull requests so we're going to have the form for your rewards ready in early January of next year. Apologies for the delay!
Many thanks to all of the contributors to Umbraco 8.10, let's give them a big #H5YR 🙌:
⭐ = First pull request to any Umbraco repository
Breaking Changes
How to get your hands Umbraco 8.10
As always, from today, all new version 8 Umbraco Cloud projects will be running 8.10. For all our Umbraco Cloud customers with existing projects, this upgrade is only 2 minutes away:
We've wrapped it all up for you, so all you have to do now is follow these steps:
Add a Development Environment to your project, if you do not already have one (Add a Development environment by clicking "Manage Environments" in the project view)
Make sure you also restore the content to the Development Environment from your Live.
When the Development Environment is all set up and you've made sure you don't have any pending changes on the Development Environment - you are all ready to upgrade to Umbraco 8.x!
It's as easy as clicking a button - like, literally clicking the "Upgrade Available" button on the Development Environment. The auto-upgrader will take care of everything from here! 🚀
Once it's done, check the Development Environment to make sure everything is looking right.
When that's confirmed, you are ready to deploy the upgrade to the next environment - Live or Staging, and start taking full advantage of all the new features.
Non-Cloud and release notes:
As always, installation and release notes can be found on Our: https://our.umbraco.com/contribute/releases/8100
This release is also available from Nuget: https://www.nuget.org/packages/UmbracoCms/8.10.0