Overview:
What's new in Umbraco 9.5
This is the last minor release for Umbraco 9 before we start looking ahead toward the next major release (Umbraco 10 RC is available now).
Improved Two-factor Authentication for Backoffice Users
Umbraco 9.5 closes the loop on authentication improvements started for Members in Umbraco 9.3 by making many of the same concepts and features available for User 2FA. 
As the login flow for the backoffice, and thereby much UX, is handled by Umbraco it is actually simpler to set up 2FA for Users than it is for Members. Much of the functionality you need is already present both for the back- and front-end but you of course still have extension points where you can add customized views and actions. 
 You will need to add one or more 2FA providers, such as Google or Microsoft Authenticator, and then much of the flow is handled, complete with the ability to enable and disable 2FA for a User. By making it much easier to implement 2FA it enables developers to deliver on an increasingly common requirement for installations and make it part of a seamless and secure login experience.
You can find extensive details on how to add, configure and implement 2FA for backoffice Users in the updated documentation, and/or watch the recent Umbracollab where Sebastiaan and friends implement 2FA using a different provider:
New Backoffice Actions
Two new actions introduced in Umbraco 9.5 help make the CMS even more productive and easier to keep organized. 
Copy Member Types
You can now copy a Member Type, similar to what already exists for Document and Media Types. Simple as that 🙂
Right-click on an existing Member type and you will now see the Copy action available. Choose the location to copy the Member Type to in the tree and the new Type will be ready to go. 
This can be a huge time saver both when testing changes to Members locally and extending the Member section with new Types. Thanks to Bjarne Fyrstenborg for providing this helpful feature to Umbraco 9.5.
Move Dictionary Items
Another action menu item added in this release is the ability to move existing Dictionary Items. You'll find the new feature by right-clicking on a Dictionary Item and can now choose the new location for the item.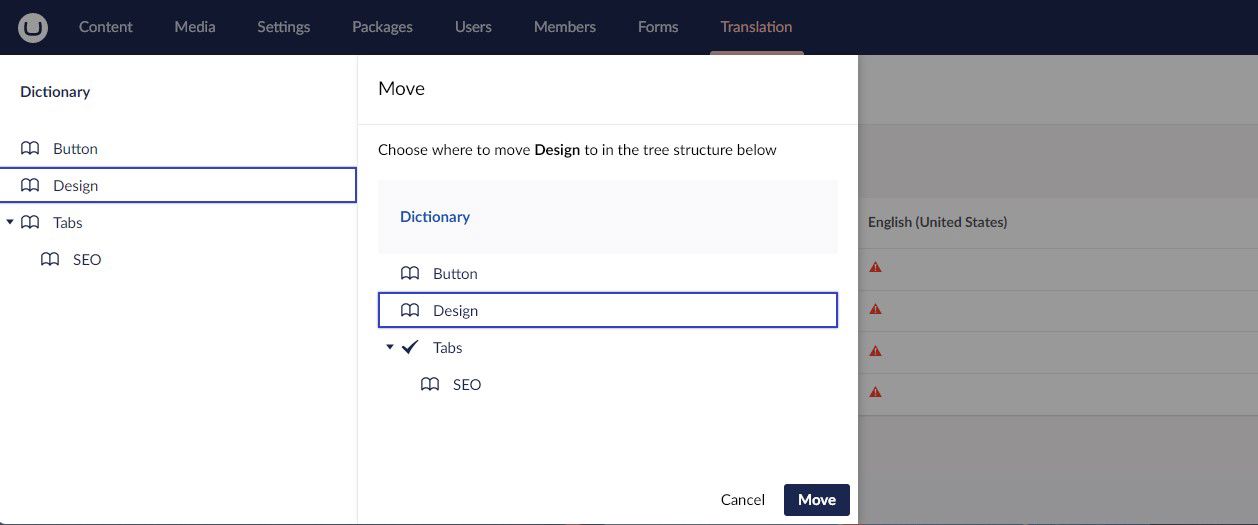 Incredibly helpful for projects in development where the requirements and thereby optimal tree structure can change. And also for installations with many Dictionary Items being able to restructure the Dictionary tree can make a big difference.
This feature was available as a package developed by Johannes Lantz and was turned into a PR for the CMS - thanks Johannes - HIGH FIVE YOU ROCK 🙌
CMS Telemetry and Consent Dashboard
Earlier this year we introduced new telemetry options to help improve understanding and reporting for Umbraco Packages. With Umbraco 9.5 we're expanding the telemetry to encompass CMS usage as well. 
By collecting data on Umbraco installations we hope to make it easier to make informed decisions on upcoming features and, of course, provide better statistics on the number of installations, usage, and more.

All this information is fully anonymized, we're not interested in collecting data that can compromise data policies for anyone using Umbraco. In order to be fully transparent (as well as anonymized), you can now find a new Dashboard in the Settings section of Umbraco.
Here you can see what type of data is being collected and even adjust the level of reporting. There are three levels currently available:
"Basic" is the default option where the data sent is an anonymized site ID, umbraco version, and packages installed. You can see the specific data being sent on each of the levels directly in the Dashboard. 
We of course hope to see as many installations as possible choosing the "Detailed" level. This will help both HQ and the broader community going forward. The aggregate data will be shared on a regular basis as well as learnings from these analytics. Hopefully, you'll help us collect some valuable data.
And so much more…
Umbraco 9.5 has a lot more to offer than the highlighted features above. There are numerous fixes and tweaks included as well as additional features such as: 
See the full list of goodies included in Umbraco 9.5 in the release notes.
Community Contributions
Of the 36 bug fixes and feature additions in 9.5.0, a total of 22 of them have been contributed by the community, by 15 unique contributors.
We're welcoming 5 brand new contributors who have made their first pull request for Umbraco CMS; they're marked with a star below. Welcome to the contributor club Ji Pattison-Smith, Michael Reiter, neo-cphilipp, Paul Woodland and PhyxionNL! 🏆
⭐ = First pull request to Umbraco CMS

And of course, as a thank you, we've just added another bunch of trees to our growing plot for today's 9.5.0 release to celebrate your contributions! 🌳🌲🌴

How to get your hands Umbraco 9.5
As always, from today, all new Umbraco 9 projects on Umbraco Cloud will be running 9.5. For all our Umbraco Cloud customers with existing projects, this upgrade is only 2 minutes away:
We've wrapped it all up for you, so all you have to do now is follow these steps:
Add a Development Environment to your project, if you do not already have one (Add a Development environment by clicking "Manage Environments" in the project view)


Make sure you also restore the content to the Development Environment from your Live.


When the Development Environment is all set up and you've made sure you don't have any pending changes on the Development Environment - you are all ready to upgrade to Umbraco 9.5!


It's as easy as clicking a button - like, literally clicking the "Upgrade Available" button on the Development Environment. The auto-upgrader will take care of everything from here! 🚀


Once it's done, check the Development Environment to make sure everything is looking right.


When that's confirmed, you are ready to deploy the upgrade to the next environment - Live or Staging, and start taking full advantage of all the new features.


Non-Cloud and release notes:
As always, installation and release notes can be found on Our: https://our.umbraco.com/contribute/releases/950
This release is also available from Nuget: https://www.nuget.org/packages/Umbraco.Cms/9.5.0