Umbraco festivals are the place to learn, share, and meet with the best and brightest minds in the community. No matter how new or experienced you are with Umbraco, there's always something to learn from these gatherings and this fall season was filled with opportunities to learn and bond 😎 
In this blog post, we've collected the best insights and highlights from us at HQ, so it'll be quite a long post. But grab your snacks and get ready, as we're taking you through memory lane to relive all golden nuggets these festivals had to offer:
Umbraco Sweden Festival 2019 
A new setting and new hosts… a lot of new and interesting things went down at this year's Umbraco Sweden Festival, as not only one but two of our lovely Gold Partners, Webmind and Impera, got together and arranged this beautiful event. What happened? Let our Partner Friend Maker, Helle Kragelund and our Community Engagement Officer, Ilham Boulghallat, tell you: 
What went down at this year's festival? 
Ilham and Helle: This year, we had a special treat at the Swedish festival, or let's say more than just one treat. A new city, a great venue, and an after-party/dinner at an old and beautiful castle from the 14th century! More importantly, we got to experience firsthand the transition from a one-company organized event to a festival led by two amazing collaborators. A true display of community teamwork. 
We had quite a busy day. With two tracks of great talks combining Umbraco tech-focused talks for developers, and a business track aimed at e-commerce managers and project managers.
It was also quite impressive to see the organizers manage some last minute challenges getting the keynote speaker to reach the venue on time. We are always humbled by the effort put into managing these challenges; a lot of hard work happening behind the scenes, and which the attendees are usually not aware of. 
With the current growth of the Swedish market that we are witnessing, we are certain that this will only have a positive impact on the upcoming festivals. And we couldn't be more excited about what 2020 will bring.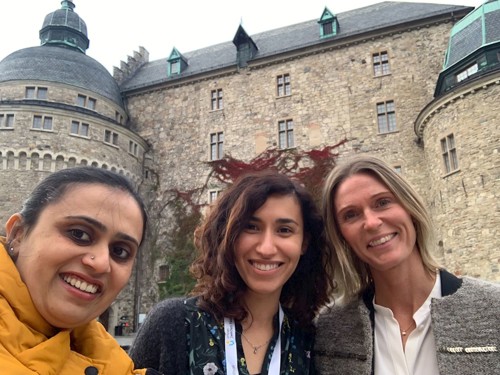 Umbraco DK Festival 2019
For the 7th time, our lovely Umbraco Gold Partner, Kraftvaerk, hosted a brain nourishing event. With 151 attendees, two tracks, workshops and craft bears, there was a lot to learn and experience. What went down? Let's hear from our Brilliant Activities Manager, Trine Nissen and our Head of Pull Requests, Sebastiaan Janssen themselves:
What do you think of this year's festival? 
Trine: I think the Festival was very interesting, well organized, and it had some interesting sessions, even for people who are not a developer or who are not tech interested. 
Sebastiaan: As always, the DK festival was very well organized and had great sessions in different tracks, separated between developer-oriented sessions and business-oriented sessions.
I especially enjoyed the great attention to detail as well, the schedule printed on your name tag, a little breakfast and a lovely lunch. 
If you had to name your 3 favorite things about the festival, it would be…
Sebastiaan:
The Hackathon the day before the festival was my favorite. We went through quite a few different bugs in Umbraco and collaborated with each other in order to get them fixed.
This year we had a newcomer who had never attended a Hackathon before, and he submitted 2 pull requests with a little help from the group in the room!
Other than that, there were good sessions to attend, great hallway talks and a cool beer tasting at the end of the day before dinner!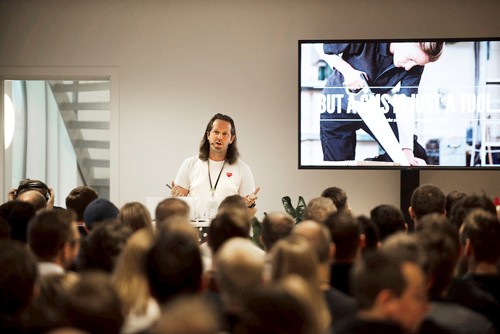 Who should attend this festival?
Trine: Developers, business people and people who love Umbraco. 
Sebastiaan: This festival is excellent for everyone in Denmark who does anything with Umbraco. What makes this festival rather unique is the business track for the sessions, which ensures that the festival can be attended by everyone and not only developers. 
Umbraco Poland Festival 2019
This year's Poland Festival took place in the beautiful city of Krakow for the 4th edition, hosted by none other than Cogworks! What made it an Umbazing festival? Our friendly Beaming Broadcaster of Communication, Vera Green, will tell you: 
What went down at this year's festival? 
Vera: This was my first "abroad" Umbraco festival, so I was excited to see how Umbraco festivals are outside of Denmark. The Poland Festival is one of the smaller ones, but I've always thought it looked like a lot of fun from pictures so I wanted to give it a go! 
I was impressed by how even a small festival like the Polish one got such a good program packed with interesting talks made by Umbracians from around the world.
It's a one-track festival, and luckily for me who's not a developer, I was able to follow along with most of the talks. I especially enjoyed Fedojas talk on "10 tips to make your editor love you" - as an editor myself I completely agree with her arguments! They're spot on 🙌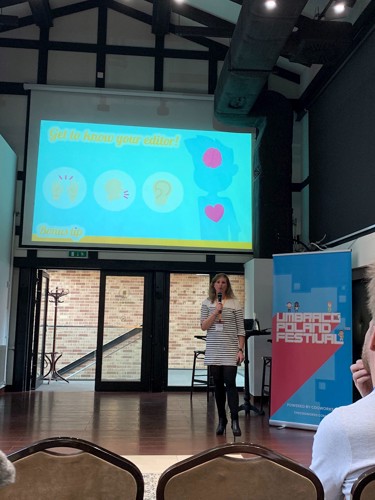 And Krakow is a beautiful city! I was very lucky to have friendly Umbracians showing me around, giving tips on where to go to eat, what to see etc. the friendly community vibe was definitely felt -  H5YR! 😄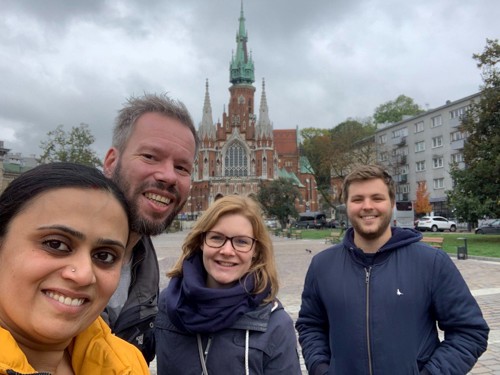 DUUGFest 2019 
With over 200 attendees, a beautiful venue and interesting and valuable keynotes, this year's DUUGFest was a blast 🔥 And three friendly faces from HQ, our Partner Friend Maker, Helle Kragelund, our Chief Support Warrior, Jim Jensen and our Support Warrior, Daniel Deleuran Løkkegaard, will tell you why: 
What did you think of this year's festival? 
Daniel: Great! Really awesome location and a great variety of speakers.
Jim: The best ever to be honest.
Helle: It was absolutely amazing… So well organized and the venue was so cool. This year, more than 200 people attended the DUUGFest - it's fantastic to see how the organizers have managed to grow this event over the last 5 years. Every year they get new sponsors on board and I think this is what makes the whole Dutch Umbraco community so unique. They are in this together.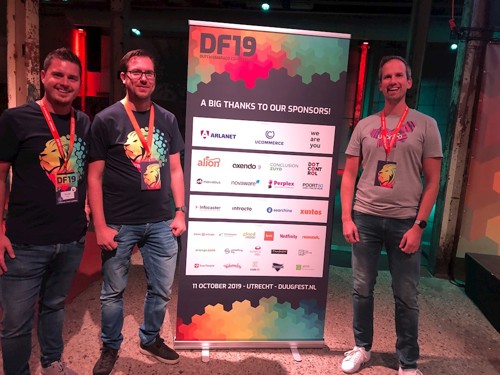 If you had to name your 3 favorite things about the festival, it would be…
Jim:
The venue was super cool. Old factory. Perhaps even better than CG.
The ambition and execution of the tracks with sessions. 3-4 tracks.
The spirit. You can really feel that the Dutch approach is awesome.
Who should attend this festival?
Helle: The DUUGFest is all about learning & sharing and most of the attendees are already working with Umbraco and come to the festival to get inspired and to network. But the DUUGFest is also for people currently not working with Umbraco.
It's the perfect opportunity if you want to see what Umbraco can do for you and your customers. This year the speaker lineup was really great with different tracks so the DUUGfest has something to offer all attendees whether you work as a developer or have a more commercial role.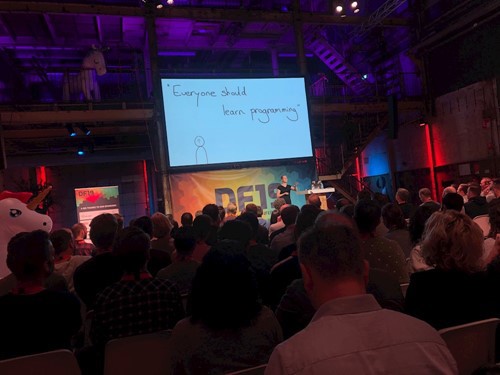 Umbraco UK Festival 2019 
This year's Umbraco UK Festival was a special one since we could celebrate it's 10 year anniversary - how cool is that?! Now, what does our Product Owner, Rune Strand, our Package Steward, Jesper Mayntzhusen and our Partner Friend Maker, Mike Pedersen, have to say about it? Read on: 
What did you think of this year's festival?
Mike: Absolutely Umbazing as Georgs (our Support Team Lead) would have put it. This year's festival marked the 10th year anniversary and the organisers didn't let me down! It was easy to see that they have put a lot of effort into this year's festival. 
A record-breaking 300+ attendees also confirms that the UK community is not only thriving but also growing. What really stood out to me is that the community is now more diverse than ever. This was also reflected in this year's talks making the event relevant for a much wider audience like content editors and marketers. 
Rune: This year's festival was fantastic. A suitable celebration of the 10 year anniversary of the Umbraco UK festival. Loved that it was an all-day event and with conference, dinner and afterparty in the same spot. 
If you had to name your 3 favorite things about the festival, it would be...
Mike: The people, The content and the 6.13% stuff (yes, I've got collateral).
Jesper: 
The lunch was amazing!
The package "campfire chat" was really nice - got lots of great feedback and ideas!
My most favorite thing though was how accommodating and nice everyone was - here is Callum helping me live-demo when they only had a handheld microphone.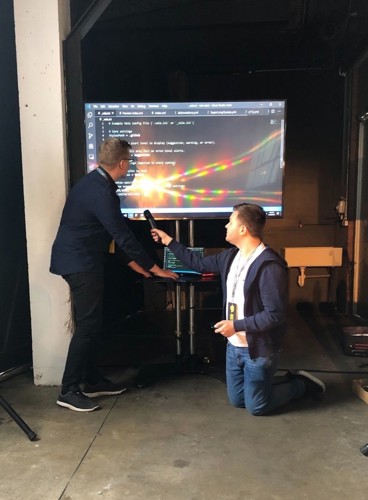 Did you learn anything new?
Rune: Got a firmer grasp of the importance of dependency injection in .Net thanks to a great talk by Lars-Erik Aabech from MarkedsPartner. I also learned that Dylan Beatie has a cover band with a distinct developer theme - pretty cool to end the festival with a live performance.
Who should attend this festival?
Mike: Anyone interested in Umbraco, whether completely new to Umbraco or with a wealth of experience. The mix of talks and friendliness of the community makes it an event suitable for most people regardless of their technical level.
Rune: This is not hyperbole, but for anyone who uses Umbraco. The festival had a diverse range of topics that cater to both the hardcore developers, marketers and sales will get something from the sessions. Most importantly, you get to put a face to and interact with a huge part of the community. It is amazing when internet interactions turn in to real-life discussions, learnings and friendships.
Anything else you'd like to add?
Jesper: Thanks to everyone who came and talked to me about packages or joined the campfire chat! Thanks to the organizers for putting on a great event!
Rune: Get your tickets for next year - You won't regret it! It was a very rewarding event both professionally and personally. The last 10 years the Umbraco UK Festival has been arranged exclusively by The Cogworks but this year they have passed it on to the community. 
This means the volunteers have spent their spare time putting the event on. They did an amazing job and aside from getting a big H5YR for making it so great, we can make their life a lot easier by purchasing tickets as early as possible. 
See you again next year!
Mike: The last thing I would like to add is just…. It's not a cult!
________________________
What a festival season it was! We hope you enjoyed going down memory lane, and if any of these stories piqued your interest, we hope to see you next year ✨