Overview:
Recent Releases

New Features in Umbraco CMS 8.14 and 7.15.3
Breaking Change in 8.1.4

Today's Releases
Umbraco Cloud News
Updates to the Roadmap

Rich Text Editor Improvements
Updates to RFCs
Recent Releases: Umbraco CMS 8.1.4 and 7.15.3
Although it's only been a couple of weeks since the last patch release of Umbraco CMS, yet another patch version has since seen the light of day! Many of the included features in this new release have been community-driven and work towards making the Umbraco backoffice a more cohesive and friendly experience. 
Let's have a look at some of the new implementations in Umbraco 8.1.4:
Confirm Overlay for Compositions and Deleting User Groups
The standard overlay has been added a few more places and helps increase usability and consistency in the backoffice. Previously, it was possible to scroll away from the warning in the compositions overlay and for member groups the confirmation dialogue used the browsers default pop-up (eww!), so all in all some really nice updates.
Indication of load time for compositions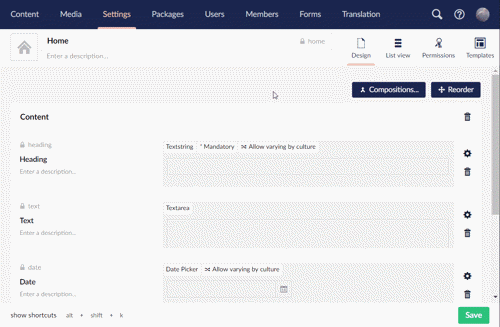 This fix is also addressing an issue with the compositions overlay. Or to be more precise, just before the overlay is opened. Previously, there was no indication that there is a necessary load time when clicking the Compositions button. Now, you get a loading indicator on the button so you know, well, to wait a bit. It may seem like a small thing - but it's a fix that'll ensure you're guided through the process correctly, prevention mistakes and confusion. 
Improved Listview in Overlay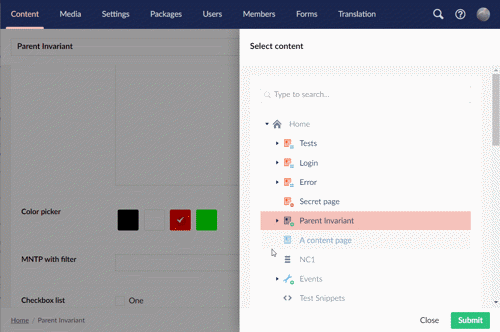 Another new feature for overlays? Maybe we should call this upgrade "The Overlay Edition" 😉 In any case, a couple of great UX enhancements have been added to the listview browser. The cursor will now change to a pointer (from "arrow" to "pointing hand") when hovering over items that can be selected. There is also a subtle highlight added when hovering over the arrow for browsing child nodes.
The KJAC-Overlay edition?
All these changes really help improve the overall feel when working in the backoffice, making it an even friendlier place to be. Another thing these improvements have in common is that they were all created by Kenn Jacobsen (aka KJAC on GitHub) along with several other improvements from him in this version! So I think a standing ovation and huge high five (you rock!) is in order. That, of course, goes to everyone else who has contributed with code, comments and feedback as well.
Contributors to Umbraco 8.1.4:
H5YR and 👏👏👏🙌 to: 
Additional improvements in 8.1.4 includes: 
Enhanced UI for Umbraco 8 pickers indicating the node state
Improved error messaging for the content service 
Additional/improved ASCII art (read the hilarious PR thread

 

here

 - who said developers don't have humor? 😀). 
Aside from all the shiny new things, 8.1.4 also includes a number of bug fixes, stability enhancements and further improvements to content migration from Umbraco 7 to 8. It's great to see the interest in migrating to the latest version and we are grateful for all the feedback we've received.
You can see all the features and fixes here:
Umbraco 8.1.4

 (includes notes on breaking change - also see below for more info).
Breaking change in Umbraco 8.1.4
We did, unfortunately - and unintentionally, introduce a breaking change in the Umbraco 8.1.4 patch version along with all the new features and fixes. Luckily, not all sites are affected by this as it depends on your implementation.
The breaking change relates to how the Media Picker returns selected items. You can read the details and suggested solutions if you run into the issue here.
We always aim to keep these kinds of invasive changes to a minimum, and you should never expect breaking changes in an Umbraco patch release. Furthermore, breaking changes need to be documented and communicated ahead of time. This was obviously not the case this time and we apologies for this inconvenience. We have suggested solutions ready for those of you who are affected by this, and for our affected Umbraco Cloud customers - we've reached out personally and provided necessary guidance.
Today's Releases: Umbraco Forms 8.1.3 and 7.1.3
Today, Tuesday, September 10th, 2019, we have released a patch update to Umbraco Forms for both Umbraco 7 and 8. There are two bug fixes in the release, you can find the full details here:
If you're on Umbraco Cloud your projects will receive the patch automatically.
Umbraco Cloud News
The new invite workflow is live
The Cloud team has launched a new and improved workflow for inviting members to a project. It includes the ability to retract invitations, a new overview of pending invitations and then the invited team member has the option to reject or accept an invitation. In short, it gives you more control over the process. You can find all the details in the previous Product Update blog post.
Umbraco version 7 end of life update
Umbraco 8 was released earlier this year, and as a consequence:
We will end the option for creating new Cloud projects based on version 7 by December 31st, 2019.


If you have Baselines project based on Umbraco 7 you will be able to create Child projects in Umbraco 7 for these until February 28th 2021.


We will continue to provide security updates for version 7 until September 23rd, 2023.
Please take the above dates into consideration when planning your migration to Umbraco 8.
See the Umbraco 8 FAQ for more details.
Updates to the Roadmap
The Umbraco Product Roadmap has not changed the last 2 weeks but that doesn't mean the projects aren't progressing:
Rich Text Editor improvements
As mentioned in the last Product Update blog post we have begun implementation of improvements to the TinyMCE rich text editor in Umbraco. We've enhanced when and how the assets for TinyMCE are loaded which should help improve performance. This has been reviewed and will be added to an upcoming release. 
Drag and Drop support for images 
Currently, the Core team is working on making it possible to drag and drop image files directly to the rich text editor.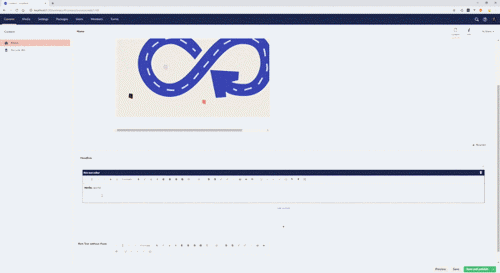 Here you can see Warren Buckley demoing the WIP version of drag and drop. This makes it easy to add images to text without having to use the Add Image workflow, saving a lot of clicks as everything is handled automatically. It will be possible to configure where in the Media Library these images are created.
Copy/Paste from Word Processor
Many content editors write and do initial layout in a word processor such as MS Word or Google Docs. Wouldn't it be great if you could simply copy the content and paste it to the rich text editor in Umbraco? All the while maintaining formatting and uploading images. We know our very own Umbraco HQ content producers are super excited for this feature as it will save them a lot of time when setting up new blog posts or pages on our website!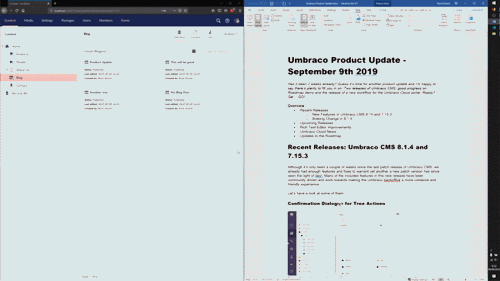 You can read about the planned features in the RFC for TinyMCE Improvements.
Updates to RFCs
Two RFCs Down - Block Editor and Media Item Tracking
We have closed and accepted the RFCs for the new Block Editor and for Media Item Tracking. It's been great to see the community engagement and the feedback we've received has helped immensely in shaping the projects.
For Media Item tracking, the RFC has not only helped in detailing the MVP of this feature but also what we should prioritise after the initial release. The first release will add tracking capabilities to Umbraco CMS and make it possible to see where media items are being used. 
One RFC to go - .NET core.
The only RFC that's open at the moment is for the project structure for a future .Net Core version of Umbraco. If you are interested in contributing to this you can find the discussion along with the RFC here.
We'll keep you posted on progress with the projects on the Roadmap and, of course, be sure to let you know in upcoming Product Update posts when new RFCs are on their way.
That's it for this update...
A large part of the work we do is inspired by the feedback we get from you. For issues and specific feature request, you can find the issue trackers for our products on the Umbraco Github account. 
If you have product feedback you're welcome to reach out to us on product@umbraco.com, contribute to the RFCs and if you want to get personal, you can find me on Twitter (@hemraker). 

 
… Until next time.