Overview:
What's new in Umbraco Workflow 12.1, 11.3, and 10.3?
What's New in Umbraco Workflow 12.1, 11.3, and 10.3?
We're continuously working on improving the feature set of Umbraco Workflow and fixing reported issues and bugs. To ensure the best experience all updates for Workflow 12 are also made available in Workflow 11, and Workflow 10 so your LTS Umbraco installations don't miss out.
Enough with the housekeeping, let's have a look at what you get with the latest releases of Umbraco Workflow.
Scheduling Improvements
One of the key highlights of this release is the significant improvement in scheduling capabilities. You can now easily schedule both the release and expiration dates of your content within a single workflow process. Previously, this was not possible, but with these updates, you have more control over your content publishing and unpublishing schedules. You can also schedule concurrent workflows for different languages, allowing for a more streamlined content management process.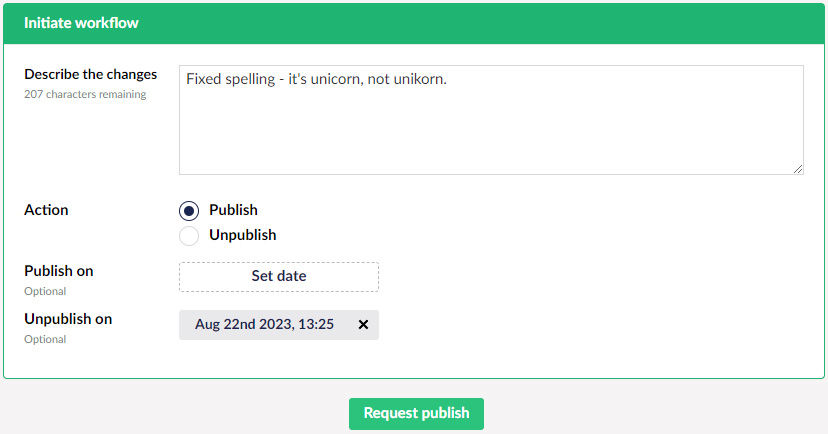 We've removed the "Applies to" property on the workflow configuration tab, simplifying the configuration process. Instead, you can set the workflow type in the user-friendly UI as part of your submission process, making it more intuitive and less confusing.
Content Review Improvements
In this release, we've focused on improving the content review functionality. You can now set the global review period to zero, marking all content as non-reviewable, while still being able to set individual review periods for specific content items. This gives you the flexibility to tailor your content review process to your specific needs.
Additionally, we've introduced a new feature that allows you to set external reviewers. This is incredibly useful when you need feedback from stakeholders who are not CMS users. Simply provide their email addresses, and they will receive prompts to visit the site and provide feedback on the content.
We've also made it easier to manage content review settings by splitting the save process into two options: save and save & regenerate. You can now choose a baseline date, either the current date or the last-updated date when calculating the next review date. Plus, you can decide whether to force the regeneration of existing review dates.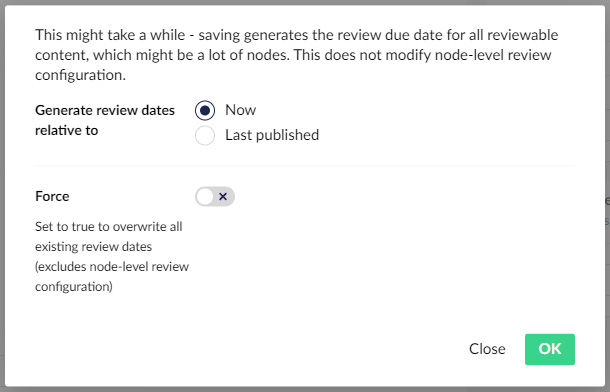 Other Updates
We've also addressed various issues, including those related to handling Swedish culture and JavaScript errors in embedded licensing. These updates ensure a smoother user experience and better functionality.
Breaking Change
While the addition of external reviewers is a valuable feature, it required some changes to our internal structure. The good news is that these changes won't disrupt your workflow. The changes involve the use of the IWorkflowGroup type instead of UserGroupPoco, but functionally, it remains the same. You can easily cast to the concrete type if needed.
Release notes
For an overview of everything included in the releases head to the Umbraco Workflow release notes.

How to get your hands on the latest release
You can either create a new installation using the package available from the link below or upgrade an existing Umbraco 12, 11, or 10 project.
Umbraco Workflow can be found on Umbraco Marketplace and the latest versions are on the usual Nuget feed.
If you're new to Workflow, the documentation site will help get you up and running, and you can read more about pricing and licensing on the product page. 
Should you come across anything that isn't working as expected, please provide feedback on the GitHub issue tracker for Umbraco Workflow.