UK Sport approached true with the challenge of persuading young people that you don't have to be white, rich, and privately educated to make it to the top of Olympic and Paralympic sport. In partnership with TeamGB and ParalympicsGB, true developed FromHome2TheGames: a new brand, communications campaign, and Umbraco website to reach, engage and recruit a new, more diverse audience of young athletes. true is here today to share with you the whole success story 👇
Skills used
Branding
Content Creation
Communication
Digital Strategy
Design
A communications campaign with stunning results 📈
uplift in applications from young people that live in the most deprived areas of the UK
registrations from eligible applicants through the campaign platform
uplift in registrations from under 16-year-olds compared to previous talent ID campaigns
About UK Sport
UK Sport's purpose is to lead high-performance sport to enable extraordinary moments that enrich lives. They are the UK's trusted high-performance experts, powering the country's greatest athletes, teams, sports, and events to achieve positive success. Through strategic leadership and investment of National Lottery and Government funds since 1997, UK Sport has transformed the high-performance sporting system, winning more Olympic and Paralympic medals than ever before and is recognized as one of the top nations in the world for event hosting capabilities.
What had to be done
It's the job of UK Sport to identify the country's best young athletes and recruit them onto a Performance Pathway that gives them access to the support, coaching, and facilities to become the next generation of Olympic and Paralympic stars. Traditionally, UK Sport's Talent ID program had involved in-person assessments at events across the country that test participants' physical abilities. 
In 2021, social distancing restrictions meant that the process had to move online, requiring new digital solutions that would allow sporty young people to register their interest and submit their own physical test results online. true had three objectives: 
Build a digital platform to enable sporty young people and children around the UK to register their interest and submit their application for participating in UK Sport's Talent ID program 
Deliver a digital communications campaign to drive registrations through the platform, including creative concept, asset production, media planning, and management 
Reach audiences that are underrepresented in elite Olympic and Paralympic sport, particularly young people from urban areas, ethnically diverse young people, and young people from working-class backgrounds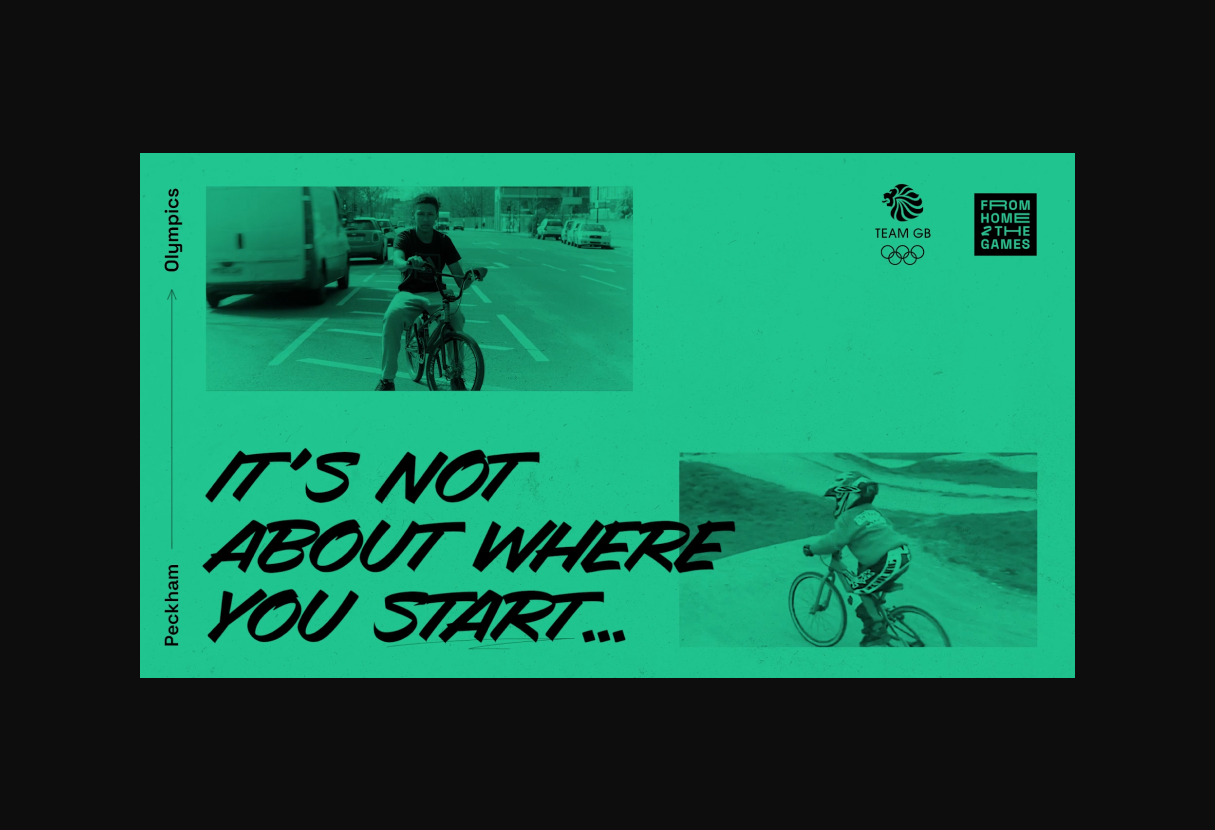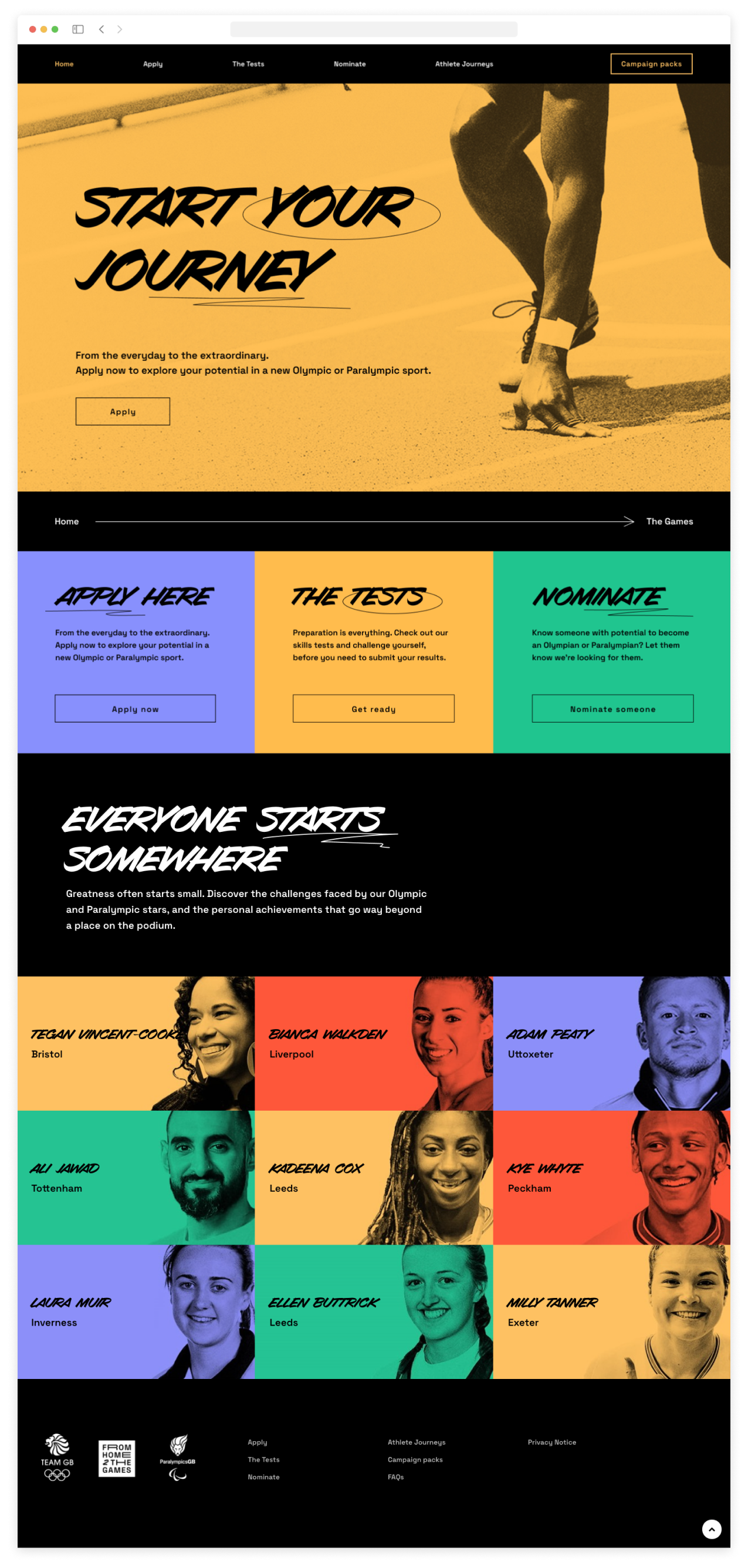 The way to success
Our approach was to survey physically active young people across the UK to understand their thoughts on achieving their athletic potential. When we asked which barriers were preventing them from reaching the top of their sport, the most popular answers were 'lack of equipment' (44%) and 'lack of money' (43%). We also found that sharing a background with a sports star made them more inspiring than pure sporting achievement. Our strategy was to lift the elite curtain - By showing the challenges that champions overcame on their path to success, we wanted to inspire the next generation of sporting talent to take their own first step and apply for the Talent ID program. 
We created a new youth-facing brand - FromHome2TheGames - around that idea and developed a visual identity designed to appeal to a much wider audience than traditional UK Sport communications. We also established a team of athlete ambassadors that represented different backgrounds, sports, and regions of the UK; BMX rider Kye Whyte; para-weightlifter Ali Jawad; breaststroke gold medallist Adam Peaty; para-equestrian Teagan-Vincent Cooke; Taekwondo champion Bianca Walkden and Kadeena Cox, a parasport athlete in both cycling and athletics. 
We created long-form interview videos, short social media clips featuring training footage and a range of photography captured throughout their sporting journeys. Paired with aspirational call-to-actions, these assets would form the backbone of the website content and communications campaign. We leveraged our ambassadors and partners to generate awareness around FromHome2TheGames and drive young sporty people to sign up via the Umbraco website. 
Campaign teaser posts from our athletes were followed by an official campaign launch from TeamGB that was picked up across BBC Breakfast and ITV News. As the games approached, we coordinated a program of organic posts from our ambassadors using '#ThrowbackThursday and the 'How it started/How it's going' meme format. We then finished with a focus on Facebook advertising that allowed us to drive and track registrations through the platform. 
To reach older kids (13+) we focussed the media budget on video advertising, choosing those online channels our research revealed that teenagers used the most: TikTok, YouTube, Facebook, and Instagram. We built a simple website using Umbraco Uno to house our athlete stories, FAQs, and the registration process. Along with our standard registration form, we created a 'guardian-led' entry process for under 16s, meaning that we didn't have to store or manage their personal data. Once registered, we implemented an eCRM program that shared inspirational stories and training tips that captured the excitement of the Tokyo games and kept them motivated for the rest of the Talent ID process.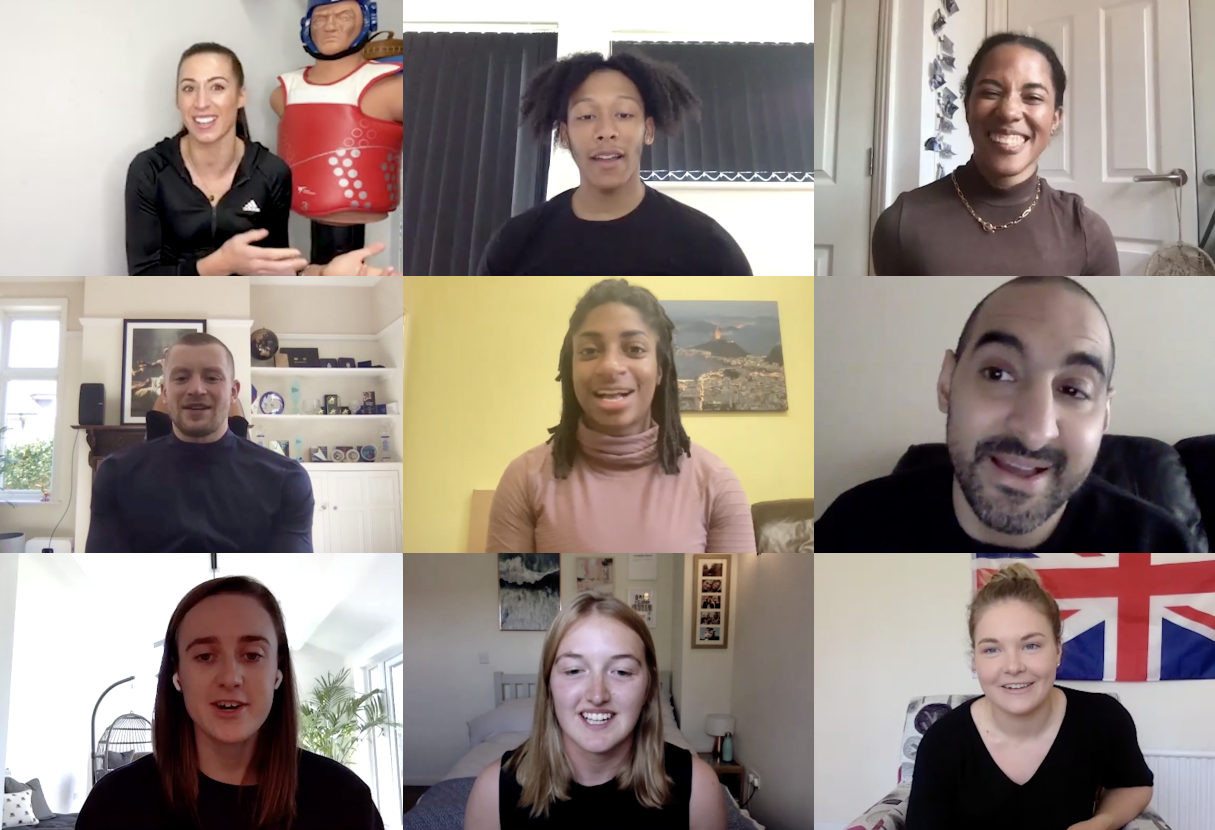 Look at the fantastic results  🎉
There are oh so many great results worth celebrating! Take a peak 👇
✅ Organic campaign reached over 5 million people 
✅  A 50% uplift in applications from young people that live in the most deprived areas of the UK 
✅  Nearly 2,000 registrations from eligible applicants through our campaign platform, beating UK Sport's previous record 
✅ An 80% uplift in registrations from under 16-year-olds compared to previous talent ID campaigns
The campaign also won 'Best Responsible Digital Engagement with Kids' at The Drum Awards for Digital Industries 2021! 

FromHome2TheGames challenged the misconceptions young people have around Olympic and Paralympic sport and the creative gave UK Sport a mechanism to communicate in a completely new way - helping reduce the relevance gap and ensuring the campaign was able to reach a diverse audience.