https://aardman.com/
With over 40 years in business, Aardman decided it was the right time to consider an evolution of their visual brand identity. true were approached by Aardman with the challenge of designing and building a new B2B corporate website that would reflect the updated brand, showcase their trademark 'wonk' style but also fulfill fundamental business objectives and provide a seamless user experience for a variety of different commercial audiences. In close consultation with the team at Aardman, true designed and developed Aardman.com: a refreshed new website to reflect their updated visual identity, with an improved technical platform on Umbraco and carefully considered UX journeys for all key audiences.
Skills used
Architecture
Business Development
Design
Digital Strategy
Headless CMS
increase in average session duration
increase in social traffic
increase in how long social visitors are staying on the site
About Aardman 
Aardman is an award-winning animation studio, known all over the world for its signature Claymation style, which features beloved characters and IP like Wallace & Gromit, Chicken Run, and Shaun the Sheep. They are a proudly British business with a rich, creative history and legacy of storytelling filled with emotion, humor, and integrity.

What had to be done
Aardman needed a new B2B website that would speak to a broad range of industries, catering to very different needs. The website needed to bring its brand to life, using its suite of well-known characters, whilst also acting as an effective lead generation marketing tool. It was important that we strike the right balance between usability and the 'wonk' that they're known for. From a design perspective, the previous iteration of the site was very flat and still, which didn't reflect the creative excellence that Aardman is well-known for, which has won countless awards.
The initial creative concepts true pitched to Aardman are largely what you see on the website today with some small tweaks in collaboration with their team. The previous site lacked clear user journeys so we needed to ensure that the new site would address this and cater to a range of audiences. We carried out keyword research in order to set up the content structure and inform the user experience. It was vitally important that the new site would also showcase the people who work for Aardman and make it easy for prospective customers to make inquiries about their extensive range of services, including distribution, character licensing as well as attractions, and live experiences.
In addition to this, the previous website had multiple issues; it was slow to load and didn't pass Google's Core Web Vitals tests. For this project, we were appointed to provide user research, strategy & UX, website design, front-end development, Umbraco headless development, testing / QA, SEO, and content planning.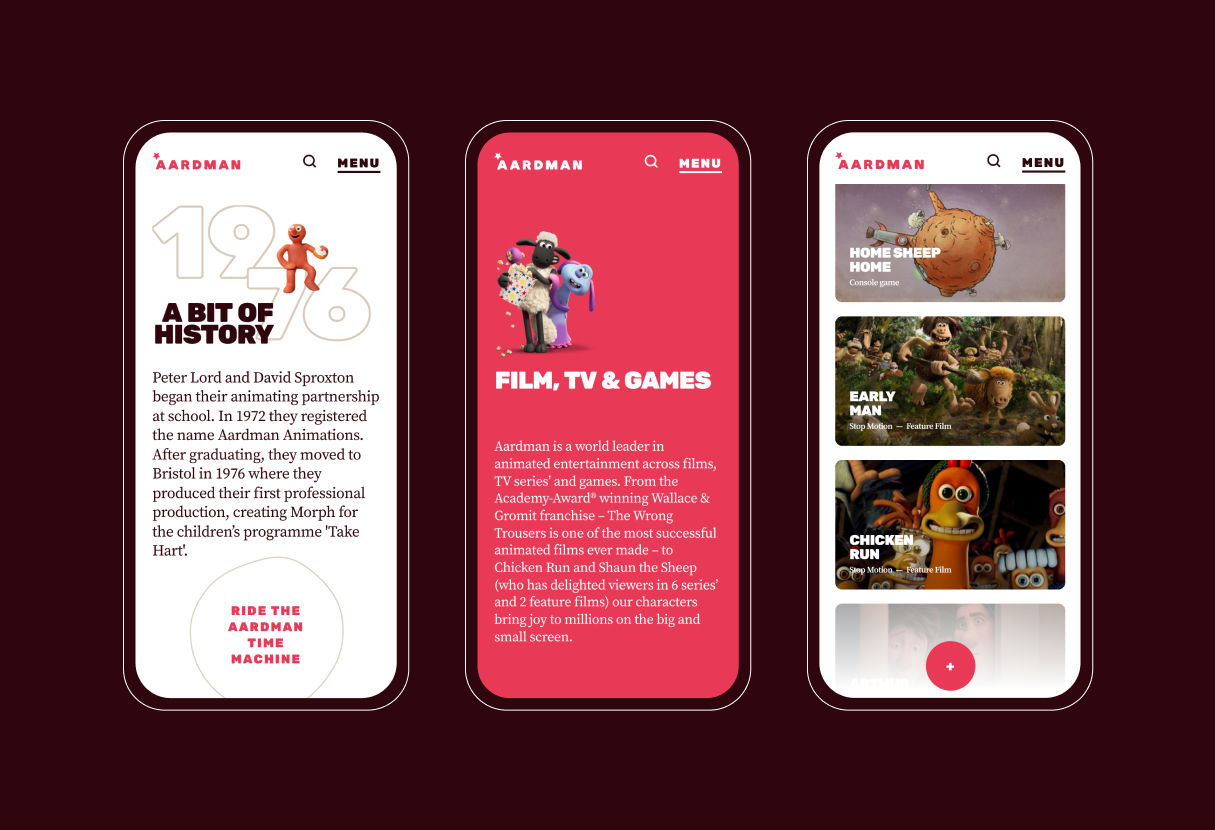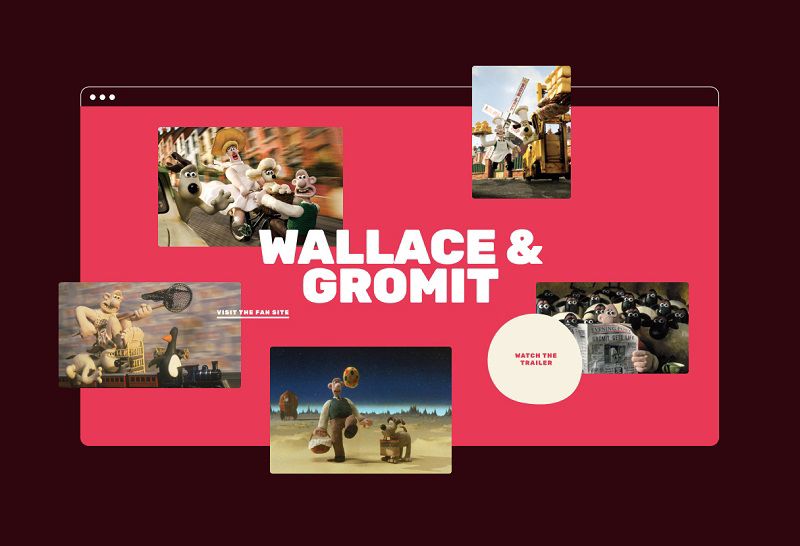 The way to success 🚀
Because Aardman is an employee-owned business, it was extremely important to navigate and include a wide variety of voices during the process. We worked closely with 7 different stakeholders in the form of a steering group, and there were also additional Aardman stakeholders from various departments who contributed to workshops with a real breadth of needs and requirements. The introduction of thumbprints, synonymous with Aardman's signature Claymation style, became a signifier of the many individuals behind the scenes, each having had a hand in creating the work.
Aardman's 'wonk' manifests in personality, tone of voice, behavior, and literally wonky lines. Online, this 'wonk' became the container for a number of components. We didn't want it static, so it drops clumsily into place as you scroll; a small touch but one that works no matter where it is placed across the site, responding to the color and layout of the components flanking it. 
When we demonstrated it to Aardman, Director and Designer, Gavin Strange excitedly exclaimed, "you've built us a full wonk system!" Whilst the project was initially focused on their corporate website, Aardman has a suite of other fansites (e.g. wallaceandgromit.com) which currently sit on different technology platforms and are managed through disparate content management systems. With this in mind, we set out to provide Aardman with a technology platform that would allow them to consolidate their digital estate into one easily manageable system; enter a headless Umbraco site.
We used Umbraco as the content provider, Azure as the hosting platform, and NuxtJS to consume the data and transform it into the interactive and inviting Aardman.com site. The key to our approach was to give them what they needed from day one, and not compromise on what they can achieve within the platform in the future. This is the principle of a composable DXP. Future iterations can continue to add fan sites using a custom theme picker component we've built, and personalization can be integrated using a 3rd party system like uMarketing.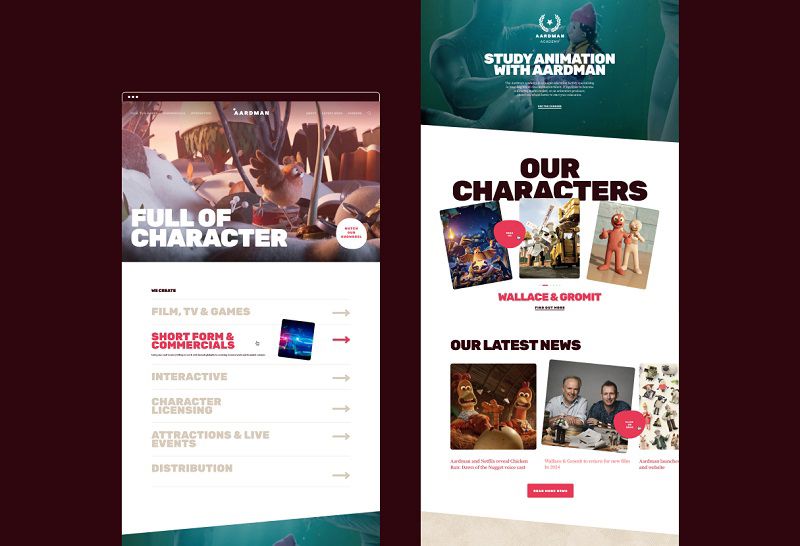 The result says it all ✨
The team at Aardman is thrilled with the results. The new experience design, user interactions, and animations have drastically improved the front end of the site, bringing the whole journey alive and making full use of Aardman's most well-known characters. The 'wonk' is also evident across the site in wobbly CTA interaction design, carousels that flick through with a slightly comedic gloop and plop, a playfulness that doesn't smack you in the face but reveals itself continuously with each interaction.
✅ Average session duration has increased by 86%
✅ 15% increase in the average number of sessions per user
✅ Social traffic has doubled
✅ Social visitors are staying on the site for 78% longer (1m 12s vs. 40s)
✅ Site has generated 35,000 video views, an average of more than 10k plays per month
✅ The site was awarded an honorable mention from
Awwwards
based on its design, usability, creativity, and content.