It can be overwhelming to participate in something unfamiliar, especially if it's a few-days-long conference with hundreds of participants from all around the world. But worry not, after reading this blog post you'll feel much less like a newbie. You'll find out all there is to know about Codegarden and get updated to all that will go down this year.  But first things first...
... let's start at the roots. What is Codegarden actually? When was it started?
Codegarden anno 2005
Yep. The first-ever Umbraco developer conference called Codegarden was held the same year Umbraco version 2.0 was launched. Back then a "whopping" 23 developers talked Umbraco for two days (ahem… or some would claim that they spend most of time trying to install Umbraco).
Each year since then the Codegarden attendee number steadily grew and sometimes even doubled. Last year we had more than 600 people come together for 3 days of amazing things Umbraco.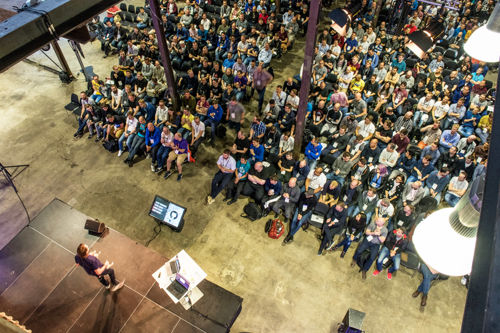 What exactly is Codegarden?
Although the name of the event might imply a lot of code-talk, Codegarden is not just that - it includes both strong technical focus and business-oriented sessions. Mm okay, fair enough, it also has nothing to do with garden (well, maybe a bit to do with kindergarten, since it's also about learning and discovering) 😊 If it's not exactly that, what is it then?
Today Codegarden is the biggest Umbraco Conference in the world. It's a massive event where you'll hear the biggest upcoming news about Umbraco and the industry in general - directly from the people who are working on it! Because Codegarden is also the only Umbraco festival/conference hosted by Umbraco HQ.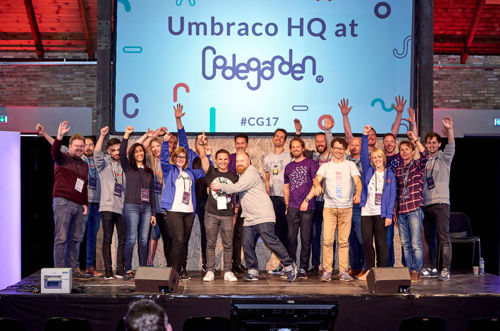 And now I will guide you, step-by-step, through what each day of Codegarden is all about… among other important perks.
DAY 0
Yes, we start before we… start! Before we kick off the biggest Umbraco conference in the world, we also host the Codegarden Pre-Party at Umbraco headquarters (Haubergsvej 1, 5000 Odense C). It's a great way to warm up before you set out to embrace all of those knowledge-packed Codegarden sessions.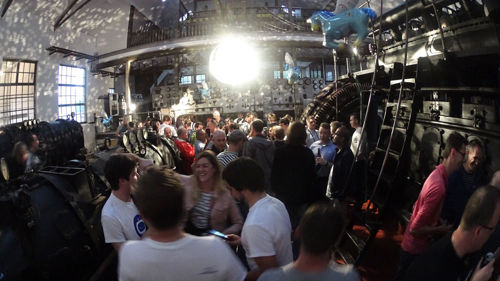 This time around the Codegarden Pre-Party will be held on May 22nd (Tuesday) at 19:30. So once you settle in at your hotel or AirBnB, don't forget to stop by and meet fellow Umbracians. Bonus point - you get to see how we "live" here at HQ.
Last, but not least, you can contribute to the Codegarden Pre-Party with pull requests. In the form of drinks... A few boxes have already reached us! That open spirit ❤️
DAY 1
The very first day of Codegarden, day 1, will happen on May 23rd, Wednesday. It is going to be a fantastic day for everyone - including the less-technical Umbraco audience. It is a day filled with quality business sessions, top-notch speakers and 2 free hands-on workshops.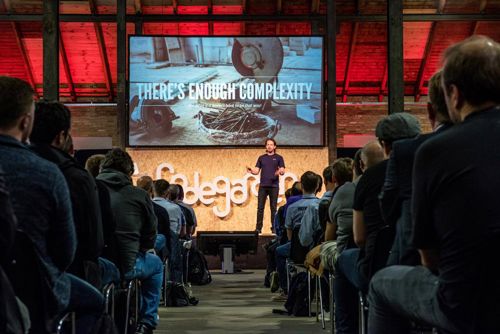 You can expect an inspiring keynote from Umbraco HQ Chief Unicorn Niels Hartvig, sessions with Co-founder and Editor-in-chief at Smashing Magazine Vitaly Friedman and web content management guru Deane Barker, among so many others.
Oh, and the Umbraco Awards - a confetti-type-of ceremony to reward the very best projects done using Umbraco.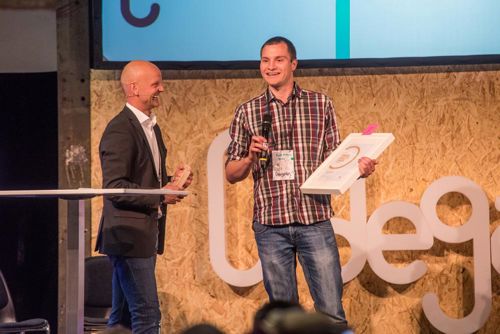 Maybe you will be the one enjoying the spotlight and the eye-catching, newly designed Umbraco Award?!
DAY 2
Codegarden day 2 will happen on May 24th, Thursday and dive deep into technical topics and case studies, giving you insight into how exactly Umbraco developers handle challenging scenarios with Umbraco and modern web development techniques.
Day 2 this year will also host the hit Vitaly Friedman's Masterclass. Last year it was a real success and attendees praised the class for its energy, inspiration and valuable knowledge. There's still a few spots left if you're interested!
Last, but definitely not least. Day 2 is also the day that ends with Umbraco Bingo. And no, this is not the type of bingo that happens in retirement houses. This one is… special. But the number 1 rule of Umbraco Bingo is you don't talk about Umbraco Bingo. I'll just leave this here...
..which implies this...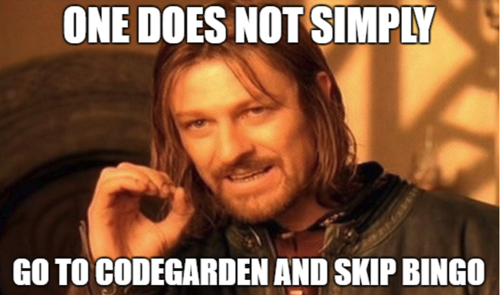 DAY 3
For many this is always their favorite day. That's because day 3 is truly packed with open-source attitude, true community feeling, energy, conversations and solutions that you'll find highly relevant and rewarding.
This year's day 3 is shifting a tiny bit. We're replacing the open circle concept with something resembling the BarCamp concept. But the day 3 "soul" will still be there - you'll be in a room with the highest possible concentration of Umbraco experience, knowledge and ideas - and you get to ask your questions, talk about solutions, best practises and learn the dos and don'ts from Umbraco peers.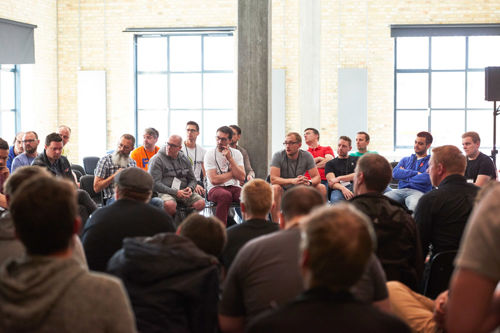 Bonuses: Hack Space, Lightning Talks Stage, CG runners, Mindful Mornings
Hack Space and Lightning Talks Stage are the two brand new treats that'll be ON during the whole Codegarden.
Hack Space is a dedicated area to share ideas, perhaps even test a prototype together. It's a place of laptops, whiteboards, post-its and plenty of power. At certain time slots there'll even be HQ or community experts around to answer your back office customisation question, get you started on Umbraco Cloud or give their thoughts to your idea.
Meanwhile Lightning Talks Stage will make room for talks that couldn't fit the three main stages and for an impromptu space for ideas that happen during Codegarden.
If you're into a short jog before the sessions, you are more than welcome to join CG runners. You'll be all fresh and ready to learn!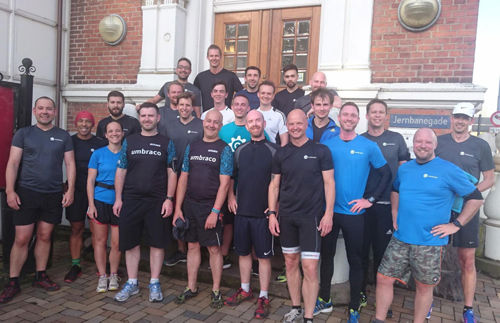 And if that doesn't fully help you to prepare, we've got Mindful Morning, an inspiring session led just before the main sessions start by the wonderful Kris, who will teach you how to clear your head and prepare your mind for a dose of knowledge.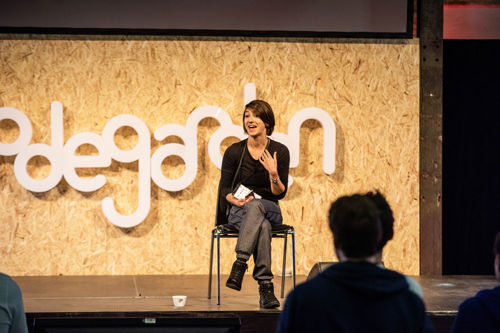 Food. Coffee. Water.
Usually, at conferences food... how to put it delicately… well, sucks. Codegarden is not your typical conference. Year after year it has been known to provide quality food. In fact, that is one of the top feedback compliments given to us by attendees.
So there you go, all of this - food, coffee and water - are included in your Codegarden ticket and you are welcome to eat and please your coffee bug as much as you desire.

What did Codegarden first-timers have to say?
Who else better to tell you what Codegarden is all about than those who attended it already? Last year we gathered 7 stories from 7 Codegarden first-timers about their experience at their very first Codegarden. Perhaps that'll make you feel less like a newbie and give you that final nudge to grab your ticket?
See 4 quotes from some of those beautiful stories: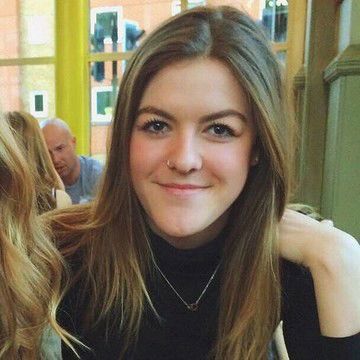 Katie Archibald, Content Project Manager at The Cogworks, UK:
"I realised that by working with Umbraco, I was part of something much bigger and understood why people were so passionate about it…"
Malcolm McMorran, Web Director Dude at Hooligan Development, South Africa:
"I think my biggest worry about going to Codegarden was the fact that I was going alone, and that I would struggle to network. I was pleasantly surprised..."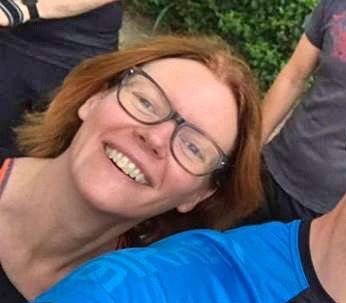 Hanne Marthinsen, Web Editor and Project Manager at MarkedsPartner, Norway:
"I was skeptical of attending Codegarden at first, because I thought it was just for developers. I was proved wrong... "
Mark McDonald, Web Developer, UK:
"I actually didn't attend through work, it was something that I wanted to do myself in order to push myself beyond my comfort levels…"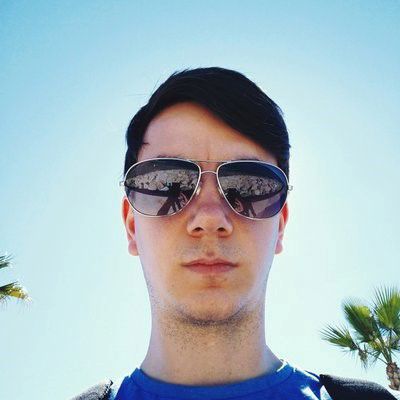 And if these testimonials aren't enough - Twitter exploded after last year's Codegarden.
Just have a look at a few heartfelt tweets from fellow Codegardeners ❤️






Friendly (and golden) tips and tricks from old-timers
We asked around our community and collected a few main tips that are worth to know when attending Codegarden for the first time:
Get plenty of sleep beforehand, dress comfy and keep hydrated.
Bring a positive attitude.
Don't worry if some sessions overlap - they are all recorded, so you can always watch it later.
Don't be shy - just go out there and talk, discuss your ideas and issues, everyone is friendly and willing to help. Socializing and networking at Codegarden is just as important as the sessions.
And while we're on the topic: get rid of your laptop - it will only get in the way and distract you (okay, fair enough, unless you've signed up for one of the CG17 workshops or the Vitaly Friedman masterclass, then you'll need to bring a laptop 😉 )
Need more practical tips on what to bring, what to consider? Dive in here, we have prepared a Codegarden Checklist.
The end
Well, only the end of this blog post 😉 Everything else is just beginning.
Have we removed the mysterious cloak from Codegarden? At least opened a gap? If you're craving for more, visit the official website for Codegarden '18. There's a ton of info on sessions, speakers, travel and stay.
P.S. In case needed (and we know sometimes it is), we have collected a bundle of great tips to Convince Your Boss.
And if you or your boss doesn't need any more convincing:


Book your Codegarden 2018 tickets >>


Pssst… if you're a Gold Partner, get your tickets using the Gold Partner Bundle.
See you there! #h5yr! Oh, by the way, that means High Five You Rock. And #CG18 means Codegarden 2018, but you've already figure that out I'm sure 🕵️‍